7 Best WooCommerce Alternatives for Your WordPress Online Store
There's no doubt that WooCommerce is, by far, the best and most popular option for creating an eCommerce store in WordPress. Not only is WooCommerce free to use, but it's also highly flexible. With it, you can easily manage your orders, or create and deploy coupons. WooCommerce also lets you take care of shipping – all aspects of it – while helping you stay on top of taxes and accounting. That being said, if for any reason you find WooCommerce to be too demanding and its many premium extensions are simply too difficult for you to manage, there are other available WooCommerce alternatives you can try out.
For example, you may be on the budget, or you may just need a more straightforward solution for your eCommerce website. Or perhaps it's the other way around, and you need an even more advanced set of functionalities to start an online store and build it completely from scratch.
Regardless of your reason for choosing a platform other than WooCommerce, you don't need to worry. You can always look into one of the alternatives to WooCommerce that you may find to be more fitting for your specific requirements. So this time around, we will present you with some great WP eCommerce plugin options you should check out: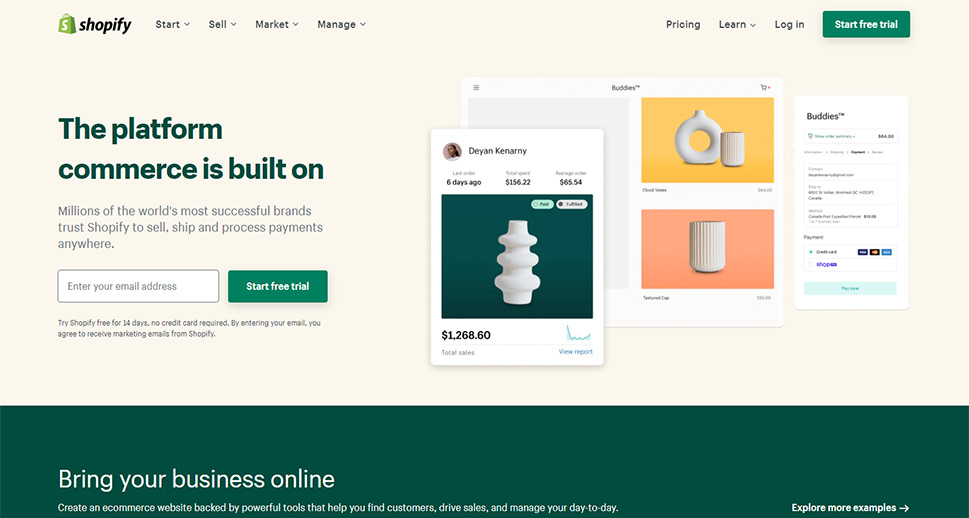 Shopify is an all-in-one eCommerce solution ideal for both big and small online stores. As such, this is also one of the most popular eCommerce website builders around.
Aside from allowing you to sell products online, Shopify will let you use a practical single dashboard to easily manage all your orders, shipping, payments, etc. What's also great about the platform is that it comes with many third-party themes and addons that can enhance the use and functionality of the platform itself. Also, you will be able to build your store with minimum effort using the platform's practical drag-and-drop builder.
Now, when it comes to integrating Shopify with WordPress, there is no way to do this out of the box. That being said, there are a few different ways to successfully connect Shopify with WordPress, like inserting the Shopify Buy button or installing a plugin such as ShopWP, for example.
The BasicShopify pricing starts at $29.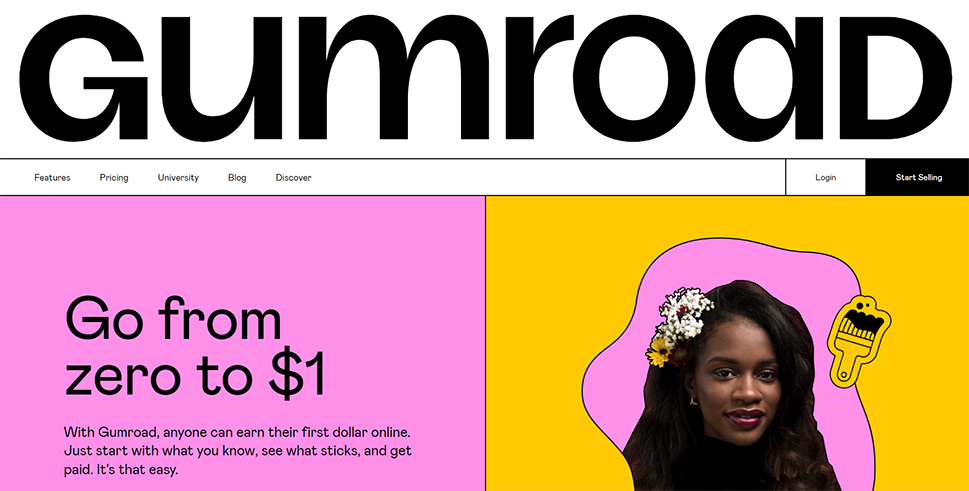 Being a platform originally made to sell digital products, Gumroad has now grown to be a comprehensive solution for anyone who wishes to sell products online, be they physical sales or digital downloads. This platform is especially great if you don't need a huge eCommerce store to sell your products and you're looking for a simple but straightforward solution. With Gumroad, you will easily create monthly subscriptions, build a following using email newsletter campaigns, and more. Your customers will be able to choose between one-time, recurring, or fixed-length payments in your selected currency.
If you want to integrate WordPress with Gumroad, you can do so by embedding the Gumroad widgets on your page. You can either use the platform completely for free, with a transaction fee that starts at 9% + 30¢ per transaction. When you reach $1,000 in lifetime earnings, the percentage fee will drop to 7% + 30¢. Basically, the more money you earn, the less fee you will have to pay.
eCommerce Product Catalog is an easy-to-use and fully responsive eCommerce catalog plugin that can be used entirely for free. It allows you to create a product catalog site and add a request for a quote option. You will be able to display your products anywhere you want on your site, organize products into different categories and tags, and create multiple product catalogs if you want to. You can do all this either including or excluding the price of the products. Also, you will get to use the WordPress Customizer, CSS, or template files to entirely customize the way your product display will look like.
If you need a more specialized solution for your eCommerce store, you can purchase one or more extensions (starting at $49), including product reviews, order and quote forms, shopping cart, and more.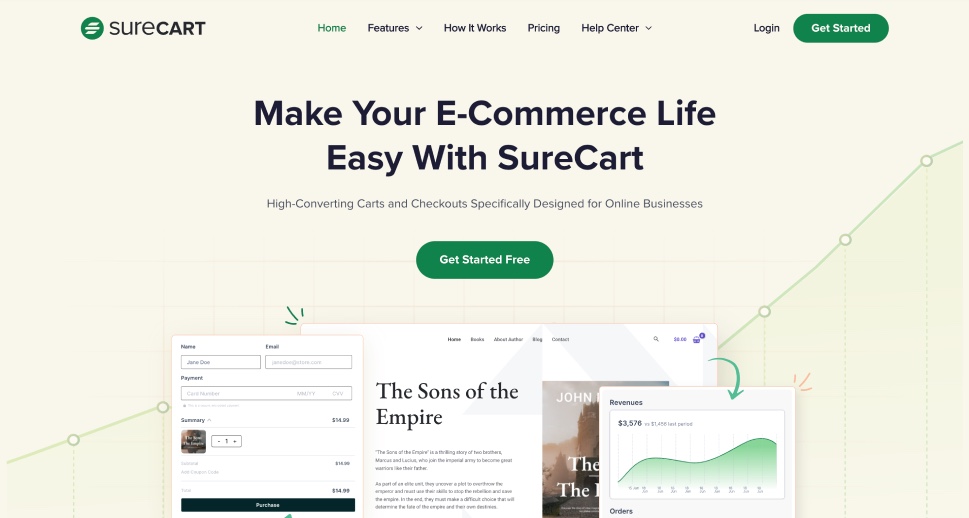 SureCart is a new WooCommerce alternative on the scene. It's a full headless eCommerce platform that is daring to be different and making quite an impact.
Headless eCommerce is the new way to sell online and many leading stores are using it. Rather than placing everything on your website and leaving your host to manage everything, SureCart does things differently. You get a customer-facing side like a normal store and a secure back end powered by SureCart servers.
That means more flexibility, more freedom to customize, diversify, expand and do whatever you like with your store.
SureCart has been designed from the ground up to be powerful and easy to use. Anyone can use it, whether you're experienced or not. Everything is explained, there is documentation for everything and a series of helpful videos to help you set it all up.
SureCart has a fully operational free version and three premium plans priced between $99 and $399 per year.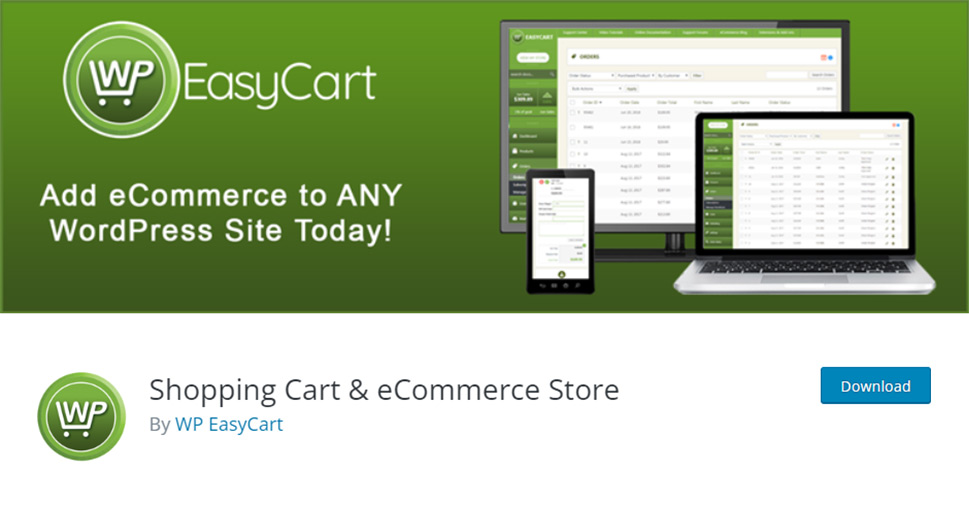 In case you'd rather avoid using and spending money on too many different WooCommerce extensions, then WP EasyCart may be a good alternative for you. This is an all-in-one eCommerce plugin solution for your online store needs. With WP EasyCart, you will be able to offer products for any business. That includes selling retail, downloadable products, offering subscriptions and gift cards, selling ebooks, offering donations, services and invoices, and more. Moreover, you will be able to easily manage all your products (including shipping, billing, and payment details) and orders, and take care of every aspect of your online store. If you want, you can even send out shipping notifications to your customers.
You can try out the 14-day free trial of the WP EasyCart, and upgrade to pro (the cheapest plan starts at $69 a year).
PrestaShop is a great open-source WooCommerce alternative that comes with every feature needed to build a full-fledged online store on your WordPress site. You will be able to customize your store using the help of the platform's professionally built themes. In addition, you can easily manage anything from products, inventory, and orders to customer relationships and statistics. You can rest assured that you will be able to effortlessly sell and market your products worldwide thanks to the platform's 195+ free translations, as well as multiple delivery and payment modules.
You can start using the PrestaShop platform for free, but you do have to pay for the hosting. There are also many different addons that start at a price of €39.99, although some are available for free. Also, the PrestaShop-WordPress two-way integration Module has a cost of €83.99 a year.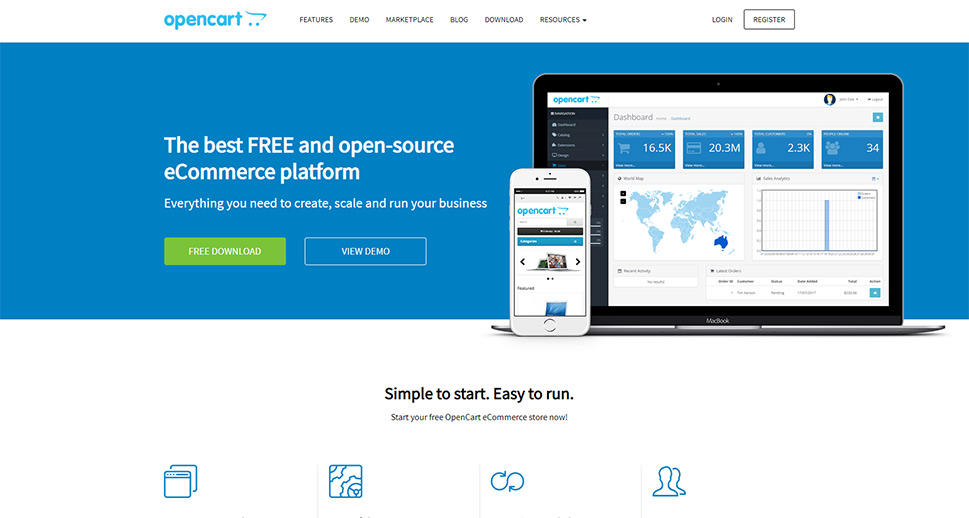 OpenCart is another great open-source eCommerce Platform. It is simple to start and it comes with powerful store management features. You will be able to successfully organize all your orders, products, customers, coupon codes, etc. Moreover, the Administrator Dashboard will let you access all the important information within seconds, and even manage multiple stores at once.
There are over 13,000 different modules and themes you can use to easily expand your eCommerce store. These include various service payment gateways, shipping methods, language packs, and more. Plus, if you need any help, you can rely on OpenCart's vast community to assist you.
Whether you are on a limited budget, or you simply need a more custom approach to build your eCommerce site from the ground up, each one of these WooCommerce alternatives for WordPress may be a great solution for your business. From easy-to-use dashboards to complete product, shipping, and customer management, every platform we listed above has great eCommerce features to offer.
If you own a smaller shop and don't have that many products to sell, we recommend looking into options such as WP EasyCart and Gumroad. If you want to turn your online store into a professional-looking online catalog, then we recommend checking out the eCommerce Product Catalog plugin. And for a more extensive set of features and advanced extensions, solutions like PrestaShop and Shopify might be your best bet. All in all, if you make sure to pick the option that seems to fit your specific needs the most, you certainly won't make a wrong choice.