10 Best Domain Name Generators for Your WordPress Website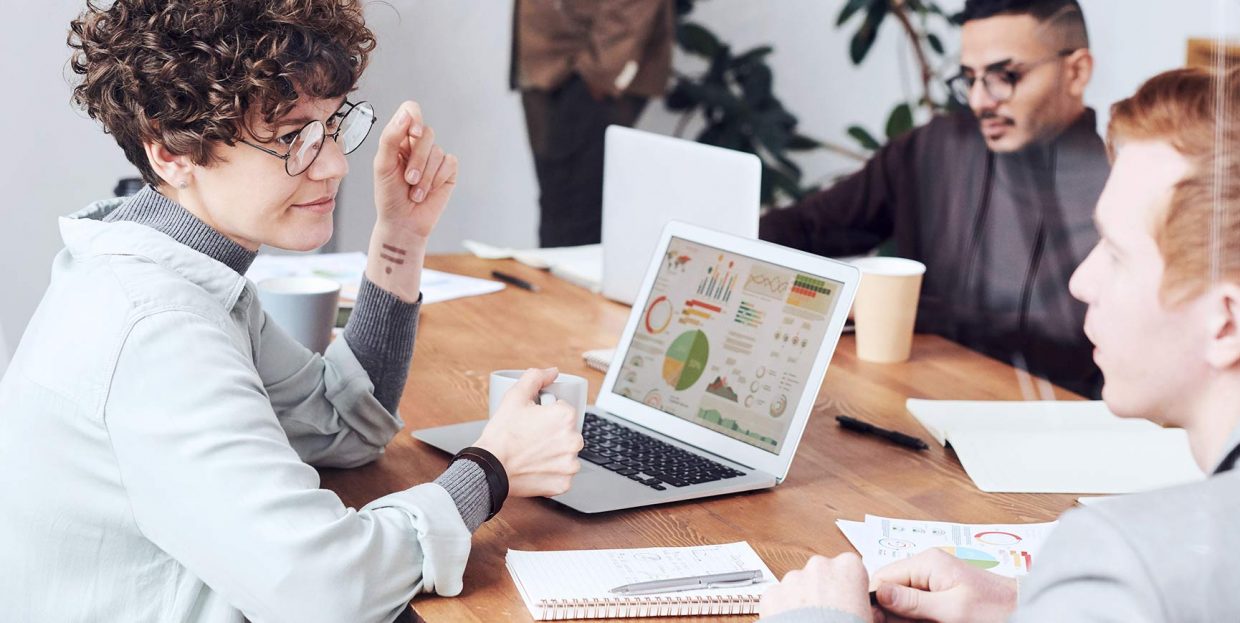 A domain name is, quite literally, one of the key aspects of one's business. Since your domain name essentially represents your website's distinctive brand identity, it's all the more important to choose it wisely. That being said, conjuring up a unique and catchy domain name that will depict your brand's personality and make an impression on your target audience can be a tricky process.
Aside from potentially finding it difficult to think of one to begin with, there's also the fact that many compelling domain names are already taken by other websites. In other words, even if you do have a clear idea of what you want your domain name to be, chances are someone has already thought of, or resonated with the same idea and grabbed the ownership of the name already. And even when you find out who owns the domain name you're interested in (to try and buy it off them), there's a possibility they simply won't budge and prefer to keep the ownership instead.
Still, there is an easy way to avoid running into these issues – and that is by using the help of many available domain name generators when coming up with one for your own WordPress site. In this article, we are going to share some of the best domain name generators you can use to create an attractive and memorable domain name. Some of these generators can not only help you come up with your own creative ideas, but they will also allow you to check whether the names you're interested in have already been taken. Here they are: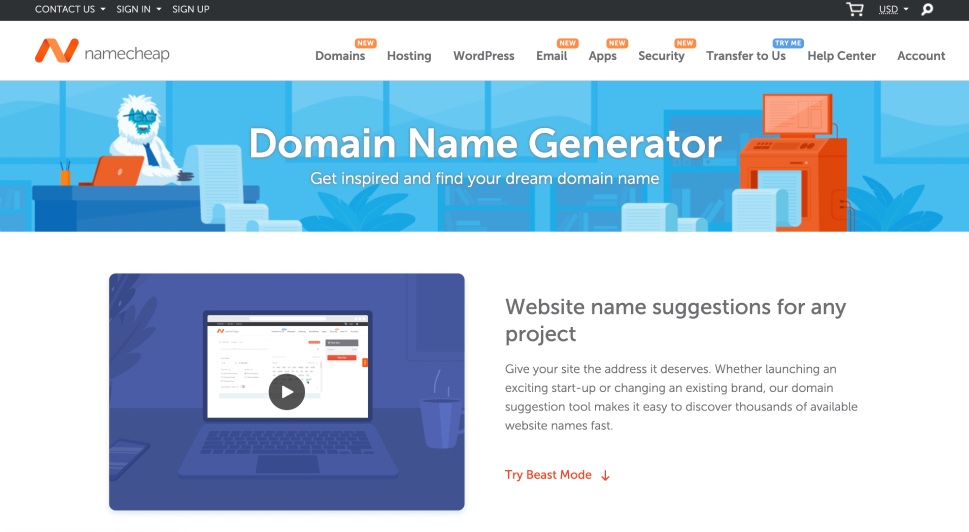 Both a domain name generator and domain search tool, NameCheap will help you come up with your ideal business identity in no time. With their handy Beast Mode feature, you can simply type in the keywords of your choice and filter your results in various ways to find exactly what you need. After you enter desired keywords, you can also select the desired price range, mark your preferred transform options and domain extension examples based on specific categories (i.e. finance, marketing, arts and culture, etc.), and click on Generate. Then, you will get many different suggestions according to your preferences.
What makes Instant Domain Search so great is the fact that the tool already makes suggestions appear while you're typing. So, there are chances that you may be able to find your perfect domain name without even having to type it all out. You will have access to three different columns filled with suggestions, named Domain Extensions, Generator, and Domains for Sale, respectively. Plus, there's a simple and intuitive Load More button at the bottom you can use in case you need more suggestions.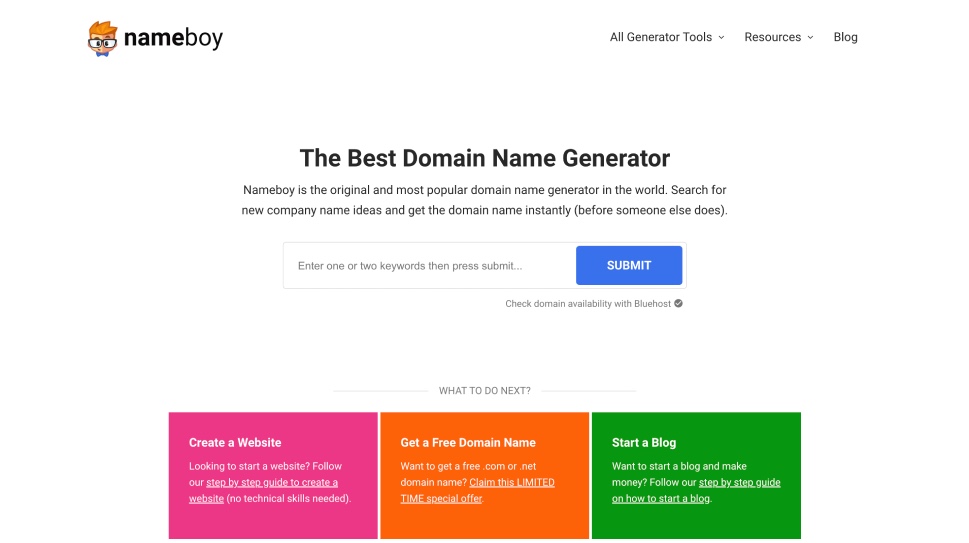 Dubbed as "the original and most popular domain name generator in the world", Nameboy is easily the best generator choice if you're looking for .com domain extensions. Aside from the standard domain name generator tool that will help you find the best domain name ideas for your business, you will also get to use a few other specific tools, like Business Name Generator, Store Name Generator, Blog Name Generator, and Brand Name Generator, among others. You will also be able to select what types of results you want to be shown – generator-based results, available extensions you can buy, or "all".
Business Name Generator is yet another generator that will help you find a memorable domain name within minutes. You just have to enter the keywords in the search bar and you will get thousands of generated ideas you can either use and register right away or see who the owner is and try to buy from them. Also, you will have access to a user-friendly filtering system at the top, allowing you to select your preferred industry (art, beauty, corporate, etc.), filter the number of words, select character count, choose whether you want to insert word suggestions before or after your keyword(s), and so on.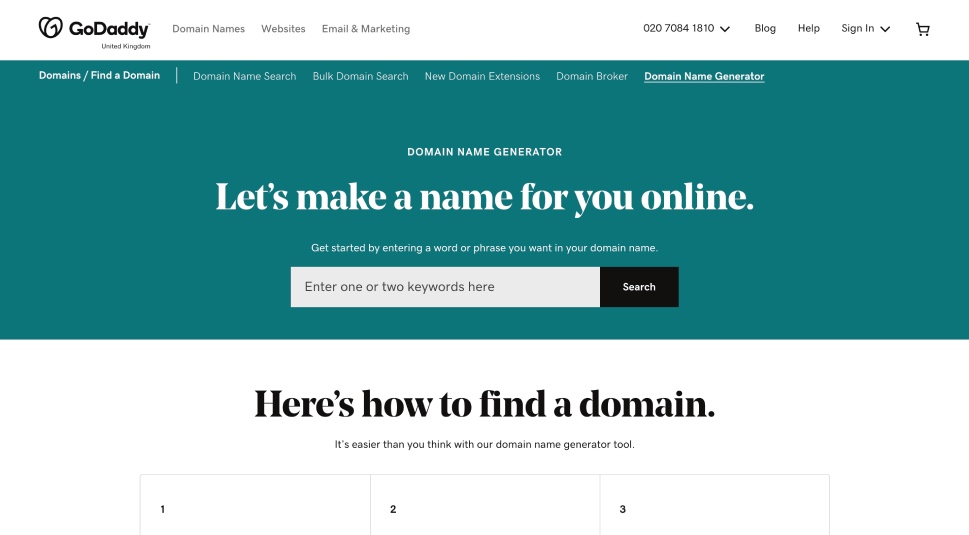 GoDaddy's Domain Name Generator is easily one of the most user-friendly tools of its kind available. You will be greeted with the intuitive search bar at the top which will allow you to enter your preferred keyword (or keywords) that best define your business and hit Search. You will instantly receive best match suggestions with suitable prefixes and suffixes and will get to choose how you want to proceed from there.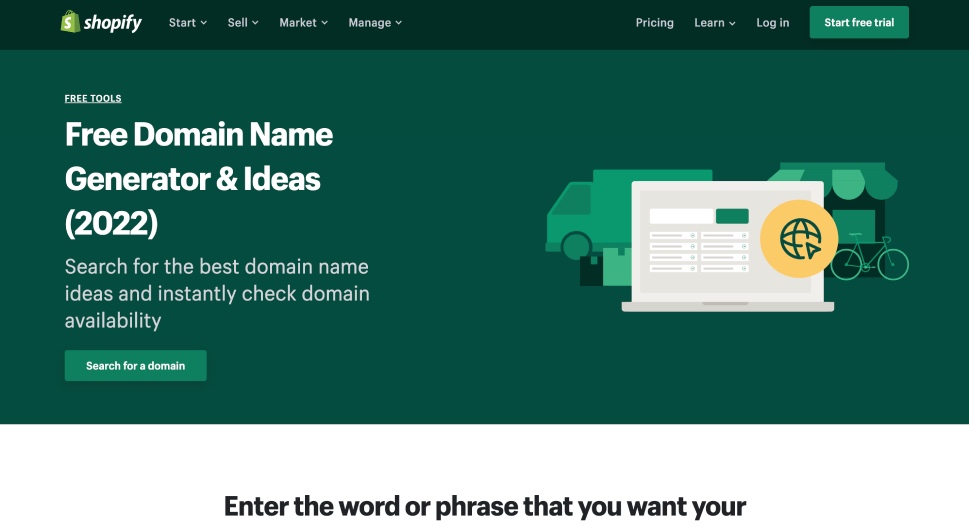 Domain Name Generator by Shopify offers another great free domain name generator and idea tool. It allows you to type in your desired domain name, hit search, and check for domain availability in an instant. If the specific domain name you've typed in isn't available, the tool offers similar suggestions as well as some alternatives available for purchase. Even though Shopify specializes in creating an online store, you can use the help of their tool to find your ideal domain name even if you operate in an entirely different industry.
Coming with a comprehensive set of options, Bust A Name is a great domain name search tool that will help you find exactly what you need quickly and effortlessly. You will be able to use the Word Combiner tool to quickly combine the words you enter and find available suggestions. You can hover over your keywords to see some similar word suggestions, and even drag words under the group you don't want to see combined for more personalized results.
In addition, you can perform a quick availability check to see if there are .com, .net, and .org extensions available for your keywords. Plus, you can choose the way you want your domain suggestions to be sorted (by the insert order, alphabetical, syllables, or length), and pick the hosting providers you want to buy your domain name through. If all these don't bring you any luck, you can go one step further and mark a few other options, like the ability to include or exclude certain prefixes and/or suffixes, add or omit certain extensions, and more.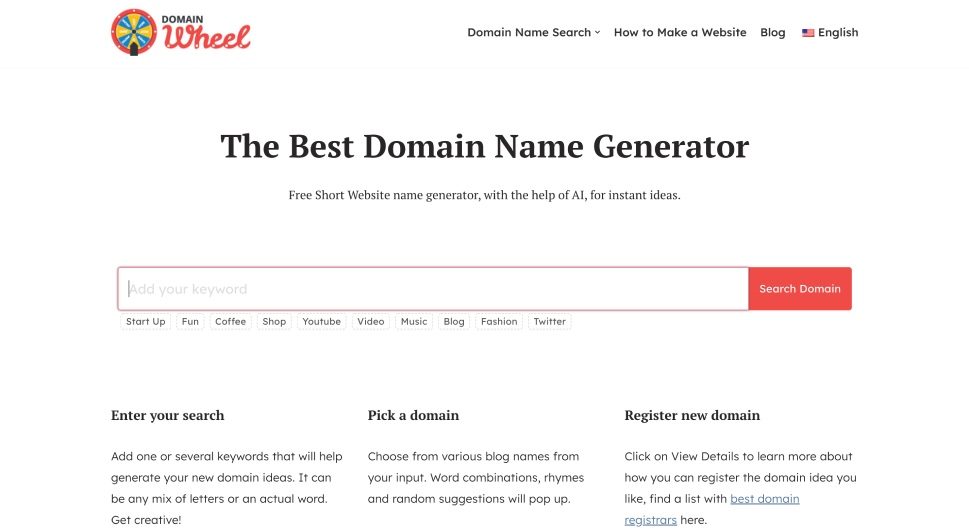 An AI-based generator, DomainWheel is a free option that will help you generate quick domain name ideas. You can either select a few of the suggested popular keywords (startup, news, music, etc.) or type in your own. Then, you can choose which extensions you want results shown for, and finally, hit "Search Domain". You will instantly get a list of the most suitable suggestions for you. There are also two additional categories called "sounds like" and "random suggestions" that also display suggestions based on various categories, so you can see if anything from there inspires you. Then, you can click on the keywords that strike your fancy to see what your options are.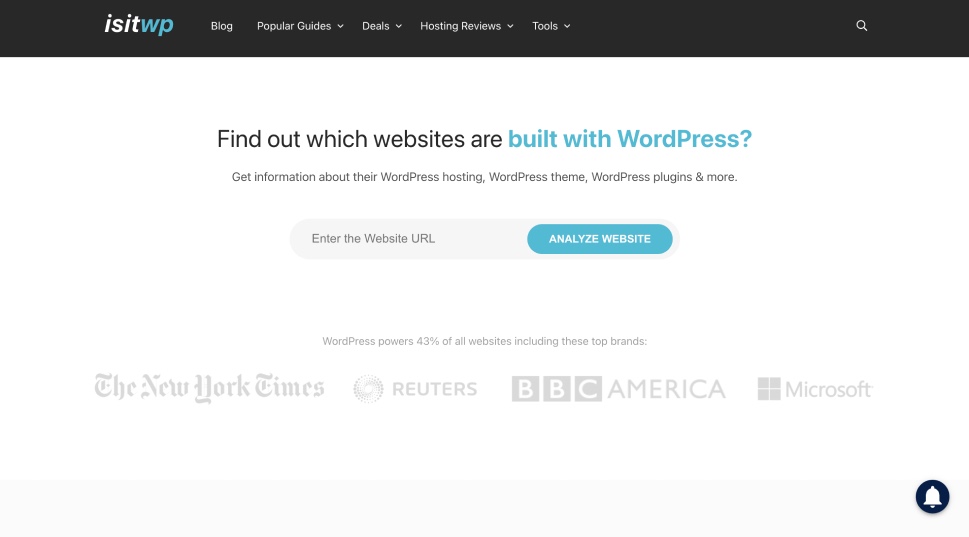 IsItWP also offers a free domain name generator tool to help you generate domain name ideas with ease. All you have to do is type in a few keywords, click on "Generate Names", and different suggestions will pop up in an instant. Once you find your perfect match, you can view details and check availability with BlueHost. If you end up using BlueHost's services to host your site, you will be able to use your .com or .net domain name for free.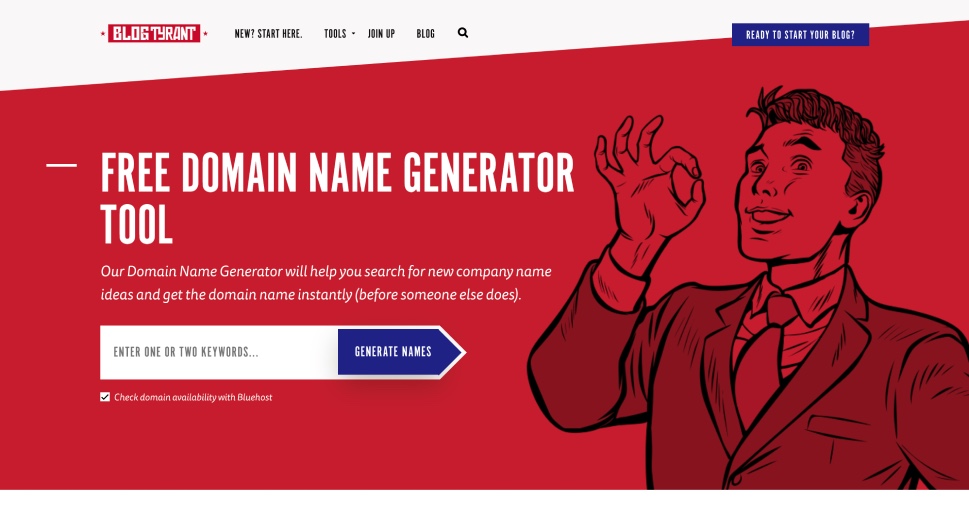 Blog Tyrant offers some blog-specific name ideas you can use to name your blog with the help of their free domain name generator tool. You will get lots of different domain name suggestions by only entering a keyword or two and hitting "Generate Names". There's also the option to check availability with BlueHost.
Find Your Ideal Domain Name Today
Producing a domain name that will be perfect for your brand can be a long and arduous task. Luckily, there are many great free domain name generator tools available you can utilize to find exactly what you need and drastically speed up the process. From information about domain name availability and many user-friendly filtering and purchasing options, each tool has everything you need to become the owner of a suitable domain name for your WordPress site in virtually no time.
If you're looking for some suggestions on the fly, we recommend that you check out the Instant Domain Search tool. If you want to have multiple options at your disposal so that you can personalize your search to the fullest, then tools like Bust A Name or NameCheap might be your best bet. On the other hand, if you've already got a good idea of what you want your domain name to be, tools such as Shopify.com or IsItWP could be just what you require. Either way, we suggest that you inspect what each tool has to offer carefully before you decide on the one that best works for your needs.