10 Best Google Forms Alternatives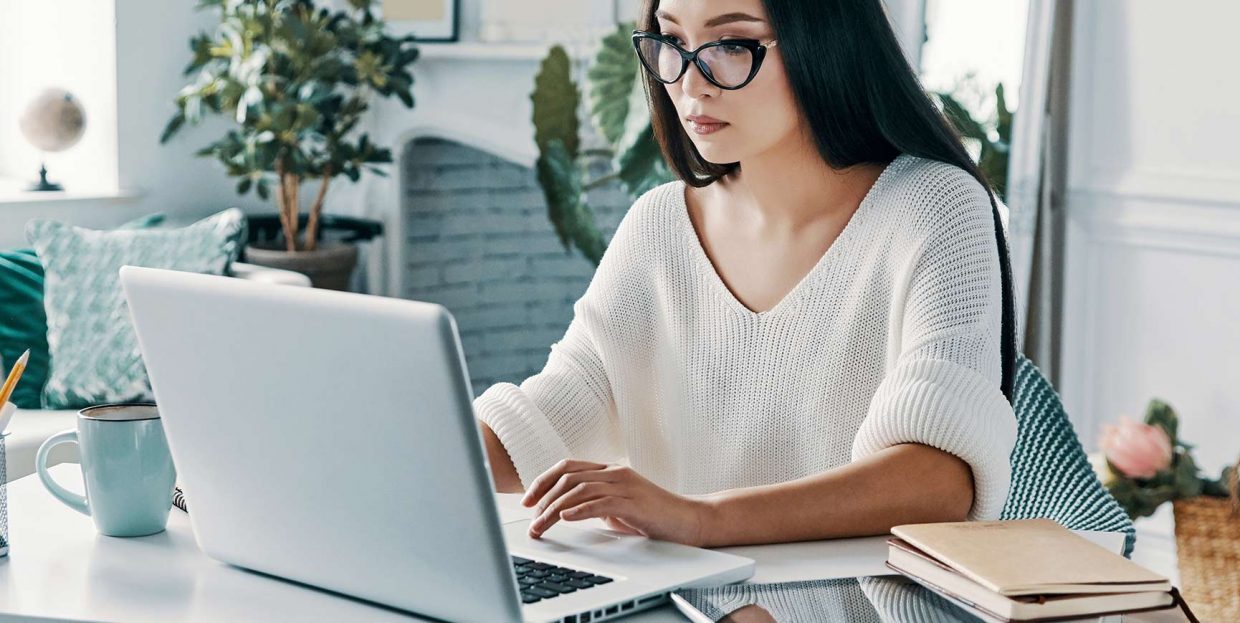 When it comes to creating various types of forms, Google Forms is a great solution when you need to perform a survey or a questionnaire quickly. But, although it is a free tool, it does impose some limitations on the user. First of all, you have to create a Gmail account and log in to Google to be able to create a form, which is not good news for fans of Google alternatives. Second, it is not possible for visitors to upload their files without logging in to Google. Last but not least, many useful advanced options like interactive conversation forms are out of reach with Google Forms.
What also bothers many users are the limited customization options and the security issues. These are certainly not the things you should overlook. And, if you need forms for your business, it may look unprofessional to use Google Forms. That's why it is no wonder that there are so many excellent Google Forms alternatives, both free and premium to choose from.
Having a lot of choices is not a bad thing, but it is useful to bring some clarity to the wide array of Google Forms alternatives you can find online, so we compiled a list of the ten best choices to help you narrow your search: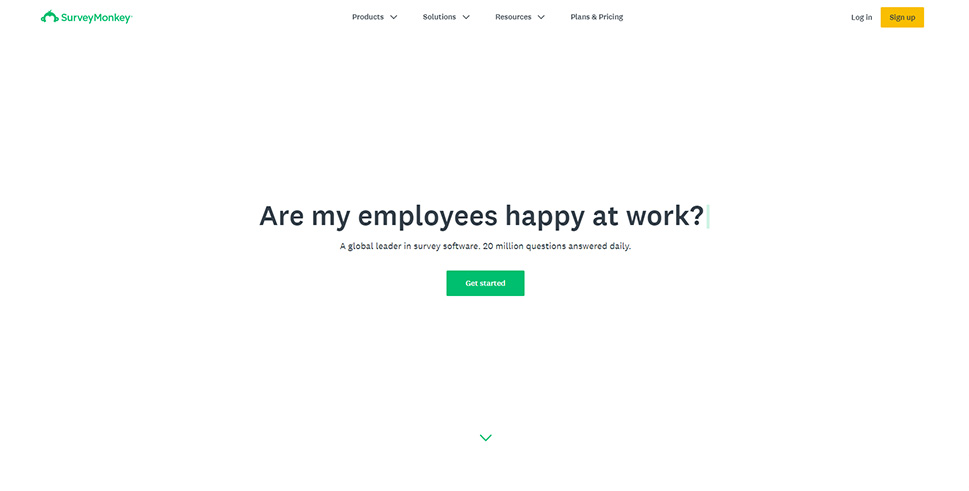 With SurveyMonkey you don't have to start from zero when creating a survey – it comes with 1,600 template questions designed by survey experts. This feature is what makes it one of a kind, not to mention how much easier it makes it for you to create surveys. You also have the option to choose between 15 different question types so you don't have to go through all of them to find what you need. Furthermore, SurveyMonkey is capable of processing an extensive amount of data which means file uploads will go smoothly and you can easily include very complex questions in your surveys. When you finish making the survey, you can export the form data to Excel and similar formats. It is also possible to download the SurveyMonkey app on your android or iOS mobile phone for free.
As for the price, a free trial is offered but there is no free version of this tool. You can choose between annual and monthly billing for one individual plan. If billed monthly, the price is $42.32 and if billed annually the price is $17.36.
Paperform seems like it was designed exactly to avoid all the shortcomings of Google Forms. It is very user-friendly and offers many advanced features that Google Forms simply doesn't have. With Paperform you can choose between 650 designer templates which makes drafting any kind of form both faster and easier. When it comes to adding logic to forms, Paperform is very flexible and allows you to define your own logic rules. You can show/hide individual questions or entire pages of content. Plus, there's also the option to employ Excel-style functions and calculation fields to adjust the way form behaves live.You also have the option to create custom surveys in the form of landing pages which you can use in many ways for marketing purposes. Thanks to an abundance of customization options, you can create forms that seamlessly match your website's design and enrich your site's content. Adding logos, changing fonts and colors, embedding videos is also easy with this tool. Every customization that you make on the form is immediately visible in real-time so you can know right away if you are fine with it or need to make further adjustments. Thanks to its intuitiveness, you don't need any experience in building forms to use the Paperform to the full extent.
Paperform is not a free tool but does include a free trial. The price for individual use is $24 billed monthly or $20 if billed annually.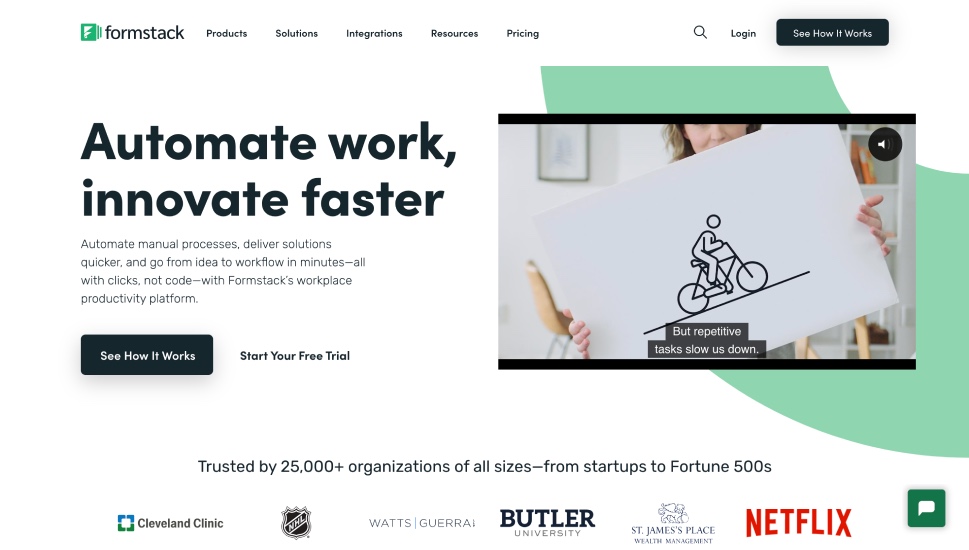 Formstack is a very popular tool and a great share of that popularity comes from its drag-and-drop user interface. Thanks to it, it is extremely easy to use and customize. This tool was created with the idea of helping organizations automate their workflow, therefore it includes features like built-in analytics, conditional logic feature, A/B testing, payment integrations, and many other similar functionalities needed for running a business. The feature that makes this tool special is the collaboration between team members – they can edit and review the forms, which is also very important for companies. All in all, Formstack is a powerful tool made to help businesses thrive.
A free trial is included but there's no free version. The monthly price is $59 or in case you choose the annual plan, the monthly price will be $50.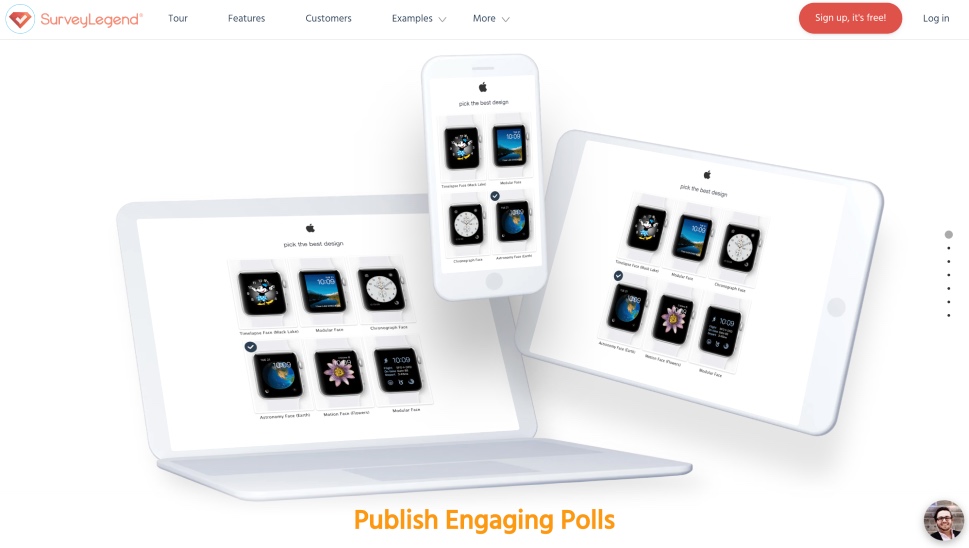 SurveyLegend is an excellent, well-rounded tool for creating forms, created in Sweden more than ten years ago. Since then, it has managed to earn the trust of some pretty big names like Netflix, Harvard, PayPal, Sony, and others. Among the things that make it so popular is the fact that it allows for a lot of creativity in building forms and includes a drag and drop option which makes the whole process very simple. Skip logic, hide logic, scored question logic and other similar options are all included, as well as advanced branching features. As for the logic conditions for all question types – you have a choice of two conditions – a question can either be answered or skipped by the respondent.
This tool includes a free version and the three premium pricing plans with prices ranging from $15 to $65 per month. The premium versions include more advanced features like multilingual support, multiple participation, and the option to export responses per survey in a variety of file formats.
This versatile tool is entirely focused on the user experience with an aim to transform the process of filling a form into a pleasant, interactive experience that resembles a friendly social media atmosphere.
Conversational Form is an open-source, completely free tool that doesn't have any paid versions. Still, it is not as widely popular as one might expect considering the features that it offers and that's largely due to the fact that it requires some coding knowledge for building forms with it. Nevertheless, it is an innovative and very appealing alternative to Google Forms for all those who are familiar with or willing to learn a bit of coding and want to turn traditional forms into a conversational experience for users.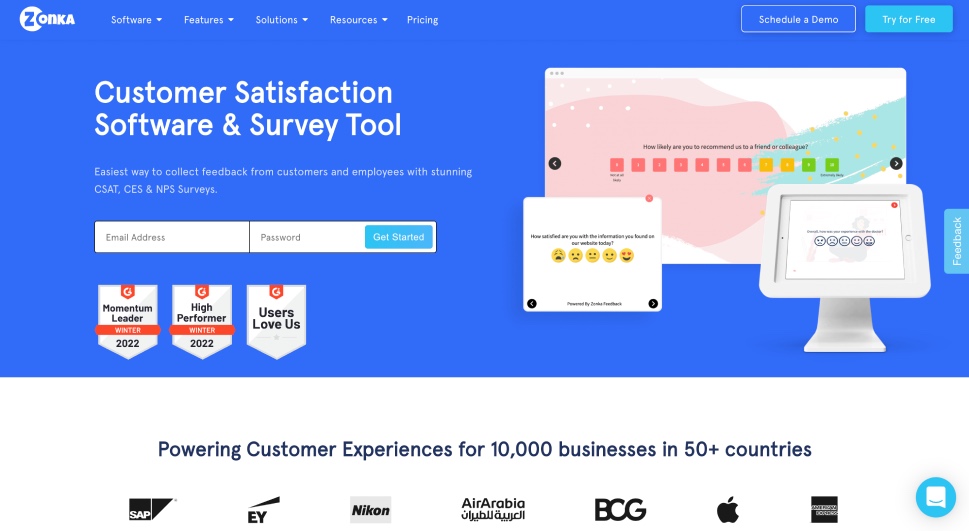 If your main interest revolves around measuring, collecting, and analyzing customer satisfaction, you'll probably find Zonka Feedback appealing. This tool allows you to create engaging, entirely customized surveys. You can create surveys and questionnaires that seamlessly match your branding and get feedback right away with multichannel survey distribution. Thanks to the real-time response inbox for all the surveys that you send out you will easily manage all the feedback that you collect. Plus, there's the option to filter survey responses, add notes, tag submissions as well as assign tasks to your team members. Zonka also allows you to create dynamic surveys and interactive surveys with survey logic, survey redirection, hide logic, answer piping, variables & pre-filled data. AI-driven reporting features that allow you to get a breakdown of all the responses collected via surveys are what make this tool very valuable for monitoring the changes in trends over time.
This tool includes a free version, while the premium version comes at a price of $29 per month.
Wuffo is an excellent choice for WooCommerce store owners because it allows connecting the forms you created with PayPal, Stripe, and other payment platforms. It also offers the possibility to create a variety of payment forms so it is often used for improving user experiences in webshops. Apart from those e-commerce handy features, this tool includes more than 400 templates so you do not have to create any form from scratch. But, in case you prefer or need to start from scratch for any reason, building a form will still be easy as a handy drag-and-drop builder allows you to draft any type of form in just a few clicks. This tool also allows you to set rules for personalizing respondents' form-filling experience. Some of the features that make this tool stand out include data analysis, custom branding and real-time notifications which can be very useful for all types of businesses.
Another good news is that Wuffo offers both a free trial and a free version. The free version allows you to create basic forms and get a limited number of responses. There are four premium versions with prices ranging from $14 to $183 per month that include more advanced features like Google Analytics tracking, field encryption etc.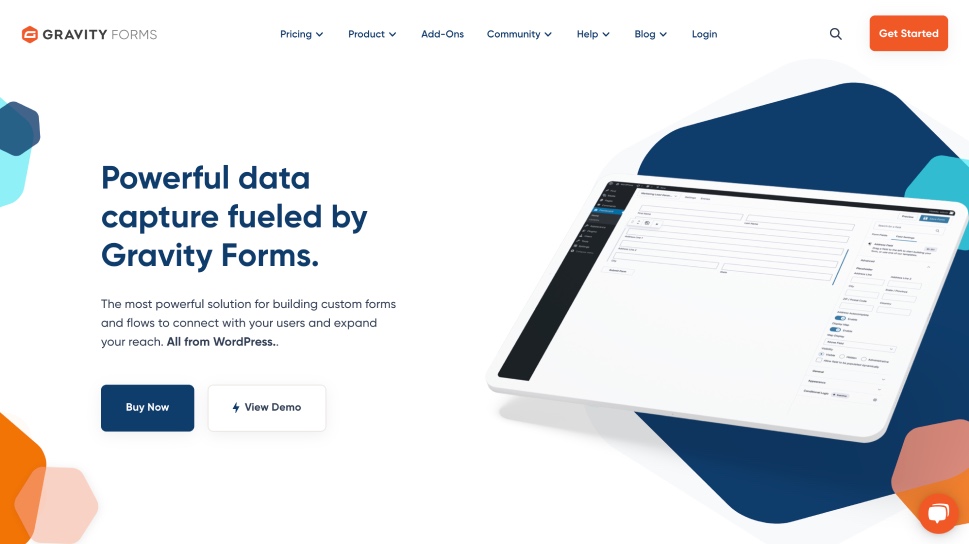 Gravity Forms is a powerful Google Forms alternative that makes creating even advanced forms very easy. It comes with a user-friendly drag-and-drop builder that makes the whole process of building a form very simple.
The feature that makes this tool stand out is the option to integrate it with accounting software, which can be very useful if you are running an online business of any kind. It also includes the Captcha feature that allows you to filter spam submissions. If you are dealing with a large number of submissions, it is a great advantage not to have to delete all the spam submissions manually. This tool also supports conditional logic meaning it is possible to display or hide fields, sections, pages, and more, all according to user selections.
Gravity Forms allows you to create a wide variety of forms easily – from surveys and quizzes to landing pages, payment forms and everything in between. As for the pricing, there are three pricing plans with prices ranging from $59 to $259 per year. The main difference between the plans is in the number of addons they support.
What makes Mighty Forms special is that it can become a great asset for your email marketing lists. How can it do that? First of all, this tool comes with the ability to help you track and recapture all those users who didn't complete the form. It allows you to ask the users right at the beginning for their contact details so you can smoothly fill in your contacts database regardless of whether they completed the form or not. That also means that at some point when you find it convenient or necessary you can retarget by mail those respondents who left the form prematurely. There's also the option to activate automatic email follow-ups so that the users get an email notification about the forms they abandoned and an option to continue where they left off. All this makes Mighty Forms an excellent choice for all those who want to boost their sales.
As for the pricing, a seven day free trial is offered but there's no free version. There are three premium plans with prices ranging from $15 to $55 per month. Plus, there's also the option to create a custom plan that includes all the specific features that you need.
Microsoft Forms is another great Google Forms alternative that comes with a free version. It also comes with a simple drag-and-drop interface allowing you to create both simple and advanced forms with complete ease. You can create all types of forms with it, from a simple survey to event registration forms and everything in between. Its only limitation is that it doesn't support uploading files to the forms you create. On the other hand, as this is a Microsoft tool just like Excel, Outlook and Word, it offers full integration with all the other Microsoft products which may be very handy if you need to create forms for business purposes.
The basic version is free but there's also a premium version with prices that start at $7.61per month.
While Google Forms can easily meet a large variety of needs when it comes to creating forms, it is always worth exploring its alternatives. Otherwise you could be missing a lot of advantages that Google simply can't offer at the moment. Survey Monkey allows you to create beautifully designed forms, Wuffo brings many benefits for WooCommerce store owners, Zonka Feedback is great at helping you measure customer satisfaction – each Google Forms alternative in this list comes with a unique advantage that can significantly upgrade user experience and grow your business. We leave it to you to carefully analyze and compare all the options according to your needs and your budget, since all the tools in this list offer either a free trial or a free version and some are entirely free.