10 Best Download Manager Plugins for WordPress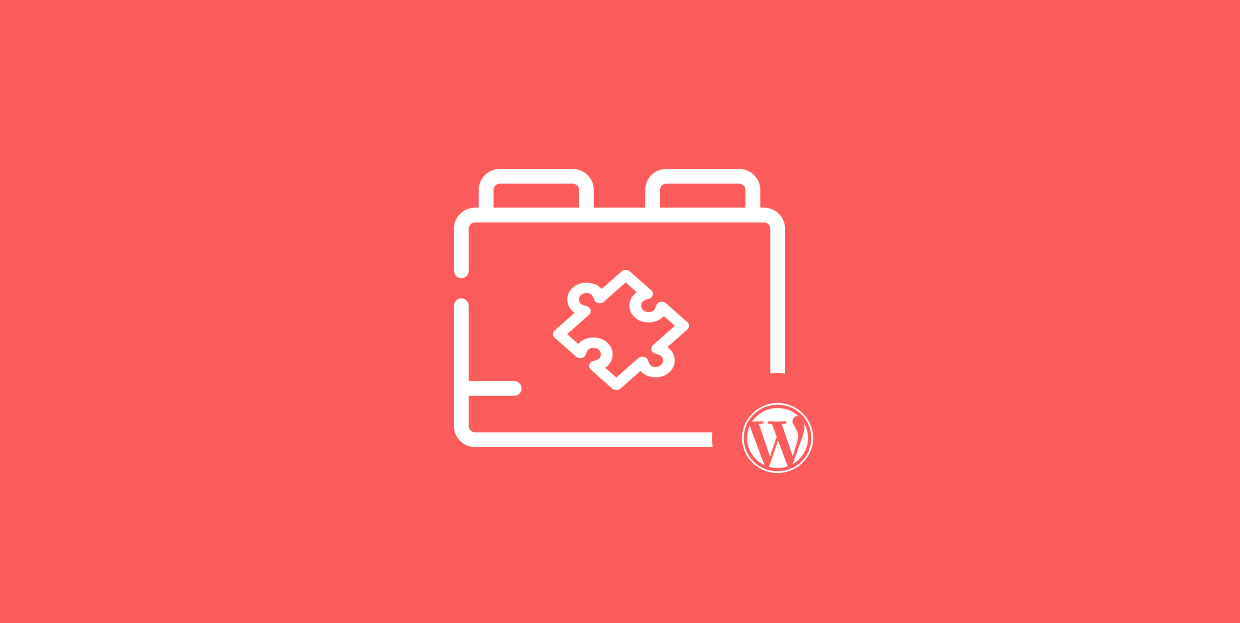 Do you host files on your WordPress website for your visitors to download? If so, chances are you want to disseminate them only among registered users, or track download traffic and see which of your files are the most popular among your users.
WordPress is equipped with a file hosting functionality by default, but it does not have many of the features even the free plugins now have. This is why we have created this curated selection of WordPress downloads manager plugins. But before we get to the list, we will discuss some useful features you might want from a downloads manager plugin.
Firstly, you'll want the ability to block users from accessing your files. This means protection from bots or spammers, but also control over who accesses them. If you are running a subscription service, you want your content accessible only to subscribers. If you are selling digital goods, you need to make sure only paying customers can get them – and that only a limited number of copies is available. Restricting access to parts of your website depending on user roles is, therefore, an important feature.
Secondly, you may want the ability to organize your files by categories or tags, especially if you have a large library of them.
Thirdly, you need statistics: tracking how many times a file or a type of file was downloaded. These statistics are important: you may see what your users want, and use this knowledge to inform your content creation activities.
With that in mind, let us look at the list itself.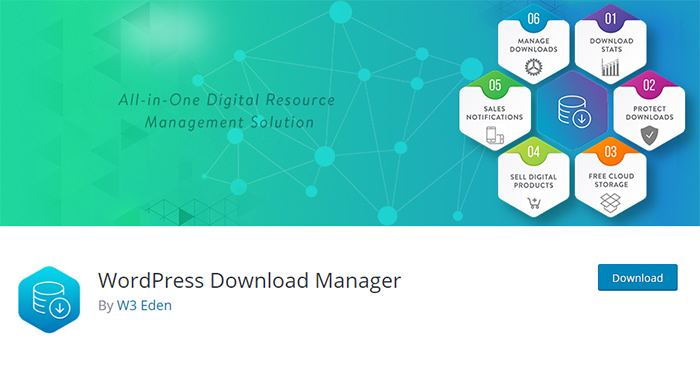 If you are on the lookout for a free and easy to use solution, WordPress Download Manager might be just the thing you need. It is a complete download manager solution, providing you with such useful features as passwords, and access by user roles. The passwords can be set for all of your files or for each file individually. You can also assign file access to certain user roles, making it easy for you to make them available for registered users. If you want extra protection against bots, you can use a CAPTCHA (link) in conjunction with this plugin.
The plugin itself does not allow you to attach a price tag to your files. You can do it, however, with the free Premium Package WordPress Digital Store Solution addon, making this plugin also a fully functional eCommerce plugin for sale of digital products, with functionalities such as role-based discounts, coupons, product variations, pay-what-you-want pricing and others.
This plugin also has a premium version, with even more useful safety features, but we found the free version a great all-round choice on its own.
MemberPress is a premium plugin dedicated to membership websites. And with the Downloads addon, you get plenty more useful download management features. With MemberPress, you can protect posts and pages, making them visible only to registered users or users with certain access levels, but you can also do the same with files. And if you assign categories and tags to your files, you can organize access levels and create download packages even more easily.
The plugin is integrated with PayPal and Stripe for payment. It offers several pricing page themes, along with a slew of customization options for pricing pages. A prominent feature of the plugin is the coupon functionality: you can make as many as you like, with auto-generated or custom codes, and assign them a time limit.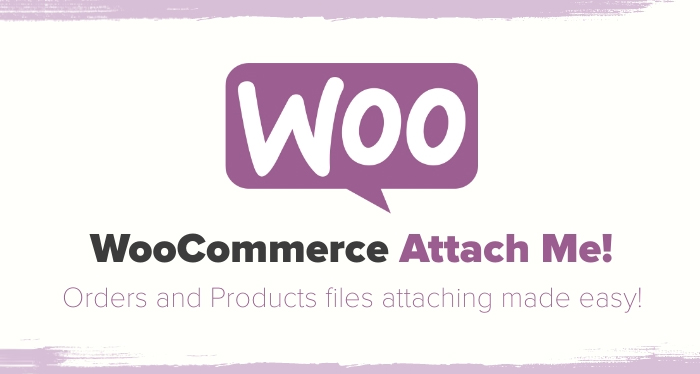 A premium plugin designed to work with the widely popular WooCommerceplugin, WooCommerce Attach Me! is a great choice for WordPress users who already use this popular e-commerce solution for their webstore. Its basic function is to allow your e-store managers to attach files to any purchase. This could be a user manual, video instructions, or any other documents – available only to customers after a purchase.
With this plugin, you can also make the download a purchase in itself, be it a document or media, allow your users to preview the downloadable content, and place shortcodes for your downloads anywhere on the website. The plugin also supports bulk uploads and admins can track download frequency for each single file, making it easy for you to gather download stats.
True to its name, Easy Digital Downloads is an easy-to-use, fully functional digital downloads store in one neat package. The basic version of the plugin is free, and presents a complete solution for a no-frills e-store, but more functionalities can be added with extensions both free and premium. Apart from the features you might expect from an e-commerce plugin, such as time-limited downloads and payment avenues (PayPal Standard and Amazon, with others available with extensions), Easy Digital Downloads also allows you to follow and analyze individual buyers' purchases and behaviour.
The plugin developers and other parties have provided numerous extensions which add more useful functionalities, such as a checkout bypass for free downloads, recurring payment programs, software licensing (with keys and updates), discount and coupon functionalities, and more.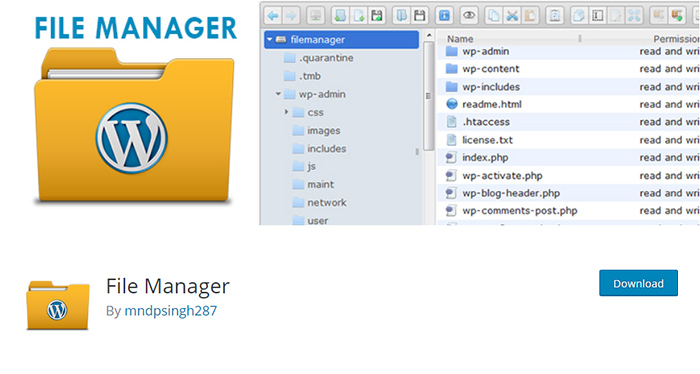 File Manager is a great solution for WordPress users used to an FTP interface. It has an easy drag-and-drop interface and allows for easy and quick file editing, uploads, downloads, and zipping through the back end of your WordPress website. Not just an FTP client, it also manages files in your website's media library, creates thumbnails, and provides a PDF preview functionality. Great as an archive, but, for its download management capabilities, you will need the pro version.
The pro version provides you with the ability to create private or hidden folders, available only for certain users, such as registered users or paying customers. It also provides you with shortcodes for easy file sharing. The plugin is also integrated with Google Drive and Dropbox.
As the name suggests, Groups File Access provides download links to groups of authorized users. Simply assign a user to a group, and they automatically gain access to all the files available to that group, or, conversely, the users gain access to all files barring ones not available for their group. Of course, more than one group can be assigned to each file. This premium plugin also lets you limit the number of downloads per user or per file, and request keys to access files, providing you with an easy way to control access even while granting it to non-registered users. The plugin uses shortcodes to manage link sharing, allowing you to offer different package deals to your paying customers.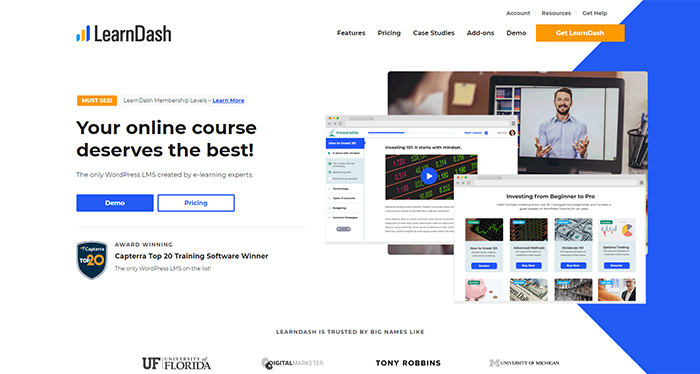 LearnDash is a file and media sharing plugin primarily designed as an aid for educational services. It offers several easy ways of organizing content distribution: subscription, one-time purchases, membership, and content bundles. LearnDash also allows you to distribute media files easily among course takers.
It has its own system for blocking protected (paid) content for non-paying users and has numerous extensions, both proprietary and third party, which allow you to integrate many payment avenues, such as Stripe, WooCommerce, and Square. The plugin boasts instant compatibility with any modern theme, and mobile-friendly design.
Shared Files is a simple, free plugin used for easy listing and management of downloadable files. It functions by sorting the files on the back end, and listing them on the front end using a simple shortcode. You can use the free version to sort files into categories, get notifications for each download, add any file to any post, and choose custom icons for each file type.
The pro version allows you to protect your files with passwords, set an expiration date for a download, limit the number of times each single file can be downloaded, and receive an email notification each time a file is downloaded. This way, you can control and track downloads with ease. The pro version also comes with a powerful search functionality, rendering results not only from file names, but also descriptions.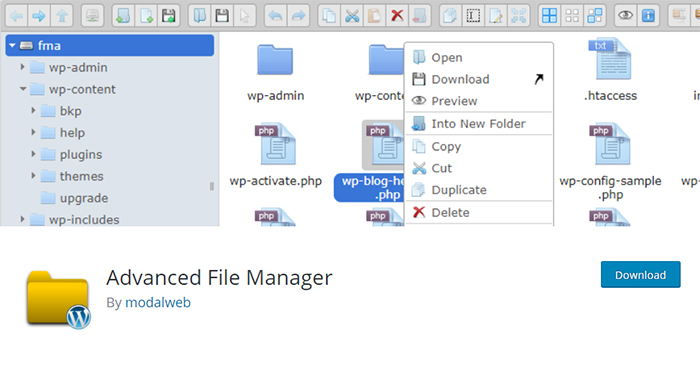 Advanced File Manager is a user friendly and simple file manager designed for WordPress websites. It all but replaces any need for FTP server clients, and allows you to preview PDF, image, and video files, as well as to edit images. It sports an intuitive drag-and-drop interface, and is very user-friendly, much reminiscent of the Windows File Explorer – takes virtually no getting used to for users already accustomed to Windows. The plugin comes with a search function, too.
With the pro version, you gain advanced shortcode functionality – you can add multiple attributes and features to your shortcode, allowing access to your files by user or user role. You can also enable or disable file management for logged in or non-logged in users from the front end, restrict access by user role, and show or hide files or folders.
With this list, we trust we have covered a broad gamut of use cases for download managers. As always, your choice of plugin depends on what you need the plugin for. If you are making an internal archive for your company, you could hardly do better than File Manager. If you are looking for a digital goods e-store solution, be sure to check out Easy Digital Downloads. If you are thinking of starting an online learning service, consider LearnDash, and if you are looking to add files to your WooCommerce orders, why not try Attach Me? In any event, take a careful look at the feature list for each plugin, especially if you are buying it.