Everything You Need to Know About Headless Commerce
The modern shopper is an online shopper, and all online audiences are spoilt for choice. While an online store conceivably has an unlimited number of shoppers potentially dropping in on their website, actually reaching customers is a whole different story, while retaining them is another. In the past, we've talked about various marketing techniques such as neuromarketing or content marketing as a way to reach new people and get them into the top section of a sales funnel. In this article, we will be talking about something a little different: headless commerce – a way to quite literally give your shoppers what they want.
In this article, we will be providing you with a brief intro on what headless commerce is, when it is useful, as well as reviewing some of the options offered by headless commerce providers. If you feel like you already know you want to engage in headless commerce, you can skip right down to the reviews.
Here's the breakdown for you: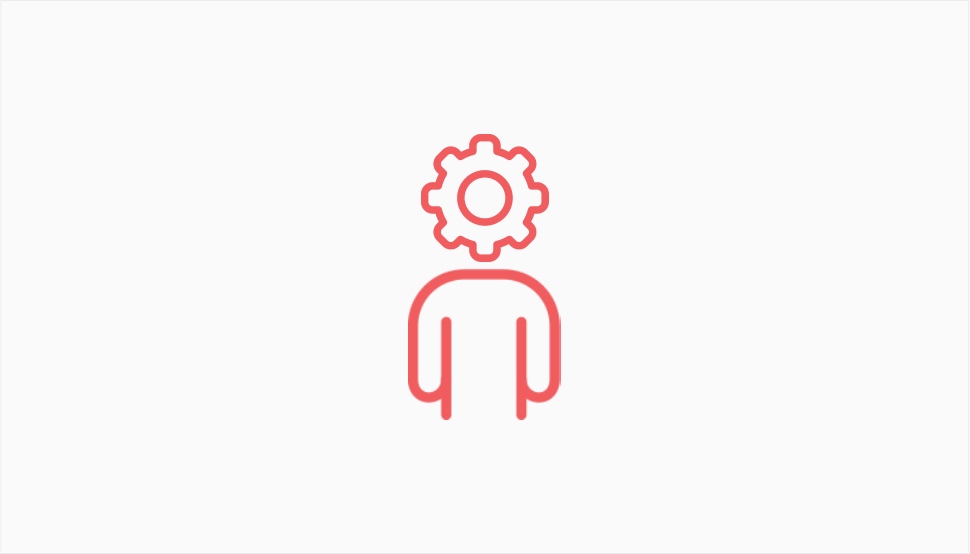 Headless commerce does not have a nice sound to it, does it? It invokes the chilling figure of the headless horseman, or the gruesome image of the headless chicken. Still, don't let yourself be seduced by the somewhat awkwardly chosen name – it has some major advantages.
See, when you set up an online store on your website, your website visitors can access your store, and see your products, your payment shipping conditions, your branding, your design, your visuals… You also get saddled with storing all the customer data and managing all their profiles in a secure way.
Headless commerce is all about separating the front and back ends of your website and handling all the commercial aspects of the store on a different platform. Basically, it disconnects your front end from your back end – hence "headless". Headless commerce solutions provide an independent commerce platform for your storefront.
But should you resort to it?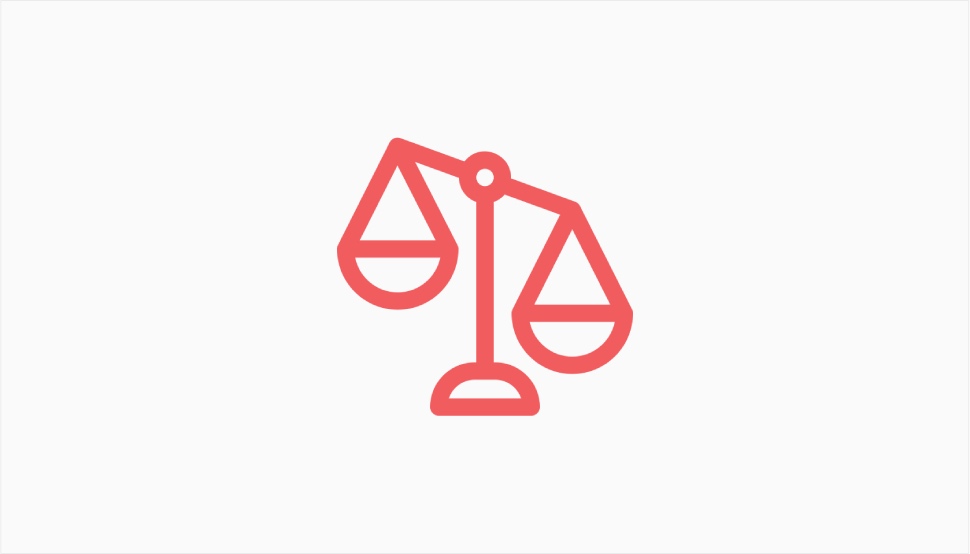 On the pro side, you get website speed – with the bulk of your data stored on a different platform, the website will load faster. This means a better ranking on search engine results pages (or SERPs), but also makes for a better user experience. It is easier to scale an external data storage, too.
The other effect of outsourced data storage is security. Now, online security is a major concern, and you shouldn't take it lightly. However, by not storing your customer data on your own website, you get one headache fewer, and everybody can use that.
Another positive effect is that you can make your website whatever you like. This means increased flexibility for your front end. Certain store solutions, such as Shopify, Etsy, and many others impose a certain uniformity. With a headless solution, you can make full use of WordPress's versatility and make your store really your own. This also means you can easily adapt your front end if needed, without changing the entire architecture of your store.
On the con side, we primarily have the budget. WooCommerce is basically free – or at least has a free version that can be made into a fully functional store. A headless solution means paying for access to an external commercial platform.
While you retain flexibility on the front end, you lose control over the back end. This is obvious, as you are no longer in control of the back end of the website. You need to pick a headless solution provider you can really trust.
Finally, there's the admin. You need to invest time and effort into maintaining your website's front and back end, and this means two different platforms. With a self-managed store, you only have the one.
First, we have BigCommerce. BigCommerce handles all your customer accounts, orders, and inventory management. It also offers some styling options, the better to fit any website layout or style.
One WordPress-specific advantage of BigCommerce is that it was specifically engineered to integrate with WordPress. BigCommerce's developers have created a dedicated WordPress plugin that connects your website with your BigCommerce account.
The BigCommerce WordPress plugin can be installed across a variety of websites, all connected to a single BigCommerce account, making it easy to tailor several shopping experiences using only one commerce platform. The plugin also lets you set the sync frequency, meaning that you have full control over how often an automatic crosscheck occurs, avoiding failed purchases and undue confusion.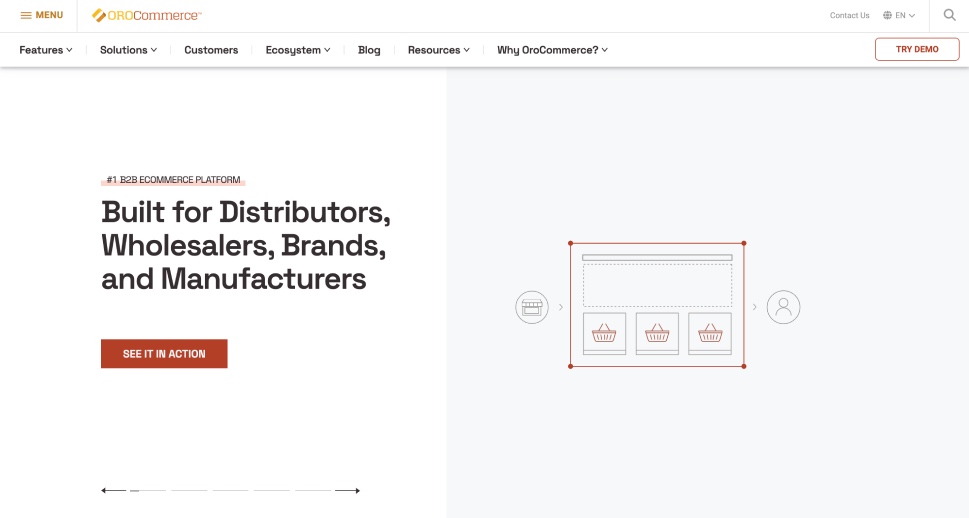 OroCommerce is an open-source ecommerce platform geared toward wholesalers, distributors, and manufacturers – a business-to-business (B2B) solution. It offers a wide variety of powerful features, including customizable workflows, reporting, pricing, and permission controls out of the box. You can use a single OroCommerce account across unlimited front-end instances (websites).
OroCommerce uses RESTful API to ensure easy cross-platform and cross-device integration. To make it work best with WordPress, OroCommerce uses a free addon to its software called WooCommerce Connector. The plugin makes it easy for you to sync your commerce platform and your website, has workflow support, and adds calls, tasks, and reminders to customer orders to ensure the best possible customer experience.
Adobe Commerce (formerly known as Magento)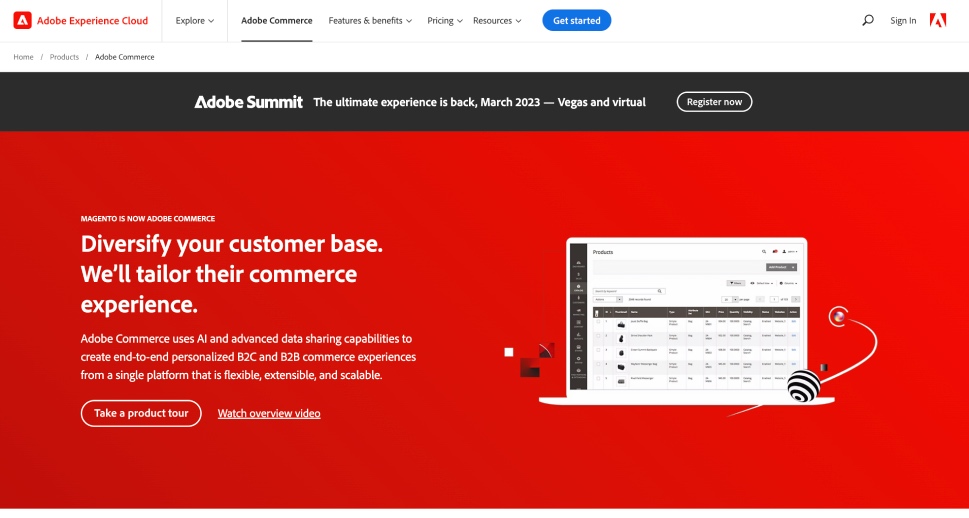 An Adobe company, Magento is a market leader in cloud commerce, and that includes headless commerce, as part of the Adobe Experience Manager CMS. Adobe boasts a future-proof, API-forward approach for maximum flexibility and cross-platform integration. This boils down to a bold claim: you can use any website architecture, including WordPress, in conjunction with Adobe. Like WordPress, the Adobe Experience Manager is easily scalable and presents a robust, general-purpose architecture for any kind of online store.
As you can see, there are good reasons to look into headless commerce as an approach to growing an online store. You do need to bear in mind that most headless solutions are premium services, so this is not for minor players and new entrants to the online market. However, if you can make use of the headless approach, it is the best way of providing a tailored shopping experience for your visitors.