9 Best Video Hosting Solutions for 2023
Gauge it by the sheer amount of video content posted on platforms such as YouTube, the traffic video hosting platforms manage to pull, or the interest marketers and businesses have been showing for video for the last five or six years, it doesn't matter. Whichever way you slice it, there's no denying that video is the most popular form of content today.
Still, even though it's popular and relatively inexpensive to make, video can be difficult to host. Quality standards are rising, which are in turn increasing the average video size, as well as the bandwidth requirements for smooth replay with minimum buffering. That's why, for many of the users who'd be interested in video content production, self-hosting isn't a viable option.
That's where video hosting solutions come in! There's plenty to choose from – video hosting platforms are some of the most popular websites of today, and some of the most popular websites of today have video hosting capabilities besides their original purpose.
In this article, we'll shine a light on ten of the best ones. You're likely to know at least a couple on the list that includes:
The undisputed king of video hosting solutions, YouTube is also one of the most visited websites in the world. The platform, launched in 2005 and bought by Google a year-and-a-half after its founding, has been integral to the rise of video content's popularity. Today, it's the go-to place where everyone from big productions to bedroom musicians, from Ivy-league colleges to mom-and-pop stores, and from traditional media to citizen journalists, can find a place for their content.
And what a place it is. The off the charts brand recognition of YouTube and the viewers pool and reach it provides is only the surface appeal of YouTube. It's a real platform for video content hosting, with tools that can help creators better hone their content-making skills if they choose to do so. YouTube allows its users to upload video files of up to twelve hours of content or a maximum file size of 128 GB. It supports resolutions up to 4K and can serve as a live streaming platform.
YouTube is not only free to use, but it's a platform that lets content creators monetize their content. Monetization options on YouTube include display ads, channel memberships, donations via Super Chat, and merchandise sales.
YouTube might be one of the biggest websites in the world, but it's not the only video hosting platform you could use for your video content. There are plenty of alternatives to YouTube. The leading alternative to YouTube is Vimeo, and it will give you more than enough reasons to give it a go – as long as you fit within its core market.
Vimeo doesn't seem to be casting as wide a net as YouTube does. The video platform is mostly aimed towards creatives, people who value the integrity of their artistic vision and want to present it in the most technically advanced way. Vimeo supports video resolutions up to 8K, offers great collaboration tools, and doesn't use ads to monetize your content. It does, however, allow you to sell video directly to users.
The basic Vimeo plan is free for everyone to use. As your needs grow, however, you might start looking into the paid plans. They start at €6 per month when billed annually, and come with more resources, advanced creation tools, and even the possibility to use Vimeo's live streaming platform.
Facebook is a social network that, at this point, needs no introduction. Known as the platform that propelled the boom of social networks and media by some, and as their parents' favorite website by others, Facebook has always tried to follow the trends that it wasn't able to outright dictate. Its use of video content is a great example.
Facebook lets you upload video files that are up to 10 GB in size. It supports 1080p video and lower and has a 240-minute limit on the length of the video. The social network also allows you to set the title and the description of the video, which is where you can tag a person or a product, check-in a place, or use targeting options to narrow your audience. It also gives you control over the thumbnail, video distribution, subtitles, and captions. It does all of that for free.
For all its fame and reach, Facebook is a social network that's marred with problems, causing many to adopt a more cautious approach to it. If this describes you, or if you're willing to explore a social network that has video capabilities and also caters to a slightly younger crowd, you could do much worse than Instagram.
Instagram might not be an obvious choice for an outright video hosting solution. However, what it lacks in hosting options, it more than makes up for by the sheer scope of video products it offers. Instagram has not one, not two, but four different types of video content you can post on it. You can use the ephemeral Stories, capture events as they happen using Live, create TikTok-like Reels, or use the good old Video format for a mix of IGTV and in-feed video.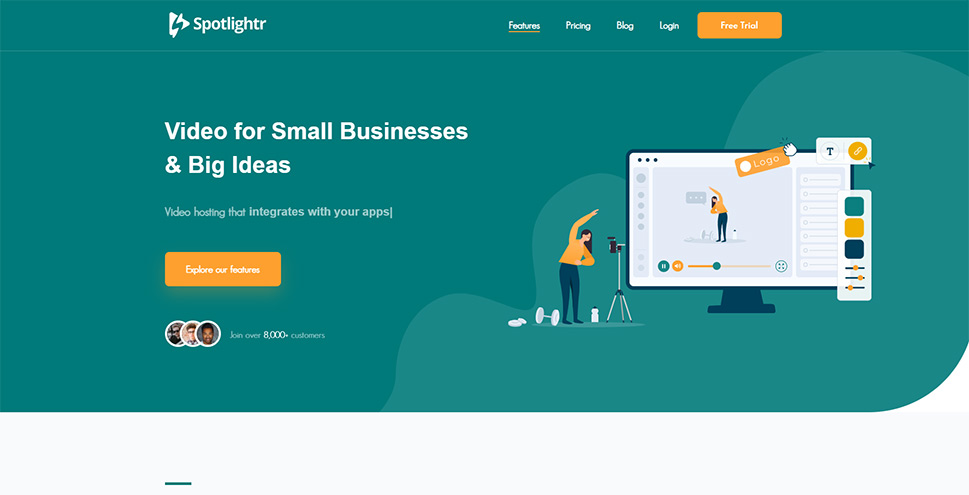 Using social networks and free platforms is awesome for people who just want a place where they can host their content and eventually find an audience for it. When it comes to enterprise usage, even if it's for small businesses, the demands change, and different solutions come into play. Solutions such as Spotlightr.
Spotlightr is a video hosting platform that caters to the more business-minded section of the market. The platform offers cloud and hybrid video hosting, as well as a video player that works across browsers and devices and has built-in social sharing. Spotlightr has marketing capabilities, too, and offers security and analytics features to boot.
The platform offers a free two-week trial. After it, you can continue using it for as low as $7 per month, which gets you 25 videos, a monthly bandwidth allotment of 50 GB, and as much space in storage. Choosing pricier plans gets you more resources and features.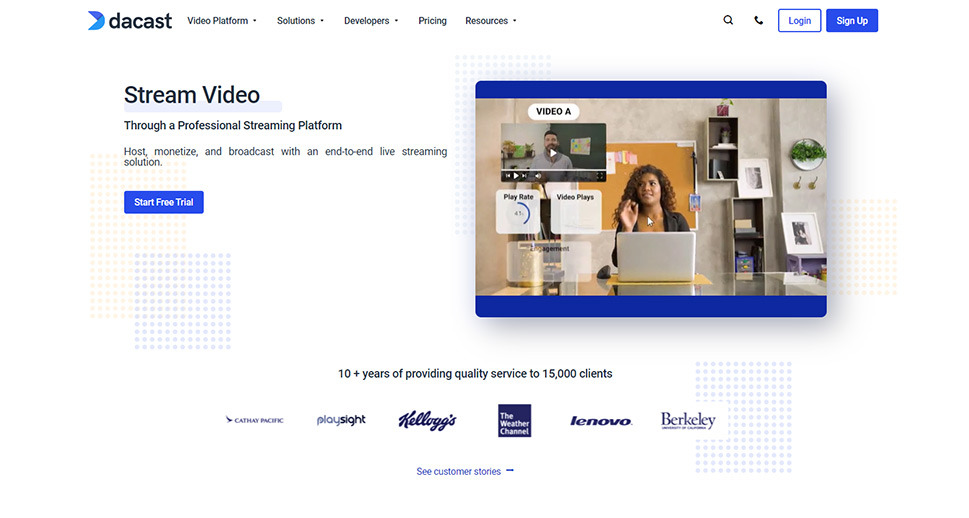 Video streaming is a phenomenon that's taken the world by storm, and it doesn't seem to be going anywhere anytime soon. If you want to get on the trend using a solution that's geared more towards businesses than gaming streamers, Dacast is as solid a choice as any.
With Dacast, you'll get access to a professional video streaming platform that will let you create and monetize live streams. Dacast has solutions for OVP, OTT, as well as VOD distribution, and it offers its services worldwide, including in hard-to-reach markets such as China. As for video hosting, Dacast doesn't lack in that department either – it comes with its content management system, as well as transcoding, mobile video, and security and privacy capabilities.
Dacast is a premium service that offers a 30-day trial for you to get a sense of what they offer. The plans start at $39 per month and include storage and bandwidth allotment, services such as support, and functions such as ads, paywalls, and migrations.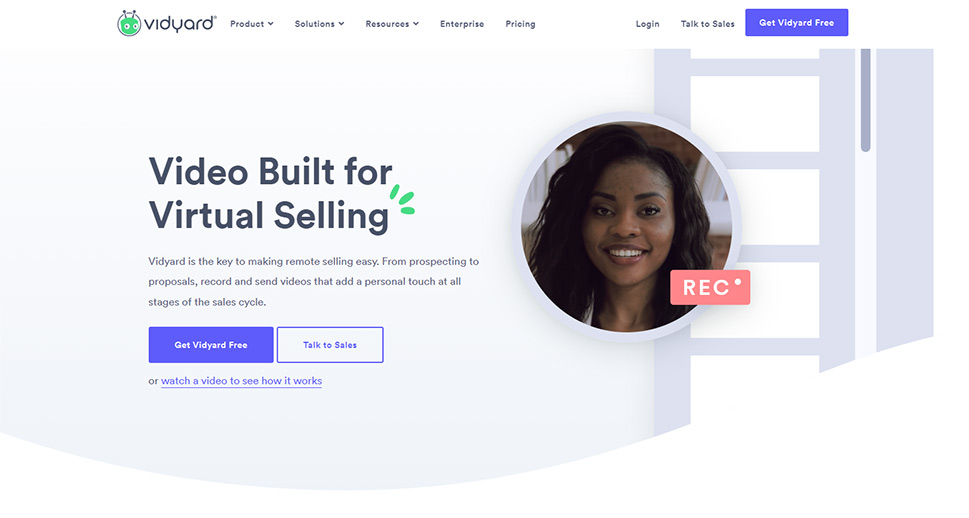 Vidyard is positioning its service as "video built for virtual selling," aiming to help people achieve remote sales using the solutions available on their platform. The three core services it offers are video hosting, video analytics, and video creation, helping you chisel out the best content you can every step of the way. As if that weren't enough, Vidyard also sweetened the pot with awesome integration capabilities that include LinkedIn and Salesforce Sales Cloud integrations.
Vidyard's basic plan is free to use, and it includes video recording, uploading, and sharing. The Pro plan, which starts at $15 per month, adds intro banners, video sharing page customization, and video performance insights. The more expensive plans include calls-to-action analytics, scheduled video release, and Zoom integration, just to name a couple of features.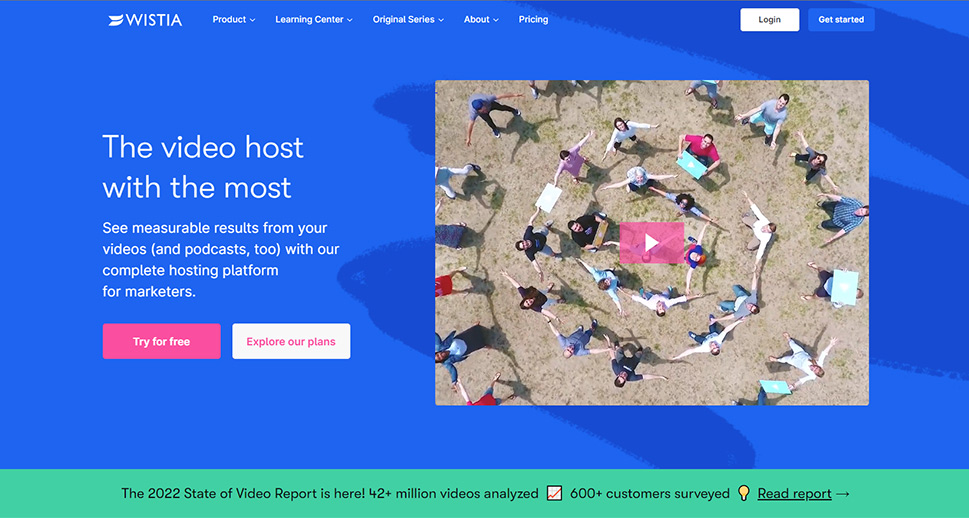 Staying in the lane of video as a solution for various business needs, we'll turn our attention to another great video hosting service that pledges to help you grow your business using video – and podcasts. Wistia is its name, and video marketing is what you'll use it for.
Wistia offers the full gamut of functions and features that will help you leverage the power of video for your marketing needs. From allowing you to fully customize your player to make it match your brand, to giving you access to lead generation tools as well as the ability to create easily embeddable channels, it's hard to find an option you might miss if you go with Wistia. From hosting to analytics and audience segmentation, Wistia will help you stay on top of your video marketing game.
Another reason you'll love Wistia is that it offers you all of its standard features for videos and podcasts, with three complementary videos or podcasts you can embed anywhere you want. To get more out of Wistia and its services, however, you might opt for one of the paid plans, which start at $99 per month.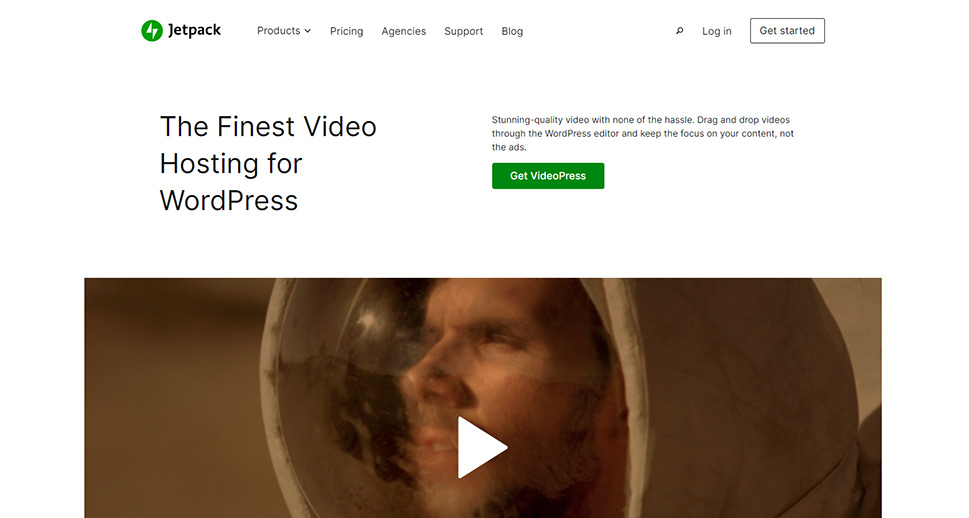 So far, all of the tools we've mentioned weren't created specifically for WordPress. Closing the list and representing the WordPress plugin ecosystem is Jetpack, the well-known plugin that helps with everything from website optimization to boosting security. With VideoPress, Jetpack also gives you a handy tool to host your video content.
Jetpack VideoPress offers you many of the things you'd expect to see in any decent video hosting solution. First, it lets you dip your toes for free and try it out before committing to anything. Next, it allows you to upload 1080p video at 60 FPS. You get a brandable player without any ads, and it integrates with your WordPress media library.
There are two ways you can use Jetpack VideoPress. It's included in the Jetpack Complete plan, so as long as you have it you can use VideoPress. Alternatively, you can sign up for it at roughly $10 per month.
If video hosting is what you need, rest assured that you won't lack high-quality options to choose from. Whether you're looking for video hosting as a way to enrich your content offering on social networks or want a way to live stream earnings calls, there's a hosting platform out there that will help you out.