How to Display Your Latest YouTube Videos in WordPress
There's no denying the power YouTube has in the world of video marketing. With over 2 billion monthly viewers, it is definitely the most popular video-sharing platform on the web. So, if you plan to start your own YouTube channel, or you already have one, but you want to expand its reach, then properly connecting your YouTube channel to your WordPress site can only bring benefits to your brand and business as a whole.
It's no secret that video content is easily one of the most engaging forms of content out there. So, if you decide to display your latest YouTube videos on your WordPress site, not only will you make your pages more appealing in general, but you will also increase the chances of your website visitors staying on your page for a longer period of time. And since Google also tends to rank pages based on the time users spend on them, this means that the presence of YouTube videos on your site can only help improve the ranking of your content in search engine results.
We will walk you through all the steps needed to successfully display your latest YouTube videos in WordPress and ultimately boost the engagement around your content.
Displaying Your Latest YouTube Feed in WordPress With a Plugin
Now, if you want to easily add your latest YouTube videos to your WordPress site, we highly recommend using a plugin called Feeds for YouTube. This plugin will allow you to automatically display customizable channel feeds anywhere on your page, post, or in your website sidebar (with the help of a widget). So, every time you upload a new video to your channel, your YouTube feed will get automatically updated on your site, displaying the newest video you put up as well.
Also, you will be able to choose from multiple layouts (like list, grid, or gallery layout), display multiple feeds from multiple channels, add a Load More button, and the list goes on.
You can either use the plugin for free or upgrade to the pro version to get access to more advanced features (the pricing starts at $49 a year). These include the ability to integrate the YouTube Live API and allow the live streaming of videos on your site, display videos in a YouTube gallery using a carousel slider, allow filtering of videos using keywords, and more.
First and foremost, you should install the plugin and activate it. After that, you should access Feeds for YouTube (located in your WordPress dashboard) and click the button called "Connect to YouTube to Create a Feed".
This will open a new screen asking you to log in to your Google account. You should pick the account linked to your YouTube channel.
Once you select your account, you should allow the plugin to have access to your account.
To allow it, simply hit the Continue button.
You should receive a notification that your account has been connected successfully. To continue, hit the Dismiss button.
Then, you can select the Customize tab located at the top of your screen to adjust the way your YouTube channel feed will look on your site.
In the General section, you will be able to set the width, height, and background color for your feed.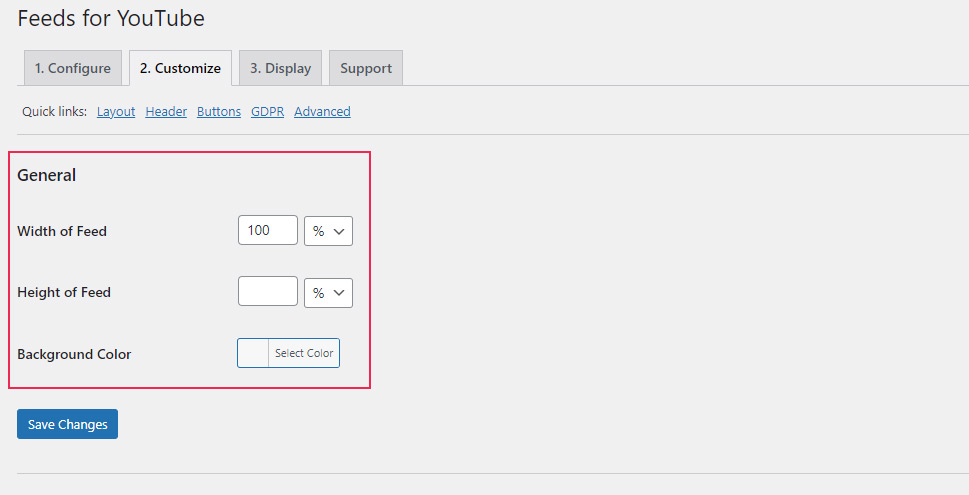 Next, you will get to pick the layout type in the Layout section (you will be able to choose from Grid, Gallery, List, and Carousel, the latter being available in the pro version of the plugin only). You will also be able to choose things like the number of columns in which your video thumbnails will be displayed, as well as the number of videos you want to show initially.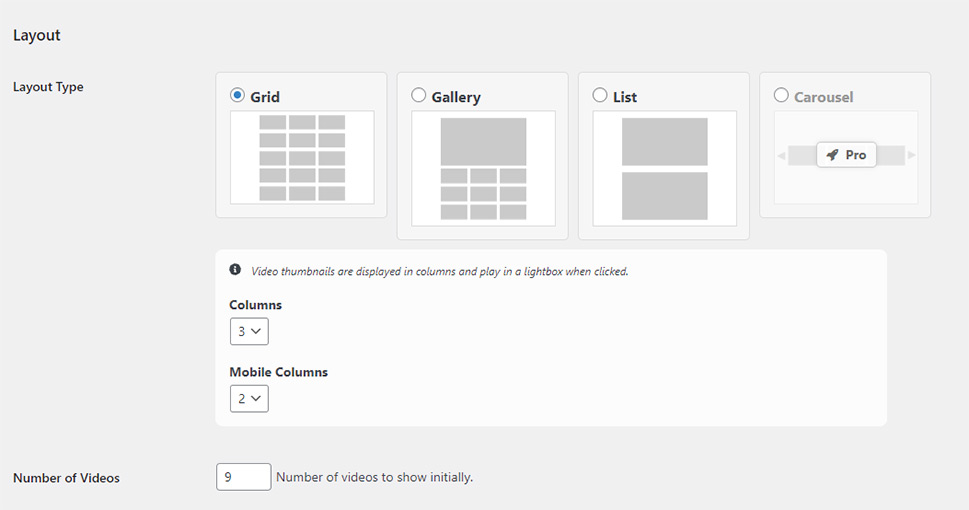 Next, the Header section will allow you to adjust your header settings. Here you can choose whether you want to show or not your header and description.
The Load More button section will allow you to show or hide this button, choose button background and text color, and insert the desired button text.
Last but not least, you will be able to set identical options for the Subscribe button right below.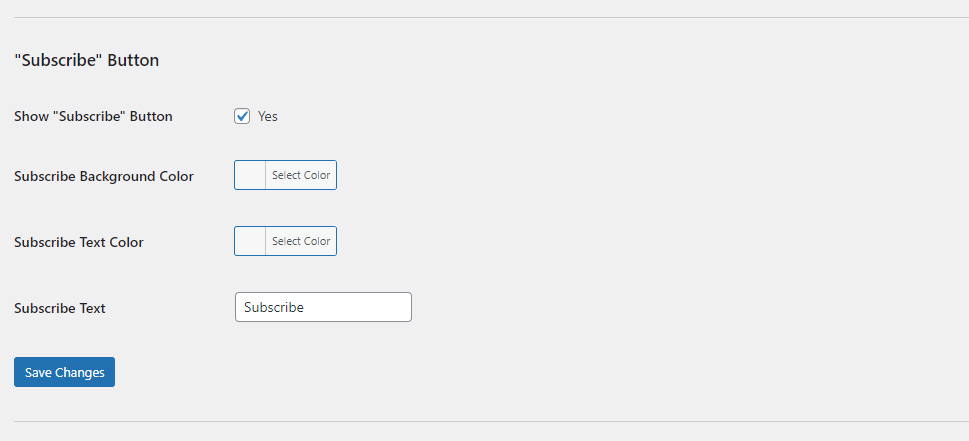 Don't forget to hit the Save Changes button once you're done with adjusting your settings.
Your next step should be adding your YouTube feed to your WordPress site. To do this, go to Pages >> Add New (or Posts >> Add New). Then, hit the (+) icon to add a block.
Type "YouTube" into the search bar and simply choose the block named "Feeds for YouTube". By doing so, you will add a YouTube feed to your page automatically.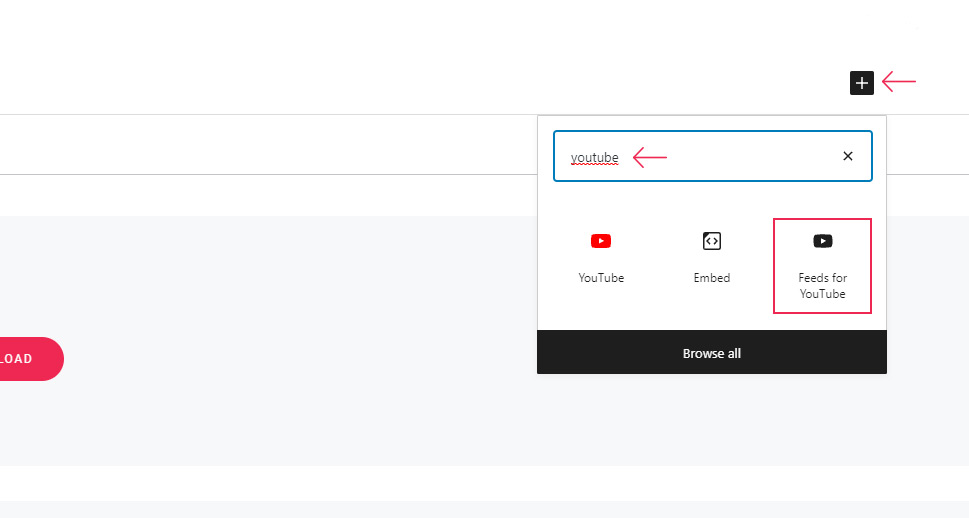 Hit the Publish/Update button once you're done.
Now, your new videos will automatically show up on the page you added the feed to once you upload them to your channel.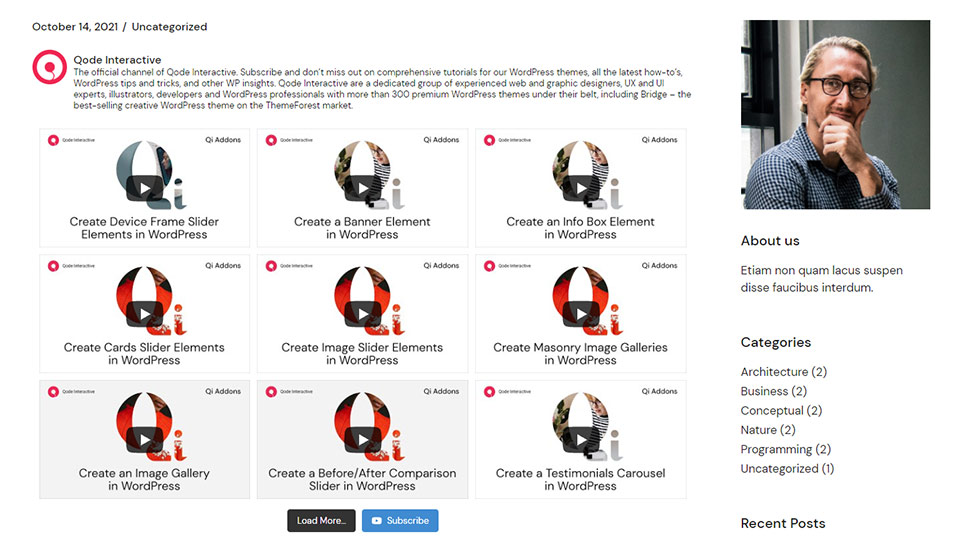 If you want, you can also insert your latest YouTube video feed into your sidebar area by using a widget.
To do this, simply head to Appearance >> Widgets and hit the Add Block button at the top to add a new block. Alternatively, you can find the same button in your desired widget area and click on it.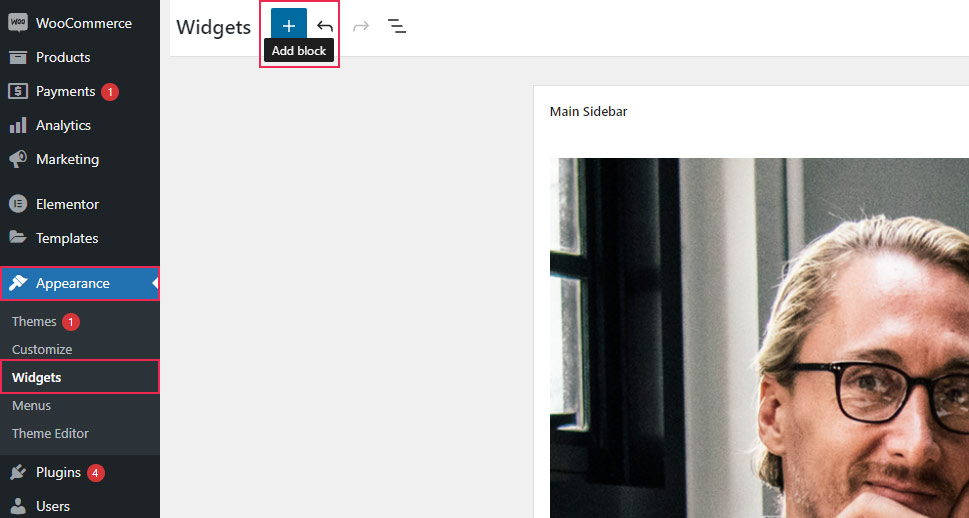 Once again, to find the widget, simply type in "YouTube" in the search bar. Once you do this, you will be able to see the "Feeds for YouTube" block in the block list. Click on it and insert it into your desired widget area.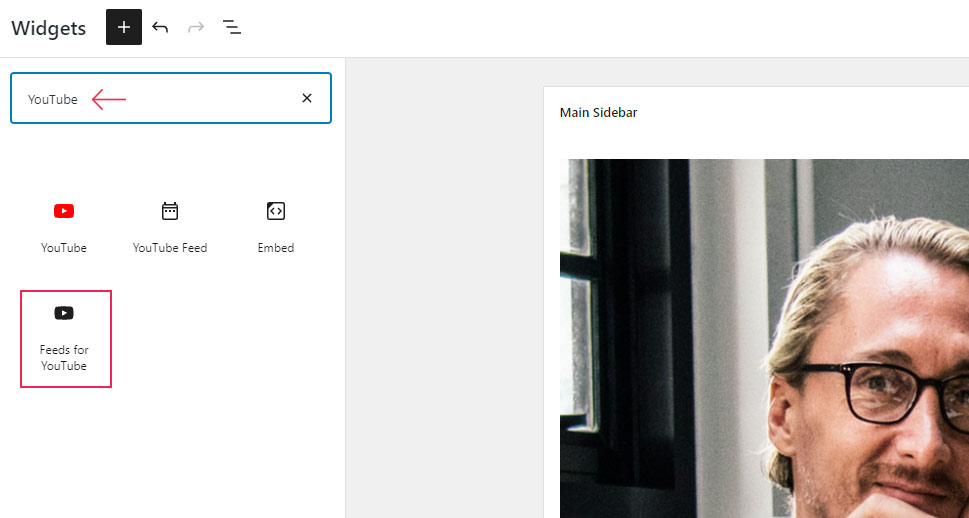 Hit the Update button and you're all set. You can go ahead and preview what your latest YouTube feed will look like live.
Once again, this will add your YouTube feed automatically to your widget area and your latest videos will also show up as soon as you add them to your YouTube channel.
As you could see from all the instructions we shared with you above, using the Feeds for YouTube plugin to display your latest YouTube feed in WordPress is as easy as it gets. The setup process itself is quite simple and straightforward, while the plugin's block allows you to automatically add a YouTube feed to your pages, posts, or your WordPress sidebar in no time. Just make sure to follow all the steps carefully, and you'll be able to successfully connect your YouTube channel to your WordPress site and make it more appealing and relevant both to your visitors and search engines.