7 Best WordPress Facebook Plugins to Help Grow Your Blog
With a whopping 2.23 billion monthly active users, Facebook is easily one of the best online platforms you can use to promote your WordPress site on social media. If you connect this popular social media network to your website or blog, you will instantly get more opportunities to build credibility in your niche by getting your content out there and reaching your potential audience more efficiently. And regardless of the type of WordPress blog you have, there are some great Facebook plugins on the web that will help you do just that.
We are using this opportunity to share some of the best WordPress plugins that will allow you to successfully integrate your blog with Facebook in various ways. Aside from plugins you can use to share your Facebook feed directly on your site, you will also find those that will help your users log in to your blog using their Facebook account, allow them to easily share your posts on FB, and more.
Here are some of our top plugin picks you can use to increase user engagement on your WordPress blog: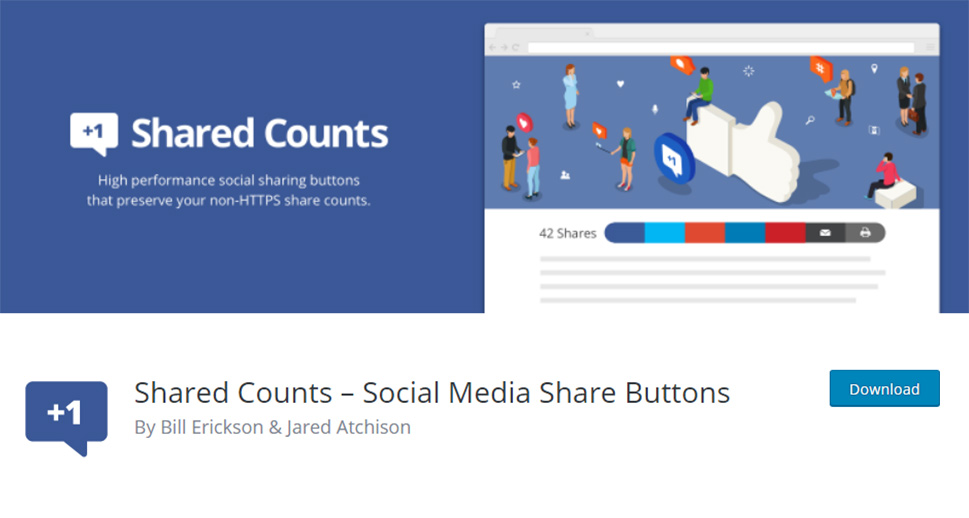 Shared Counts is a neat plugin you can use to easily add social share buttons to your WordPress site and thus help increase traffic and engagement on your blog. This will allow users to instantly share your posts and pages on their social media. Aside from the Facebook Share button, you also get buttons from other popular social networks like Twitter, Pinterest, LinkedIn share button, etc. You also get access to the email sharing and print button. Social share buttons also come with social tracking and social count display support.
If you opt for this plugin, you will also get access to different button styling options, you will be able to automatically insert share buttons before or after the post content, and even display these buttons anywhere you want using the help of a shortcode.
Social Reviews & Recommendations is a plugin that displays Facebook page reviews and recommendations on your site with the help of a sidebar widget. It works by using the Facebook Graph API (which requires admin rights to the Facebook page to get the reviews and recommendations).
The free version of the plugin contains features like auto-refresh reviews, the ability to display all FB reviews, trim reviews using the "read more" link, multiple page builder support (for Gutenberg, Elementor, Beaver Builder, WPBakery, etc.), pagination, and more. And in case you want to get even more features, you can get the Business version of the plugin (with the pricing of $85 a year). Some of the pro features include the ability to merge reviews between each other, sort reviews according to most recent, oldest, highest-rated, random, etc., shortcode & HTML/JS support, and more.
With over 100,000 active installations on WordPress.org, Widget for Social Page Feeds is a popular and lightweight plugin that you can use to display your Facebook page likes in your sidebar. It is easy to configure and allows you to use the application ID from the previously created Facebook application (or use the default application ID) and add it to your widget. Some of the configuration options include the ability to show or hide posts from your timeline, show or hide cover, profile photos, and small header, set width options, and so on. What's also great about the plugin is that it also features shortcode support, which means you will be able to place your Facebook page likes anywhere into your page or post.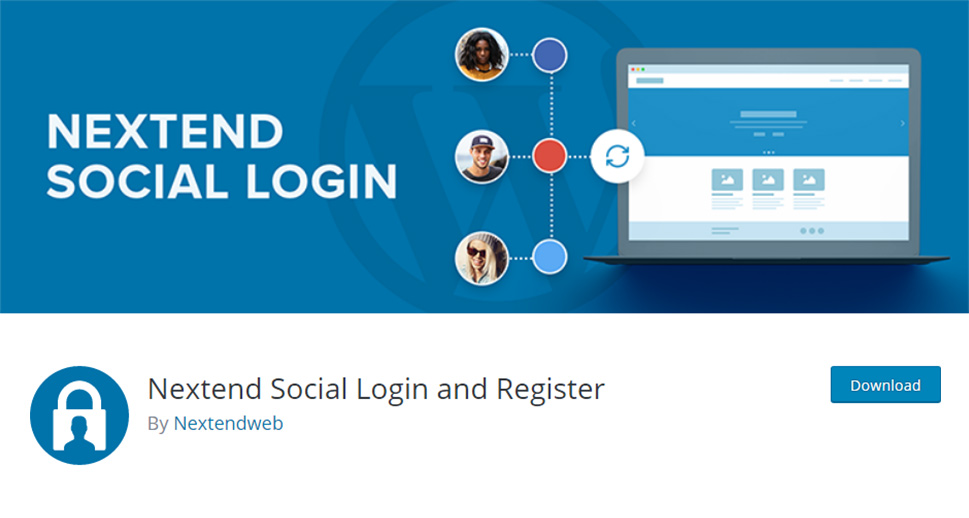 Another highly popular plugin with over 300,000 installs, Nextend Social Login and Register is a free and easy-to-use plugin that will allow your visitors to register and login to your WordPress site using Facebook and a few other social media profiles. This will save much of their time as they would otherwise have to create an account on your blog. Aside from Facebook, your visitors will also be able to login and register using Google and Twitter.
Features that come with the free version include the ability for users to register and login with a single click, an easy connection of their social profile with their WordPress user account, the option to define custom redirect URLs after each login, the ability to display Facebook, Google, Twitter profile picture as an avatar, login widget shortcodes, and fast support, among others.
There is also the pro version of the plugin that comes with the WooCommerce compatibility, other providers such as Yahoo, LinkedIn, Disqus, etc., different login layouts, the ability to restrict specific user roles from using the social logins, and more.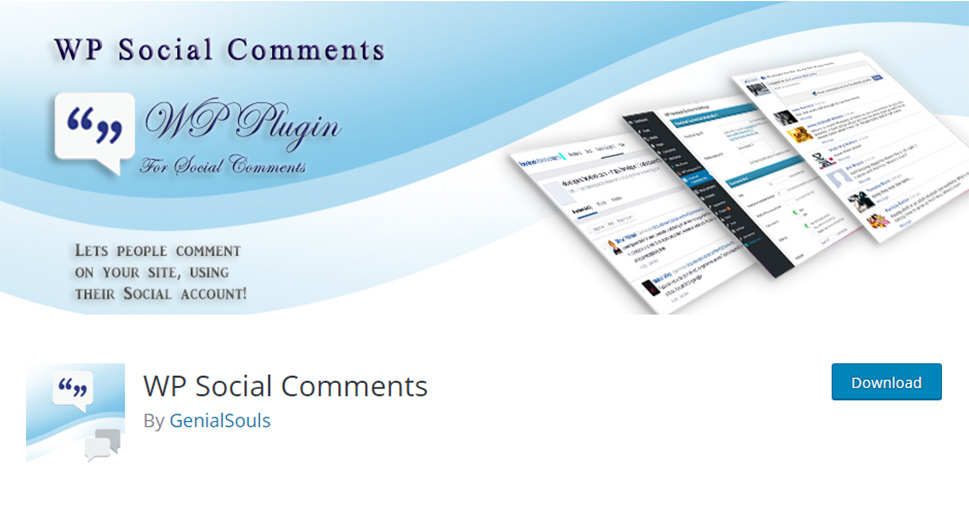 WP Social Comments is a great plugin that can help you get more comments on your WordPress blog and inspire users to engage more with your content by allowing them to comment using their FB account. If they want, people will also be able to share their comment activity with their friends on Facebook. What's also great is that you will get to use Facebook tools to moderate these comments.
There is also the pro version of the plugin (that you can purchase at the price of $20.99) that comes with features like the comments widget, easy moderation, localization in 56+ languages, and so on.
Coming with over 200,000 active installations, Social Post Feed is a great plugin that will let you display Facebook posts on your WordPress site. Your feeds will be fully responsive, search engine-friendly, and GDPR compliant. Plenty of customization options that are included with the plugin will allow you to fully adjust your feed to your site design. Some of the features include Facebook oEmbed support, the ability to display your feed from your Facebook page or Facebook group, no limit to how many feeds you will be able to display, etc.
There is also the pro version of the Social Post Feed plugin with the pricing that starts at $49 per year for one site. It will allow you to display photos and videos, HD, and live video support, display the number of likes, shares, comments, and reactions below every post, choose to show only specific post types, and plenty more.
As its name suggests, Easy Social Feed is an easy-to-use and beginner-friendly plugin that will allow you to add a custom Facebook feed to your WordPress site. Apart from that, it also comes with additional features that will allow you to display your Facebook page on your site, as well as a custom Instagram feed.
When it comes to custom Facebook feed-related features, they include the ability to fully match the look of your site with WordPress customizer, display images, videos, and albums using the advanced popup (thus preventing users from leaving your site), and the ability to navigate between post images within the popup using next and previous links. You will also be able to add an unlimited number of feeds (from multiple pages) anywhere you want. As for the Facebook page plugin features, they come with the ability to display fan page posts, a like button, and connections on your site. You will get to show or hide faces and/or connections, show or hide header, as well as the latest Facebook fan page posts.
There are also some great pro features available (with the pricing that starts at $32.37 per year), like the ability to display your Facebook feed using grid, masonry, or carousel layouts, display posts from any public page even if you're not the one managing it, display your page events (they sync with the events you share on Facebook so your visitors will stay up to date), display comment threads in the separate popup, and so on.
From social sharing buttons to the ability to display your Facebook feed and reviews on your site, these plugins have everything you need to effectively connect your blog to one of the largest social platforms on the web and increase the outreach of your business. By using the plugins on our list, not only will you be able to get more traffic on your blog, you will also get to enhance the overall user engagement and incite your visitors to interact with your brand more. So go ahead – pick a plugin (or a plugin combination) of your choice and start boosting your online presence today.