How to Embed a YouTube Video in WordPress
Video has become such an essential part of the online environment. It's hard to imagine a day passing without catching at least a couple of YouTube videos on websites and social media alike. Sometimes we click on them, sometimes we don't, but one thing is for sure – they spark our interest, one way or another. That's one of the main reasons why videos make an excellent addition to any kind of website. There's no doubt that posting videos is beneficial for your WordPress website, so basically you only have to choose between YouTube and Vimeo. And learn how to add them to your site, of course.
In this article, we're going to discuss some of the reasons why adding YouTube videos to your WordPress website can be a great idea; and we're also going to show you just how to embed the video using both the Classic Editor and Gutenberg, as well as via the WPBakery page builder plugin.
Why You Should Add YouTube Videos to Your Site
A YouTube video is often a quick, surefire way to spice up your website and your pages, making them more exciting, content-wise. And here's why:
Videos are great for marketing. Video content has already become the hottest marketing trend and video consumption is on a steady rise that's only going to continue in the years to come. Videos can help you:

Improve search engine ranking

Make a clear brand statement

Build trust

Improve retention

Stand out from the competition
Videos help spice things up. Unless you're running a website that is image-heavy and already visually saturated, you could probably use a little flair to keep visitors interested and engaged. Embedding YouTube videos is one of the easiest ways to do so, especially because you don't have to host any videos by yourself and the whole process of embedding is quite straightforward, as we'll see in just a bit.
Videos improve your blog posts. If you're worried that your blog posts have become a bit dull, and especially if it shows in your traffic, consider throwing in a video or two to mix it up a bit. It's not just a user experience thing at play here. YouTube embeds bring a huge added value to posts, especially long ones. They offer a way to recycle content in a new, engaging way that is proven to resonate well with users.
What Kind of YouTube Videos to Use
Now that we've seen the benefits of embedding YouTube videos to your website, let's see what kind of videos can prove useful for your website.
Instructional and support videos. These are huge drivers of traffic and are excellent for user retention because they address your visitors' needs directly. Allowing visitors to watch the video that answers their query or problem also builds trust and does wonders for your brand image.
Behind the scenes. These videos are great for business websites that are looking to build a closer relationship with their customers.
Product showcase. A dynamic, engaging way to promote your products and services.
Testimonials. Client testimonials are a must for businesses of all kinds and sizes and are a great way to gently nudge customers in the right direction.
Videos related to your post topic. Whatever the subject of your post, if you can find a YouTube video that can highlight it or complement it in any way, by all means – do it. Just watch out for copyright claims.
Fun videos! This one is rather self-explanatory if you remember that one of the main reasons to add YouTube videos to your site is to spice things up and make it more interesting. Again, look for any copyright claims before you embed a video from YouTube.
Whatever type of video you decide to embed, consider disabling the related videos that start after yours is finished, as those may not serve your purpose or may even be harmful for your business goals and reputation.
How to Embed YouTube Videos in WordPress
Whether you're using one of the core WordPress editors or the WPBakery page builder plugin, the process of adding a YouTube video to your page is fairly simple.
Let's start off with the Classic WordPress editor.
Embedding Videos Using the Classic Editor
1. To embed the video to one of your posts, you first need to identify which exact video you want to use. The procedure is the same both for videos from your own YouTube channel, and for any other video that you want to add from the world's most popular video platform.
2. Once you've located the video, click on it and then either copy its full URL from the address bar, or go to Share and then click on Copy:
Here you also have the option of setting the video to start at a particular point. To do this, just check the box saying Start at: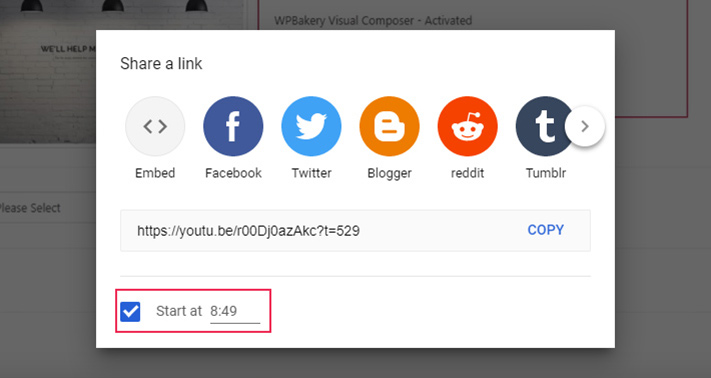 Time to go back to your WordPress site. Log into your Dashboard and find the page or post you want to add the video to. Simply click on where you want to add it and paste the YouTube link.
A preview of your video will appear and, if everything is just the way you want it, you can finally go ahead and click on Update.
Changing Video Display Size
If you don't like the way the video you embedded fits on your post or page, you can change its size:
1. Click on the Share button below the video and select Embed.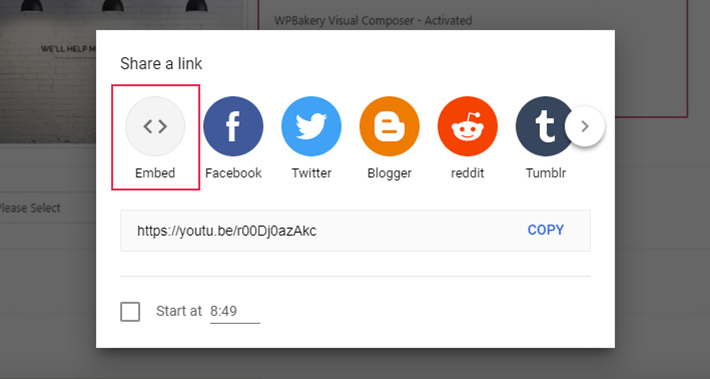 2. Select and copy the HTML code.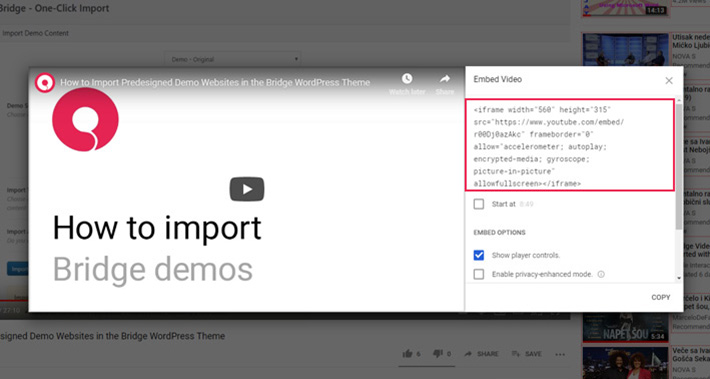 3. Paste the code into the editor. Make sure you're working in Text editing mode.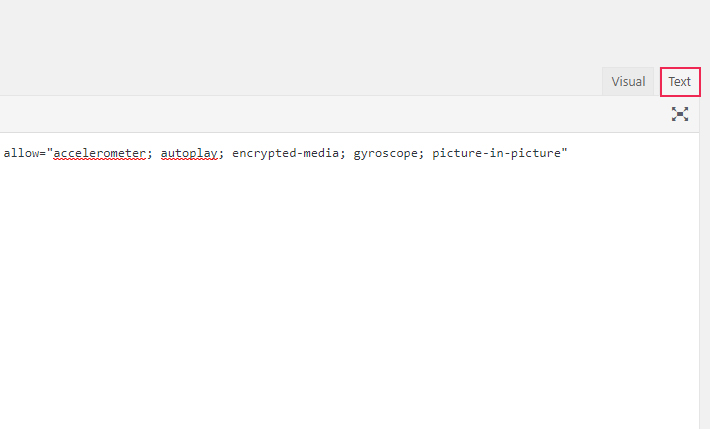 4. Modify the display height and width and don't forget to hit Update once you're done.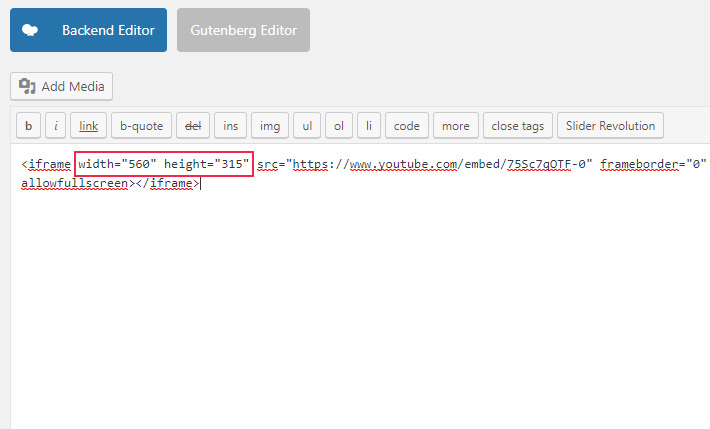 Embedding Videos Using Gutenberg
If Gutenberg is your editor of choice, you'll be happy to hear embedding videos is even easier thanks to special blocks designed just for this purpose.
1. To add a video to a post or page, start by adding a new block in the editor, using the (+) sign. Now, in the block search field, start typing "Embed" to locate the block. A group of blocks titled "Embeds" will appear and you can either choose the "Embed" block or, even better, the "YouTube" block that is also available.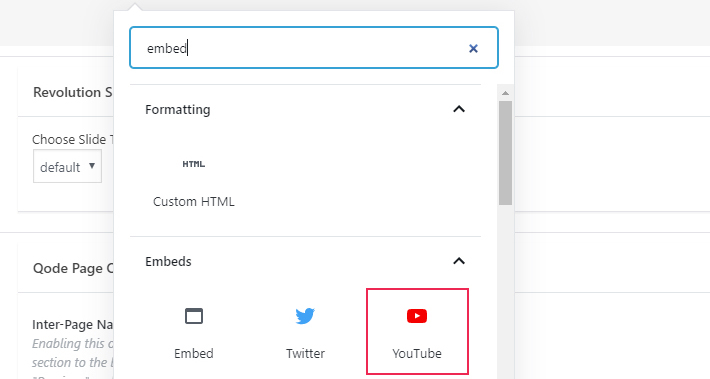 2. Go to the video you want to embed, and copy the URL.
3. Paste the URL in the appropriate field inside the block and click on Embed.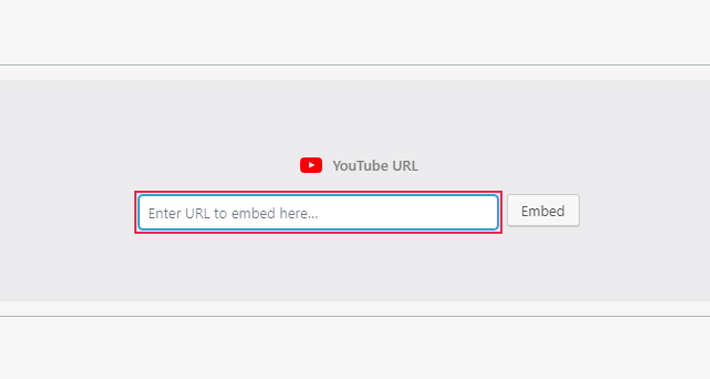 4. Note that inserting the URL is the only way to embed videos using Gutenberg. If you wish to add an <iframe> element or other attributes, you can do it using the plain text block.
Embedding Videos Using WPBakery
Adding videos using WPBakery (or Visual Composer) is equally easy as doing it with the two previously discussed editors.
1. Switch to the Backend Editor, if you're not already in it.
2. Click on Add Element and then type Video Player in the search field. Click on the element to open it.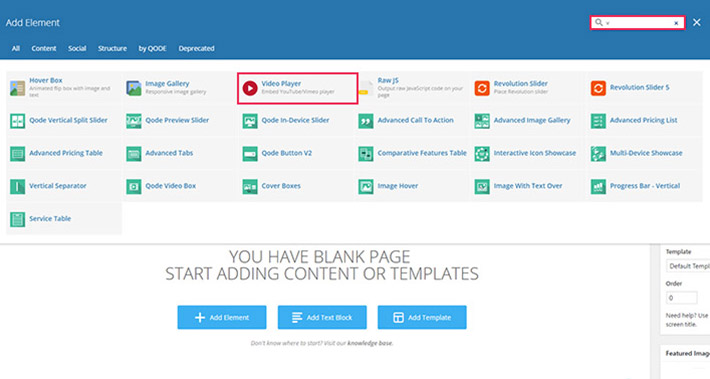 3. Paste the URL of the video you want to add, and adjust all the settings the way it suits you the best. You can set the ratio, width and alignment, and add some simple CSS animations, if you want.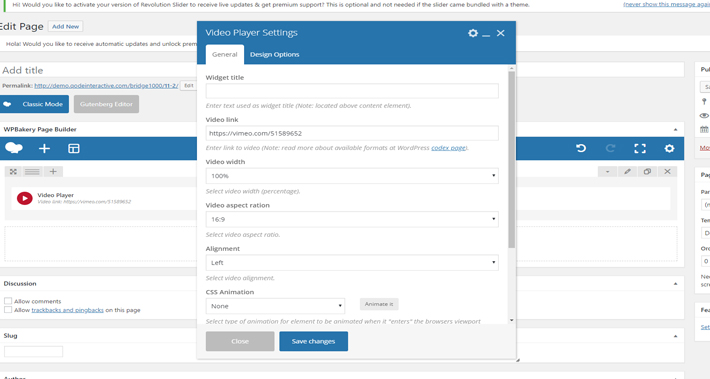 4. Click on Save changes, and, if everything is just the way you want, click Publish to create a new post, or Update, in case you're adding a video to an already published post.
Now that you've seen how beneficial YouTube videos can be for your website and how easily these videos can be embedded, you have no excuse for sleeping on it and missing the chance to add some extra value to your website. YouTube embeds represent a great opportunity to make your posts stand out and they literally don't cost a thing.