10 Best WordPress Quiz Plugins
When you run a WordPress website and think about the tools you could use to drive traffic, reduce bounce rates, and maximize conversions, quizzes rarely come to mind. But this form of interaction is very popular among very different types of audiences. That's why quizzes are a great way to animate multiple different segments of your target group at the same time. They are interactive, they require users to participate, but they are not too demanding. Aside from often being a lot of fun, quizzes can also be very informative. Plus, all you need for adding them to a website is a good WordPress quiz plugin.
In this article, we'll share with you some of the best WordPress quiz plugins you can use on your website. Stay tuned to read more about:
Adding quizzes to your website opens the door for a lot of creativity in content creation. Regardless of the type of website you run, there's always a way to include a quiz and allow your users to interact and engage with you and your content. Quizzes can be amusing, informative, exciting, serious or anything you want them to be. And, you can also always motivate the users to participate by offering rewards for taking the quiz – encouragement in the form of a discount, special offer, membership, etc.
Of the many reasons why using a WordPress Quiz plugin can be beneficial, let's just name a few most prominent ones:
If your bounce rates are worrying you, a quiz may be an excellent way to make users stay on your pages for a longer period of time. Make it engaging and fun, in line with your target group's profile and it will surely influence the bounce rates positively. And, let's not forget how important bounce rates are for SEO.
People like to share fun stuff, and if you add a personal or humorous touch to the quiz, chances are the users will love to share it with their friends. That's a great way to improve your website's traffic rates.
You can use quizzes to learn more about your target audience in a way that's fun and least intrusive for your users. Simply formulate exactly what you need to know about your target audience as a fun question.
You can use quizzes to raise brand awareness and inform your audience about your core values.
Use quizzes to reward your loyal consumers – offer incentives for those who perform best in your quizzes.
Now let's see what tools you can use to create and add quizzes to your WordPress website with ease.
Quiz Cat is a popular plugin that comes in both a free and a premium version. It offers a clean interface and integrates seamlessly with all kinds of WordPress themes. It is made to be responsive so it allows you to create quizzes that look great on all kinds of devices and screen sizes. If you already have or aim to cater to an international audience, the plugin allows you to translate quizzes to almost any language of your choice. Another advantage of this plugin is that it is very lightweight and it surely won't affect your site's performance in any negative manner.
Quiz Cat offers some great ways to personalize your quizzes and make them more engaging. You can, for example, add images to quizzes, add custom completion messages, set random shuffling of quiz answers, etc. The premium version of the plugin offers advanced options like social share boosting and personality quiz making. It also includes Facebook Pixel integration and email marketing which can be of great use for advertising.
Note though that quizzes are set to run in their own modules which poses some limits in terms of media and other types of formatting. The premium version comes in a three-tiered pricing plan, with prices ranging from $49 to $149, depending on the number of websites you plan to use it on.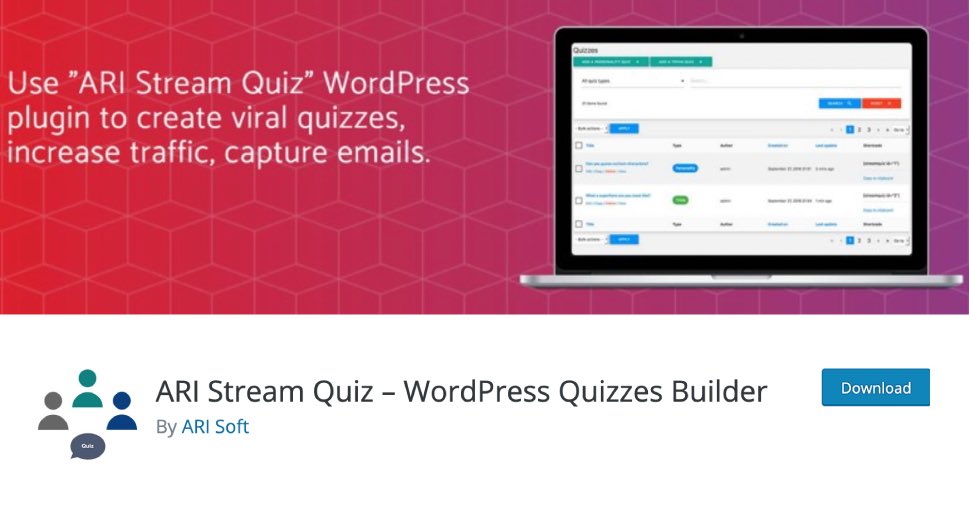 ARI Stream Quiz is a free and very beginner-friendly tool that literally anyone can use with complete ease. It installs in just a couple of minutes and you can immediately start creating any type of quiz you want. Many popular options that other tools only offer within the premium plans are incorporated within the free version. You can add images to your quizzes, add Open Graph and Twitter tags for better SEO, export results to CSV, and more.
This tool also integrates seamlessly with many popular marketing tools like MailChimp, Zapier, AWeber, ActiveCampaign, ConstantContact, Drip, GetResponse, and MailerLite services. You can create all kinds of quizzes with it from trivia to personality quizzes and everything in between. It is also fully translatable both in the backend and frontend. It comes with English, French, Russian, Polish, and Turkish translations included.
The social share functionality is also supported so you can share the quiz results on a variety of social networks such as Facebook, Pinterest, Twitter, LinkedIn, VKontakte, or via email. You can also make your blog posts and pages more interesting by incorporating quizzes in them – the plugin includes a shortcode for that purpose. It is also fully responsive so all the quizzes will be available in full quality on all screen sizes.
The core version is free, but the plugin also offers a few premium plans with prices starting at $17. Note that personality quizzes are only available within premium versions. But, excellent customer support is provided regardless of the version you opt for.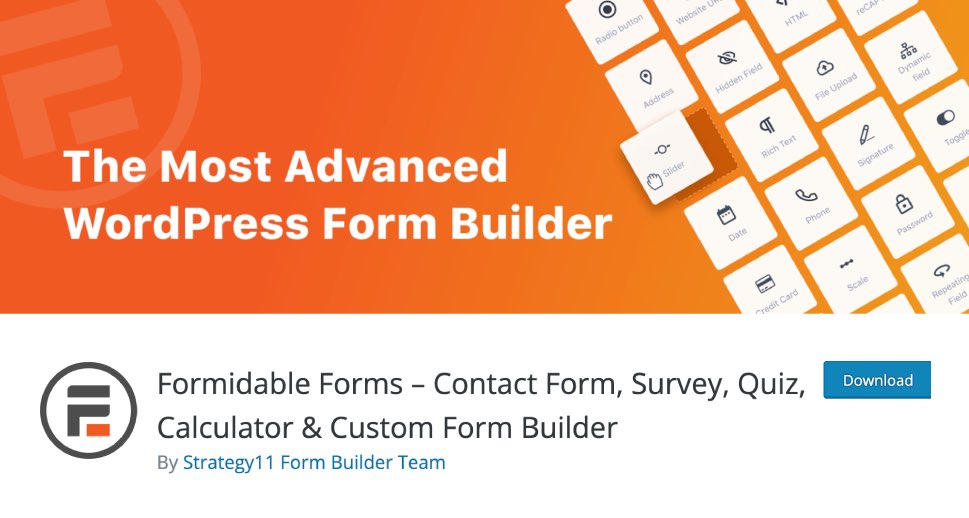 At first glance, Formidable Forms may seem just like another WordPress forms plugin. But, it includes a quiz maker add-on with a powerful drag-and-drop form builder making it easy to create a customized quiz in no time. If you need to create complex quizzes spanning across multiple pages, you may find this plugin particularly useful as it includes a multi-step form feature.
In terms of ease of use, this tool is user-friendly and suited for beginners as well as advanced users. It includes detailed help documentation that covers all proficiency levels. And let's not forget the obvious advantage – this plugin allows you to add all kinds of forms to your website, not just quizzes. So if you need a versatile tool, Formidable Forms may be a good solution. It also offers a lot of styling options allowing you to create quizzes that visually match your website's design.
As for the pricing, the core version is free, and you can also choose between four premium plans starting at $39.50 per year.
The Quiz and Survey Master plugin is a free, comprehensive quiz tool that enjoys an excellent reputation among its users, and for a good reason. Apart from offering very practical features for creating quizzes it also includes many styling options to customize your quiz visually too. A simple-user-friendly quiz builder is incorporated and includes options like comments, checkboxes, and radio buttons apart from other standard features.
If you want to limit the time users spend solving the quiz, this plugin includes a timer that you can activate and deactivate as per your need. Adding media and images to quizzes is also supported so you can create all kinds of quizzes with ease. You can even set the users to watch a video before completing the quiz. A particularly interesting feature is the ability to add hints for the users to see while they are solving the quizzes.
Quiz and Survey Master plugin also has a premium version. What's particularly convenient is that you can choose only the premium features that you need and avoid paying the full premium package price that may include some features you are sure you're never going to use. Some of the advanced features included only in the premium version are quiz landing pages, export results, reporting, and MailChimp integration.
If you are a fan of BuzzFeed-style quizzes, WordPress Viral Quiz will certainly capture your attention. The quizzes you can create with this tool will have almost exactly the same look as typical BuzzFeed quizzes with huge thumbnail images and a variety of quiz outcomes at the end. It is excellent for creating a viral buzz around your content – it also includes a feature for asking users to share their quiz results on their social media.
But, bear in mind that for the moment, this tool can only offer to create personality and trivia quizzes. As for style, you can choose between BuzzFeed Theme and Modern Flat Theme, and if you have the knowledge the plugin supports creating your own CSS theme.
If one of your goals is to improve the number of newsletter subscriptions, WordPress Viral Quiz includes a built-in email capture module for getting more people to sign up. You can also check quiz analytics in the back end to see how the quiz is performing. If you want to boost your marketing efforts, inserting advertisements around the quizzes is supported too. The plugin offers two pricing plans starting at $36.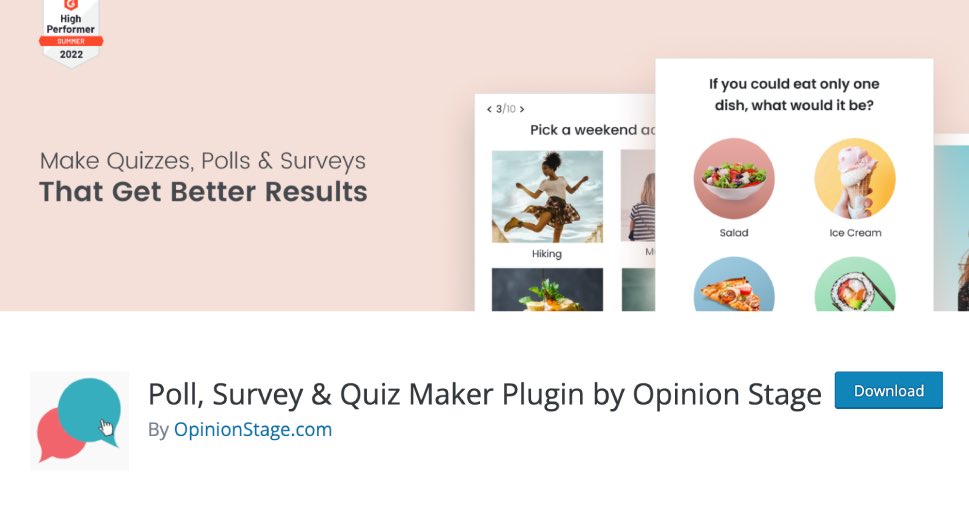 If you are looking for a versatile tool that you can use to create quizzes but also surveys, polls, slideshows, and different kinds of forms – Poll, Survey & Quiz Maker Plugin by Opinion Stage may be a good choice. This entirely free plugin allows you to create both fun and professional quizzes. Adding media and engaging buttons to make quizzes more attractive is supported. You can also integrate a lead form in your quiz to collect qualified leads.
This tool comes with hundreds of pre-made quiz templates so that you never have to start creating a quiz from scratch. It also offers insights into quiz analytics – you get an advanced analytics dashboard with results and performance tables and graphs.
As for style, you can customize the design of the quiz in terms of color, font, and size. You can add your own logo to brand your quizzes and use the CSS override feature to fully customize the quiz design to your site and brand.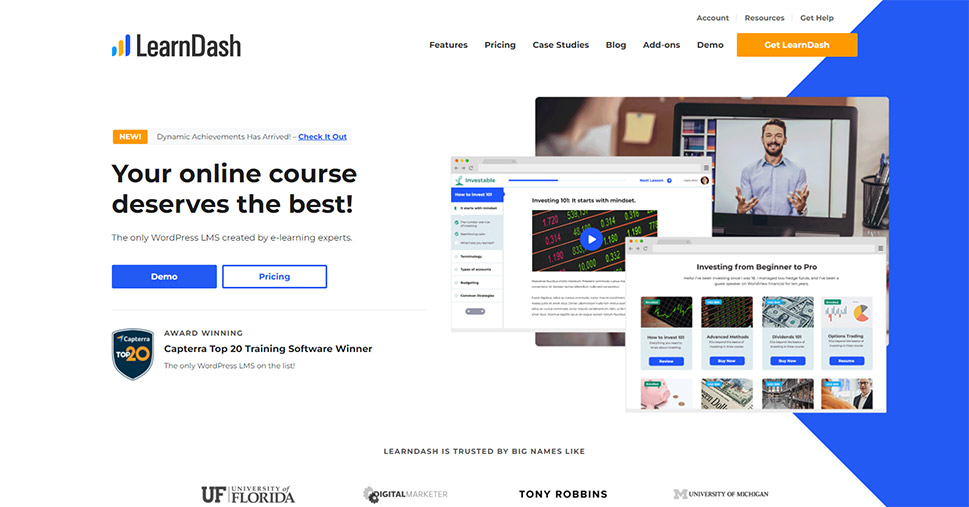 In case you are looking for a tool that allows creating quizzes for educational purposes like school tests, admission tests, and similar, LearnDash has the features that you need. LearnDash is a widely popular LMS plugin that also allows you to create all types of quizzes with ease.
This tool allows you to create multipage timed quizzes with limited attempts which are all important features for school tests. It supports many different question types – multiple-choice, single choice, fill-in-the-blank, free text, matching, sorting, essay, and even survey. Adding media to quizzes is also supported. You can show questions in a randomized or specific order, and the plugin also allows you to create a question bank.
LearnDash offers three pricing plans with prices ranging from $150 to $329 per year, depending on the number of websites you are going to use it on.
The Riddle Quiz Maker is a versatile, free tool that can offer more than trivia and personality quizzes. This plugin allows you to create 15 types of quizzes as well as lists, surveys, and polls on your WordPress website.
You can create as many quizzes as you need, collect leads and quiz responses and connect the plugin with your preferred email marketing tool like MailChimp or ActiveCampaign for automatic follow-up messages. A shortcode for embedding quizzes anywhere on your website comes included with the plugin so you can add quizzes to any post or page with ease.
You can use the integrated image/video/GIF/audio options to make your quizzes more engaging. GIFs will be particularly useful in that sense. But if you're not a fan of the BuzzFeed style, and you need a quiz plugin that offers a more professional look, this tool may not be a perfect solution. Still, it offers plenty of possibilities considering that it is free.
Interact Quiz Maker is actually a web-based app that allows you to create quizzes of all kinds. Regardless of whether you want to use quizzes for generating leads, improving conversions, building social media following, or generating traffic, you can choose from more than 800 premade templates and start immediately.
You can connect your quiz to your email marketing or marketing automation system and add quiz leads automatically to your system. Segmenting leads based on their quiz results or based on how they answer specific questions is also possible. More than 50 integrations are supported.
Thanks to one-click social sharing functionality, your users can easily share their results on social media, helping you expand your reach. As for the pricing, you can choose between three plans, with prices starting at $17 per year.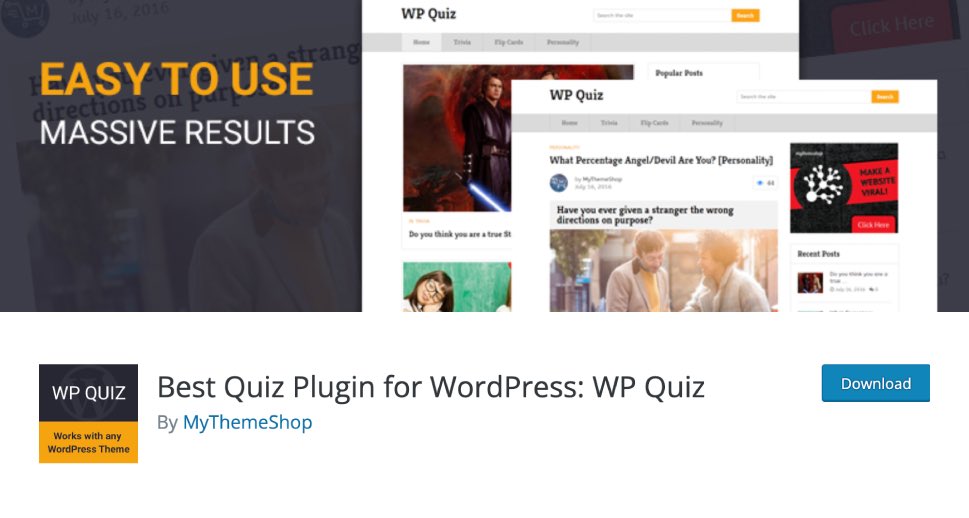 WP Quiz is a free, flexible tool that you can use to create trivia, personality, and flip card types of quizzes. This classifies it as a plugin of choice for blogs and websites that offer amusement. Nevertheless, if you find it convenient for whatever type of website you have, you can try it for free.
As for design, there's a choice of two styling options – you can create a single page or a multipage page quiz. You can also change font colors easily, adjust the background color to fit the design of your theme, or have it in a contrasting color to make the quiz stand out more easily from the rest of your content. Six animation effects are also included allowing you to create an engaging user experience. You can add images and other media too.
Adding social share buttons is also supported. It is possible to allow users to restart the quiz and they can also see a progress bar so they know their Quiz status. Each quiz that you create will be responsive so your users will be able to enjoy it regardless of the device they are using.
A well-thought quiz, built with your target audience's interests in mind can bring you many advantages. If you are looking to add more fun to your website, Quiz Cat or Riddle Quiz Maker may help you add that amusing tone and entertain your users. Educational establishments will probably be drawn to more comprehensive tools such as LearnDash or Quiz and Survey Master. It is important you understand that your quizzes need to match your website purpose and style and choose the plugin that offers you full support in that sense.