6 Best Stripe Payment Plugins for WordPress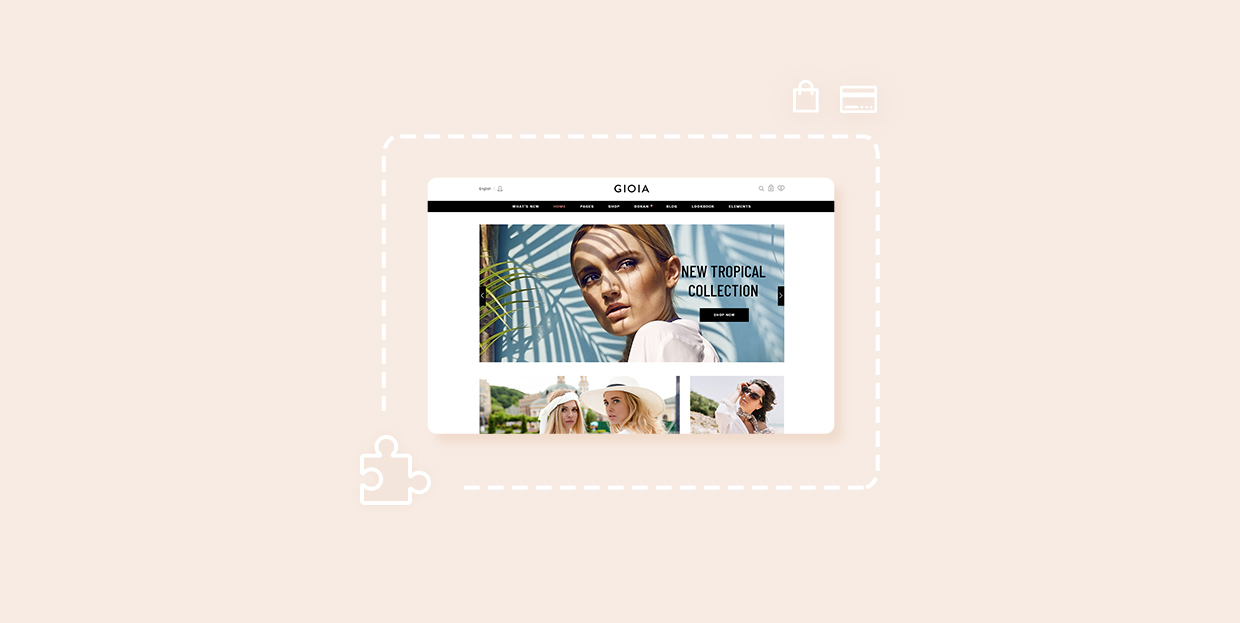 One of the reasons why eCommerce is so popular is because of its convenience – people can purchase products and services online by using one of the many available payment methods. While PayPal is an extremely popular choice in this category due to its many virtues, one of them being how easy it is to add a PayPal button to your WordPress site, Stripe is another great option that is becoming increasingly popular and is threatening to take over the throne.
Trusted by thousands of businesses worldwide, Stripe is one of the best online payment processors that allows you to accept credit card payments on your website. And if you use WordPress, it's fairly easy to connect it with Stripe by using one of the many available Stripe WordPress plugins. For this reason, we've decided to share our list of the best Stripe payment plugins that can be found on the web.
Why Use Stripe on Your WordPress Site?
As we already mentioned, Stripe is easily one of the top payment systems for accepting credit card payments online. Not only is it secure and simple to use, but it can also help you avoid going through a complicated process of getting a merchant account. In order to accept payments through Stripe on your website, owning a Stripe account is enough. That being said, your customers don't need to make a Stripe account at all – they only have to enter their credit or debit card information to pay for a product or service they're interested in. In addition to credit and debit cards, your customers will also be able to pay using less traditional methods, like Bitcoin and Apple Pay.
Without further ado, let's take a look at our top picks when it comes to Stripe payment plugins for WordPress: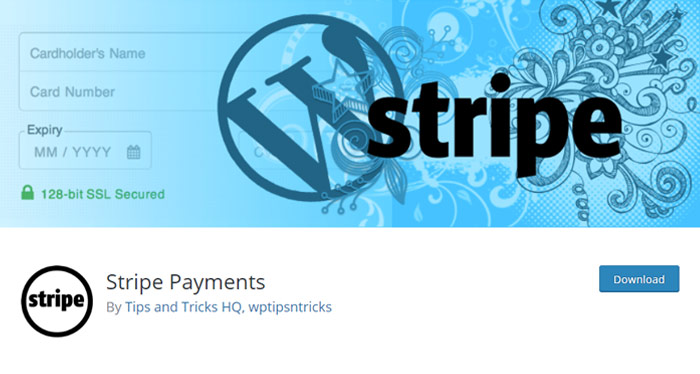 Stripe Payments is a free plugin that allows you to accept credit card payments as well as donations through Stripe on your WordPress website. The Stripe "Buy Now" buttons can be placed anywhere on your site with the help of a simple shortcode. If you install this plugin, you will be able to allow users to automatically download any digital files after they complete their purchase, you can view purchase orders from your WordPress admin dashboard, and specify a logo or thumbnail image in order to display the item in the Stripe payment window. You will also be able to customize the appearance of your Stripe "Buy Now" button with the help of custom CSS code, as well as collect shipping and tax for your products (if applicable), together with many other features.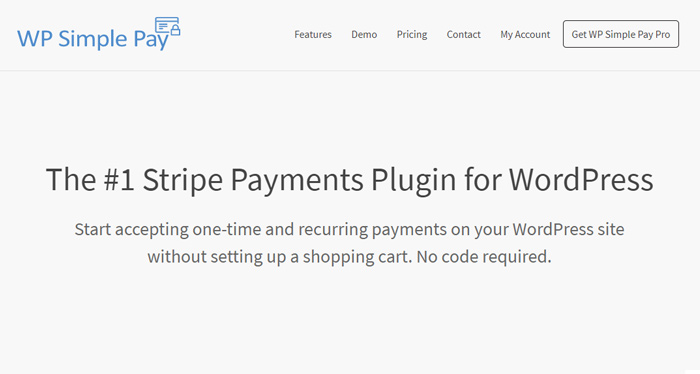 WP Simple Pay Pro is easily one of the best Stripe WordPress plugins you can find online. It is extremely simple to use and lets you accept one-time and recurring payments on your WordPress site without even setting up a shopping cart. Aside from payments, you can also collect donations and even add coupon codes to give your customers a discount during their purchase. Additionally, the plugin uses Stripe's secure servers for processing and storing data, instead of your WordPress database, which allows for faster loading of your website.
Apart from having an awesome support staff that is always ready to help you out, the plugin is also multi-language compatible and has extensive documentation and automatic updates.
You can get the WP Simple Pay Pro Personal pricing plan for $99 per year.
WP Full Stripe is another popular plugin created in a way that makes it easy to accept Stripe payments on your WordPress website. In addition to physical goods, you can also collect payments for recurring services, get paid for any software or digital products, accept donations, and even save the payment information of your customers so that you can charge them later.
Another great thing about the plugin is that it comes with the ability to create and customize single-step payment forms in a manner of minutes, which will bring you more chances of benefiting from a higher conversion rate.
You can buy a regular license at a price of $49.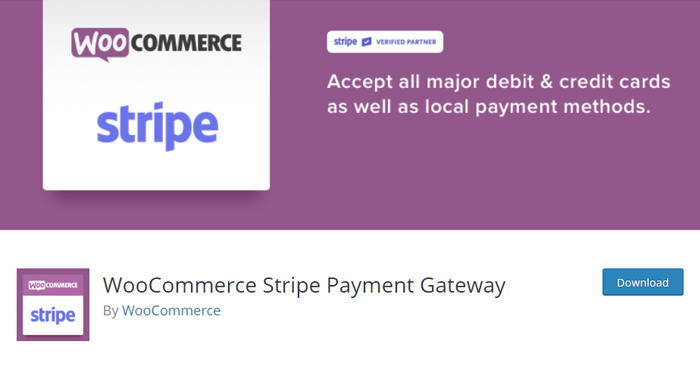 Developed by WooCommerce (the world's most popular ecommerce platform used to create online stores on WordPress websites), Stripe Plugin is an on-site payment extension especially created for the WooCommerce plugin. It allows you to accept payments directly on your online store both for web and mobile.
The plugin comes with a set of Stripe-hosted input fields called Stripe Elements. They are built with the intention of helping your customers input their information quickly and properly in order to minimize any errors and raise the number of successful payments. You can also easily activate different payment methods from your Stripe dashboard.
The Stripe addon is free to use and can be easily installed and activated within your WordPress admin dashboard in the Plugins tab.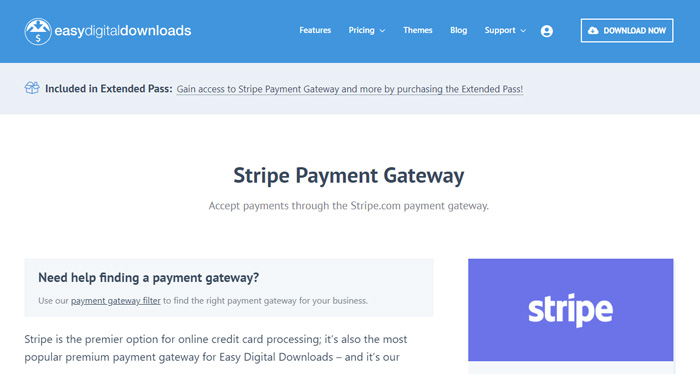 Stripe Payment Gateway is an extension of the Easy Digital Downloads plugin. Some of its features include the subscription functionality that allows you to configure your products so that customers get charged on a prearranged schedule until they cancel, and you can also allow them to save credit cards on your website which makes the entire process of buying products easier and faster.
Moreover, you can pre-approve payments if you wish to process the charge at a later time, activate refunds directly from your website's dashboard, and even use the test mode that simulates customer actions without influencing any of your reports.
The Stripe Payment Gateway price for a single site is $89.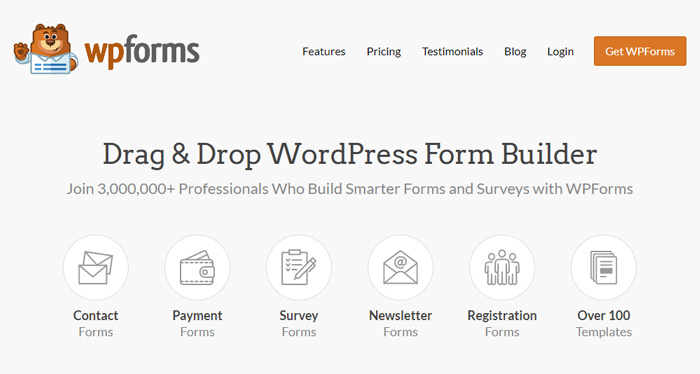 With over 3 million active users, WPForms is a professional drag & drop form builder that will allow you to create an infinite number of payment forms for your website. The Stripe add-on functionality that is available for this plugin allows users to integrate Stripe with their WordPress website and create their own Stripe forms. You can add these forms anywhere on your website, like on a page, post, or in the sidebar widget area. If you want to enable PayPal payments, there's an add-on for that, too. The builder is completely responsive and comes with some prebuilt form templates that will make the creation of your payment forms quick and easy.
Note that the Stripe add-on is currently only available to those with the WPForms Pro license ($199.50/year) or higher.
If you decided to use Stripe on your WordPress website to sell directly through your website, then one of these Stripe WordPress plugins will surely prove to be beneficial for you and your business. We chose them based on their practical functionalities – from creating Stripe buttons that can be placed anywhere on your website, to test mode and recurring payments support. We also made sure to cover different price ranges, including some free options. Now you just have to pick the plugin that you think makes the best fit for your needs.