6 Best WooCommerce Product Addons
While there are many different strategies you can use to boost your WooCommerce sales (like setting up free shipping, creating and selling gift cards, or creating coupons, to name a few), customizing your product options is an excellent way to gain customer loyalty. By implementing product customization in your WooCommerce store, you allow your customers to tailor products according to their specific needs. This means adding extra field types (such as checkboxes, radio buttons, dropdowns, custom price options, and more) to your product pages using WooCommerce product addons. Your customers will be able to select from these additional fields before they add their product to the cart. Not only is this a great way of enhancing the overall experience of your shoppers, but it's also useful for collecting some additional information about them, too. That's because allowing customers to use specific customization options for your products also provides you with detailed information about their preferences. You can later use this information to offer products more suited to their tastes in the future, which gives you a significant advantage over your competition.
There are many great product addons plugins you can use to successfully enable and offer product customization on your WooCommerce store, and this time around, we will share some of the best ones. We've also made sure to include both free and premium options to accommodate everyone's budget, so make sure to read on as we talk about: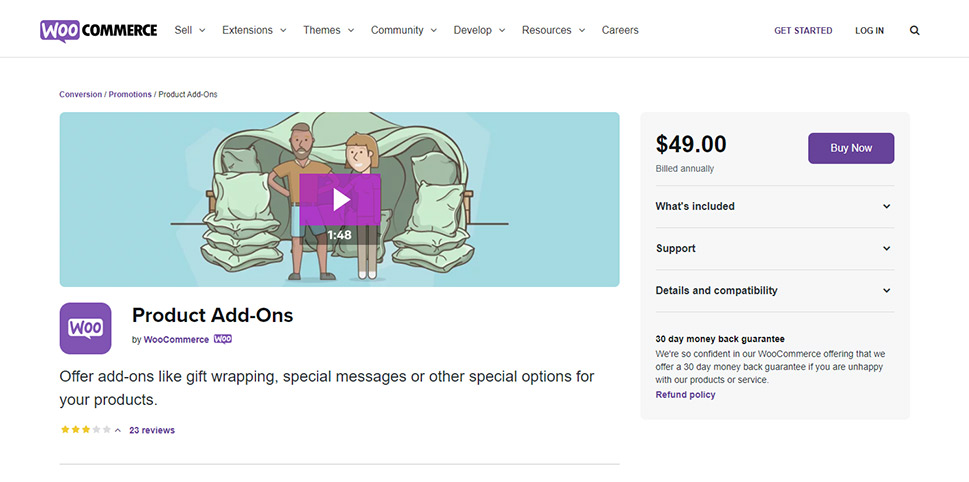 WooCommerce Product Addons is a premium WooCommerce extension that comes from the developers of the native WooCommerce plugin themselves. This set of addons allows your customers to easily personalize your products before buying them, so they can add some extra options to the products they're interested in. For example, you can add fields like checkboxes, dropdown menus, text areas, etc., and allow your customers to have a completely personalized experience when buying their product. They will be able to select products based on images, choose from any predefined options, and even enter a custom text to create a custom-looking product. You can even charge flat or percentage fees if you want to.
WooCommerce Product Addons is available for $49 (billed annually).
Here is another great premium product addons option you can use to truly enhance the shopping experience of your customers. With WooCommerce Product Add-Ons Ultimate, you will be able to create and add all sorts of unique options to your products fast. By using 16 add-on custom field types at your disposal (such as drop-down fields, checkboxes, etc.) and other advanced options such as conditional logic, you will allow your customers to personalize the products they are interested in with the utmost ease. Moreover, you will be able to choose whether you want to add your addon fields globally or per product only, get to assign additional costs per field or option, include different image swatches, and plenty more.
The pricing for WooCommerce Product Add-Ons Ultimate starts at $69 for a Basic plan.
Created by PluginHive, PH WooCommerce Product Addons is a rich and useful plugin that allows users to create additional custom fields on their product pages with specific details designed to boost conversions and grow sales. The fields are highly customizable, which means you can create fields that perfectly match your store branding. The additional fields can really be anything you want – for instance, if you sell shoes, in addition to color and size, you can also add a custom field specifying whether the product comes with extra shoelaces or not.
Furthermore, the plugin calculates the additional values from the new custom fields into the dynamic pricing. You can also set up pricing based on product quantity, character length, number entered, and so on. Extra product options include color picker, date and time picker, radio button, checkboxes, telephone number, email, multi-select options and so on.
The plugin comes in English and French versions. The single site license currently costs $49/year.
The WooCommerce Extra Product Options plugin is a neat freemium option that will allow you to add custom product fields (14 field types in total) and sections to your product pages, helping them appear more functional as a whole. Some of the custom fields include text, password, and telephone field, checkbox and checkbox group, date (and color) picker, radio button, and more. In addition, you will be able to conditionally display your fields, style the fields to match your store's design, and so on.
If you opt for the premium version of the plugin (starting at $39 for a single site), you also get access to more advanced premium options, including extra 6 field types (multi-select, time picker, file upload, HTML, color palette, image group), use a price fields feature to set a price for your custom product fields (this can come in handy if you want to set an additional fee for your extra services), and more.
Product Addons for WooCommerce is a lightweight product addon plugin that will allow you to add custom fields to your product pages quickly and easily thanks to its user-friendly custom form builder. This plugin is also great in case you need to collect more user info from your customers, including customer notes, numbers, dates, etc. Some of the custom fields include text, number, radio, checkbox, select, hidden field, color, date, and so on.
By opting for the premium version of the plugin, you will be able to use more advanced features like upload fields, set different pricing options, use conditional logic and image selector, and the list goes on. You can purchase the premium version for $39 and get access to updates for one year, or you can get lifetime updates for a single site at the price of $69.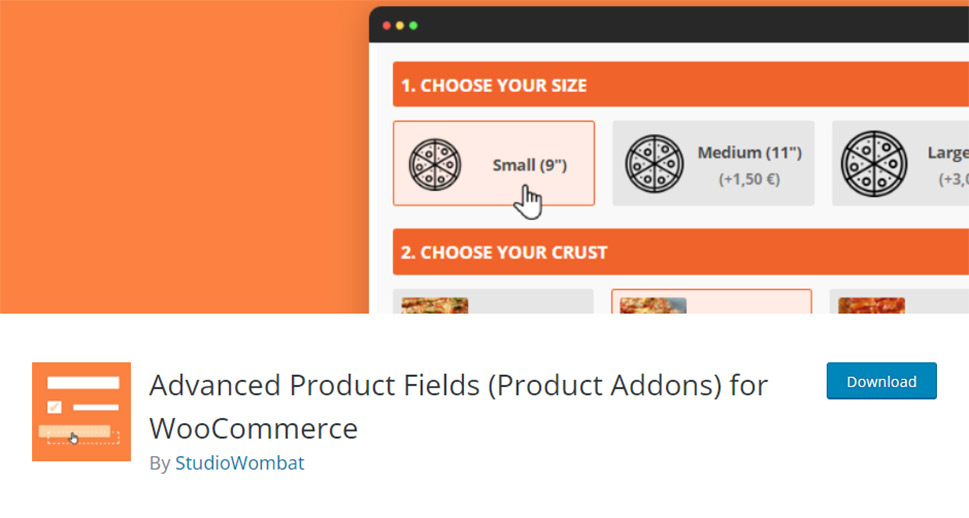 The Advanced Product Fields for WooCommerce plugin comes with a beautiful and intuitive builder that will let you choose from 9 different form elements, including text field, text area, email, URL, number, select, true/false, etc. Of course, features such as conditional logic (which allows you to show or hide your fields according to other input fields) and the dynamic product price (the ability to change product price in cart according to the field values) are included as well.
If you own a small store, you will be just fine with the free version of the plugin. But in case you have a large store or need to integrate with some third-party plugins (like WooCommerce Subscriptions or multi-currency plugins, for example), then you might want to consider using the premium version (available at $59 for the Pro plan).
Some of the features that come with the premium version include extra field types (image and color swatches, content, paragraph, and image fields), the option of using sections (to group fields within a section), Ajax "Add to cart" technology support, and more.
It's always a good idea to give your customers the option of personalizing the products they plan to buy on your WooCommerce store. Not only can this boost the overall customer experience and increase their loyalty, but it can also allow you to get better insights into your customers and, by extension, boost your sales.
While there are some variations when it comes to available features, all plugins on our list are super intuitive and come with many great custom fields you can use to add extra product options with the utmost ease. If you're on the budget, or simply own a smaller eCommerce store, we recommend that you try out the free version of plugins such as Product Addons for WooCommerce or Advanced Product Fields. And if you're in the need of more advanced features (like image and upload fields, date pickers, and more), then we suggest that you opt for one of the premium options, like WooCommerce Product Add-Ons Ultimate or the WooCommerce Extra Product Options plugin. Either way, just make sure to choose the option that best fits your specific requirements, and you'll be all set.