How to Create and Sell Gift Cards in WordPress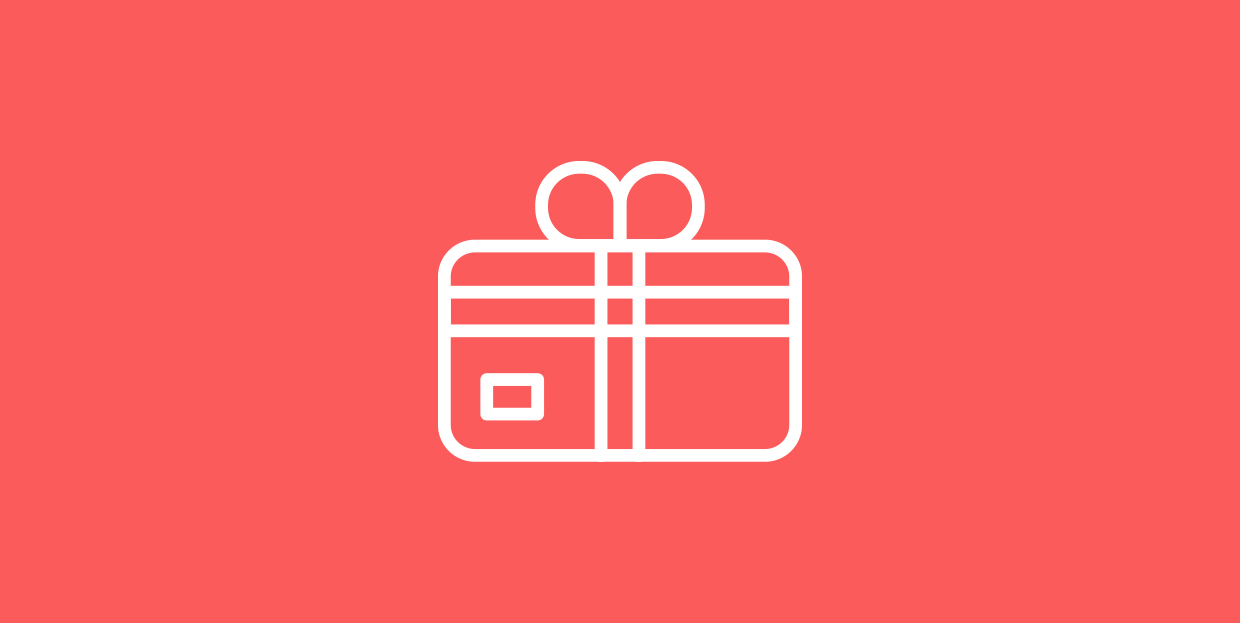 If you have an online business, then you know there are many different ways to grab the attention of your customers. You can use email marketing to promote your products and services or offer discounts and limited-time offers though coupons. Still, there's nothing like using gift cards to get users to purchase your goods.
Selling gift cards on your website is always an excellent strategy for any online business to increase their sales, so this time around, we will talk about the benefits of gift cards as well as all the different ways you can add them to your WordPress site.
No matter their age, gender, or cultural background, people simply love gift cards. They are great for any occasion, they allow users to buy anything they want while saving money, and can be a great gift to their family and loved ones, too.
What's interesting to note is that many customers who use gift cards end up spending over the gift card limit, which means gift cards can help you improve your cash flow quite literally. However, not only can the practicality and popularity of these cards boost your revenue, but it can also help spread awareness of your brand. As we already mentioned in the beginning, gift cards are mostly used exactly as their name suggests – as a gift. Since people give these cards to friends and family, more and more people get to learn about your business and check out what you have to offer first-hand without having to pay a penny. All this makes gift cards an excellent marketing strategy for any brand out there.
Now that we've established some of the reasons why you should consider adding gift cards to your WordPress site, let's take a look at how you can do this.
Easily one of the best and most popular WordPress eCommerce plugins on the web, WooCommerce is ideal for selling gift cards to your customers. So if you are already using this handy plugin on your website, or you plan to use one of the WordPress themes with the WooCommerce plugin, you'll be pleased to hear that selling your gift cards using WooCommerce is a breeze.
After activation, go to Products >> Add New in your admin dashboard. Here, you will be able to generate your gift card.
Make sure to give a title and description to your gift card first.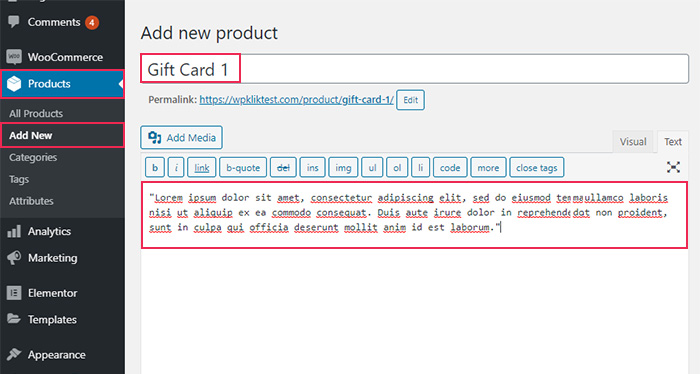 Once you're done with setting these up, head down to the Product Data section and choose the product type named PW Gift Card. Then, in the Gift Card tab, simply type in the value of your gift card. You can, of course, set different values, from cheaper to more expensive gift cards.
You can also add your product image (and/or gallery images) and select the product category and tags.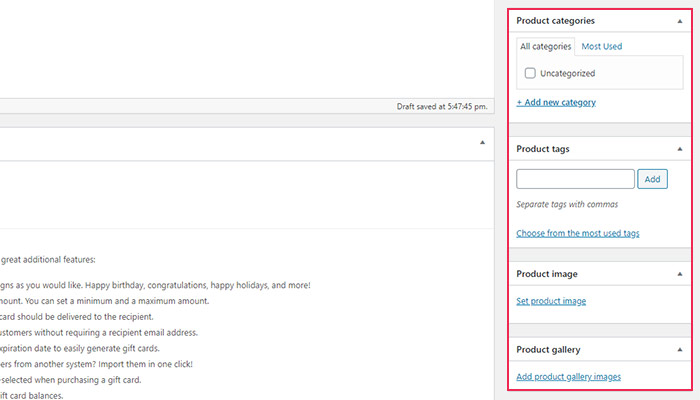 Finally, make sure to hit the Publish button once you're done creating your gift card.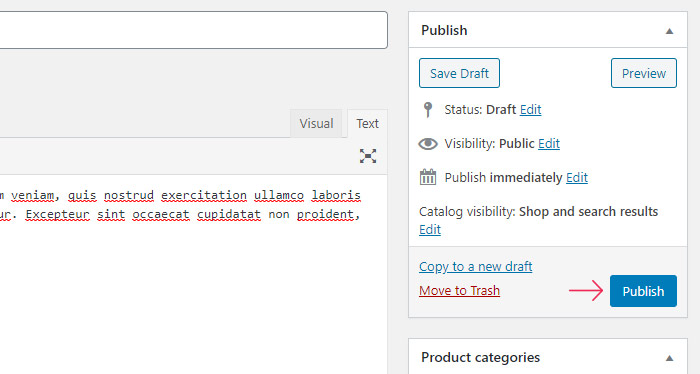 Your customers will now be able to view your gift card products on the Gift Card product page and choose the amount and enter the email address (or multiple addresses) of the recipient along with a brief message.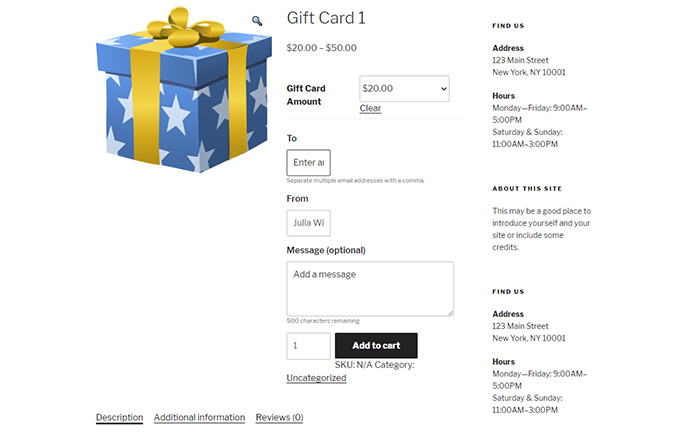 To set the design of your email, you need to access the plugin settings, at Pimwik Plugins >> PW Gift Cards, and pick the Email Designer tab. There are a few other tabs you will find here, such as Balances (that allows you to check the balance of your gift card), as well as some that require you to upgrade to the Pro version of the plugin to use them. These include the option to import existing gift card numbers and to create gift cards directly from the admin area.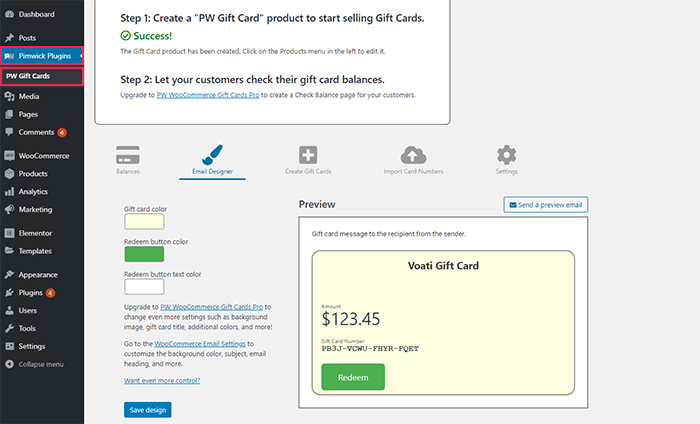 Gift Up is the ideal solution for selling gift cards on any website platform, including WordPress.
Not only does Gift Up allow you to sell gift cards online, it also lets you send them to your customers through email or via post-office mail delivery service. The platform is also great because it comes with the ability to receive payments right away, without any fees (monthly or setup). However, you will be charged a 3.49% fee for each gift card you sell, and if you want, you can get your customers to pay for this fee instead by including it in the gift card price.
There are a few different ways to use GiftUp. For any platform, you can simply sign up on their website, create and customize your gift card directly on their site, and then embed the code to your website once you're done. Afterward, you can get a hosted link to your gift card checkout form and share your gift card on your social networks, if you so prefer.
For WordPress, we recommend that you use the Gift Up plugin. The plugin also comes with the full WooCommerce support, which means your customers will be able to use their gift cards directly in your WooCommerce store.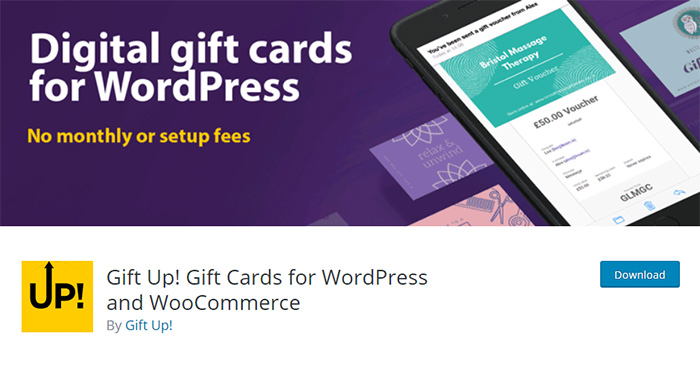 After installing and activating the plugin, you can go ahead and either create a Gift Up account or log into the already existing one.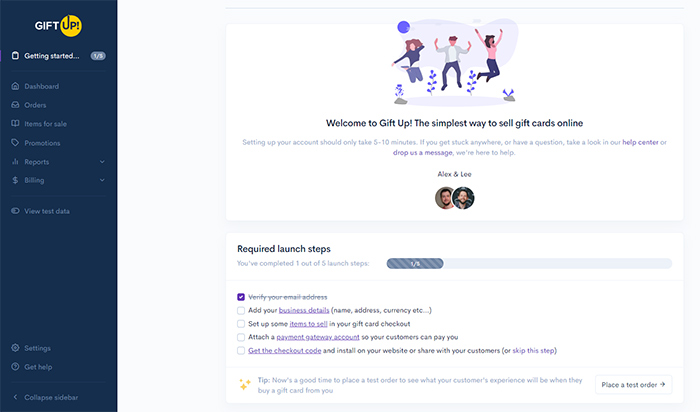 Get your API key from within your account and paste it in the Gift Up settings. Hit the Connect to Gift Up! Button and you're all set.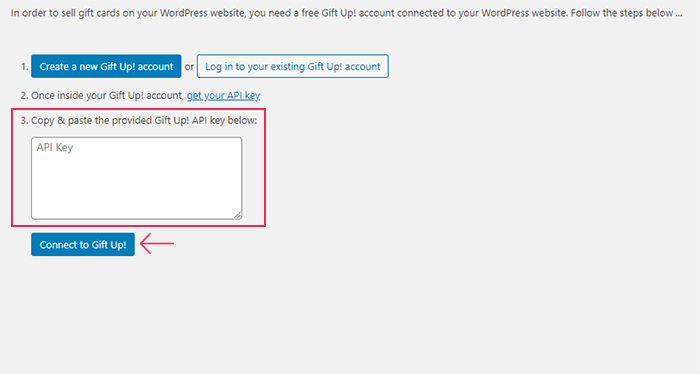 From there on, you can simply copy the shortcode anywhere on your page or post. This action will render their checkout and allow your customers to purchase your gift cards.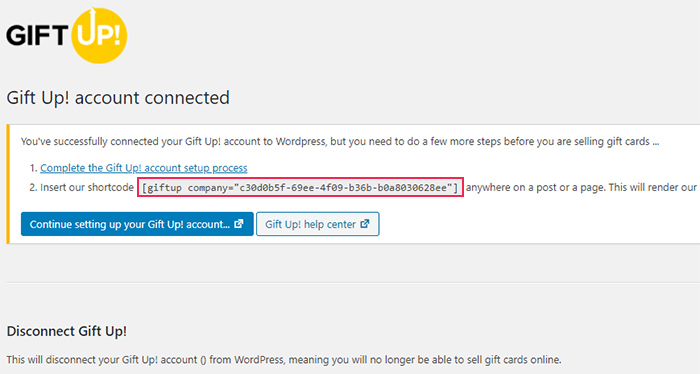 For Gutenberg, insert the shortcode using the (+) button and Shortcode block.
For the Classic editor, you need to simply paste the shortcode you copied into the Text view of your editor.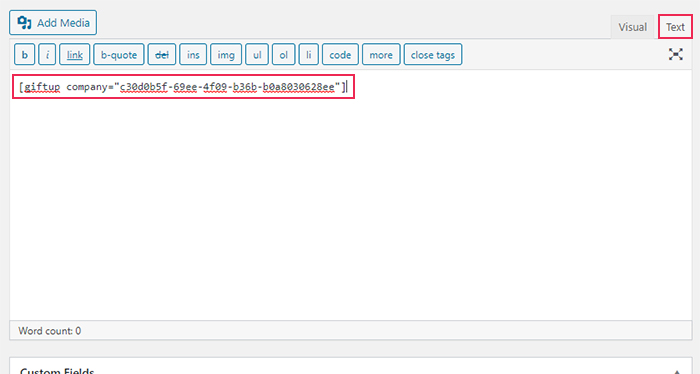 Go ahead and preview your checkout on the page you created.
No matter if you own a wining & dining business, a wellness and beauty salon, run any type of online store, or offer any other product or service (be it digital or physical), gift cards are an excellent way to collect more money even during difficult economic times. Plus, they can help spread the name of your brand, too.
If you're set on adding gift cards to your WordPress site to improve your business strategy, we suggest using one of the above-mentioned methods. The advantage of using the GiftUp service for adding gift cards to your website is that it can be used for any website platform, WordPress included. On the other hand, you certainly won't make a wrong choice if you opt for using a PW WooCommerce Gift Cards plugin to add beautiful and functional gift cards to your WordPress site. Whichever of these two methods you end up going for, we wish you luck with your sales-boosting efforts.