5 Best WooCommerce Google Product Feed Plugins
If you've ever searched for any kind of product on Google (and frankly, who hasn't), you must've run into Google Shopping ads. These ads usually appear at the top of search results and contain related products with all information vital to the potential customers, such as pricing info, relevant product images, ratings, and reviews, among other things. Their primary purpose is to make things easier for people who are looking for products so that they can find what they want more quickly. So, if you own a WooCommerce store and want to use the benefits of these Google Shopping ads, you need to connect the products that you display on your site with your Google Ads account. And the best and easiest way to do so is to use the help of a suitable WooCommerce Google product feed plugin.
For this reason, we've decided to share some of the best free and paid WooCommerce Google Product Feed plugins that will help you display your featured products using Google Shopping ads. But first, we will also talk about some of the benefits of using Google Shopping Ads in general, so make sure to stay tuned as we cover:
First things first, if you decide to display your products using Google Shopping ads, they will most definitely have better visibility in SERPs. That's because your products will be instantly displayed at the very top of the Google search results pages, which only has the potential to attract more customers to your store. To begin with, customers are generally more inclined to trust a brand that appears in Google search – even if they're not necessarily familiar with it right from the start. Not to mention that Google shopping ads already contain all the important information a customer needs when deciding on whether they want to give a certain product a chance. All the info available at a single glance makes the products appear relevant enough right from the get-go and can play a major role when it comes to making an actual purchase.
Also, there is another obvious advantage of using Google Shopping ads, and that is the ability to reach a wider audience due to the Google algorithm it uses to find related products. It's quite simple – any person who searches for products linked to what you have to offer in your store will most likely be able to see your products displayed in the Google Shopping ads.
Last but not least, Google Shopping is quite simple to manage. The only thing you have to do is create a Google Merchant Center account, generate a suitable product feed, upload it to the Google Merchant Center, and then link your Google ads account to the Google Merchant Center one. And if you're using the flexible WooCommerce platform to power your eCommerce business, you'll be happy to hear there are many tools that will help you create an entire product feed compatible with your Google Merchant Center in no time.
Without further ado, here are some of the top WooCommerce Google product feed plugins available:
The Product Feed Pro for WooCommerce plugin is an excellent choice for your eCommerce business as it allows you to generate different product feeds for various marketing channels, including Facebook Remarketing, Bing Ads, and of course, Google Shopping. This plugin is a comprehensive solution that comes with the support for creating an unlimited number of products and feeds.
When it comes to Google Shopping in particular, this plugin will allow you to add certain fields and attributes that aren't available in WooCommerce by default but are in line with Google's specific requirements. This includes Brand, UPC, Product Condition, and unit pricing measure fields, among others. In general, feeds that you get to create using Product Feed Pro for WooCommerce have a high approval rate in Google's Merchant Center. There are also some fixes that allow you to advertise all products using Google Shopping, even the ones that would be rejected.
Some of the other useful features that come with the plugin include the Google Analytics support, the ability to set the shipping zone and shipping class (so that the appropriate shipping cost gets displayed in the product feed itself), product variations support, the ability to add and manage multiple product feeds, and plenty more.
This plugin is a great free option that will allow you to generate a product feed and display it in Google Shopping ads. You will be able to use the ELEX WooCommerce Google Shopping plugin to upload your feeds in three different formats – XML, CSV, and TSV. Each format contains necessary product information that gets uploaded to your Google Merchant account. Also, you will be able to map your product categories to Google categories (and product attributes to Google attributes) according to the specific rules you set. You will get to use and display unlimited feeds and feed templates, use multiple country support and various feed file formats, update your feeds automatically with the neat schedule feature, set specific product values, and more.
If you upgrade to the premium version of the plugin (available at $69 for a single site), you will get access to complete product variations support, multiple languages support for Google Product Categories, and get regular updates and bug fixes.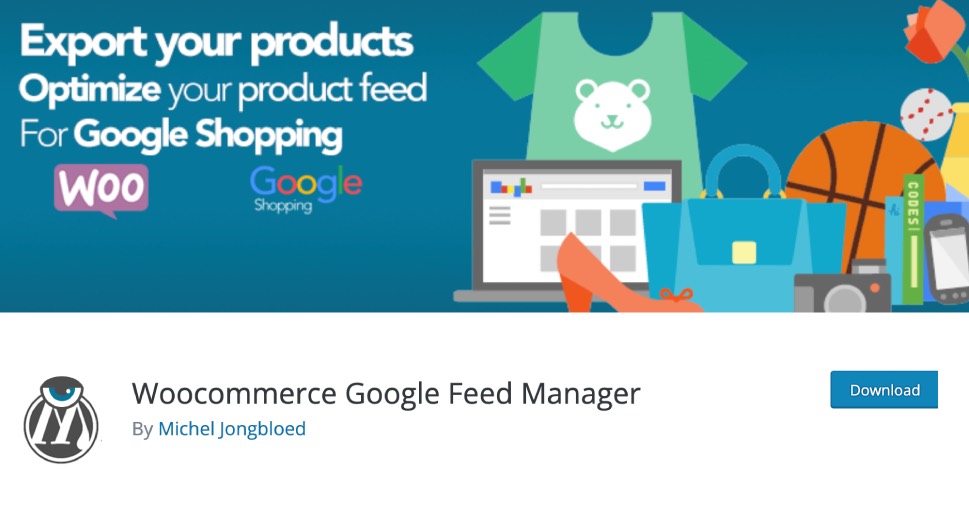 Another great WooCommerce Google product feed solution, Woocommerce Google Feed Manager is an easy-to-use plugin that will allow you to fully optimize your Woocommerce store's feed for Google Shopping. The plugin lets you add up to 100 products from your store to a product feed that is built according to Google Shopping's requirements. Even though you can easily submit your product feed to the Google merchant center as soon as you install the plugin, you also get to adjust every field even further to make the most out of Google Shopping and make your products stand out in a deserving way. You will be able to use alternative titles for your products (different from ones available in your shop), change product Google categories according to the title names, and more.
There's also the premium version of the plugin (available at a price of €69) that offers complete control over the Google Shopping feed. This includes the ability to display your products in price comparison, as well as affiliate networks and selling channels such as Bing, PriceGrabber, Amazon, Shopping.com, and the list goes on.
CTX Feed is yet another practical WooCommerce Product Feed plugin you can use to display product feeds on Google Shopping, but also Facebook Catalog Feed, Pinterest Shopping Feed, Instagram Catalog Feed, eBay Ads, and plenty more. In total, CTX feed comes with a 100+ channel compatibility, allowing you to fully extend the outreach of your eCommerce store and promote your products across multiple marketplaces in an efficient manner.
With CTX Feed, generating a WooCommerce product feed is as easy as it can get. You will be able to get access to many flexible options you can use to update all product information based on your schedule and allow potential customers to be up to date with all the latest product stats. Some of the features include the ability to upload an unlimited number of products and feeds, use over 100 pre-built templates, have access to any product feed file type (XML, CSV, TXT, XLS, TSV, JSON), and more.
If you opt for the CTX Feed pro, you can take advantage of the ability to add multiple product attributes such as color, size, brand, dimensions, etc. to make an even better impression on your potential customers. In addition, you will get to filter unoptimized products from your feed in only a couple of clicks, or even use the smart filter option to exclude products that you don't want to advertise.
The cost of the pro version of CTX Feed is $119 for a single site.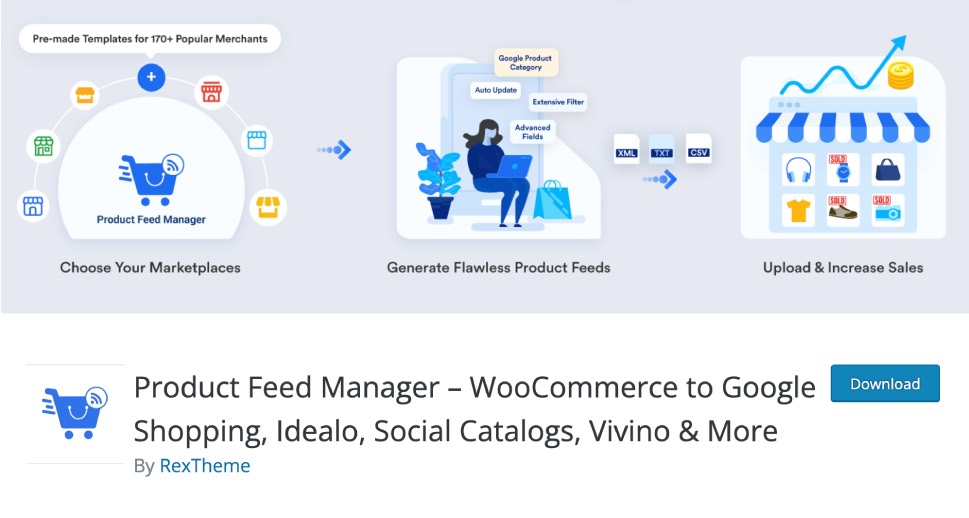 Last but not least, Product Feed Manager is an all-in-one product feed solution you can use to generate multiple product feeds across various leading marketing channels. This includes, but is not limited to Google Shopping, Facebook Catalog, Yandex Market, eBay, Instagram, Rakuten, and PriceRunner – over 180 merchants in total. The process of generating your feed is as easy as it can get, too. The only thing you have to do is choose your preferred merchant, adjust the product data according to your preferences, and finally, generate your feed.
As for Google Shopping in particular, the plugin is almost completely Google Shopping Feed-ready, allowing you to use many advanced features like category mapping, product filtering, and Google Auto-sync. For example, the Auto-sync option will let you update your feed automatically according to the schedule you set up. The Category Mapping feature is particularly useful as it lets you easily map your store's categories according to Google's categories. Also, you will be able to take advantage of smooth filter options and include (or exclude) products that are required for the feed. If you want, you will be able to filter by categories, by tag, or use custom filters.
Last but not least, you will even have access to Google Analytics support so that you can measure the effectiveness of product feeds shared via marketing channels. Another great feature at your disposal is the Facebook Pixel which will allow you to add Facebook pixel code to your store and also track the performance of products shown on your Facebook shop.
Some of the features available in the pro version of the plugin (with the basic plan starting at $59.99 a year) are the ability to generate unlimited product feeds, use unique product identifiers, add detailed product attributes (such as size, pattern, material, etc.), use 6 additional premade templates, and more.
And we've reached the end of our list of top WooCommerce Google product feed plugins. You can use any one of these plugins to get the most out of Google Shopping ads and attract a wider range of customers in no time. From the ability to generate unlimited product feeds and product attributes all the way to auto-sync options and multiple feed types, each plugin on our list has everything you need to market your products effectively on Google Shopping.
If you only need a simple plugin solution to connect your product feed to Google Shopping, we recommend that you look into a plugin such as ELEX WooCommerce Google Shopping. To have access to more advanced features and generate an unlimited number of feeds across multiple markets, we recommend plugins like Product Feed Manager or CTX Feed. Also, if you make sure to look into each feature carefully, you will be able to easily decide which plugin will help you make the most out of your eCommerce business.