Rank Math vs Yoast – How to Choose the Best SEO Plugin
Not that long ago, many WordPress site owners considered Yoast SEO a golden standard among SEO plugins. Yoast SEO is not only easy to set up, but it also comes with some great and user-friendly features, many of which are available completely for free. During recent years, however, another plugin called Rank Math came into the limelight, quickly becoming Yoast SEO's worthy opponent. Therefore, it's only natural to compare Rank Math vs Yoast and see exactly how one stands against the other.
While it's true that both plugins are user- and beginner-friendly in general, not many people are familiar with all the options they can find when diving further under the hood. In fact, most people aren't even sure in which ways the plugins differ from one another. Thus, we've decided to use this opportunity to compare some of the key features both Rank Math and Yoast have to offer. We will also mention some core similarities and differences along the way to help you decide which one is better for your website's needs. Without further ado, here's all that we will cover:
Made by the creator with the same name, Yoast SEO was first introduced all the way back in 2010. It is well-known for its built-in SEO tool, allowing you to place focus keywords in places such as meta title and meta description, as well as in other parts of your text. Moreover, it offers suggestions to improve your overall readability score. What's also great about Yoast is that it comes with automated features like meta tags and canonical URLs, and also allows a comprehensive Schema markup integration and advanced XML sitemaps, among other things.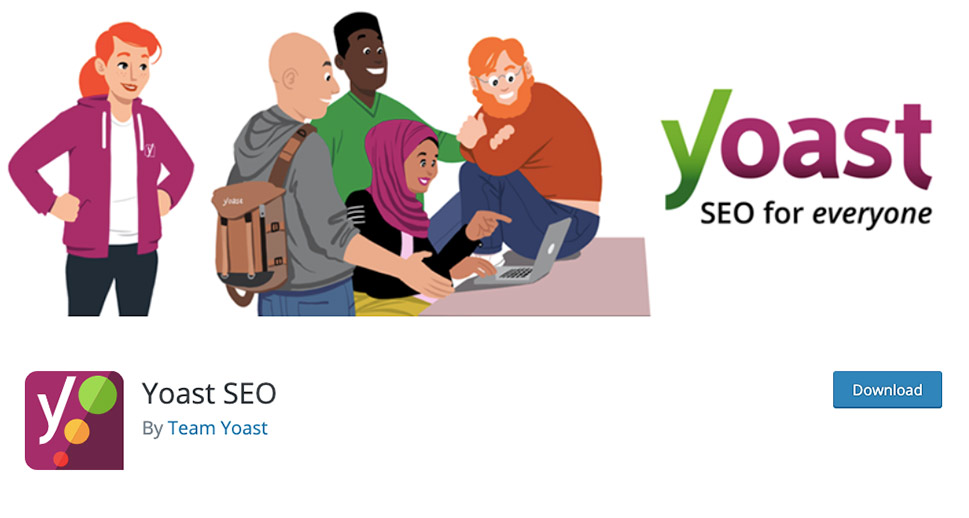 While there are many basic and useful features available for free, you do have to upgrade to the premium version of Yoast SEO (available at a price of €99 per year) to get the more advanced features. These include optimization for multiple keyphrases, automatic internal linking suggestions, an orphaned content filter (allowing you to detect posts that have no links that lead to them), and the list goes on.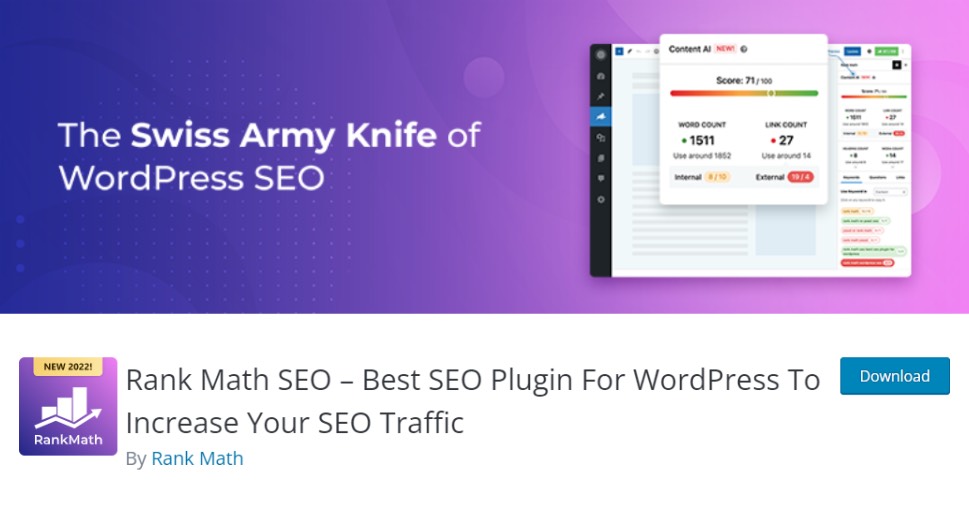 In contrast, Rank Math is still a fairly young plugin that has first made its appearance in 2018. It comes with some great automation features, including Schema and meta tags. The plugin is also easy to configure (most of the process is automated) and features an SEO analyzer tool, just like Yoast. You can also optimize your content for up to 5 different keywords and set it so that it optimizes an unlimited number of keywords, have access to image SEO, and more.
If you upgrade to the premium version of Rank Math (available at $59 per year), you also get access to some exclusive features, such as integrated Google Analytics, AdSense, and Search Console data, the ability to use over 20 predefined Schema types, open external links in new tabs automatically, etc.
Optimizing content for keywords should be one of the basic features of any SEO plugin, and both of these plugins are no exception. So, let's see how Yoast and Rank Math compare in this area.
We've already mentioned this in the beginning, but it's important to repeat it in this section nonetheless. By default, Yoast SEO allows you to optimize your articles for one keyword only. This number can jump to five, but only if you purchase the Pro version of the plugin. On the other hand, Rank Math lets you add up to five keywords right out of the box.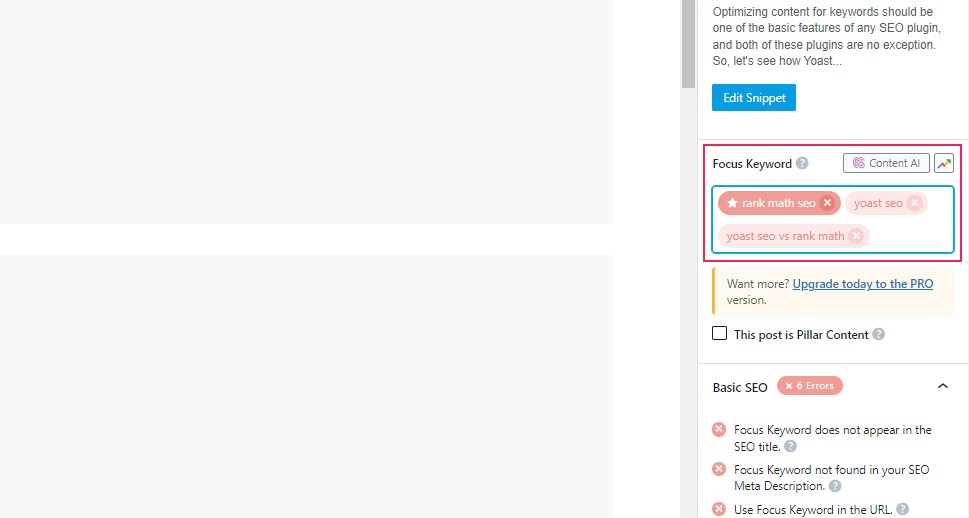 As for keyword optimization options in general, both tools offer a similar interface and display their analysis within the post editor itself – albeit with a few small differences. In both cases, you will be able to use different suggestions within your text to optimize your content for the given keyword better. This includes the text itself as well as the title. Of course, you also get notifications about the keyword density.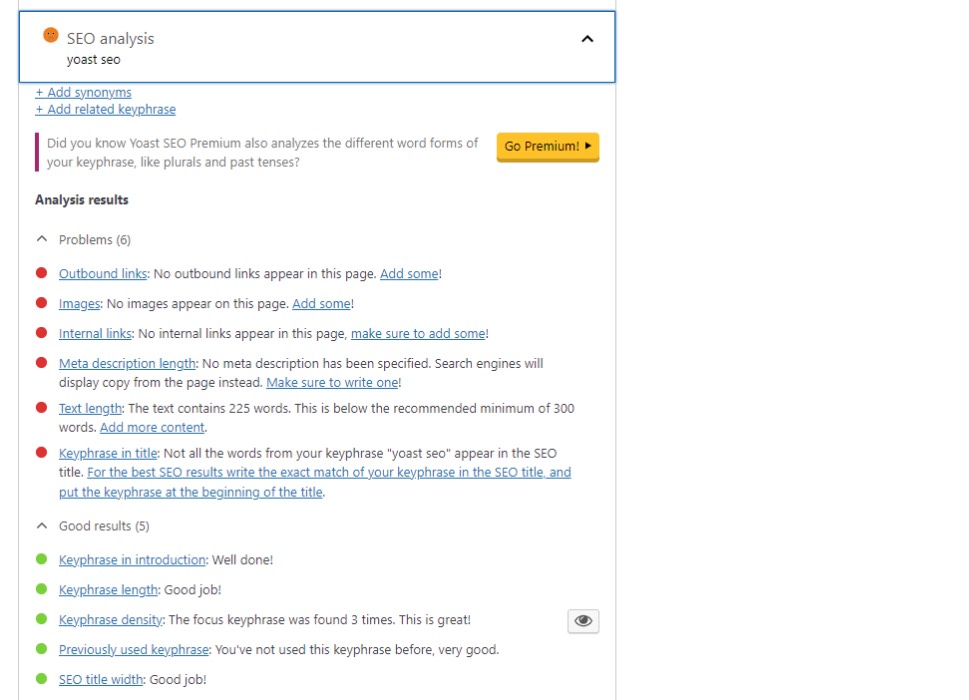 Now, the slight difference lies in the fact that Yoast SEO puts these notifications at the bottom of the page, right below the editor, or in the sidebar. The suggestions appear in the sidebar when you click on the Yoast SEO icon located in the top right corner of your toolbar.
Rank Math, on the other hand, places SEO suggestions in the sidebar only. You can also access it by clicking on the Rank Math icon in the top right corner.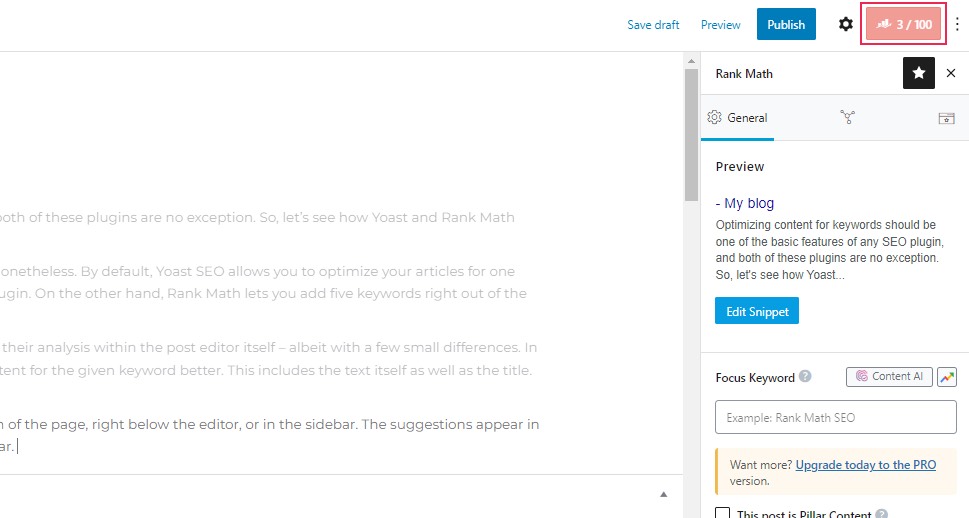 Both tools offer a so-called light system, with a green light indicating that your content is well optimized. One major difference, however, is the fact that Rank Math offers a rating in numbers for the overall optimization score. On the other hand, Yoast SEO only contains a more vague system of showing red light when it thinks your content optimization is bad and displaying orange when it needs improvement, with green being a sign that everything is good.
Although it can be argued that readability doesn't necessarily have a huge influence on your website's SEO, it's still important for the overall user experience and, as such, it can also positively impact your website's ranking. When it comes to readability, both plugins offer some useful options. Once again, Yoast SEO comes with a light system (red, orange, and green) to indicate whether your post is readable to the general audience and contains suggestions if there's room for any improvement. These suggestions include Flesch Reading score, the use of passive voice, a number of consecutive sentences, subheading distribution, paragraph and sentence length, and more.
Rank Math SEO separates this feature into two sections – Title and Content Readability. The former focuses on the number of power words used in the title, positive or negative sentiments, and so on. The latter section analyzes the text itself and offers suggestions such as whether you're using a table of contents in your post, paragraph length, etc.

So, as you can see, both plugins offer a similar range of options when it comes to readability. That being said, unlike Yoast SEO which separates SEO and readability, Rank Math counts readability as part of its total SEO score. Plus, it seems like Yoast SEO offers a readability analysis that is a bit more comprehensive compared to Rank Math as it includes a separate readability score, keeps track of passive voice, and offers a few other traits.
Both Yoast SEO and Rank Math come with many free features capable of accommodating anyone that is just starting out with optimizing their website for search engines. Still, it has to be said that Rank Math is taking the lead when it comes to the number of free features it's offering.
Some of the free features that both plugins share include:
Integration with Google Search Console
Social Media SEO (for Facebook and Twitter)
XML sitemap and Schema markup
We've mentioned that Rank Math also offers some additional free features. They include:
Local SEO (to help rank for local businesses)
Google Analytics integration
Up to five keywords are included in the SEO analysis by default
WooCommerce SEO (for setting product and shop titles and descriptions)
Features unique to Yoast SEO include the ability to mark pages as cornerstone content so as to emphasize their importance and add more internal links.
Both plugins offer a fair range of premium features. That being said, Yoast SEO does contain some premium features that are already available in the free version of Rank Math, while there are features that Yoast does not offer in any version at all.
Here are Rank Math's most notable premium features:
Keyword rank tracking – allowing you to track a year's worth of your website's rankings and keyword performance
Google Video and Google News SEO sitemaps
Integration with Google Trends
Over 20 predefined Schema types
Some of Yoast SEO's available premium features:
Multiple keyword analysis
Internal link suggestions
The ability to use related keyphrases
Paid add-ons for local SEO, video SEO, and news SEO
Estimated reading time (which automatically calculates the reading time of your content)
Setup Process and Dashboard
As far as the setup of Rank Math and Yoast SEO goes, both plugins do a great job of making the process as easy and beginner-friendly as it can get.
Rank Math features a smooth setup wizard with user-friendly steps allowing you to configure some of the basic free plugin features in no time. Some of the steps in the initial wizard include configuring the basic schema info, integrations with Google Search Console and Google Analytics, and XML sitemaps, among other things.
What's also great is the fact that you don't even have to complete the process to use the plugin itself. Also, you can choose from Easy and Advanced mode (or Custom, available in Rank Math Pro) to adjust the settings as per your specific needs. Plus, you can switch between these modes at any time.
Another great trait of Rank Math is that all features can be easily switched on or off using the neat module system. You can always access its module manager to inspect every available feature and enable or disable any module you like, as well as configure each one according to your preferences. Just keep in mind that you need to switch to the Advanced Mode to have all modules available.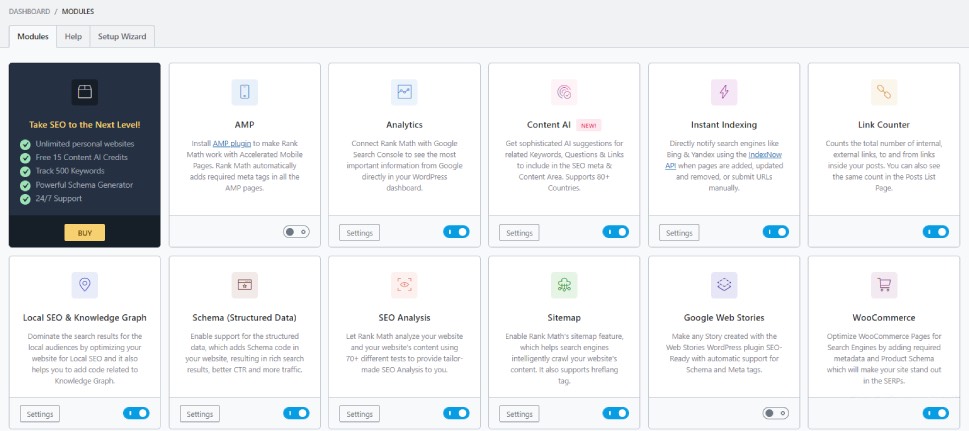 Similar to Rank Math, Yoast SEO comes with an intuitive first-time configuration wizard called SEO Workouts. It will lead you through some of the most important website settings, allowing you to optimize your site data, including your site's tagline, social profile optimization, and a few other settings.
The default Yoast dashboard is also very simple and user-friendly. It features different notifications and lists any potential problems so that you can solve them quickly and efficiently.
Also, the plugin's Features tab is pretty straightforward, allowing you to enable or disable different features, such as SEO and Readability analysis, cornerstone content, XML Sitemaps, and more.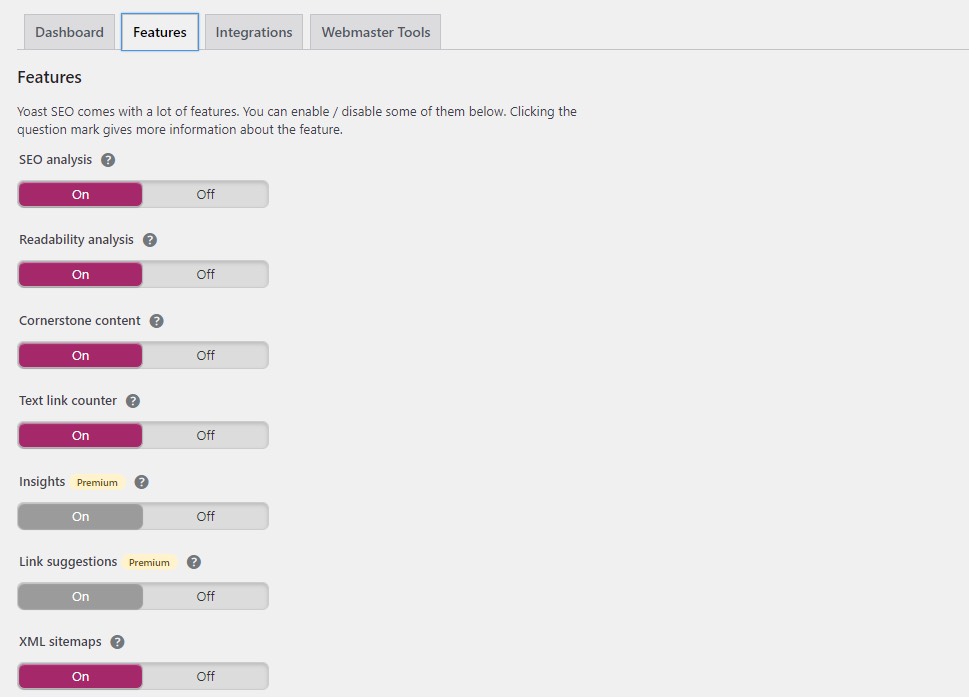 Now that we've done this summary of Yoast SEO and Rank Math and listed some of their most important features, it's time to give our opinion on both of these tools. If you ask us, which plugin you will go for depends entirely on your specific needs. While it's fair to say that Rank Math does seem like an overall better choice in terms of offering more free features, both plugins do a fairly good job in terms of user-friendliness and ease of use when it comes to configuring all the options.
Also, not everyone needs tons of features to have a well-optimized website. It depends on what your particular requirements are and if you really plan to use all those features that come with Rank Math. Plus, Yoast SEO has been around for longer and has succeeded in standing the test of time as far as quality and user-friendliness go.
So, this is our final verdict:
Both SEO and Readability analysis options are similar, though Yoast seems to offer more options related to readability.
Rank Math SEO lets you add more keywords per post right away, while Yoast SEO allows up to five keywords only after upgrading to Yoast SEO Premium.
Both plugins have the option of upgrading to Premium, but Rank Math offers way more free features out of the box, like local and image SEO and 404 error management.
Both plugins are easy to set up and intuitive to use both for beginners and advanced users.
Yoast SEO features a slightly more modest interface, while Rank Math comes with a neat-looking module-based dashboard.
While Rank Math SEO has succeeded in gaining the trust of millions of WordPress users in a short time thanks to its practical user dashboard and wide range of free features, Yoast SEO is still considered a leading SEO plugin. This plugin is also quite user-friendly and simple to use and contains a fairly comprehensive content analysis toolkit. Still, it's hard to conclude which plugin is better as there are definitely areas where one plugin exceeds the other. As with many other things in life, it all depends on your particular preferences.
All in all, one thing is certain – both Yoast SEO and Rank Math are user-friendly and powerful plugin choices suitable for beginners and pros alike. Just make sure to go over most of the features and capabilities of both plugins to determine which one is a better choice for you. Also, we suggest that you check out our separate Yoast SEO and Rank Math guides where we talk about the options of both plugins in far more detail.