7 Best Paypal Plugins for WordPress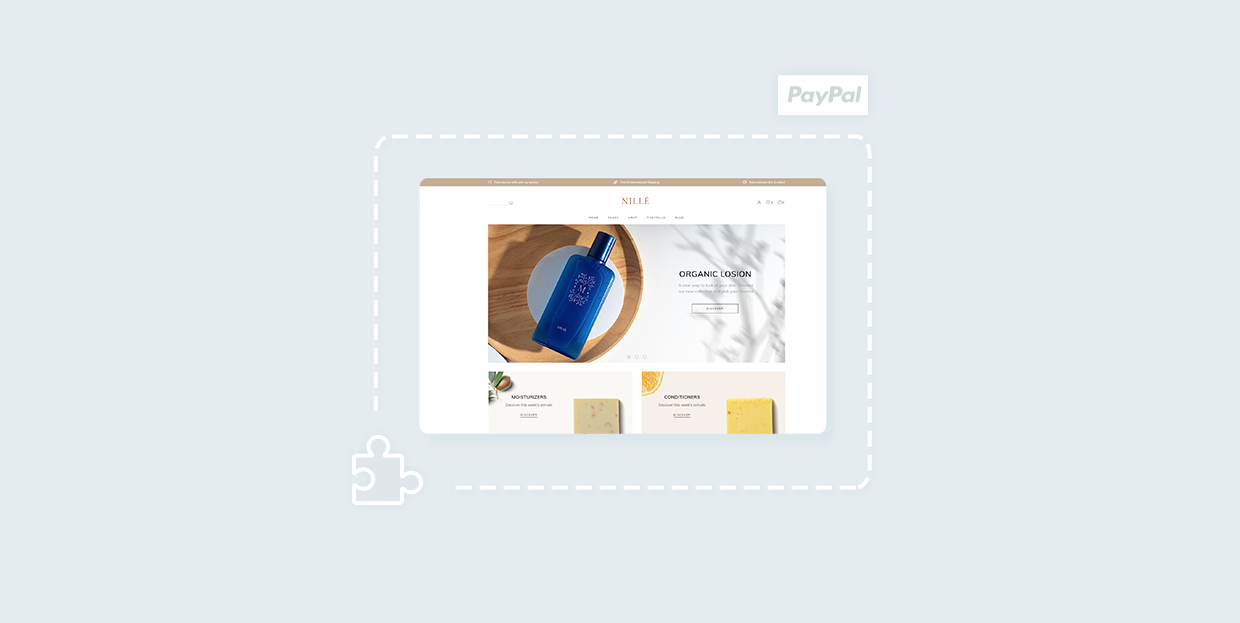 With over 305 million active registered users from 1st quarter 2010 to 4th quarter 2019, PayPal is one of the most popular online payment methods worldwide that enables users to pay for products or services, as well as send or accept payments via a secure internet account. By installing one of the many available PayPal plugins for WordPress, it's easy to add a PayPal button and accept online payments on your WordPress website as well. This time around, we're going to explore some of the best plugins in this category.
Why Use a PayPal Plugin on Your Website?
Whether you want to accept donations through your website or sell any type of physical or digital product, a PayPal plugin can be of great use because it can help you convert your visitors into clients with ease. Since PayPal enjoys such widespread international popularity, customers will be more prone to do their business with you if you offer them this possibility. Plus, PayPal is one of the safest payment gateways, so you can rest assured that using it for handling your online payments will be smooth and secure, for both sides.
There is a wide variety of different PayPal plugins you can find online – some can be downloaded from the WordPress repository completely for free, while others come with various pricing plans and offer additional premium options. To help you make the right choice for your business, we've gathered a list of what we think are the best PayPal plugins for WordPress you can find on the web.
Here are our recommendations: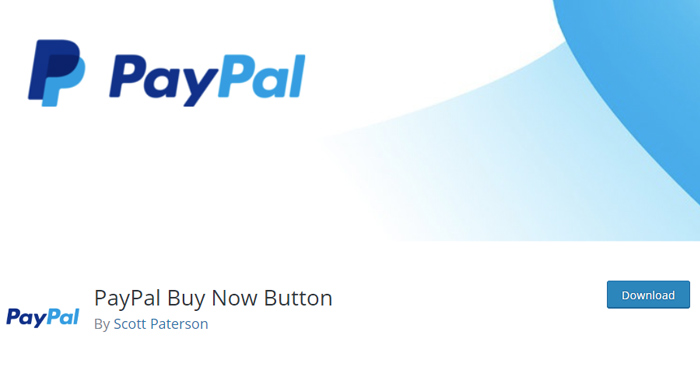 This is a simple WordPress PayPal plugin that will allow you to sell products or services on your website. You will get to place a PayPal Buy Now Button anywhere you want on your website, allowing customers to use their PayPal account to pay for your products or services. They will also be able to pay with their credit or debit cards.
What makes the PayPal Buy Now Button plugin especially convenient to use is that you don't even need to have an online store set up on your website to use it – just embedding the PayPal button is enough.
The plugin works great with any WordPress theme, has built-in support for 18 languages and 25 different currencies, and additionally, you can choose from 4 different button designs. If you opt for the pro version of the plugin, you also get the ability to view sales in your admin, charge fixed tax or a tax rate, charge shipping and handling per item, and get to show price and product name beside the button, among many other neat features.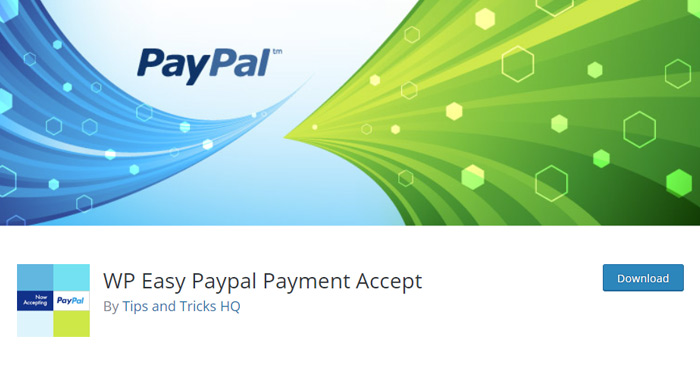 WP Easy PayPal Payment Accept is another plugin with which you can accept payments on your WordPress website in a single click. Installing and setting up the plugin is quite simple, and you can create payment buttons and place them anywhere on your site with the help of a shortcode. Some of the features include the ability to set the country code (which helps you use a specific language for the PayPal checkout page), create a payment button widget to accept payment in any PayPal accepted currency, specify a custom button image for the payment button, and so on.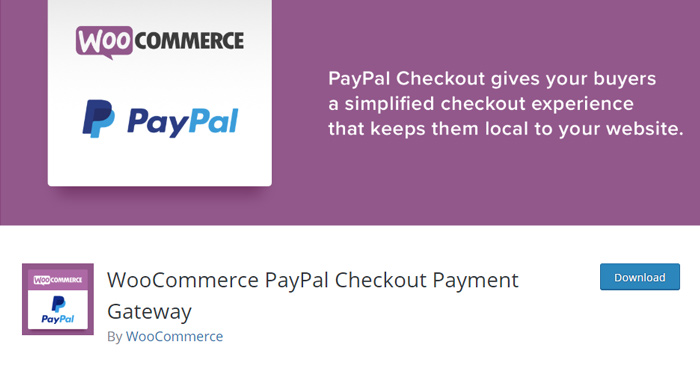 If you've already learned everything you need to know about WooCommerce and you're in the process of setting up your online store, then picking a proper payment gateway service is your next step. With the WooCommerce PayPal Checkout Payment Gateway plugin, you will get to safely sell products on your WooCommerce-powered shop. The plugin's In-Context Checkout feature uses a modal window (hosted by PayPal servers) that provides a secure way for your customers to add their account information. It's also easy to connect to your PayPal account thanks to the integrated PayPal setup feature.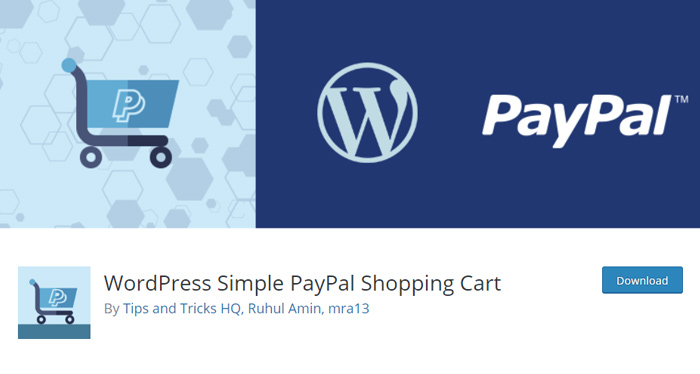 As the name suggests, WordPress Simple PayPal Shopping Cart is a simple-to-use plugin with which you'll be able to sell your products and accept PayPal payments. It works by helping you place an Add to Cart button anywhere on your WordPress website. Once they get directed to the checkout page, your customers will get to purchase your products using the PayPal service.
Thanks to a simple shortcode, you will be able to show a nicely formatted product display box to your customers. Plus, you get the option to use the smart payment buttons (which allow the users that want to purchase your items to checkout in the popup window), as well as the ability to configure the email that will get sent to those that buy your products, among many other useful options.
PayPal Pro and PayPal Express is a two-in-one add-on for the Easy Digital Downloads plugin (a premium tool for selling digital products with WordPress). The PayPal Pro API allows your visitors to enter their credit card details when they're checking out without leaving your website. This means better user experience for your visitors and consequently brings you more conversions. Also, PayPal Express helps users checkout in a secure way.
We have to note, however, that while PayPal Express is available in most countries, PayPal Website Payments Pro can only be used in the USA, Canada, UK, and Australia.
The cost for the PayPal Pro and PayPal Express add-on (a single site license) is $89.
Here is a plugin that allows you to create dynamic buttons like PayPal Buy Now, Add to Cart, Donation or Subscription by using shortcodes that enable PayPal checkout on your WordPress site.
What makes the WordPress PayPal plugin a truly reliable choice is its PayPal Sandbox support. This is a simulation environment with which you can perform some test purchases between a test buyer and a seller account. By using this option, you will ensure that you don't run into any issues once you decide to use the plugin and sell your products to the customers. You will also be able to allow users to add multiple items to the shopping cart and checkout, view or manage orders received via PayPal buttons directly from your WordPress admin dashboard, and more.
With the PayPal Express Checkout Payment Gateway for WooCommerce plugin, you can accept credit card and PayPal payments through a secure PayPal payment gateway on your WooCommerce store. Your customers will be able to use their credit cards, debit cards, or PayPal money to make their orders directly from the cart page. Another great thing about the plugin is that it provides a faster checkout experience to the customers because it skips the order review page.
The premium version of the plugin offers you to add the express PayPal checkout option on the product page for faster checkout, premium support, as well as plenty of customization options, like button style, position, and so on.
Realizing that the plethora of choices of PayPal plugins for WordPress can be overwhelming, we made sure to single out only the best of the best. And while some of the plugins come with more features than others, all of them provide a fast and secure way to accept payments through PayPal without having to use a merchant account. All you need to do now is to install a plugin of your choice and start making more sales directly through your website.