How to Start a News Aggregator Website Using WordPress
If you've ever thought that there should be a single website where you can get all the updates from all your favorite blogs, podcasts, news websites and other sources, you have independently come up with the concept of a news aggregator website. They have been around for a long time, and, while social networks have since taken up some of their role, they are still around. And new ones are launched every day.
Starting anything from scratch is hard, which is why, if you are looking to start a news aggregator website, you are in luck: you don't have to start from scratch. We will start with setting up websites in general, and then discuss news aggregator websites in particular.
Here's what we'd like to talk to you about:
A news aggregator, also variously known as a feed reader, feed aggregator, news reader or RSS reader is a piece of software which aggregates a lot of online content for easy viewing. A news aggregator website, therefore, is a website which does the same. A news aggregator website fetches and organizes data from different sources and presents them in an easily legible manner.
The main benefit of a news aggregator website is that a user does not need to visit multiple websites to get the latest. News aggregator websites typically do not publish their own content, but rather compile reports from various outlets and present them to the user. Some, however, do publish their own content. Some allow a user to select their own sources, while others curate their presentation.
No matter what kind of website you are planning to create, you need two things: hosting and a domain name.
Hosting basically means server space for your website's files. There is a lot to consider when choosing your hosting provider, which is why it merits its own article. We encourage you to check out our linked article before you proceed if you are unfamiliar with hosting in general.
Once you have secured a server and a domain name, you need to install WordPress. In order to do that, you need to do three things beforehand:
install a web browser. Any web browser. If you are reading this, you probably already have one.
install an FTP client. An FTP client is a piece of software used to manage files on your server.
install a database access tool. Your hosting provider will likely provide you with a database access tool.
The process of installing WordPress will then take you no more than a couple of minutes. We have a video on how it's done in about five minutes.
Core WordPress is just the basic framework which lets you build whatever kind of website you wish on top of it. A WordPress theme is a layout you need to use to do so. There can also exist a great deal of variety within a theme, so this section is not going to be of any great help to you if you are looking for ideas: you need to have a niche already in mind. You wouldn't go about designing a website for gamers and a website for gardeners the same way, would you? Or maybe you would; maybe gardening gamers are your chosen niche. You know what you know best.
Once you have a niche in mind, you should consider your budget. There is a huge variety of free themes you can use, designed for an equally large variety of niches. Don't let the pretty pictures fool you, though: sometimes, a theme will include images (photos and other graphical elements) as a demonstration, but you would need to source them yourself. You may find yourself downloading and installing a free theme, and then needing to pay for a license to use images.
To the contrary, our very own Qi Theme comes with over 100 demos (fully functional out-of-the-box website designs) fit for just about any niche imaginable – and even the free version includes a special image license. What you see is what you (can) get. Of course, if you can afford to shop around for a premium theme, you are more likely to find an exact match for your needs.
Once you have chosen a theme, installing it is easy. You can install your WordPress theme from your WordPress dashboard (and its Appearance/Themes section) or manually. You can find the detailed instructions in the linked article.
A news aggregator uses a mechanism called RSS to gather data from various online sources. RSS stood variously for Really Simple Syndication and Rich Site Summary, and it is built into WordPress from the beginning. The details of what an RSS feed is would take too long to expound here, but we encourage you to consult the linked article. Suffice it to say that you don't need to do anything to any WordPress website (yours or anybody else's) in order to use its RSS feed, provided you have access to its posts.
Now that you have selected a theme and installed a website (or even just used a ready-made demo), you need a functionality which lets you display your feeds for your users. From January 2022, an RSS block is a feature of WordPress, but it is currently very basic. However, as is very nearly always the case, if a functionality is not a part of WordPress's core, it may be supplied using a plugin. In our case, we will be using the RSS Aggregator by Feedzy.
The plugin itself is rich in features and allows you to introduce an unlimited number of feeds to your visitors, even in the free version. You can take a look at the full list of features in the developer's documentation.
We will show you how you can add an RSS feed to any section of your website using this plugin, though. After having installed and activated the plugin, we have created a new page and given it a title. You can, however, add an RSS feed to any other place on the website.
To start, click on the plus sign and select the Feedzy RSS feed block.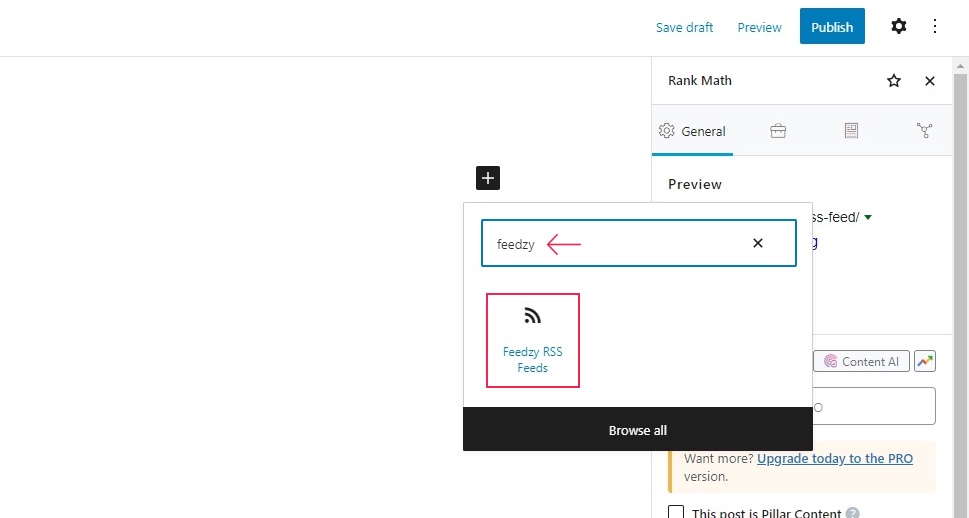 Next, paste your desired feed or feeds in the URL block. We will be using the Qode Magazine feed, but you can use however many feeds you like separated with commas. When done, click the Load Feed button.
Once the feed loads successfully, you can publish the page.
And, as you can see, your feed is ready. Note that each feed can be loaded individually, and that you can use multiple feeds per block.
As you can see, setting up your website to display however many RSS feeds you like: all you need is a simple plugin. Creating and growing a website is a whole other story. It is up to you to write yours. Building authority can take a long time, and there is no recipe for success. Still, we believe that, with this article, you are as prepared as you can be to create your own news aggregator website.