5 Best Product Variation Plugins for WooCommerce
In today's highly competitive world of online shopping, merchants are often pushed to do everything in their power to attract the customer to buy from their store. Since many shops offer similar products, what is it that will inspire the customer to choose you over so many others? Sooner or later, as a businessman, you come to realize that attractive pricing is only one element that influences the customer's decision to buy from you. Another factor that is just as important is user experience. There are many different things you can do to level up your online store user experience and maximize your conversion rates, like create WooCommerce product bundles, display popular products in WooCommerce, but you also need to do something to provide your customers the best possible perception of your products. Although you can't offer the convenience of touching or trying on the goods, you can offer a pretty convincing alternative and that's where WooCommerce product variation plugins kick in.
These types of plugins come with plenty of useful features that enable you to display products with many different variations like size, color, price so that the customer can have a precise image of how each variation looks.Тhe biggest advantage of product variation plugins is that they simplify the process of adding variable products to your online store – if you have a t-shirt that comes in ten colors and five sizes, instead of adding a separate product for each color/size combination, you can add one product and a menu with different attributes. Your visitors will be able to select and buy the goods based on sizes, prices, and other attributes that match their specifications. Plus, they will appreciate the wide selection of products you have to offer. Bear in mind that all the images you use in your WooCommerce store have to be of high quality if you want to achieve the desired effect.
A good choice of product variation plugin for WooCommerce will help you enrich the user experience and boost your sales at the same time. The list we compiled includes versatile product variation plugins for WooCommerce that will surely help you offer the best shopping experience to your customers:
If you want to provide your visitors with a more complete insight of your products and their variations, check out the official extension called WooCommerce Additional Variation Images. Its main job is to allow merchants to display additional product images for their variations, so instead of just showing, for example, different color swatches, it actually displays the products in different colors. You can add multiple variation images, from different angles, zoomed-in, and so on. This is a proven way of boosting customer interest and can be a great way to increase sales. Additionally, when you provide as much information and imagery to the customers, you're also reducing the chance of returns and complaints.
The plugin is very simple to use – once installed, an option to add different variation images will appear in the Variable Product section of the dashboard. Simply upload the images to appropriate product variations, and that's it.
This plugin is quite cheap, too – it currently costs $4.92 for a single site license.
The WooSwatches plugin is particularly useful in cases when you have an unusually large number of product variations to offer. What distinguishes it is that it comes with an inbuilt product filter on an image and color basis. This practically means that in case there are more swatches than those displayed on the page the plugin will offer a "more' link. Also, if the number of swatches is higher than the set value, WooSwatches features a slider to display more shop swatches.
This responsive plugin supports dropdown select fields, color, image, and text variation swatches. It allows you to display the selected color or image swatches on the shop, category, or archive pages. It also supports a wide variety of sizes for both square and round swatches.
This plugin is not free and comes at a unique price of $19.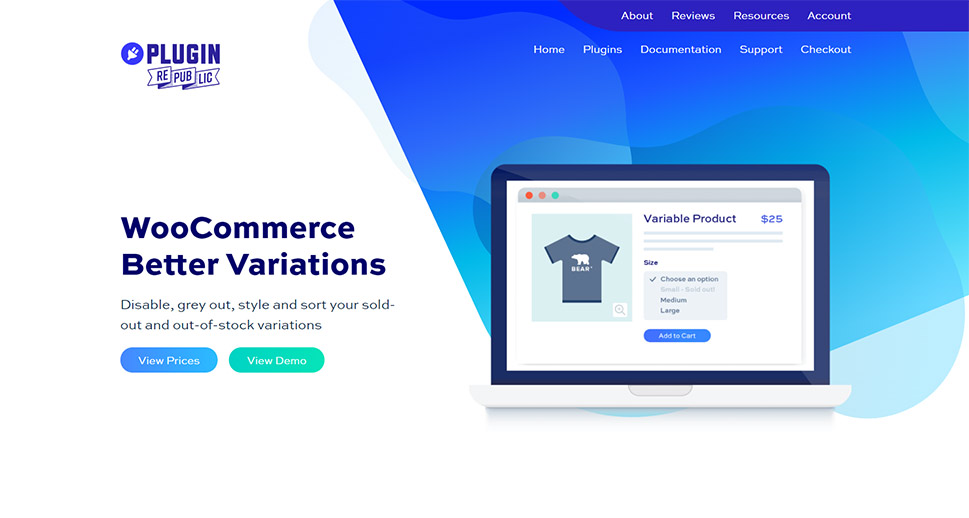 WooCommerce Better Variations plugin is a simple-to-use tool that includes many useful and unique options. Apart from allowing you to add different color variations, display price information, and similar handy options, this is one of the rare plugins that enables you to handle out-of-stock variations too. It lets you grey out and make out-of-stock products unselectable and also alter the style of the variations in a way to make the out-of-stock products show at the bottom of the list. This way all variations are visible to the user, but he is clearly informed about the variation availability at the moment.
By choosing the Grid display mode you can display all the product variations in a grid or in a single table and your customers can easily enter the desired quantities for selected products without having to select each variation individually.
The plugin comes in a two-tiered pricing plan – basic and pro with prices ranging from $49 to $89.
WooCommerce Variation Master is a powerful tool that is easy to configure. One of the most distinguished features is probably the cart page popup window. It shows up after the customer clicks the 'Update' button that is displayed each time a new item is added to the cart. It is also possible to select different product variations inside the cart. Practically, it means that in case the customer wishes to change the order at the last minute, he does not have to remove the product from the cart and add a new one – he can simply select a different product variation on the cart page.
Many more useful features are included – you can add a border on swatches and show attribute text above them, display swatches on Shop, Archive, and Category pages, add a custom image gallery for each variation, create gallery images slider, etc. The plugin is responsive so whatever features you choose to use, they will be accessible regardless of the device.
As for the price, you can opt between a regular license for $35 and an extended license for $1999.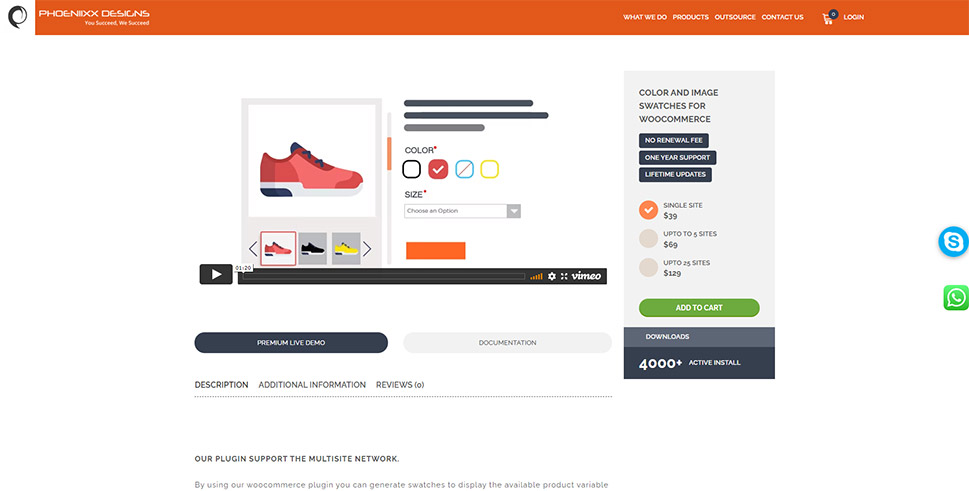 For more advanced options like creating swatches using bicolors, images, radio buttons, and icons or if you want the option to zoom the swatch image on hover, you'll have to invest in the premium version.
The premium version unlocks a grid library with 300 icons, offers more options for styling the swatch styles, and has many more useful features. You also have the option to create color and image swatches on a per-product basis.
Depending on the number of sites you are going to use the plugin on, you can choose between three pricing plans ranging from $39 for a single site to $129 for up to 25 websites.
Running a WooCommerce shop requires an agile approach and constant attunement to your customers' needs. Variation plugins are made to help you describe and display your products in a more detailed and attractive manner. All the plugins in this list can help you level up user experience and boost your conversion rates. If you are running an online store where there is an exceptionally large amount of product variations, then WooSwatches is probably the most recommendable choice. WooCommerce Better Variations plugin is great if sharing the stock status information about products is important to you. WooCommerce Variation Master is often the choice for larger businesses, and the first plugin on our list is ideal boosting engagement by providing quality images of the variations. Investing in a superb user experience always pays off in more than one way and we are sure each of the plugins in this list can prove that to you.