All You Need to Know About Collaborative Editing in WordPress
If you're running a growing website or blog with the goal of making the most out of your content strategy, you most likely have more than one content creator on your team – or, you're at least planning on expanding it. Not only does having multiple team members allow you to streamline your workflow, but it also lets you focus better on specific tasks and strategies and can boost your productivity as a whole. As a result, you're able to build a more effective content marketing strategy that will help your website grow.
Now, there are many tools for writing better content that can assist you on your journey, like different grammar checkers and productivity tools meant to get your organization to another level. Still, collaborative editing and posting content on a website itself continues to be a challenge, even if you're using a platform like WordPress that has a built-in role management system.
This time around, we will talk about collaborative editing, mention some of its benefits, and share some tools that you can use on your WordPress site to simplify the working and collaboration process among your team members.
Stay tuned as we explore the following:
Simply put, collaborative editing is the process of working on a project with more than one person to create something or achieve a common goal. For example, this can mean joining forces with multiple people to edit, review, proofread, and improve the overall quality of a specific document or file. Collaborative editing can be further divided into online (or real-time) and conventional types of collaborative editing.
Take an online service like Google Docs, for example. This editing software allows multiple users to have access to the same, shared document in order to make simultaneous changes. Depending on their privilege rights, multiple people will be able to view, edit and make comments and suggestions to a single document all at once. For example, a document owner may be the only one able to use full privileges, such as editing, sharing, downloading, renaming, and deleting a document, while other individuals may have the ability only to edit and share a document. This type of online, real-time collaborative editing is much more convenient than a more classical way of content editing, where different people use multiple copies of the same document to make their edits.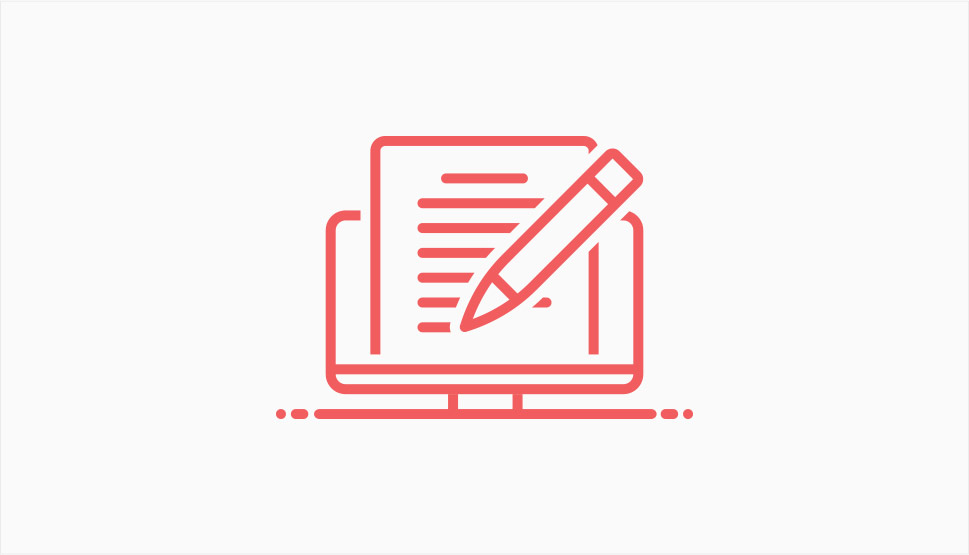 As we've already mentioned, the more "conventional" way of collaborative editing requires each person to have a separate copy of the same document. To elaborate on this further, let's say that you own a Microsoft Word document and then send a copy of the same document to each person in your team. Now every team member will have a separate document copy which they will be able to use to make changes, add suggestions, etc. Once every one of them sends back their own, revised version of the document to you, you will have to go through each version and combine all their changes, and then you may have to resend the new version to each team member again. It's needless to say that this can make the entire reviewing and editing process much more complicated and may take much longer to complete.
And so, from now on, we will focus on the benefits of online collaborative editing. Here are some of them:
It saves time and effort – online collaboration tools like Google Docs or Google Sheets allow different users to access the same document at the same time (or at separate times, when it suits them best) and make their changes according to the type of editing privilege they have. Using online collaborative editing in this way greatly shortens the entire reviewing and editing process and thus saves much valuable time and effort for you and your team. Also, by having one editable document, the entire work is immediately available to each member. In turn, this lowers the possibility of any misunderstandings and duplicate work and leaves less room for mistakes.
The ability to access data from any device – one of the biggest benefits of online collaborative editing is most definitely the fact that the same data can usually be accessed and viewed simultaneously from different platforms and devices. This means that every member of your team will be able to edit documents from anywhere, anytime, which makes this method quite convenient and flexible to use. They just need to log in to gain access and they can start editing and collaborating right away.
It is secure – most tools work by using some kind of authorization (i.e. a login) to allow people to access your data. In other words, only people with permission will be able to view and/or edit documents, which makes online collaboration a rather safe practice.
It provides effective communication and collaboration – by giving access to multiple users, you allow them to comment and discuss any potential changes much more effectively. Namely, many editing tools allow the users to exchange messages within the tool itself. Oftentimes, users can even receive email notifications when someone mentions them. This makes the entire editing collaboration experience much quicker, simpler, and better organized as a whole.
Now, WordPress comes with an integrated user role system out of the box, which makes it easy to assign different roles and capabilities to different users and allows you to manage your workflow better. Also, each role will have its own limitations.
For example, the user with an Editor role will be able to get fully involved in the content creation process, including producing, editing, publishing, and deleting pages and/or posts. On the other hand, a person assigned the role of Author will only be able to create, modify, publish, and delete their own content, but won't be able to access content created by other users. And so, it's easy to see how using the user role management system can also help with providing a certain level of security.
However, this system still does not offer much when it comes to collaborative editing and communication on the platform itself. Even if you do use the help of third-party tools for most of your collaboration process, you still need to have someone insert all that content into the WordPress editor itself. This includes uploading pictures, adding appropriate links and captions to images, and optimizing your content for search engines before finally being able to publish your content. And it's needless to say that even the publishing process itself can involve more than one user and may require them to collaborate with each other.
Luckily, WordPress is a quite flexible platform that allows you to further extend its capabilities using the help of many available WordPress plugins. We've singled out some of the best tools meant to make your collaborative editing in WordPress more efficient as a whole. Check them out:
Multicollab – Google Doc-Style Editorial Commenting for WordPress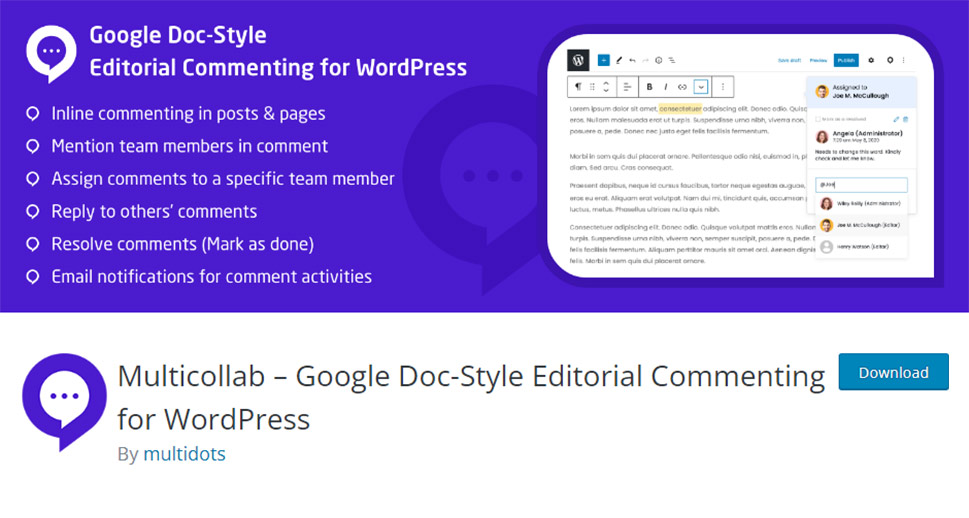 As its name suggests, Multicollab is a great free plugin you can use to edit, mention, and assign comments within the WordPress Gutenberg editor itself, thus giving it the capability similar to that of Google Docs. Some of the plugin's key features include the ability of inline commenting, mentioning your team members and assigning comments to individual users, replying to comments made by others, marking comments as "done", etc. You will also be able to get email notifications for comment activities and use the so-called Activity Center to reply, resolve, edit and delete comments. Moreover, whenever you simply wish to focus on the publishing process, you will be able to use the option to hide all comments.
All in all, this plugin is easy to use and can be a great collaborative editing solution for you and your team as it helps simplify the entire editing process.
SchedulePress is a plugin ideal for automating your workflow in WordPress. It lets you schedule, organize and auto-share your content using the help of the editorial calendar feature. You will be able to add your posts in the queue and then have the plugin publish them on the set date and time. Also, you will get to see the status of all your scheduled posts and drafts right from the WordPress dashboard, manage multiple authors and allow specific users to take care of specific post types. You can even send email alerts to different users and authors when a post has been scheduled or published.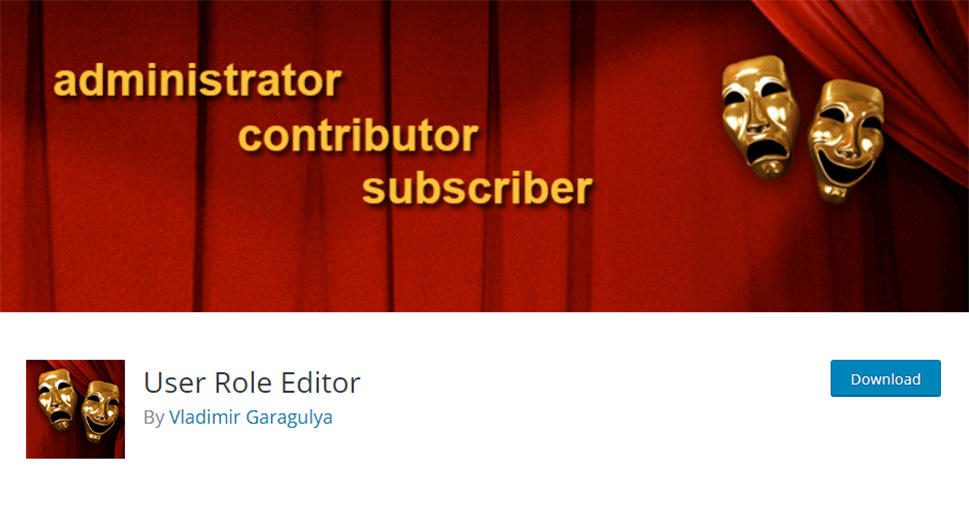 We've already mentioned that WordPress comes with the user role system out of the box. However, User Role Editor extends its capability quite a bit, giving you the ability to assign over 300 different permissions to each user role and allowing you to manage content creation much better. If you want, you also get the ability to show or hide (enable or disable) specific user roles. Also, while this plugin does not allow users to collaborate on pages and posts directly, it still helps streamline the process much more effectively and allows multiple people to access the same page or post and have the same capabilities.
PublishPress Capabilities
With over 100,000 active installations, PublishPress Capabilities is most certainly one of the best and most popular user management plugins around. It will allow you to fully manage and customize all user roles on your WordPress site and even add your own, custom roles that you can tailor completely according to your needs. You will be able to choose who can publish, edit, view, and delete any post type, choose who can manage all taxonomies, add new roles or copy existing ones, and plenty more. If you want, you can even determine what specific users will see when they use the post editor screen by hiding some of its features. Overall, this plugin is great as it offers complete control over all user roles and permissions on your WordPress-powered site.
If you opt for one of the premium PublishPress plans (starting at $99 for the Business plan), you will have access to all existing plugins made by the PublishPress team. These include PublishPress Capabilities Pro that allows you to add admin, WooCommerce, and navigation menu restrictions to different user roles, among others. Also worth mentioning is the PublishPress Checklists plugin that will help you define tasks that authors must complete before publishing your content, as well as PublishPress Revisions that allows you to moderate, approve, and schedule revisions before any content is published.
While it's true that WordPress does not come with a built-in system for collaborative editing, the platform is still quite flexible and allows for plenty of r expansion. No matter if you're a site owner, content creator, editor, or publisher, some of the tools we mentioned above are bound to make your collaborative editing process within the WordPress platform at least a little bit easier. Just make sure to assess the capabilities of each tool carefully to see if it fits with your editing requirements, and then start using them as part of your content editing strategy.