11 Best Productivity Tools in 2022
No matter what you do in life or what goals you want to achieve, you may, at times, find yourself struggling to stay productive. For example, if you're a freelancer that has a more flexible schedule, you may get sidetracked with unnecessary distractions or have trouble with organizing your workflow in general, which can have a negative impact on your productivity levels. And even if you're a part of a bigger team that works on projects with a strictly defined deadline, you may still find yourself procrastinating or not being able to manage your (or other people's) tasks properly. All this can take a huge toll on your work quality and your sense of efficiency as a whole.
Luckily, as there are many different types of distractions, there are just as many tools that can help you be more organized and focused on the task at hand. So, we've made sure to single out some of the best productivity tools to improve your workflow:
If you need a powerful tool that will help you organize your ideas all in one place, Evernote is a perfect app to do so. It allows you to capture notes using different methods – by writing them down, taking a picture, uploading files, and even recording audio.
What's also great about this tool is that it lets you search through every file type you've collected, and it will even register images that contain the words you've entered in your search. You can create checklists and cross off all the tasks that have been finished, tag your notes using keywords to sort them by category and find them faster, and more. Last but not least, you can save your notes and make them available on all your devices, which is particularly convenient if your idea or inspiration strikes you out of the blue.
Evernote Basic plan is available for free, while for more advanced features you need to purchase the Evernote Premium plan (available for €6.99 a month).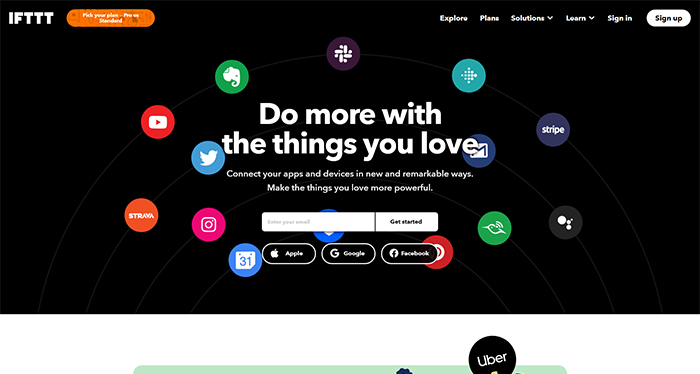 An acronym for "if this, then that", IFTTT is a great app that allows you to connect various different tools, online services, and devices and gets them to do specific things they otherwise wouldn't be able to do. In turn, this helps you automate your workflow and save you time, allowing you to focus on more important tasks and take better control of your business schedule.
For example, with the IFTTT app, you can automate tasks such as cross-posting to social networks like Twitter every time you post on Instagram, you can get the app to auto-post to Facebook from WordPress, receive an email when Google Assistant publishes a new action, and plenty more.
Since it also has a mobile app, IFTTT is also useful if you're often doing your business on the go. As for the pricing, you can either stick to the standard plan and use the app for free or upgrade to pro to get access to the unlimited app creation and some other useful features.
Here's one useful tool that can help increase your productivity by limiting your distractions – and we mean that quite literally. Namely, Freedom is an app that blocks websites and apps that may distract you and take the attention away from your work. You can even block the entire internet if that helps you get focused. If you want, you can specify the amount of time you want to stay away from specific places on the fly, or schedule a future session that will start automatically. Freedom supports all major devices as well, so you can run a Freedom session and focus solely on your work literally from anywhere.
You can get a monthly plan for Freedom at $6.99.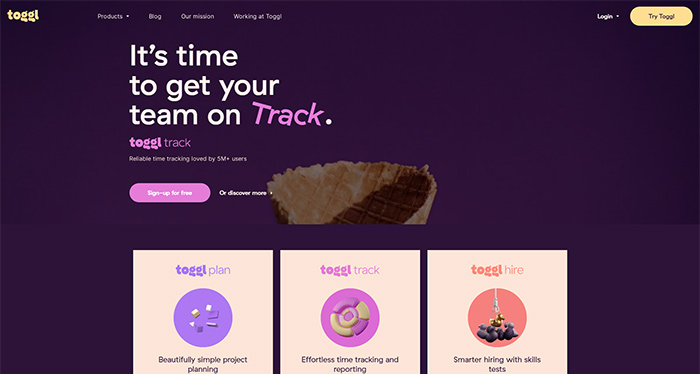 When procrastinating, most people aren't aware of what they're spending their time on, or rather, how much time they are potentially wasting when they could be more productive instead. This is where Toggl can help you right out. This is a time-tracking app that gives an insight into how much time you're spending on certain tasks and activities, allowing you to look through the summary, detailed and weekly reports. Thus, the app helps you learn what areas of work you could improve on and motivates you to be more efficient in general. Toggl is not only good for tracking your projects, but it is also great for the scheduling and management of your entire team.
You can either get started with Toggl for free or pay $8 per month (billed annually) and unlock some of the additional premium features such as multi-assign tasks, annual view, and more.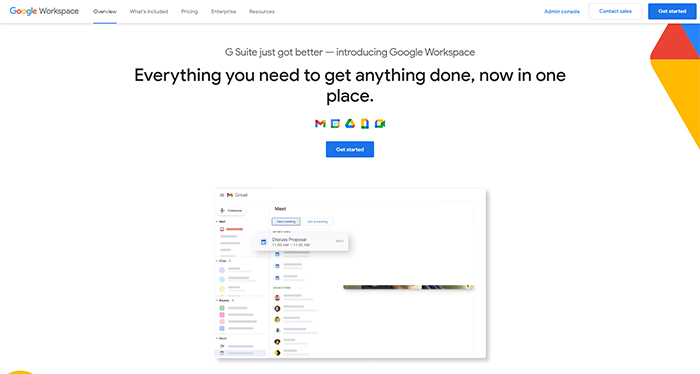 Powered by Google, G Suite is an all-encompassing set of secure and handy apps that can greatly contribute to the productivity of your entire team. It includes Gmail, Hangouts, Drive (with collaborative tools like docs, sheets, slides, etc.) and communication and video conferencing software like Google Chat and Google Meet. You can also use Currents, an app that allows you to engage your employees by communicating your ideas, allowing them to give feedback, and helping you build a more productive workforce. Also, thanks to an app called Keep, you can create, access, and edit various notes, quickly jot down any ideas, and easily collaborate with your teammates across all devices. The pricing for the G Suite Basic plan starts as low as $6 a month, with $12 a month for the Business plan and $25 for Enterprise.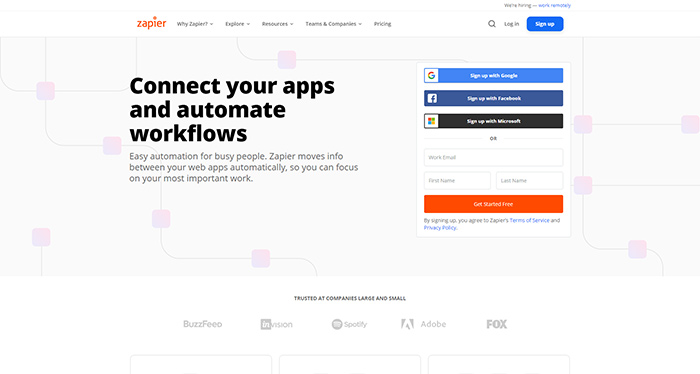 Zapier is an app that works similarly like IFTTT, the only difference being that Zapier is more focused on connecting business apps. It creates easy automation between different apps so you can focus on your most important tasks and improve your productivity as well as the workflow of your entire team (or multiple teams). For example, every time you receive an email in your Gmail, you can copy the attachment from Gmail to Dropbox, and then get the app to send the alert in Slack about the new file.
Zapier works with some of the most popular apps, including Google Sheets, Gmail, ActiveCampaign, Slack, Trello, and 2000+ more. You can use this tool for free or opt for one of the available pricing plans (starting at $19.99 a month for the Starter plan).
Trello is an awesome app for helping you manage your workflow and collaborate with your team members more effectively. You can organize your projects in an inspiring way using lists, boards, and cards. Additionally, you will be able to add comments, attachments, due dates, and more to your cards, making your collaborative projects more flexible and informative than ever, which in turn can help boost the workflow of you and your entire team by a long mile. And since Trello makes it quite fun and easy to share all your ideas and brainstorm with other people, it is also quite useful if you're a content creator and want to get inspired to write better blog posts.
It's completely free to use Trello – all you have to do is create a Trello account and you're all set. Of course, you can upgrade to some of the available pricing plans (starting at $9.99 annually) to unlock more features.
Slack is among the most used business communication platforms you can find on the web. It allows you and your team to have one-on-one chats, chat groups, audio, and video calls, either publicly or in private. You also get the ability to create channels for any type of group discussion, which can help build a community for you and your colleagues and amp up your creativity and productivity as a result.
If you're only working with a smaller team, you can use Slack completely for free. However, if you're running an entire business, you can choose one of the available pricing plans depending on the business size (starting at $6.67 a month for a standard plan which is suitable for small and mid-sized businesses).
Microsoft Teams is a great team chat-based app that allows you to chat and collaborate with your colleagues one-on-one, or with entire teams at once, be it by messages or through video calls. It also integrates with all other Office apps, including Word, Excel, OneNote, Outlook, and OneDrive. This app can help you stay more organized, engaged, and easily connected with people you need to interact and collaborate with on a regular basis.
You can either download and use Microsoft Teams for free or look into the available pricing plans (starting at $5 a month for the Microsoft 365 Business Basic plan). If you choose one of the paid plans of Microsoft Teams, you will have access to features such as host email with a 50 GB mailbox and custom email domain address, a 1 TB OneDrive cloud storage per user for storing and sharing of files, the ability to host online meetings and video conferencing for up to 250 users, etc.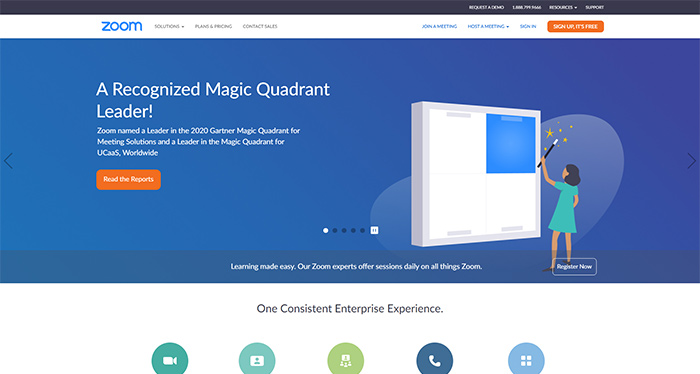 Zoom is a popular cloud-based service that offers online webinars and meetings and comes with the ability to hold video conferences– all with a flawless HD video and audio experience. You can use Zoom across multiple platforms and devices, and it can also fit in rooms of any size – be it a standard classroom, a theatre, or your own in-home office.
You can either use Zoom for free for the basic meeting solution or try out a 30-day trial first before opting for one of the pricing plans (starting from $49 monthly for one room).
In this era where distractions lurk around every corner, lack of productivity can become a problem for even the most efficient of workers. That being said, it is also quite natural to struggle with it from time to time – it's all part of being human, after all.
Fortunately, the productivity tools we mentioned above are more than capable of helping you out during those times. From organization services and those that help automate your workflow to collaborative apps and communication platforms, all these tools have earned a rightful place on our list due to their effectiveness and the overall ability to improve productivity levels. So, no matter if you are struggling to manage your own schedule or you want your entire team to be a bit more efficient as a whole, you won't go wrong if you try using any of these tools.