How to Start a Podcast with WordPress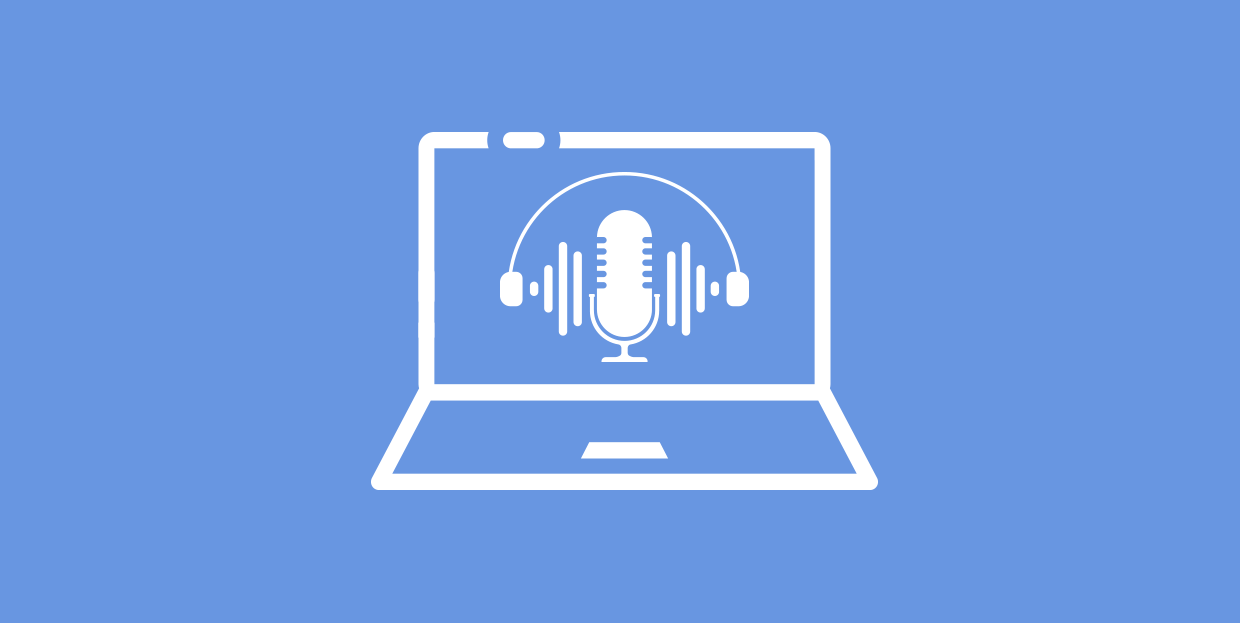 Podcasts are booming. They're all the rage at the moment. In an age when the majority of us lead busy lives, they come as a great solution. We may not have a lot of time to spare, but we can still learn about the topics of our interest by playing podcast episodes in bite-sized chunks.
If you're thinking of launching your own podcast, you've come to the right place. In this article, we'll show you how to start a podcast with WordPress and these are the topic we'll cover: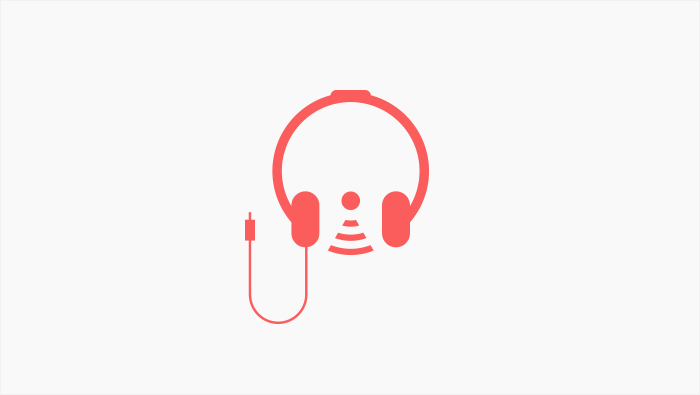 Most podcasts are audio files uploaded on platforms such as Spotify, SoundCloud, Apple Podcasts, etc., but there are video podcasts, too. You can download them to your device, or stream them online.
People record podcasts on a variety of topics and talk to their audience about pretty much anything. You can discuss movies, books, true crimes, bust some common myths, talk about trials and tribulations of relationships, or interview other podcasters that are popular in your niche.
For a podcast to function properly, you need to know how to use an RSS feed (podcasts are distributed through RSS). Your episodes are automatically added to websites and platforms, and passed along to all subscribers (without an RSS feed no one can even subscribe to your podcast). By default, WordPress packs an RSS feed widget, and that's just one of the reasons why WordPress podcasting is so popular nowadays.
Having a podcast is a great way of promoting your business. Demonstrate your industry expertise by sharing insightful info and useful, actionable ideas. You can also dig deeper into subjects relevant to what you do, or talk about your products, which will undoubtedly help you attract more leads.
Podcasts grant you more publicity, help you build influence, and gain credibility. By hearing your voice, the audience can connect with you on a deeper level. People will get to know you in a way, and that alone could increase your conversion rates. After all, we all prefer to get professionally involved with those we know and trust.
Depending on your tone and the subject you decide to delve in, your podcast can inspire and invigorate listeners, set them up for the day. That'll make them want to come back, and learn more about what you do.
Once you record a few episodes, it's time to add them to WordPress. And for that, we'll use a plugin.
However, Blubrry is not only the top-used plugin of its kind, but it also comes with some interesting options, such as Podcasting SEO, which helps you make your episodes more visible on search engines and iTunes
For starters, let's install this plugin. Once you activate it, a PowerPress menu item will appear within your admin menu.
Click on it and you'll see a dropdown menu with a bunch of options.
If you click on Get Started, that'll lead you through the step-by-step process of publishing your podcast with WordPress. First up, you'll be asked whether or not you've already started your podcast and if you have an RSS feed.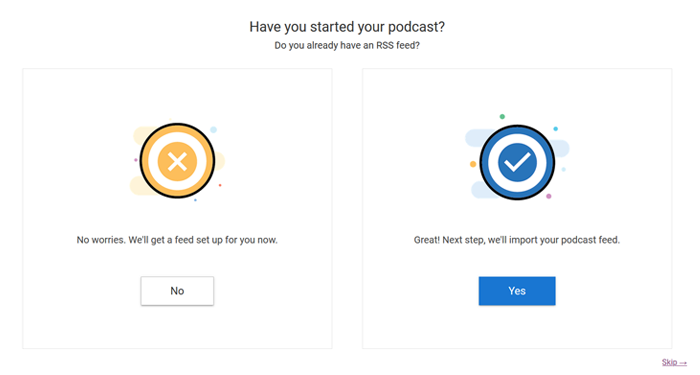 If your answer is Yes, you'll have to enter your podcast feed URL and import it to Blubrry. If the answer is No, press the appropriate button and start creating your podcast from scratch, but more on that in a sec. You can also skip this step by pressing the Skip button at the bottom right corner. Then you'll be able to choose whether to start working on a new episode or modify the podcast settings on the PowerPress settings page.
Let's go back to the scenario in which you've pressed No. Upon doing that, you'll have to set up a podcast title, choose a category, mark if your podcast contains explicit content, and add podcast artwork.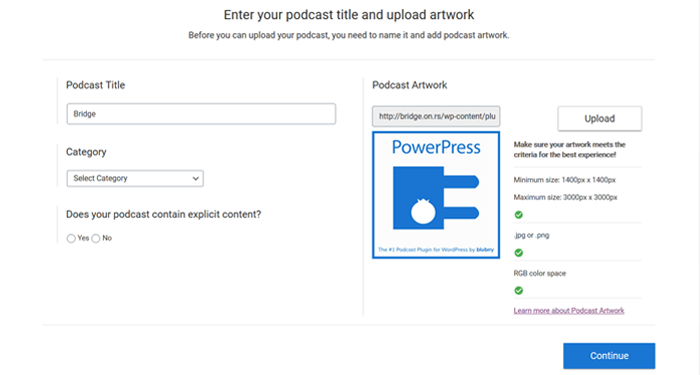 When you're done, click on Continue. Then, it's time to choose a host for your podcast. You can decide to host with Blubrry or to self-host.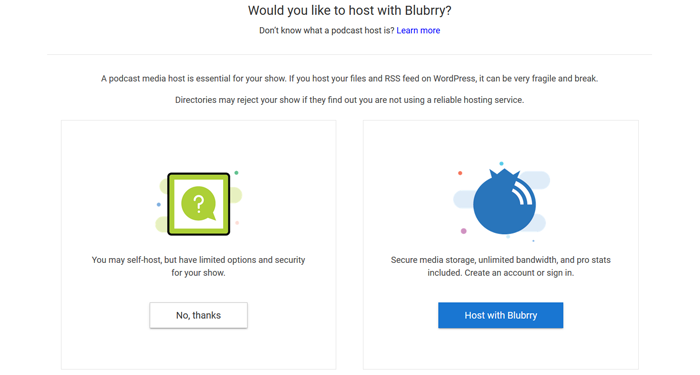 If you opt for hosting with Blubrry, you'll have several podcast hosting plans to choose from. Just make sure to enter your Blubrry account details upon clicking the Host with Blubrry button.
As for self-hosting, while that's certainly an option, note that it's best to avoid hosting podcasts on your own website. Podcasts are large files, and they may take up a lot of storage and bandwidth. And since bandwidth is not unlimited, why risk having your data throttled? Don't lose your subscribers because your website and content don't load fast enough.
The Import Podcast option is handy if you've already launched your podcast on another platform. You can import content from SoundCloud, LibSyn, PodBean, SquareSpace, and Anchor.fm. To add content from other sources, insert the RSS Feed link to the existing podcast in the designated field.
If you want to use the Blubrry's hosting service, you'll have to add all the podcast files to your hosting account first. To do that, use the Migrate Media option.
Add a Podcast Player to Your Website
People can't listen to your podcast unless you add a podcast player to your website.
Blubrry comes with its own audio player. Do note that the Blubrry Audio Player is available only to users who have signed up for Blurbrry's hosting service. The player comes complete with Subscribe and Share options. Additionally, Shownotes and Download options will also be available, you just won't see them immediately upon activating the plugin.
Besides the Blubrry Audio Player, MediaElement.js Media Player and HTML5 Audio Player are also available. The former supports a wide range of both audio and video files, whereas the latter is used for audio files only (there's a separate HTML5 Video Player for video files).
To add a player, simply tick the appropriate box and save your changes.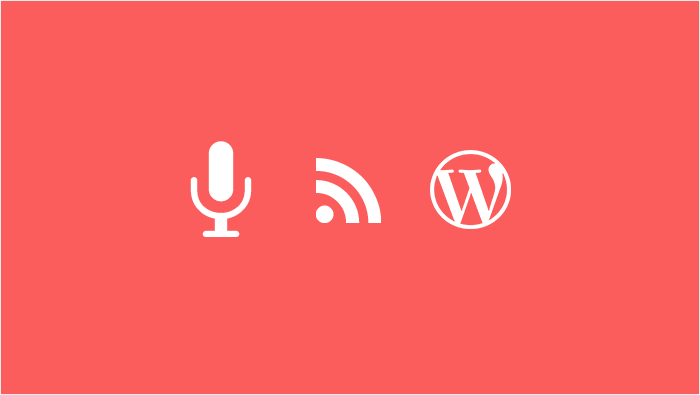 Now that you've added the podcast to your dashboard and you took care of the podcast player, it's time to publish the podcast on your website. To do this, go to the admin dashboard and select Posts.
Before you publish a podcast, consider creating a separate podcast category. That'll help you better organize your content and avoid confusion when publishing recently added items. To do this, go to Posts > Categories. When you're done with that, head over to Posts > Add New.
Look for the Podcast Episode option. If you decided against using Blubrry's hosting service, this is what you'll see: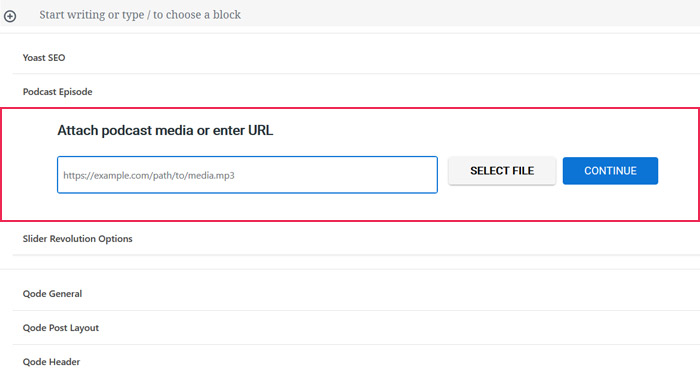 Only Blubrry hosting users can upload files. Others can only paste the media file URL (in case you have a podcast elsewhere, for instance on SoundCloud, etc.)
When you add the file, don't forget to add the title and description for your podcast, as you would for any new textual post.
If you use Blubrry to host your podcast, you'll have the option to write your own ID3 tags. These tags are highly practical, as they provide users with useful info regarding a podcast.
You can either use the default tags or specify your own. The tags you can customize include title, artist, album, genre, year, track, and many more.
All that's left to do now is submit your podcast to a podcast platform. You can add it to iTunes, Spotify, Google Podcasts, etc. The more platforms you upload it to, the more people will be able to hear what you have to say. Just don't forget to update all the channels regularly.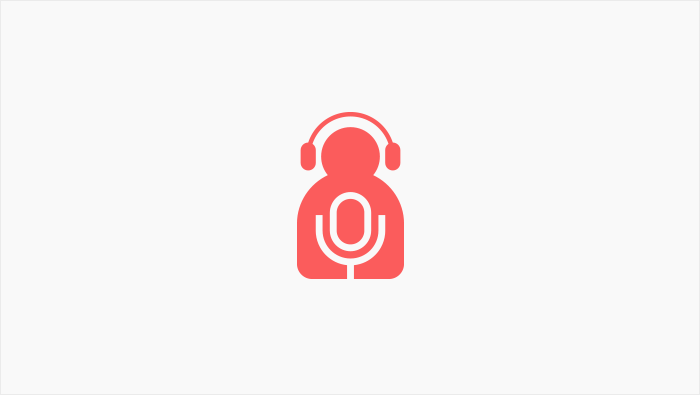 Podcasts can help you earn some extra bucks. For instance, you can make sponsorship deals with similar businesses. Most podcasters mention their sponsors at the beginning of each episode. Consider having short advertising slots, or ask your listeners for small donations, to support your work. You could also recommend third-party products and make the most of affiliate marketing.
Podcasts can definitely help you get a long way, and that's why you should consider including them in your marketing plan. Many people find it easier to retain information by listening rather than reading, and that's your chance to showcase your expertise and share what your business is all about. The episodes don't even have to be overlong for you to fire up both the existing and the potential customers.
In case you're wondering if WordPress is good for podcasting, the answer is – an astounding yes! WordPress offers you a simple way of starting a podcast and launching your podcaster career. Perhaps it's time to recognize how much potential podcasting holds and just how beneficial it can be for your business development.