How to Integrate BigCommerce and WordPress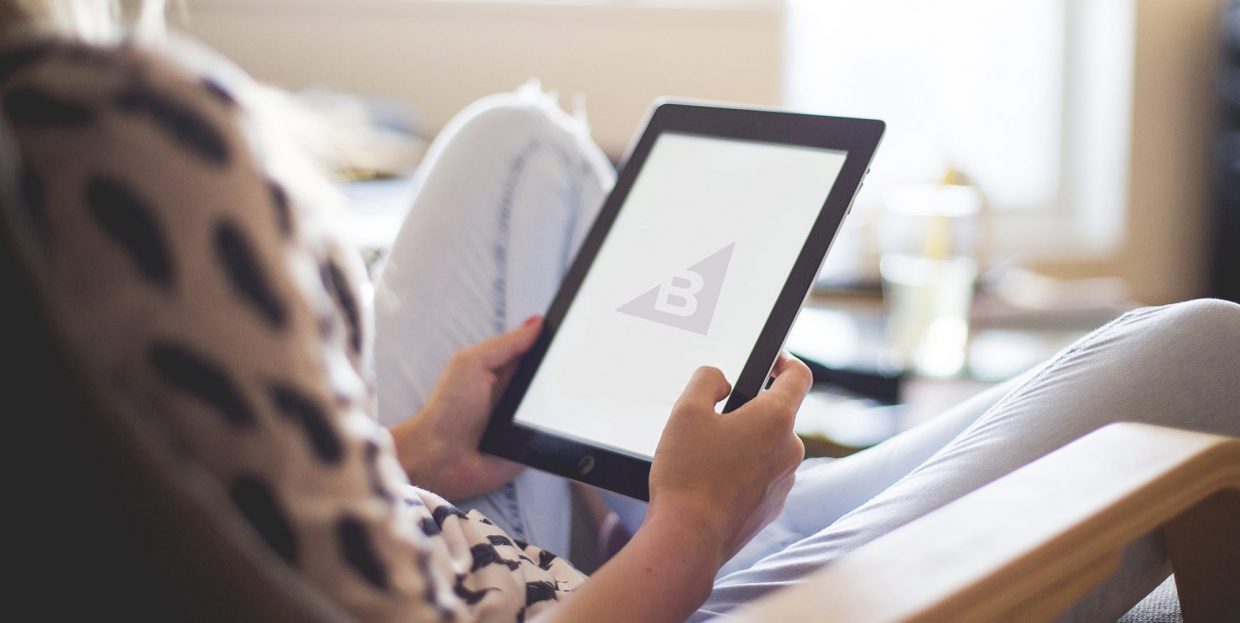 Being able to shop without ever having to leave your chair is one of the best uses of the internet, as evidenced by the sheer size of platforms such as Amazon or eBay. The greatest thing about eCommerce is just how easy it can be to switch your role from that of the consumer to that of the seller. You can easily start a store to sell your products, or maybe sell Amazon products as an affiliate. The most popular platform for bringing ecommerce capabilities to WordPress is WooCommerce, but you can also (kind of) use Shopify, too. And if that's not enough variety for you, a BigCommerce WordPress integration is also a possibility.
In this article, we'll discuss the important things to know when integrating BigCommerce and WordPress. So whether you're looking for an explanation for the whole headless commerce concept or want a practical guide for connecting the CMS with the ecommerce platform, don't worry – you'll find what you need here.
Sit tight and get ready to learn:
Having a variety of options for the engine powering your online store is all good and well, but what makes BigCommerce a worthier choice than the alternatives? There are a couple of things. BigCommerce WordPress integration won't get in the way of your website's design – the integration leaves the front-facing part of the website to WordPress, while BigCommerce takes care of the backend, commerce side of things.
This is the core proposition of the headless commerce concept. Much like when you're creating a static WordPress website and you're using WordPress to manage the backend while the frontend is served by other solutions, in headless commerce it's BigCommerce that handles the backend, with WordPress being the solution that serves the frontend.
This leaves you free to use the block editor on the frontend, or maybe Elementor coupled with our Qi Addons plugin, while BigCommerce takes care of things like payment processing, catalog management, and fulfillment logistics. An added benefit is that, with this kind of setup, you can easily combine one BigCommerce account with several different WordPress websites, allowing you to run a whole ecommerce empire from a single place.
The best thing about it is that integrating BigCommerce and WordPress is as easy as installing a plugin to your WordPress website. So if the whole headless commerce thing sounds too complicated to you, you needn't worry – it's as easy as installing a WordPress plugin.
Before you start integrating BigCommerce and WordPress, you should know that you don't need to have a BigCommerce account – you can create one during the integration process. You will need a WordPress website with access to its backend, as you'll be installing the BigCommerce plugin. So head over to your website's dashboard, navigate to Plugins > Add New, search for the plugin, install and activate it.
You'll be ushered to BigCommerce > Welcome, where you'll be able to connect WordPress with BigCommerce in a couple of different ways.
Connecting Your Website and Your Store
When you first install the BigCommerce plugin, you'll have three separate options for connecting your BigCommerce store with your website. You can choose the first one if you don't have a store yet, as it will allow you to create a BigCommerce account right from your WordPress website's backend.
If you already have a BigCommerce account and this is the first WordPress website you're connecting it to, you can connect the account regularly. But if you've already connected your account to another WordPress website, you'll have to use your API Credentials to add this site to your roster.
Let's say you want to create a new account. The first thing you'll need to do is provide a name for your store, some personal information, as well as contact and location information for your store.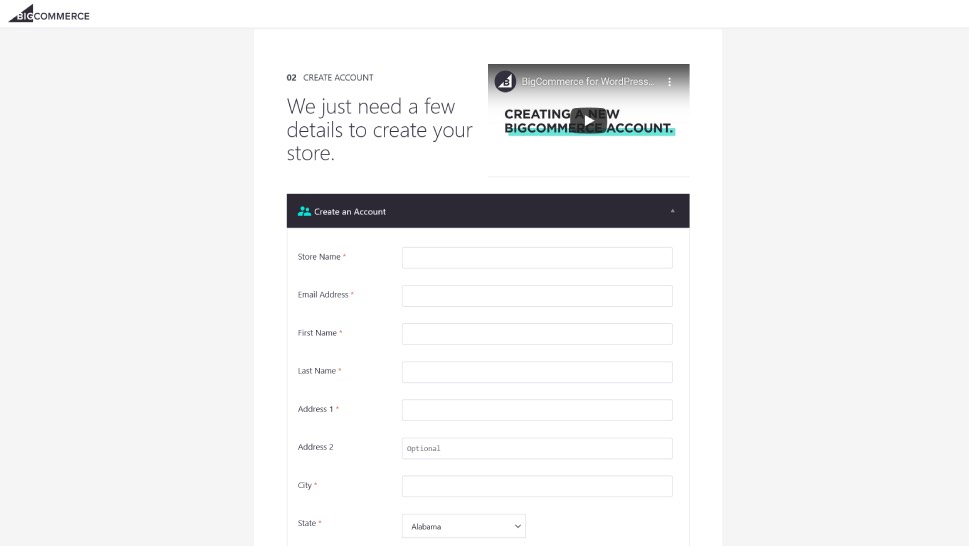 After filling out the information, your 15-day free trial with BigCommerce will start. You'll have access to the store over at mybigcommerce.com. On your website, you'll be presented with two options – to set up a full-featured store or opt for a simple blog with an occasional product reference or two.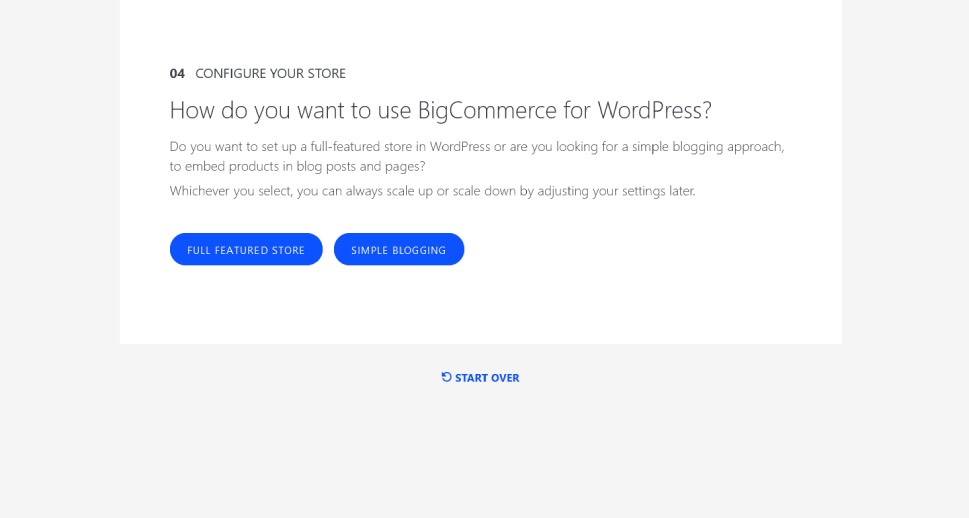 Your choice isn't permanent, and it's subject to later change. If you choose the full-featured store, the plugin will create more useful pages for you, for example, and you'll get to set up navigation menus in another configuration step. If you choose simple blogging, your shoppers will be siphoned to your BigCommerce store to finalize their purchases. Making the choice will officially finish the integration process – your BigCommerce store and your WordPress website are now officially connected.
Now that your store and your website are connected, the real work can begin. When you integrate BigCommerce and WordPress, running the website and the store happens in both places, with BigCommerce being the place where you go to take care of the business and logistics side of things, and WordPress being the place where you present your products and go after customers.
On your WordPress website, navigating to BigCommerce > Settings will help you fine-tune the connection between the platform and the website.
This is where you'll be able to find links to your BigCommerce store where you can manage the products, but also a tool to help you sync the products with your WordPress website. As for the options, you'll be able to set anything from product sync options such as frequency, batch sizes, and image import, to account and registration settings for your customers.
Over on your BigCommerce dashboard, you'll be able to manage everything from products and orders to marketing and analytics. If this is your first time creating a BigCommerce store, you can start by adding products, setting up shipping, configuring the payment method, and setting up taxes. Then again, BigCommerce is pretty good at suggesting what you can do next.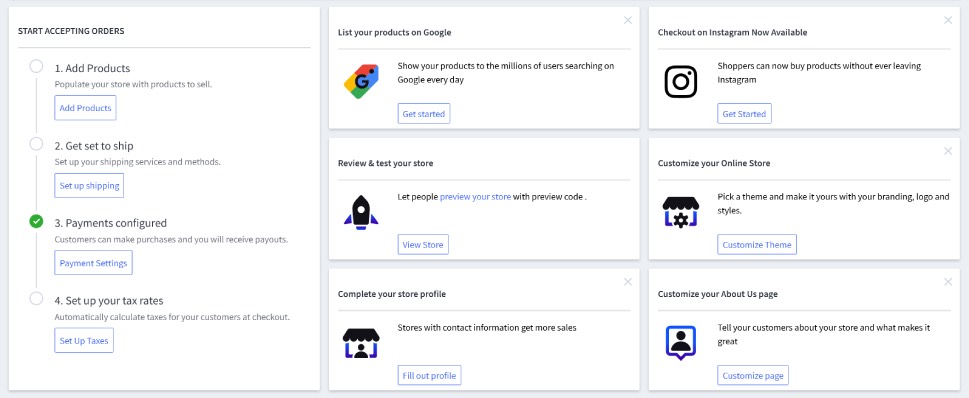 If you need further resources to help you out, you can always navigate to BigCommerce > Resources in your website's backend. There, you'll find links to tutorials and support, but also useful apps – including the ones for accounting – as well as plugins and compatible themes.
BigCommerce is a powerful ecommerce platform you can use to build solid, successful online stores. Thanks to their headless commerce approach, it also integrated with WordPress very easily, with just one plugin installed and a few clicks. Of course, running a successful store will take more than that, but getting the best out of both worlds – BigCommerce's powerful store management capabilities and the great user experience offered by WordPress – has never been as easy.