5 Best eCommerce Plugins for WordPress
An online presence, it cannot be emphasized enough, is a must for any business. But in retail, customers' expectations are greater – people not only want to shop from the comfort of their own homes, but also expect to be able to do it safely, easily and instantaneously. And if they can do it on the go, using a mobile device, even better! An online store isn't bleeding edge technology – there are solutions available for beginners, those working on a tight budget or without a strong technical background.
Simply setting up a payment avenue is easy enough using a PayPal plugin or a Stripe plugin, depending on your preference of payment service. However, for a comprehensive, user-friendly webstore, you'll almost certainly need more advanced functionalities. You could, of course, find a theme specifically designed for eCommerce, but if you are working on a budget, can't find the perfect fit, or just prefer to design your webstore from the ground up, you will find a few great solutions on this list of WordPress eCommerce plugins. Let us walk you through them.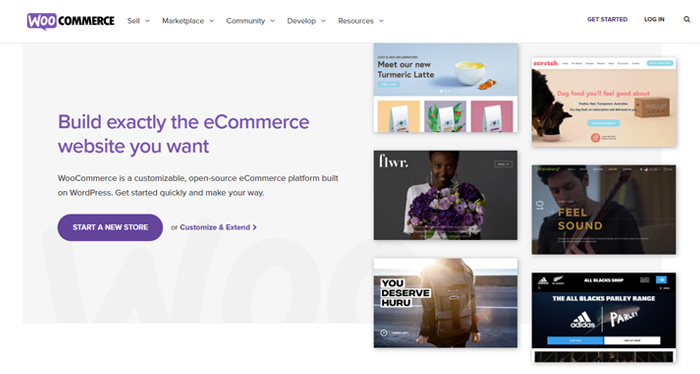 There are many reasons why WooCommerce is currently one of the most popular eCommerce plugins. The fact that the basic version is free is just one of them, but it is an important consideration to have in mind if you are working on a tight budget – a fully functional store at zero cost! WooCommerce is used to sell everything from digital goods to physical objects. It offers not only single product functionalities, but also bundles, subscriptions and special offers. It has an easily manageable inventory system, and a slew of payment options, including PayPal and Stripe.
Also, there is a large number of themes for WooCommerce, making it a good design fit for most websites. WooCommerce's developers and independent developers have also produced hundreds of extensions, free and premium, to tweak your WooCommerce webstore further with functionalities for everything, from lottery to currency conversion and more. The sheer number of options is mind-boggling, but setting up a no-frills web store is easy enough.
Ecwid Ecommerce Shopping Cart is a free eCommerce plugin which aims to do as much as possible in a single core plugin, eschewing add-ons. It is easy to set up and run, making it especially interesting to beginners. Of course, while the core plugin itself is free, allowing you to create a basic shop website with no hidden costs, some advanced features (and inventory capacity) are only available with the paid versions.
It is made to function with the Gutenberg block editor, providing you with 10 blocks for products and categories, a Buy Now button, and more. Over 40 languages and, more importantly, over 40 payment avenues are supported, including PayPal and Stripe. The paid versions also offer advanced eCommerce features such as product filters, coupons, abandoned cart email notifications.
The plugin is designed to work on mobile phones, offering a responsive shopping cart layout. The paid versions of Ecwid work with Facebook and Instagram, too, enabling you to manage your orders and inventory across platforms. The developers also provide webstore apps for Android and iOS.
If you are specializing in digital sales, Easy Digital Downloads (or EDD) is definitely worth a look. This plugin was developed to help sell software and digital media, such as ebooks or music. It is really easy to use on the back end, and has a selection of themes – plugin appearances – to help it fit with any website design or WordPress theme.
The basic version of the plugin is free, and supports PayPal and Amazon payment avenues, with more available through extensions. Even the free version offers complex eCommerce features such as discount codes and protections from unauthorized access. EDD also offers activity tracking for individual customers, which you can use to plan your retail strategy.
BigCommerce started off as an eCommerce-centered CMS of its own, but they have made the first forays into WordPress eCommerce plugin territory. The real innovation here is a complete separation of front-end and back-end, allowing you to operate multiple completely different shops using a single BigCommerce account and managing a control panel. With catalog management and payment processing handled by BigCommerce, you also free up some of your server resources. And it works as a comprehensive eCommerce solution out-of-the box, needing no add-ons for additional functionalities.
The plugin provides both shortcodes and Gutenberg blocks, rendering it independent of your textual editor preference. It will automatically create several important pages for you, such as cart, account and sign in, but it can be configured fairly easily to work with themes already containing similar solutions.
Also, since BigCommerce's developers have years of experience with local-specific payment services, it's no wonder that the plugin offers a whopping 250 payment methods. But if you choose PayPal, you also benefit from special processing rates reserved for BigCommerce users.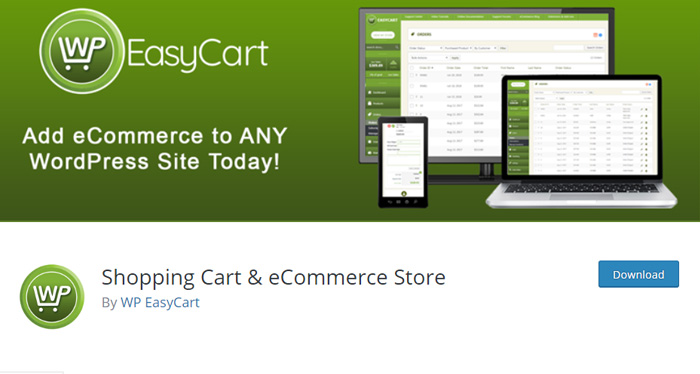 WP EasyCart Shopping Cart & eCommerce Store was created for ease of use on the back end, specifically with small businesses and people without a strong technical background in mind. This is not to say that it doesn't offer a comprehensive solution – on the contrary. This plugin comes with out-of-the-box solutions for unlimited sales of physical goods, complete with shipping tables and tax calculators – all features of the free version, along with integration with PayPal Express, Stripe, and Square. On the back end, it creates pages for your store, cart and account. These are all easily configurable to fit your overall website design better. The drawback? A per transaction fee.
The two paid versions (professional and premium) do away with the fees and greatly expand the features list. With over 30 payment gateways and store apps for iOS, Android and desktop devices, as well as advanced eCommerce options such as digital sales, coupon and gift card support, and social media sales functionalities, the paid solutions are well worth the attention of a seasoned professional looking to expand their business.
It is becoming increasingly obvious that eCommerce is growing into the new global standard. You should, therefore, invest the effort into finding a solution that best fits your business's needs. Perhaps your country has unusual payment processing requirements, and not all payment gateways will work for you. Your business may be dependent on special promotions and coupons, or perhaps you are working on a budget and are on the lookout for a time-saving, low-maintenance solution. Maybe you aim to make a large volume of low-value sales and need as low a per-transaction fee as possible. Whatever your specific requirements, we suggest you study the features list of each plugin carefully. One thing is certain: the perfect choice for your webstore is sure to be found on our list of WordPress eCommerce plugins.