6 Best WordPress Backup Plugins
WordPress is one of the best and most popular CMS platforms on the web and is massively used for personal and professional purposes alike. However, like any piece of software, it is also prone to issues, including data loss, problems with compatibility after new installations, as well as different security vulnerabilities and hacking attacks. Naturally, nobody wants to have their website susceptible to these issues. Thus, it's extremely important to perform regular backups of your website if you want to protect your data and, by extension, your business.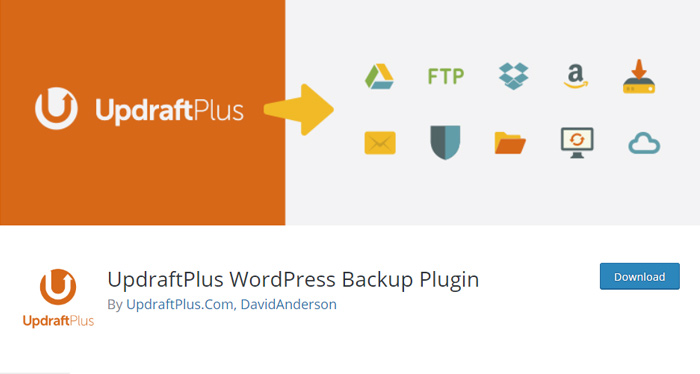 With over 2 million websites that use it, it's safe to say that UpdraftPlus is the most popular WordPress backup plugin on the market. Backing up your site with UpdraftPlus is easy and can be done with a single click. The plugin allows you to create complete backups for all files, databases, plugins, and WordPress themes. It also lets you set backup schedules (every 4, 8, or 12 hours daily, weekly, fortnightly or monthly), and restore backups directly from your WordPress control panel. The plugin gives you the ability to upload your backups to services such as Dropbox, Google Drive, Amazon S3, and more.
The premium version of the plugin comes with some powerful additional features, like the possibility of cloning and migrating your website to a new host in a matter of minutes, the Incremental backups feature (that allows you to only backup changes to files that have been made since the last backup), and fast support.
The pricing for UpdraftPlus Personal plan starts at $70.
Trusted by 400,000 websites, BlogVault is another popular WordPress backup solution that is not only a plugin but also a software as a service (SaaS) tool that creates independent offsite backups on their servers which prevent your website's server from overloading. The automatic backup is created daily, and you can restore your website with a 100% success rate. Plus, you can have a 90-days backup archive that will allow you to recover from any error. With an Integrated Staging feature, you will be able to safely test all your website updates and changes, while Flawless Site Migrations allow you to automatically migrate your website to a new domain, host, DNS or server. Also, for those using WooCommerce, there's the possibility of backing up all orders while they take place, custom table backups for WooCommerce stores and 24/7 data protection with offsite storage.
A basic plan for 1 site starts at $7 a month ($89 a year).
Previously known as VaultPress and created by a co-founder of WordPress, Matt Mullenweg, and the Automattic team, Jetpack Backup is a plugin that was originally marketed on its own but is now part of a security, performance and site management plugin known as JetPack. This means you have to get one of the available JetPack pricing plans (each one comes with a different set of features) to use it. For $3 per month ($39 per year), you get real-time backups that will help you get your website back on track with a one-click restore option. Aside from the features such as daily automated backup, brute force attack protection, and automated spam filtering, you will also be able to learn what caused the issues on your website in the first place with the Jetpack activity log.
There are other handy options you can access if you opt for the higher pricing plans, such as automated malware scanning, SEO preview tools, Google Analytics integration, and more. If you want an unlimited backups archive (lower pricing plans get backups stored only for 30 days), you need to get a Professional pricing plan ($29 a month).
Finally, we must note that you have to create a WordPress.com account if you want to use all of its features. This means that by signing up for WordPress.com, you get access to all its features (of course, depending on the pricing plan you choose), and you can then use it on your self-hosted WordPress.org installation.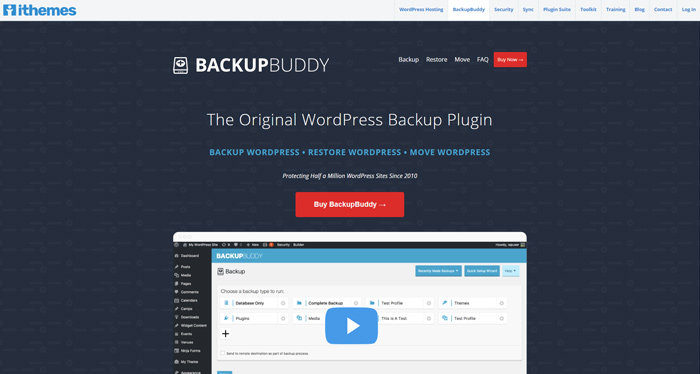 With a reputation of protecting over half a million websites, BackupBuddy is a premium backup plugin that allows you to schedule backups directly from your WordPress dashboard. The plugin backs up your entire WordPress installation, including all WordPress files, themes, and plugins. You can run files-only, database, or complete backups. You can also download a zip file of your WordPress website, and even set automatic backup schedules hourly, daily, weekly, and monthly. Moreover, you will be able to automatically store your backup files to storage locations such as BackupBuddy Stash, Google Drive, Dropbox, Amazon S3, etc. Last but not least, the included ImportBuddy tool will allow you to restore your site to a previous backup in case any problem occurs.
The pricing for the BackupBuddy plugin for one website starts at $56 a year (Blogger plan).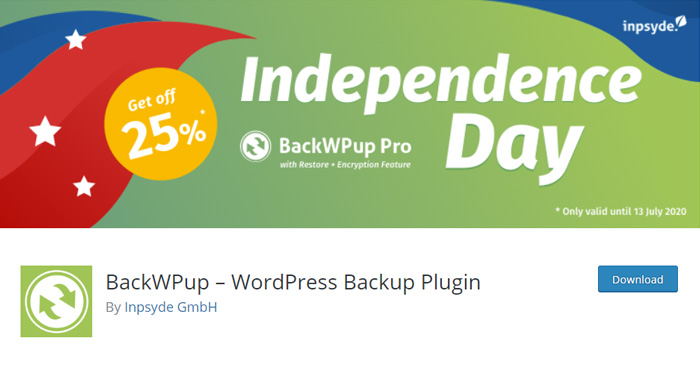 BackWPup is a free WordPress backup plugin that allows you to create backups and save them to an external backup service (i.e. Dropbox, S3, FTP) or your computer. You will be able to restore your installation with a single backup .zip file. The Pro version includes some additional features, like the ability to store backups to Amazon Glacier and Google Drive, restore your backups from your WordPress backend (also available as a standalone app), as well as encrypt backup archives and restore from encrypted backups.
The Standard pricing plan for one WordPress installation starts at $69.
Created by the team from the BoldGrid website builder, Total Upkeep is a powerful automated backup solution that lets you restore or migrate your WordPress website easily and quickly. You can download, restore, or delete your backups with only a single click. An Automated Fault Protection feature allows for an automatic backup before your site updates and an automatic rollback to a previous backup if an update fails. If you need to restore an individual file from a backup, you can easily do so within the backup browser. Additionally, automatic updates can be set separately for your WordPress core files, plugins, and themes.
Billed annually, Premium pricing for the Total Upkeep plugin is $2.50 per month.
As we mentioned in the very beginning, backing up your website is crucial if you want to avoid losing any of your precious data and jeopardizing all the work you've invested in creating your website. In case you want an all-in-one backup solution for your site, then UpdraftPlus is undoubtedly one of the best options. Another safe and reliable option is BlogVault, a plugin that is also adjusted for WooCommerce websites. And in case you want to try out a free plugin that still contains everything you need for a successful backup of your website, then BackWPUp is a great solution for you.
Even though they vary in features and prices, all WordPress backup plugins mentioned on our list are more than capable of backing up your WordPress database, individual files, plugins, and themes. We advise you to check out what each one of these useful tools has to offer before you make your final decision.