6 Best WooCommerce Payment Gateways for Your WordPress Shop
Buying and selling online may sometimes seem like a work of magic – you just click a few times and the object of your desire turns up on your doorstep a few days or even hours later. But, as we all know, there is a serious system behind the whole process. Ensuring a simple yet safe enough online payment is often a challenge for many online businesses. One of the key issues in the process is finding and choosing the best WooCommerce Gateway for your online WordPress shop.
Starting an online WordPress shop is not easy in today's world where there's sharp competition in every industry you can imagine. That's why you have to ensure the whole process from the first contact with the customer to payment and delivery runs smoothly. Of course, customers are especially sensitive when it comes to payment. Although money is not the only sensitive issue when it comes to online payments – we also share plenty of personal data that can easily be misused in various ways, money is still our biggest concern. So, without a doubt, the choice of WooCommerce payment gateway will have a profound effect both on the success and sustainability of your business.
In this article, we'll share with you our choice of the top WooCommerce payment gateways that have proven to work well, but before we dive into the list, let's just explain to you briefly how to make a good choice of a payment gateway for your business.
Read on to find out more about:
The payment gateway is a service that acts as a middleman between you and your customer with the ultimate goal to ensure the payment is executed securely and properly. It manages the customer's sensitive credit or debit card details, validates the data security, and ensures the funds are available and that the payment can be carried out. You can think of it as an interface between your website and the customer. A good WooCommerce online payment gateway simplifies the whole process of the necessary software integration enabling a smooth user experience for your customers. Although generally, all the payment gateways work similarly, there are some important differences you should consider when making a decision:
Compare transaction fees – The majority of WooCommerce gateways will charge you a fee for every transaction made on your online shop. Depending on the customer's card type, your shop location, and similar details, the amount of this fee can vary significantly. Therefore it makes sense to compare transaction fees among gateways before committing to one.
Check for unforeseen charges – These kinds of fees are usually like the small print on ads – you don't notice them until it's too late. They may include account maintenance fees, set up fees, or money transfer charges, and similar, depending on how creative the provider of the service is. But, they are never really unforeseen, you just have to be really meticulous and read the contract thoroughly.
Check availability in your target region – Certain payment gateways are only available in certain regions and restricted in others. You have to know if the provider of your choice is supported in your region and in the regions your customers usually buy from. And there's also the question of regional preference of certain gateways over the others. This kind of info is essential and therefore clearly stated on every gateway website.
Look for the recurring payments feature – This could be important in case you plan on selling subscription-based products. Without this feature, your customers would have to manually complete each transaction.
We researched a variety of payment gateways based on payment types, cost, ease of use, integrations, support, and more. Now, without further ado, let's see which WooCommerce payment gateways promise the best service and user experience.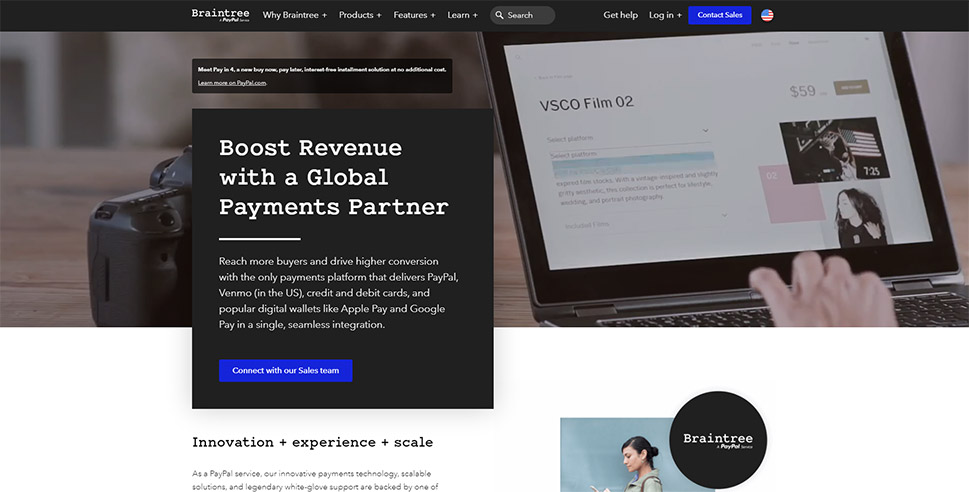 Braintree is an excellent free alternative to PayPal. It was acquired by PayPal in 2013 and today it offers a range of payment services both online and in-store. It offers a slick, user-friendly interface that ensures a smooth checkout experience on your website. It is also compatible with the majority of e-commerce platforms and invoicing software. As a PayPal subsidiary, it also offers a merchant service account and supports all major credit and debit cards, ACH deposits, Digital Wallets, and PayPal in more than 130 currencies.
The fact that it is free and comes with no monthly fees makes it very popular and a great solution if you are just starting your online shop. It charges a transaction fee of 2.9% plus 30 cents. All first-time customers get a free service for the first $50,000. It offers no fascinating, cutting-edge features but does support recurring billing, automatic account updaters, data encryption, and fraud prevention tools and surely has the capacity to support a wide range of online store types and businesses.
Customizable payment solutions at competitive rates are what make Stripe a very appealing payment gateway provider. With its sharp focus on the latest technological advancements, this is a truly modern solution that keeps up with the time.
Thanks to developer-driven custom payment solutions, it can effortlessly follow your business scaling up. It includes native integrations with a range of e-commerce platforms like WooCommerce, Wix, Shopify, BigCommerce, and Squarespace.
Like a true global service provider, it comes with the support for more than 135 currencies and payment types including one-click checkout, mobile payments, subscription billing, and more.
Stripe doesn't have any kind of monthly gateway fee and offers excellent customer support. It charges 2.9% + $0.30 per transaction and supports invoicing and recurring subscriptions. In case you need some kind of bookkeeping service, this provider also offers QuickBooks and NetSuite support.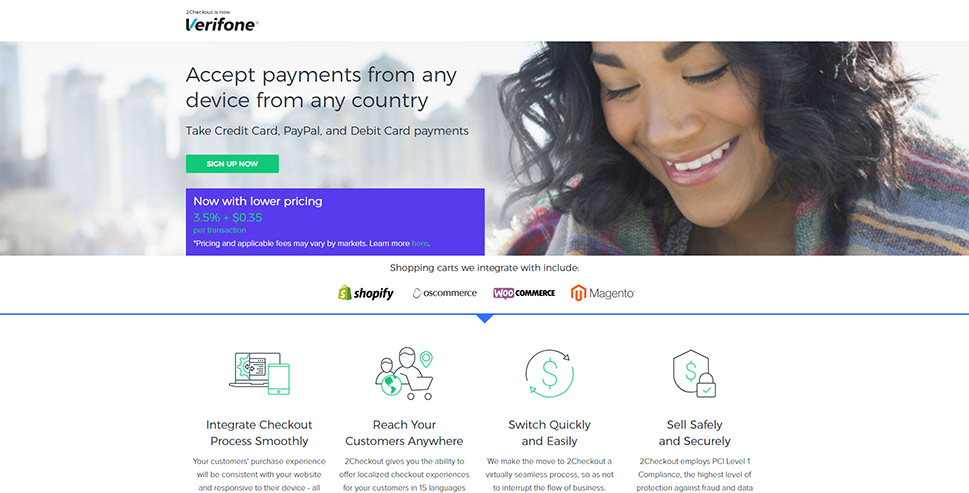 2Checkout is an excellent solution if you are planning to sell internationally. It offers customized purchasing experiences to customers in more than 200 countries worldwide and supports about 100 currencies. All major credit and debit cards like Visa, American Express, MasterCard, JCB, and even PayPal are accepted by this provider. It allows you to easily set recurring transactions which is a plus if you are selling any kind of subscription. It also integrates smoothly with various invoicing systems, e-commerce platforms, etc.
What's especially interesting about this provider is that it includes shopping cart templates and tools to help boost conversions. Fee for transactions amounts to 3.5% + $0.35 per transaction. It covers 200 countries and can follow the growth of your business easily.
As one of the oldest payment gateway providers, Authorize.Net enjoys great credibility in all the regions it covers. Its platform is very user-friendly which makes it a good choice both for less and more experienced merchants. In addition to the fact that it accepts transactions from all over the world, it also accepts more payment types than many similar service providers, not to mention that it is one of the very rare providers that accept PayPal.
This is a complete solution for any kind of online store, offering both a payment gateway and a merchant account accompanied by a variety of additional features such as recurring payments, fraud prevention filters, a virtual POS system, invoicing, optional card reader, and mobile payments.
You get to choose between two different packages of services where both include the option to accept electronic checks for additional costs. The payment gateway only option comes at $25 per month with $0.10 per transaction and $0.10 daily batch fee and all in one option that costs $25 per month includes a bit higher transaction fees.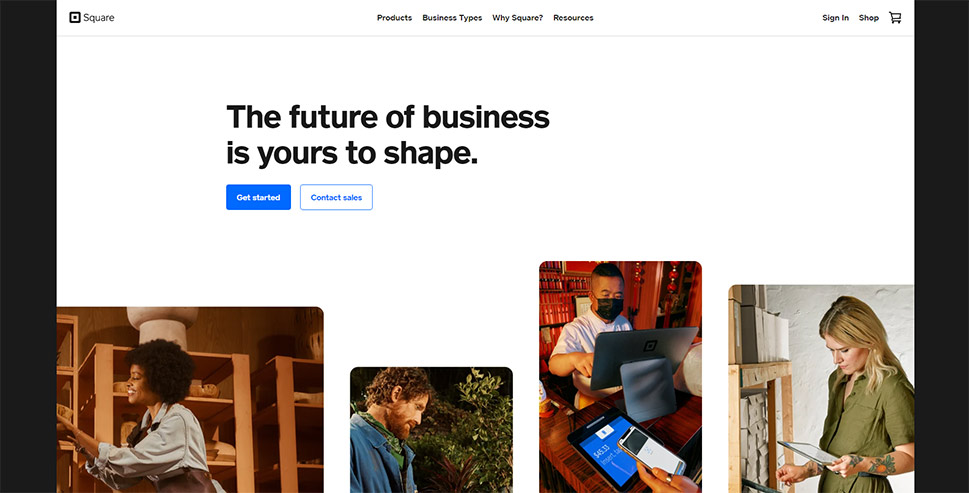 Square comes from the Twitter co-founder Jack Dorsey and provides an online payment solution both for stores with physical locations and online stores. The extreme ease of setup and use makes it very attractive for a wide range of businesses. You simply download the software for free and install it on Android or iOS devices and you can start taking payments using a plugin mobile credit card reader Square offers free of charge.
Square accepts all major credit cards and other popular payment types such as Google Pay and Apple Pay. It can also process electronic check payments and ACH and supports recurring payments too. With it, you can accept payments by website, invoice, or even over the phone. Just note that as the PayPal competitor it doesn't accept PayPal payments.
It also supports useful WooCommerce extensions like WooCommerce Square Extension and WooCommerce Subscriptions extension. It charges 2.6% + $0.10 per in-person or e-commerce transaction, 2.9% + $0.30 for invoice transactions and 3.5% + $0.15 for manual or card-on-file entry.
This is one of the newest payment solutions that come from the versatile and widely recognizable PayPal. PayPal Pro for WooCommerce is actually a premium extension that comes from the WooCommers developers. It lets your customers finalize the purchase without having to leave your website but you need to have a PayPal merchant account to use it.
Recurring payments are not supported so if you plan on having a membership website or sell subscription-based products and services, this is not the solution for you. The transaction fees vary from country to country as well as the monthly payment it requires so you have to research pricing and fees before you decide on this solution.
Generally, we could say that WooCommerce PayPal Pro provides all the benefits of PayPal but with a better checkout experience.
All the payment gateways in this list offer a good level of safety and support the WooCommerce platform as well as a variety of payment types. Before you compare the benefits and fees, make sure to check whether the payment gateway operates in your country and the countries you mostly work with. A good choice of a payment gateway can even boost your online store conversions and become your competitive advantage. Many stores support multiple payment options – it is not rare that an online shop accepts payments both with Square and Stripe for example, so this may be a possibility you want to consider too.