5 Best Gamification Plugins for WordPress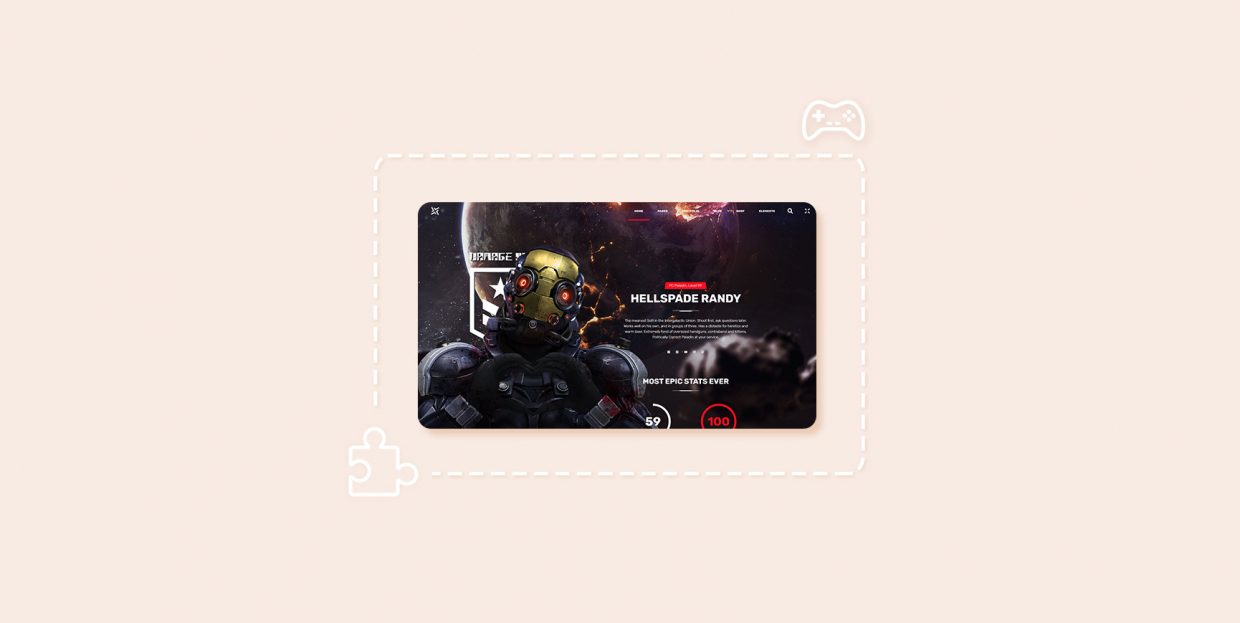 Gamification is a popular technique of incorporating gameplay elements in a non-gaming context. By rewarding their audience for completing certain actions, companies seek to increase engagement and loyalty, encourage communication and collaboration, educate, entertain, and inspire their users.
Gamification is most often applied to marketing strategies, sports and social sites, and online courses. It is popular among both high-profile organizations and those only just beginning their business adventures.
If you would like to add game elements to your site with ease, then this roundup of the best WordPress gamification plugins is just what you need. We will discuss how the gamification works, talk about its benefits, and analyze the following plugins:
How Does Gamification Work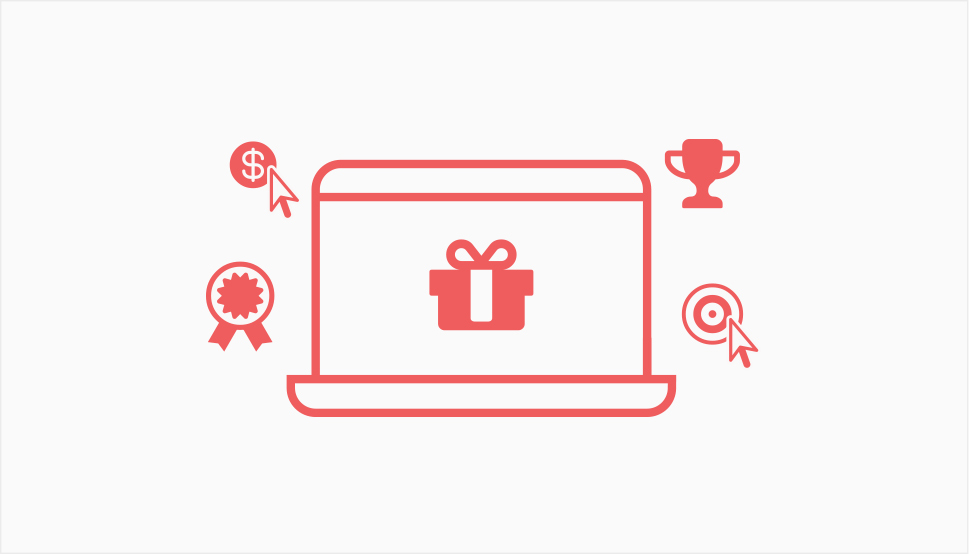 Gamification taps into our innate desire for improvement. Relying on both tangible and non-tangible rewards, it keeps us engaged on a site or in an app and motivates us to continue to use them.
If we persist, we might win a badge, a gift card, or get our name in the top spots on the leaderboard. Our competitive spirit awakens, we develop new skills along the way, and feel a sense of accomplishment once we're awarded for our behavior.
Gamification has become commonplace for a lot of brands. For instance, Duolingo, one of the most popular language-learning apps, uses gamification in their app. The more you progress and level up, the more "lingots" you gain and the higher your score on the board is. And if you don't practice your skills, you will lose strength on them, which should serve as an incentive to practice your knowledge and spend more time using the app.
eBay also uses gamification on their website. Buyers provide sellers with feedback and award them with points. Upon collecting a specific number of points, sellers will earn stars. One can win stars in many different colors, depending on their seller score. For instance, 10 points will get you a yellow star, 25.000 feedback points a turquoise shooting star, etc. The higher the score, the more trustworthy a user is. On the other hand, this kind of gamification encourages competitiveness among buyers, since they need to outbid others to purchase the desired product. And when they do get it, they feel a sense of accomplishment because they made it.
Foursquare is another great example of how gamification works. When users frequently check-in to places and locations they're visiting, they earn badges, and potentially the title of the "mayor" of a location.
Starbucks also implements gamification in their marketing strategy. They have an app through which loyal customers collect stars. Whenever clients interact with the app and buy something in Starbucks, they gain "stars". Depending on the number of stars collected, customers reach a certain level that grants them a reward, such as a free drink, a meal, merchandise, etc.
Why Should You Gamify Your Business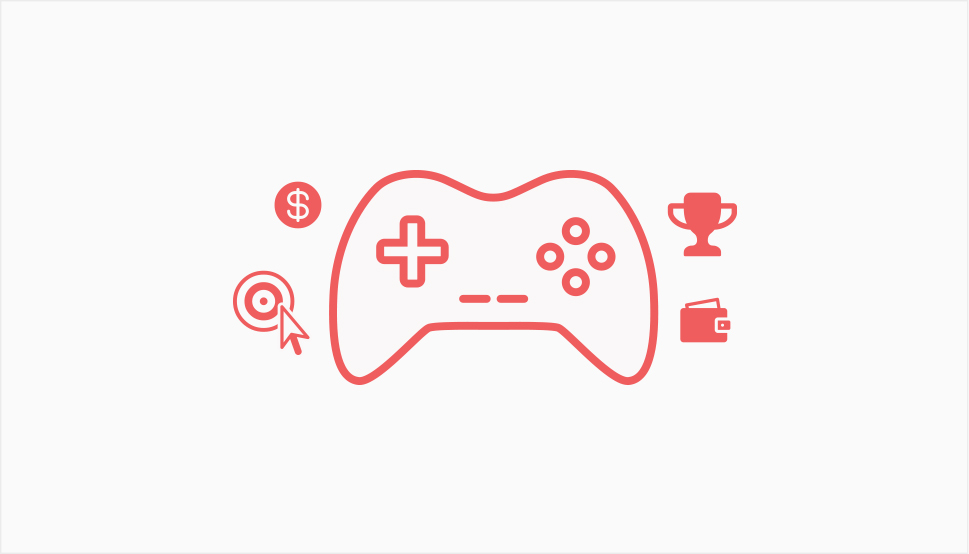 Gamification offers users a chance to participate in exciting scenarios, complete ordinary actions in a fun way, and collect awards for their actions. Not only does that keep them entertained, but it also motivates them to complete tasks until they reach the end goal.
What does that mean for your business? Well, it makes customers use your products more, encourages their loyalty to your brand, and increases user engagement. By rewarding a certain type of behavior, you will make them want to stick around and use your services and products more.
Using gameplay techniques on a site also helps you get valuable information about customer behavior which you can use to improve your business practices.
Gamification is useful for customers as well, and not only because of the prizes they get, but also because they get instant feedback about their performance, which is especially important for learning processes. Gamification also wakes up users' competitive side. The harder they work to outperform competitors, the more they will learn while collecting awards along the way.
Since we've learned what gamification is and discussed the business benefits it yields, let's kick off the list of the most effective WordPress gamification plugins on the market.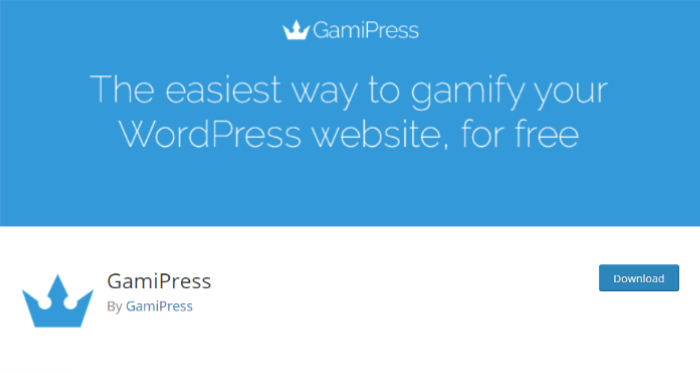 GamiPress is an easy-to-use gamification plugin that you can download for free from the official WordPress plugin repository. GamiPress supports three types of awards – points, achievements, and ranks.
You can award users with points for simply interacting with your site. They can also collect them after completing tasks and then use them to buy coupons, products, and more. In your admin dashboard, you can set the point name, add a slug, choose a point type (credit, gem, coin, etc.), specify how users should earn them and when they will lose them, and more.
As for achievements, users can earn them once they complete some requirements. For example, if they make a purchase, they will be awarded an achievement, which can come in the form of a badge, quest, etc. GamiPress lets you determine the number of points one will receive once earning a particular achievement, how they can earn it, as well as customize a congratulatory text.
Ranks work similar to achievements because users must complete certain requirements but in a specific order to level up on the board. The lowest rank is awarded to them by default, but you have the option to determine requirements for higher ranks.
GamiPress also allows you to time-limit requirements, be it for a few minutes, hours, days, weeks, or even years. On the other hand, users can share their achievements and ranks on social media.
GamiPress is a terrific plugin on its own, but you can also enhance its power with some freemium add-ons available on their site. For instance, you could add leaderboards, progress maps, restrict access to some content, award users with points once they make a WooCommerce purchase, and much more.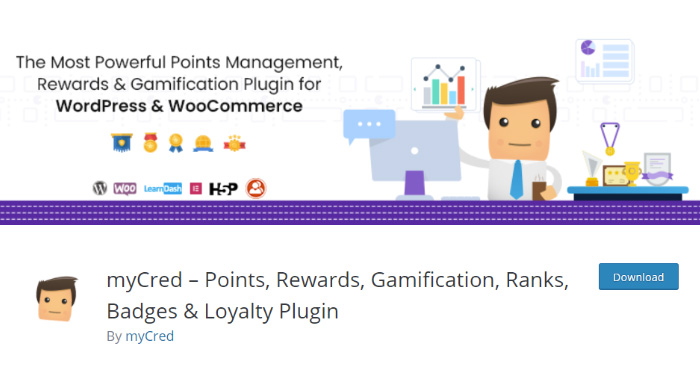 myCred is a freemium plugin that allows you to reward your audience with points, ranks, and badges.
You can keep track of the users' progress in real-time and award them automatically with points upon completing certain tasks. They can later use points to get discounts. And since this plugin has a built-in add-on called cashCred, users can purchase points with real money or convert points to cash.
When your customers successfully fulfill a specific requirement or collect a certain amount of points, you can give them badges. Regarding user ranks, they depend on the number of points users have collected or their balance.
The myCred plugin lets users keep track of their points with detailed logs, which include a detailed history of all points lost or gained. It also includes the useful "Hooks", which let you automatically award users with points (or deduct them from users' balance). For instance, you can give award tokens when a user registers on your site, comments, clicks on links, watches videos, etc.
myCred also integrates with numerous popular plugins, including WooCommerce, JetPack, BuddyPress, and others. To make the most of the plugin, consider purchasing a premium plan. Furthermore, you can purchase premium add-ons, which include the progress map, the possibility to allow users to pay via Stripe and PayPal, and many others.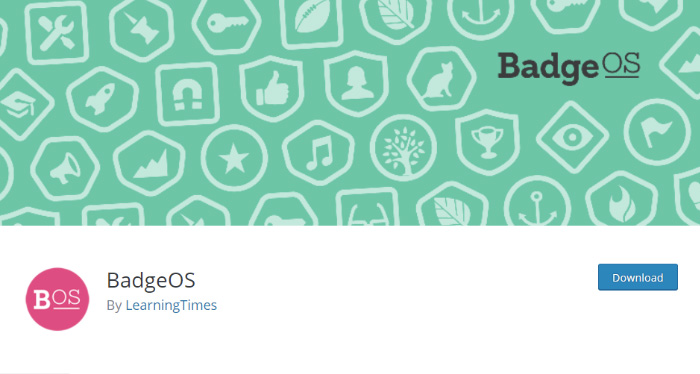 BadgeOS is another great plugin that lets you reward users with badges, points, and ranks, and it can be downloaded free of charge.
With BadgeOS, you can decide on the steps users need to complete to earn their prize. For instance, you can give them points for engaging with your site – logging in, leaving comments, completing tasks, etc. There is also an option to customize a congratulatory message depending on the achievement. From your admin dashboard, you can create as many points, achievements, and ranks as you wish, name them however you please, as well as insert images for all of them.
You can add more functionalities to the plugin by installing free and premium add-ons. For example, you could restrict content or award users for sharing content on other sites. Furthermore, there is also an add-on that lets users submit forms for unlocking achievements and allows them to nominate other users for an award. You can either automatically accept/reject submissions and nominations or review them manually. We really liked the Badge Builder, which lets you design badges, points, and rank images. This add-on includes several badge shapes and styles, thousands of icons (but you can also upload your own icons to be displayed at the center of a badge), and a myriad of colors to choose from.
By offering your target audience a chance to spin the wheel and win a prize, you have the opportunity to grow your customer base. To participate in the competition, people have to enter their email address, which then gives you the chance to generate tons of leads.
The plugin includes options to customize each of the 12 sections of the wheel. You can decide which section loses, which hides the coupon, as well as insert a link to a page on your site. If you wish, you can hide the wheel on mobile phones and decide if the wheel should appear on a button click, via exit-intent, or by setting up a timer.
WP Optin Wheel includes a set of predefined themes, allowing you to choose the one that best matches your style. If you purchase a premium plan, you will be able to edit default themes to your liking and benefit from the WooCommerce automatic coupon integration. Moreover, the premium version allows you to decide on which pages and posts of your site to show the wheel (not as a popup), detect fake email addresses by comparing them to the well-known fake email domains, and get statistics on users' behavior.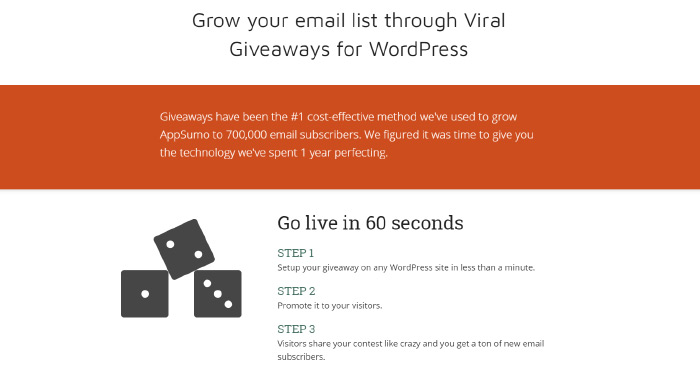 KingSumo is a premium plugin that enables you to set up any kind of a giveaway on your site.
You can enter a title for the competition, add a description, determine when it should start and end, specify the number of winners, define the prizes, their value, and upload the prize image. Then, you can select on which platforms you wish your contestants to share the giveaway (e.g. Facebook, Twitter, LinkedIn, and others). Them sharing it on their social networks is important because it will probably attract more leads your way.
The plugin also lets you add bonus entries that are awarded when, for instance, users like your page on Facebook, start following you on Instagram and Twitter, or share your YouTube video.
Once everything is set up, you can share the giveaway on social media, email it, and even embed a badge on your site to promote it. The "Ready to Award" button offers you an overview of all participants and the number of their entries, and it allows you to select winners, but also redraw your decision if need be.
Adding game principles to your site is a great strategy that could be highly beneficial for your brand in the long run. Increased traffic and user participation, as well as a sense of progress users feel upon completing tasks usually mean higher conversion rates, so why not use gamification to your advantage?
No matter which one of these plugins you choose, you won't go wrong. GamiPress, myCred, and BadgeOS are excellent choices for all kinds of gameplay scenarios. If you wish to focus on email marketing, go with WP Optin Feel. KingSumo should be your choice in case you plan on setting up giveaways for your users.