11 Best WooCommerce Product Filter Plugins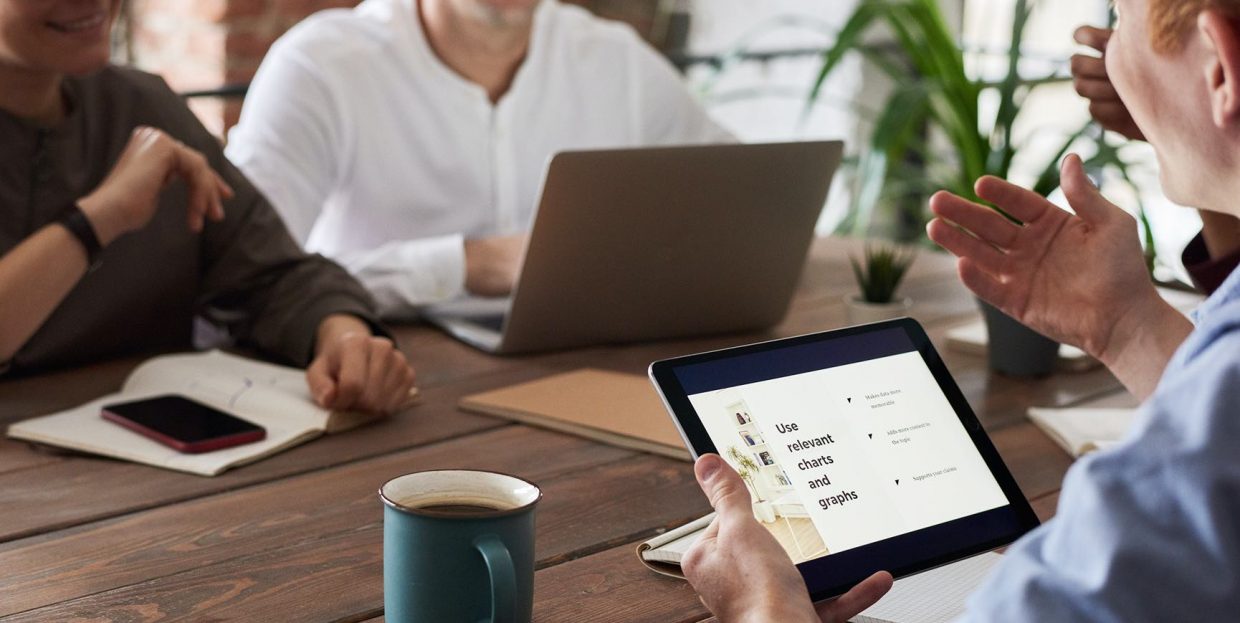 With WooCommerce, creating an online store is easy. But once you have created your store, implemented SEO optimization, formulated a pricing strategy, and put a bunch of products on offer, it is time to consider how easy is your online store for your visitors to get around in. An online store may carry a huge number of products or services for sale. Scrolling through a bunch of similar products and product types can be a slog. And that is exactly where a WooCommerce product filter plugin might help.
A search bar is simply not enough in a lot of cases. Your sporting goods store may sell hundreds of models of running shoes, for instance. Your organic food store might have hundreds of tea blends on offer. Your online bookshop may sell hundreds of romance novels. If you are not selling unique goods, chances are your online store could use a different way of filtering products in order to make your shoppers' choice easier.
WooCommerce contains all the essentials for an online store, but a product filter is not one of them, though it is available as a premium extension. There are premium themes (Qode Interactive store themes not least among them) which offer said functionality, and then there are plugins, both free and premium.
Our list has just that: plugins which let you expand your online store's features by adding a product filtering functionality. Here are our top picks: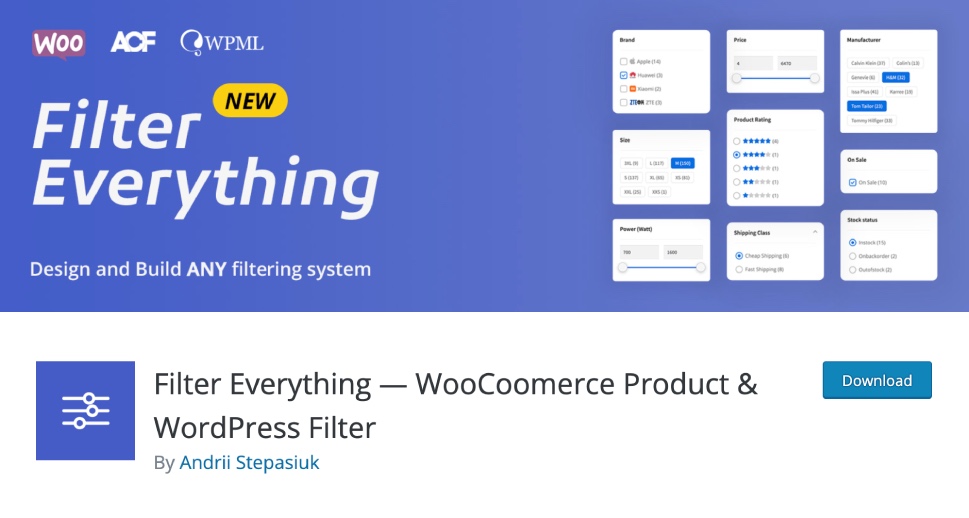 Filter Everything is a versatile and free plugin. It lets your shoppers filter your stock by any criteria you can think of, including price, brand, taxonomies, size, color, dimensions, product type, shipping class, and many, many others. The plugin also supports hierarchical sorting, conditional logic, tooltips and more.
Product Filter by WooBeWoo is a simple, free plugin that nonetheless gives your shoppers the full gamut of product filtering. You can let your shoppers filter your stock by taxonomies, price, and attributes, with each of the criteria being customizable from your end. On the front end, you can set up the filters as radio buttons, checkboxes, drop-down menus and icons, as well as style them whichever way you like.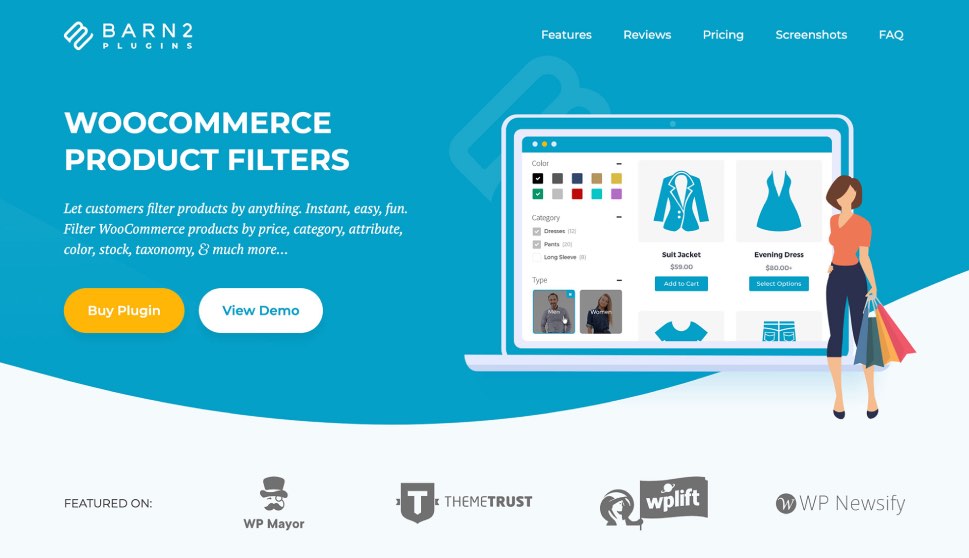 The WooCommerce Product Filters plugin by Barn2 makes it easy for online store owners to add professional-level filters to their shop pages. With its user-friendly drag and drop filter builder, store owners can add filters based on a wide range of product data, including price, rating, attributes, color, size, categories, tags, and custom taxonomies. The plugin offers a range of filter styles to choose from, including some that you don't see in most filter plugins such as clickable images and range sliders. It works with popular page builders like Divi and Elementor.
A flexible and free plugin, WOOF – Products Filter for WooCommerce is probably the most popular of the bunch. This plugin lets your shoppers filter WooCommerce products by category, tag, custom taxonomy, attribute, and price. You can display these additional criteria as check boxes, radio buttons, and several versions of drop-down menus. With WOOF, your shoppers can even subscribe to product filter combinations in order to get notifications when products which fit their criteria appear in your store.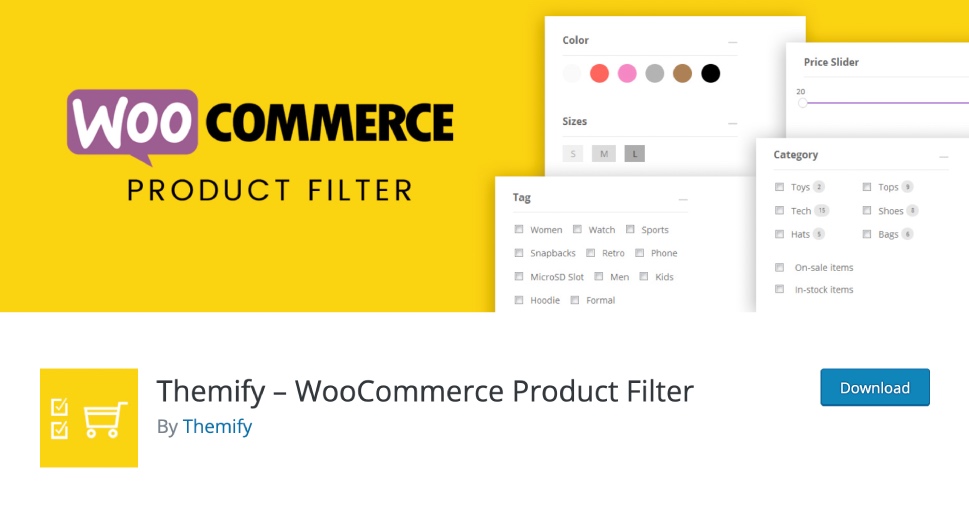 Themify is another free plugin designed for cutting down on the slog of browsing through a large volume of items. Your shoppers will be able to select however many filtering criteria you allow them, and see their search results update live. The filters provided include price (and price range), categories, tags, attributes, and many others. The filters can be set up several different ways and in a horizontal or vertical layout, making the plugin a good fit for any website layout.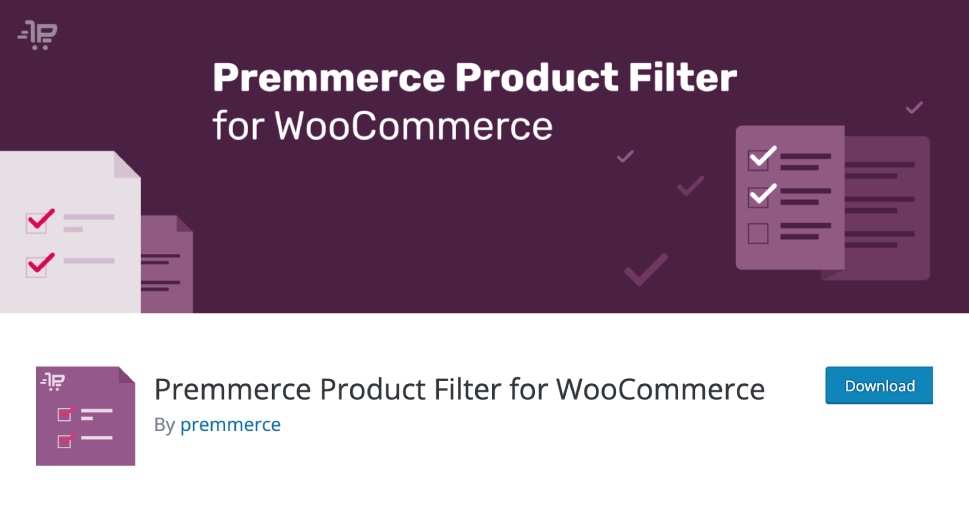 Another free solution, the Premmerce Product Filter for WooCommerce is a simple and flexible product filtering tool. With Premmerce, you can set up a variety of filters to help your users find what they like. On the SEO side of things, the plugin creates clean URLs based on filters chosen, making it easy to reach search engine users. The developers specifically laud the loading speed this plugin provides. You can get it straight from the horse's mouth in the developer's own analysis.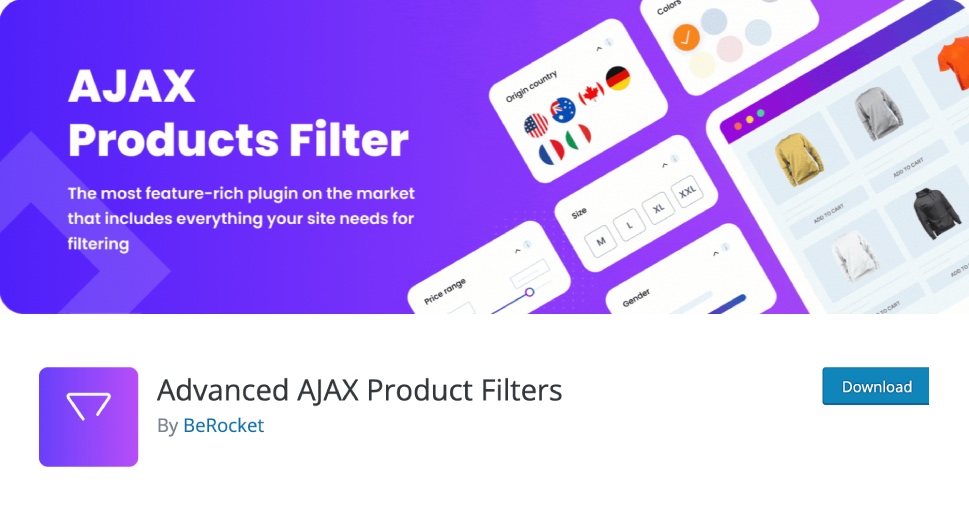 With Advanced AJAX Product Filters, you get yet another free but efficient answer to your shoppers' product filtering needs. The plugin boasts unlimited filters in one single widget. And not only that, you can choose between a variety of styles for filters, as well as choose between the vertical or horizontal orientation of the filters. The filters at your disposal include price, category, attribute, and others, and they can be laid out using an in-built drag and drop interface.
If you want to see what the plugin looks like from the admin side of things, you can access the developer's demo site.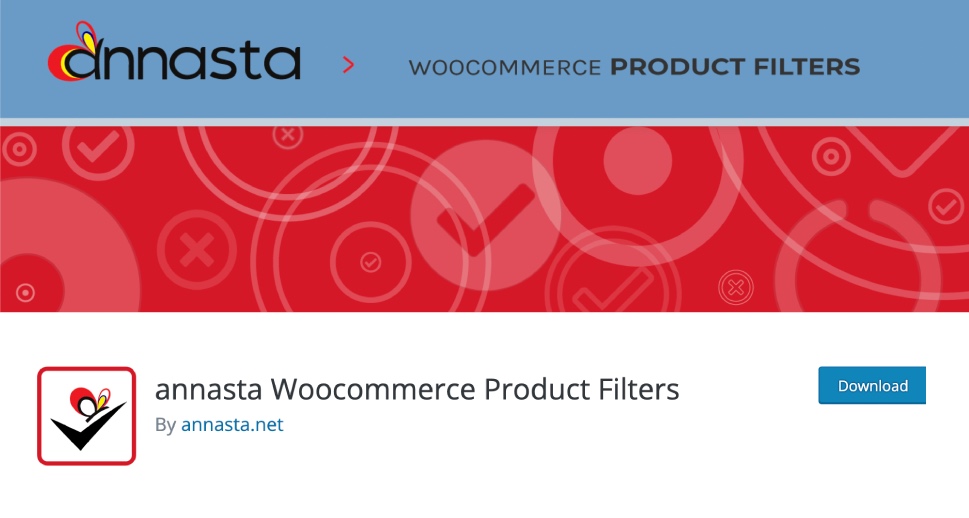 Annasta is a free plugin which brings a broad range of product filtering features to your WooCommerce store. They can be filtered by categories, tags, custom taxonomies, and product attributes. Annasta comes with a range of SEO options as well, and the plugin even lets you configure step by step product finders, making it easy for your shoppers to logic their way to what they want.
JetSmartFilters is a premium plugin that offers a variety of filtering widgets, as well as pagination solutions. Your shoppers can apply up to seven filters (with configurable hierarchies) at any one time, and really winnow the bulk of your stock to their hearts' desire. The filter types included are alphabetical, rating, by date, and more. The plugin also offers a wide spectrum of styling options for your filtering widgets, too.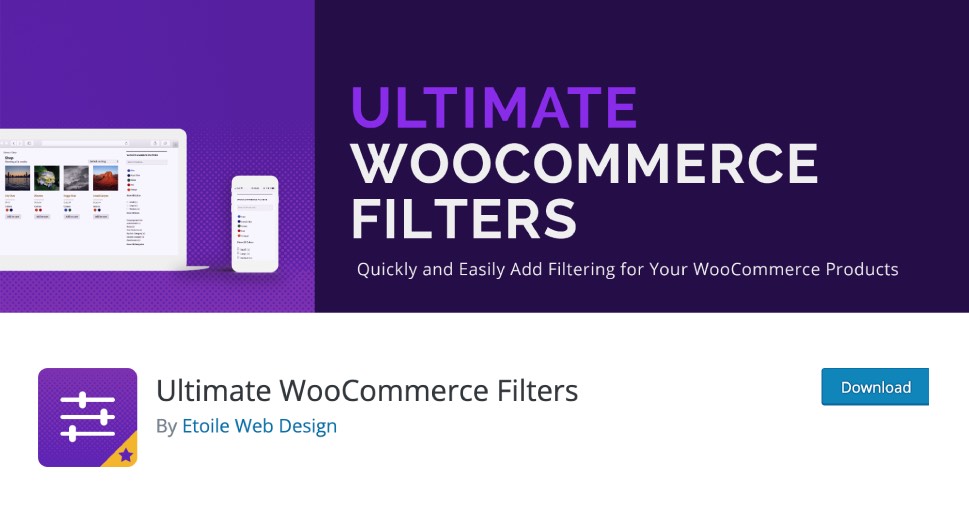 Ultimate WooCommerce Filters is a free plugin which lets you set up a filtering feature for your shoppers. You can let them filter your stock by color, size, taxonomies, or any attribute set up in your WooCommerce store. A stand out feature of this plugin is the table shop format, which replaces the default thumbnail display format of your store. Using the table format, your shoppers will have an easy time comparing your products with each other and choosing what they need.
A premium addon for WooCommerce, Product Filters for WooCommerce was developed by WooCommerce developers themselves. It allows easy filtering by categories, tags, attributes, other custom taxonomies, price, stock status, color, size, and more. You can set up your filters as check boxes, radio lists, drop down menus, or use a different layout.
Plainly, there is no shortage of product filtering solutions for your WooCommerce store. The choice is, as in all things, up to you. If you are working on a budget, consider giving a free plugin a try, provided it has the filtering feature you need. For instance, if you are not selling clothes or shoes, do you need a size filter? If budget is not a concern, consider going with a comprehensive premium solution. Whichever way you go, though, we are confident it will be on this list.