What Are WordPress Admin Notices and How to Manage Them
If you've been using WordPress for a while, you've probably noticed different messages that occasionally pop up in your WordPress admin dashboard screen. Otherwise known as admin notices, these kinds of messages serve to notify you about different happenings related to your WordPress site, such as errors, warnings, successful (or unsuccessful) installations, newly available updates, and so on.
Having each their own specific purpose, these notices are, of course, quite useful. They can help you keep your site updated and well-maintained, and also allow you to fix various emerging issues, both technical and user-related. However, some users may find them irritating or irrelevant, or they may wish to hide them altogether for whatever reason.
Today we're going to talk about how you can manage and even hide admin notices to improve your own WordPress experience. But first, we'll take a closer look into what types of WordPress admin notices there are and how they can be beneficial. Stay tuned as we explore:
Typically, there are four main types of admin notices you may see in your WordPress admin dashboard. These include:
Success notices– as its name suggests, these types of messages appear when you make any successful changes on your WordPress site, for instance when you publish a new post, install a plugin, or effectively change a setting. They are characterized by a green border.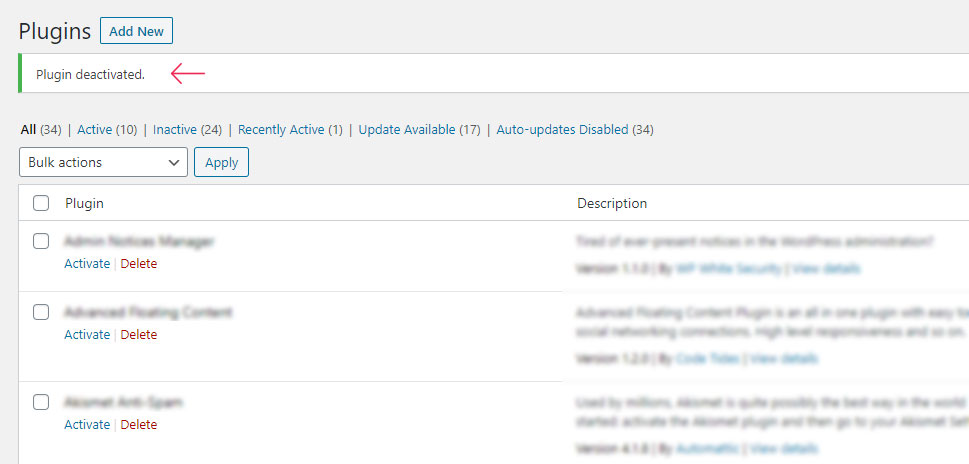 Information notices – displayed with a blue border, these kinds of notices are used to display simple types of info.
Warning notices – appearing with a yellow color, warning notices let you know that something about your website requires your attention. Most often, these notifications inform you about available plugin updates, theme updates, and WordPress core updates.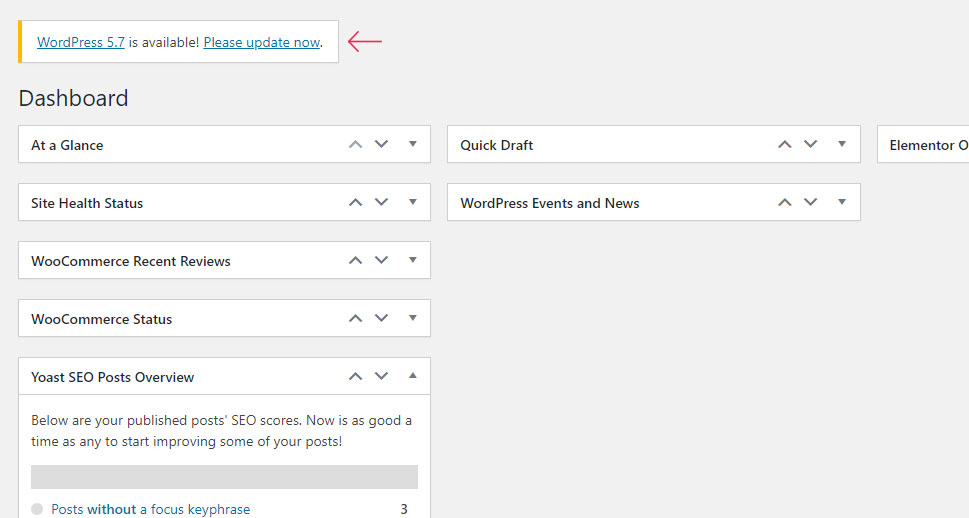 Error notices – errors will appear when there's something wrong with your site (this usually applies to a faulty theme, page, or plugin). The error notice will be displayed using red color for the border.
We have to mention that some plugins may use a custom set of colors, in line with their scheme, to display their own admin notices. Still, a lot of them stick to the color rules we mentioned above.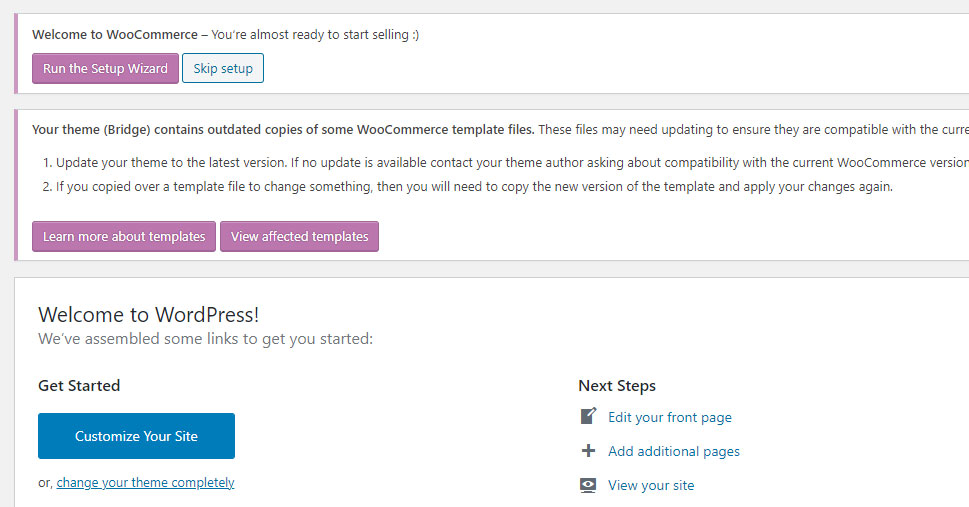 The general purpose of these colors is to help a user know what type of notification it is as soon as they glance at it – whether it's a casual, "non-threatening" type of notice or the one you should inspect and take care of right away. Therefore, the colors can also come in handy when it comes to determining the priority of these types of messages.
Admin notices are useful because they play an important role in maintaining a WordPress site. They are used to deliver crucial information to users and serve to alert them about any important processes that are running in the background, as well as any processes that are finished. As such, they can improve the overall user experience in certain ways. For example, they can notify users when a plugin is installed or updated, when a draft is saved, or when a user has created a post, letting them know that they've managed to perform these tasks successfully.
Aside from helping contribute to the usability of your site, there are many other ways in which these kinds of notices can be beneficial. For example, once you install a specific plugin, notices related to this plugin may start appearing from time to time, letting you know if there's an issue that needs to be fixed, or if the plugin requires an update to work better. And not taking care of your plugin updates (or any other update, for that matter) may put your site at a security risk.
Plugin developers may also use admin notices to let you know if there are any features that will become available if you upgrade the plugin to the premium version. This can be useful if you plan to extend your website's functionality and don't mind these types of notices in general. Theme developers may also display different notices that let you know what you need to do for the theme to work properly or to activate a certain theme feature (like update your theme, install a specific plugin, and so on).
Last but not least, aside from these default or theme and plugin-induced notices, admin notifications can also be used to deliver internal messages among different website members – such as scheduled site maintenance, or any other important updates. These types of notices are great if multiple users have dashboard access and use it regularly.
So, not only do admin notices can help you get a proper insight into the inner workings of your site, but they can also improve the overall user experience and keep its functionality intact at the same time.
Despite all the above-mentioned benefits, there are still many WordPress users that find their presence annoying at worst and their use questionable at best. Here are some of the main issues people usually have with admin notices:
Too many notices – in case you have too many third-party plugins installed, you'll most likely have too many notices on your plate as well. This can get really annoying as these notices may easily overcrowd your entire admin area, and therefore may become hard to maintain. Worse yet, having too many notices can even slow down your site, which can cause your conversion rates to drop in the long run.
Insignificant notices – we already mentioned information types of notices in the beginning. However, some of these notices may appear when they aren't necessarily needed. This happens in cases when developers include too many minor types of notices that don't add any real value to users.
Marketing promotions – while promotions may be useful to some users, others simply find them annoying. We're talking about notices used to promote premium plugins and other similar offers. And while these types of notices usually appear on plugin-related pages only, some plugin developers make these notices show up on other dashboard pages too – which can be especially bothersome.
So, long story short – the more plugins and features you add to your WordPress site, the more chances of getting notices on your site that will cause you more trouble than anything else. Still, disregarding your admin notices isn't the best solution either, since in that case, you can easily miss out on the important ones. These can be notices related to backup alerts, or any other technical issues that can jeopardize your website's security if not taken care of.
The best way to keep up with all your admin notices is to install a suitable plugin that will help you effectively manage them. We suggest using a plugin called the Admin Notices Manager. This plugin is great as it creates a notification area that will allow you to easily inspect all your admin notification messages, including even those you previously dismissed.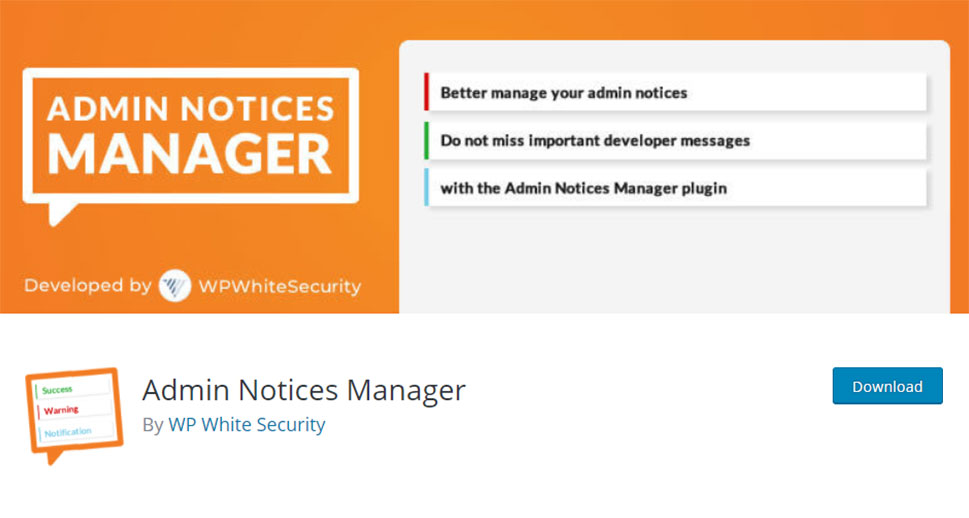 Once you install the plugin and activate it, you will see a notification in the upper right corner of the screen, letting you know that all your notifications will be displayed there: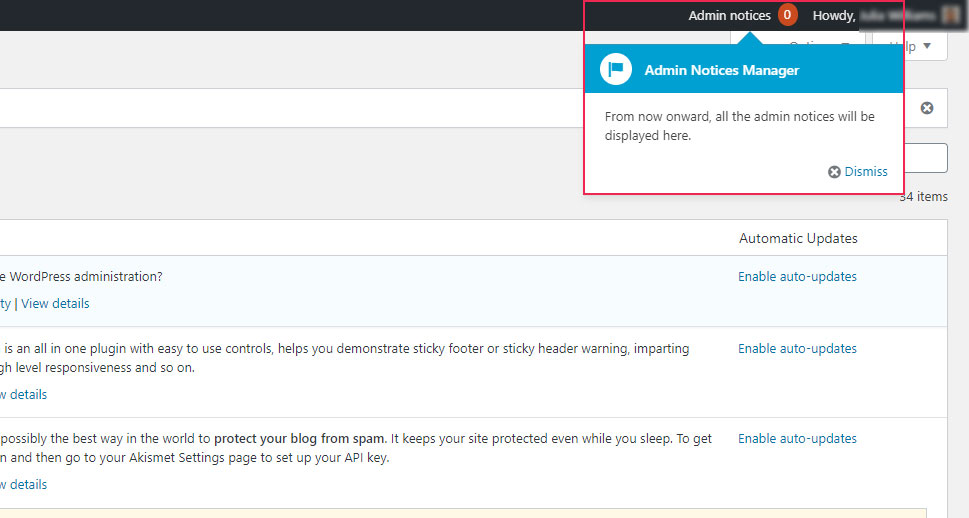 Also, by going to Settings >> Admin Notices, you will be able to easily configure your plugin settings. This includes determining which types of notices you want to hide from the WordPress dashboard and show in the plugin's popup, which ones you want to hide completely, and which ones you want to keep on your dashboard, as usual.
You can configure these options for all your default WordPress admin notices (success, error, warning, and information), non-standard admin notices (used by third-party plugins and themes), and WordPress system admin notices.
Of course, don't forget to save your changes once you're done configuring the plugin settings.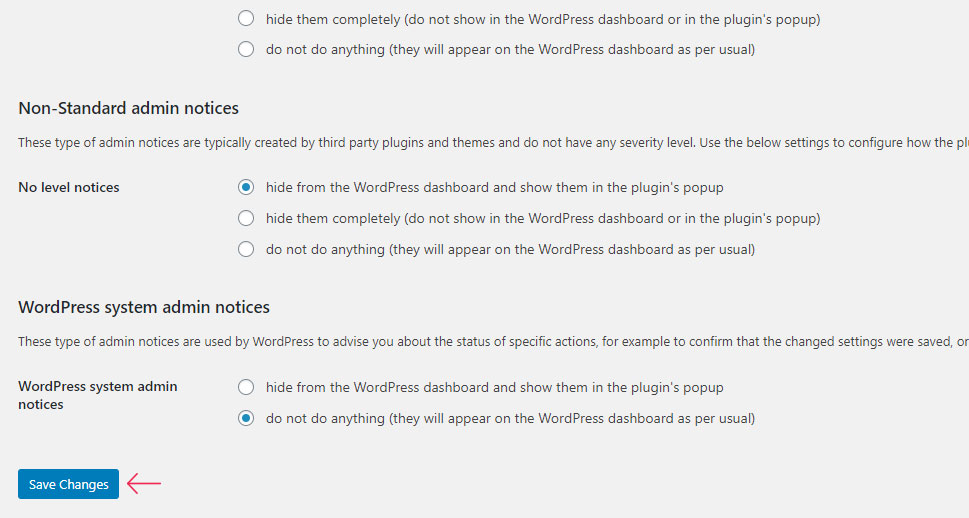 Apart from using the plugin that will help you manage all your admin notices, we also suggest logging into your site more often. Try doing this even if you don't need to create or publish any new content. This way, you can quickly check for any new alerts and pinpoint which ones require your immediate attention and which ones can be simply dismissed instead. If you end up doing this regularly, you can prevent too many notices from piling up and ensure that your site is always performing as expected.
WordPress Admin notices are useful messages that serve to provide different types of information to users and give proper feedback about various site-related happenings. That being said, if you use too many third-party plugins, you can easily find yourself having to handle too many unnecessary notices. This can make them difficult to control and can even cause you to miss some messages that are crucial for keeping the performance of your website at an optimal level.
Try to visit your website's backend more regularly, dismiss notifications you do not need, and consider installing a plugin that will help you manage all your notifications with ease. You will have a cleaner dashboard, smoother user experience, and a healthier website as a result.