How to Migrate Your Blog from Medium to WordPress
Creation isn't necessarily the most important part of the lifecycle of a piece of content. Often enough, it's the distribution that really shapes its future. This simple choice — where to publish the content — can make the difference between putting something out there for no one to see, and having your content reach interested parties when they want to see it the most.
For written content, publishing to a blog is one of the standard distribution models. You have several choices for starting your own blog, but for the people or businesses who just want to get their content online as soon and as easily as possible, Medium has become an attractive option.
With a no-fuss setup process and a decent reach, Medium is a publishing channel for some major names, including The Economist, Twitch, and the Washington Post. But it's not a perfect platform. That's a fact that might have played a role in making you search for an alternative in WordPress. So before we dive in and go through migrating a blog from Medium to WordPress, let's see why you might want to do it.
Why You Should Move Your Blog Content from Medium to WordPress?
Medium is a third-party publishing platform. For every bit of convenience that you get from it, you're giving up a small piece of control over your content, how it's presented, and how it's distributed. So even though the platform won't go so far as to take away your rights over the content you publish on it, the restrictions it poses can be significant.
Some of the more obvious drawbacks of publishing to Medium include:
Limited monetization options. While affiliate links and first-party promotion are generally allowed, you can't run third-party ads on your Medium blog, nor have a sponsorship.
Limited marketing options. Say goodbye to remarketing, as well as embedding forms for collecting information about readers.
On top of it all, you'll notice that Medium's famous reach will only deliver so many readers to you. If you want more eyeballs on your content, you'll have to do the legwork to get them to visit a platform you do not own. So not only are you contributing readers to the platform, but you're also bringing them to a place where there's no guarantee they'll be able to see your content tomorrow — Medium can take it down whenever it wants to.
For all of these reasons, it's not unusual to be on the lookout for a different platform to host your content. And while you certainly can give WordPress.com a try, it's still a third-party platform. In the WordPress.com vs. WordPress.org battle, the latter is the clear winner. Although, if you've already made an account on WordPress.com, don't delete it — it will come in handy a bit later.
What You Need to Consider When Migrating Medium to WordPress
First things first – if you want to migrate an existing blog, you need to have a place to migrate it to. With a self-hosted WordPress blog, you have to take care of getting the blog up on your own. But don't worry, creating a WordPress website probably sounds more difficult than it actually is. Also, you just need to get it up and running for now — you'll do all of the customizations a bit later.
The two most important things are to choose a good hosting option and a great domain name. The choices you make here count for a lot as they'll stick with you, at least for a while. Changing a host or a domain name can be a lot of hassle and should be done only when necessary.
As for the installation itself, you'll have two options. You can install WordPress manually, on your own, or pick a host that offers a one-click WordPress installation. Either way, the installation process shouldn't take up too much of your time — the brainstorming session for your domain name is likely to last longer. When your WordPress website is online, it's time to start the migration process.
How to Move Your Medium Posts to WordPress in 3(-ish) Steps
Medium and WordPress have both done their share in making the whole migration process easy. For the most part, at least, because you will need to use a third-party tool, or WordPress.com, in the process. But let's cross that bridge when we get to it, and start from the beginning.
Export Your Content from Medium
Medium allows you to export all the information you've shared with the platform with a click of a button. Your blog posts — both published ones and the ones you had as drafts — will be in the file you get from Medium, with the rest of your information.
To request the file, log into Medium, go to the Settings, and under the Account options find the "Download your information" entry.
Click on the "Download .zip" button, and you'll be forwarded to a page where you give the actual command to export your data.
When you click on the "Export" button, Medium will send you an email with a download link for the file. The link is valid for 24 hours, so you can revisit it and redownload the file if you need to. By the end of the process, you should have a medium-export.zip file saved on your hard drive.
Convert the Medium File into a Format WordPress Supports
The main problem you're trying to solve in this migration process is the fact that WordPress' importer doesn't support imports from Medium. It has a rather strict range of file extensions it will import, so the goal of this step is to find a way to convert the export file you got from Medium into a file WordPress will accept.
The easiest way to do this is to use the MediumtoWP importer. The free tool will ask you for some basic information — WordPress blog address, name, and email address. Once you fill it out and press the "Export my Medium website" button, you'll get the option to upload the Medium Export File.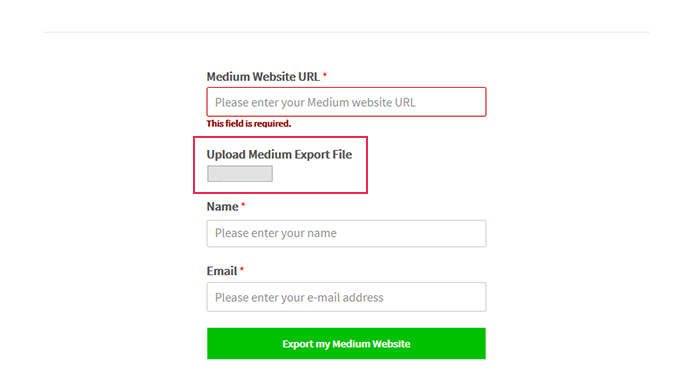 Upload the file you downloaded from Medium using the upload option, press the "Export my Medium website" button again, and the page will display a download link you can use to get a WordPress-friendly version of your Medium info, posts and drafts included.
Alternatively, you can use WordPress.com to convert Medium's export file into a format your WordPress website will accept. From the dashboard of your WP.com blog, click on the "import" option and choose "Medium."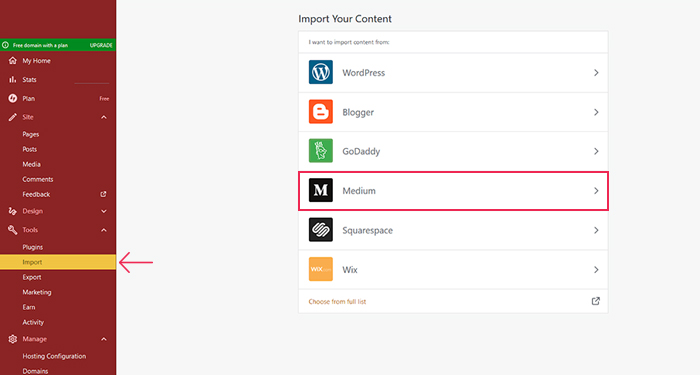 You'll be prompted to upload the medium.export.zip file, which should upload all of your posts, whether they're published or just drafts, to your WP.com blog.
From there, click on the "Export" option, choose whether you want to export all the content from your blog or a narrow selection, and click the "Export" button. You'll get a download link on the page, and one will be sent to you via email. After clicking on it, you'll download a .zip file to your computer, and in it an .xml file with your Medium content — or at least what was uploaded of it to WordPress.com.
Import the Content into Your WordPress Website
When you have the right kind of file containing the content from your Medium blog, you can head over to your WordPress website. In the admin dashboard, find the "Tools" menu and select "Import". This will show you all the import options you have for your website, whether you've installed and activated them or not.
Find the "WordPress" option and install it if it hasn't been installed already. When ready, click the "Run importer" button. Navigate to .xml file's location on your hard drive, and once you find it, click on the "upload file and import." With that, you should have taken care of the whole migration process.
The Post-Migration Routine
What's the first thing you should do after migrating your blog to a new place? Make sure it got there alright. You might also want to let everyone who visits the old blog know that you've moved, and where to. Finally, you should customize your new WordPress website. Let's dig in!
Import the Content into Your WordPress Website
Mishaps sometimes occur when migrating from Medium to WordPress and your media files don't make the transfer. That's why it's usual to have checking up on them as the first step of the post migration routine. After you went through all the migration steps, look through the imported posts and the media library. If the photos from your old Medium blog are nowhere in sight, you've got yourself a problem you need to solve.
The easiest way to fix this would be to use the Auto Upload Images plugin. This nifty little plugin will detect the URLs of the media you exported from your Medium blog. It will then retrieve those files, upload them to the new blog, and update the URLs.
So if you notice images are missing from your post, download and instal the plugin. After that, navigate to the post list from your website's dashboard. You have to do a couple of steps if you want to update multiple posts. You need to select all of the posts first. Next, you need to choose "Edit" from the "Bulk Actions" dropdown menu, and then "Apply."
Your next step would be to click the "Update" button without making any other change to the posts or your website. After that, you can go and check your posts for the missing images — they should be there, and the plugin did all of the work of getting them for you.
Generally speaking, you should be able to set up 301 redirects leading from your old Medium blog to your new WordPress website. However, only applies to Medium blogs that were created with a custom domain. If you didn't create a custom domain blog on Medium, or if you created the blog after they've deprecated the custom domain feature in November 2017, you're out of luck.
If you're a happy owner of a custom domain, it's business as usual:
Download and install Redirection, the leading WordPress plugin for redirects
Follow the instructions in the installation wizard
Start setting up the redirects — links to Medium posts go to the source URL field, new links go to the target URL fields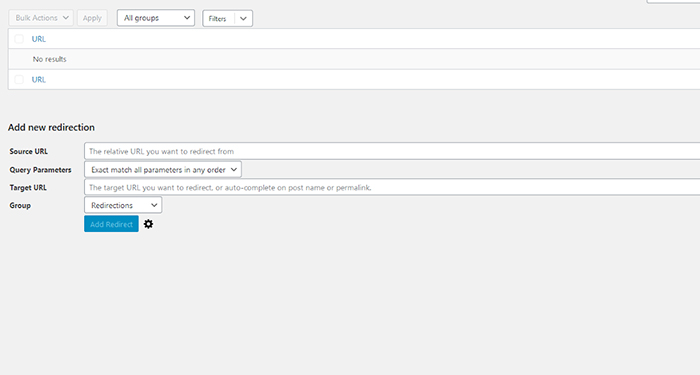 You'll have to add the redirects one by one. Still beats not being able to set them up at all, right?
Migrating your blog from Medium to WordPress is a great step towards taking control over all aspects of your content. You'll not only be the sole person in charge of what happens to it when you move to a self-hosted WordPress blog, but you'll also have more options to choose how you display your content, and to what purposes.
Migrating a blog from Medium to WordPress can get tedious if you had a large blog on Medium. Still, it's not too hard, as you'll have plenty of apps and plugins to help you on your way. Sooner than you'll know, you'll be online looking for WordPress themes and SEO tips to help you attract more visitors to your blog. So good luck, and have fun!