Is WordPress Free or Are There Hidden Costs?
Have you ever wondered – is WordPress free? If you're thinking about building a website using the world's most popular content management, this question must've crossed your mind.
Can it actually be true that someone created such a powerful website-building platform and then offered it to the public without asking for any monetary compensation? Well, it can be true, and it is. The WordPress software can be downloaded absolutely free of charge.
But let's take an in-depth look and discover if any hidden (or not-so-hidden) costs await when you start crafting your WordPress website. In order to get to the bottom of things, we'll analyze the following:
For most laymen that want to build a website, WordPress is the natural choice. And why wouldn't it be? You don't exactly have to be a rocket scientist to navigate the platform nor do you need coding knowledge to make your site.
If you type in WordPress in your browser, the top two results you'll get are wordpress.com and wordpress.org. Both are trying to lure you in with their meta descriptions, promising to help you craft your website. So, which one do you pick? Are they one and the same or are there any differences between wordpress.com and wordpress.org (besides the obvious domain extension dissimilarity)?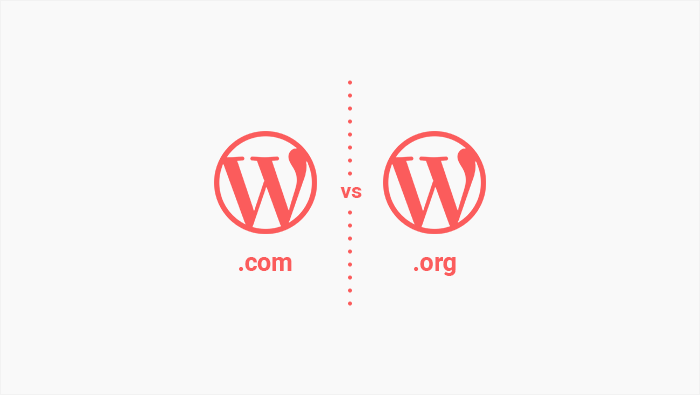 As the linked article suggests, there are multiple differences between the two, but right now we're only interested in comparing the costs. Over on WordPress.org, you can download the full WordPress platform entirely for free. WordPress.com, on the other hand, is a freemium website, meaning that it offers a basic free plan, along with 4 paid plans. To choose between the two, you should first know what you want to do with your website.
If you're looking to start a simple blog, you could go with the free version of the WordPress.com software. But in that case, prepare yourself for quite a few limitations. You won't be able to access the core code (if you're a more advanced user who knows how to code, you might feel the need to change a few bits and pieces) nor the plugins. Ads are also displayed across the screen, and you can't choose a custom domain name.
On the other hand, if you decide to download the WordPress.org software, you'll get a powerful and fully customizable CMS tool you can use for all types of websites, not just for publishing content. And it's not only free as in beer, it's also free as in speech. This means that you have full access to the core code, and can modify it in any way you wish. That's one of the reasons why we're prone to recommending the .org version to all users, regardless of the level of their website-building expertise.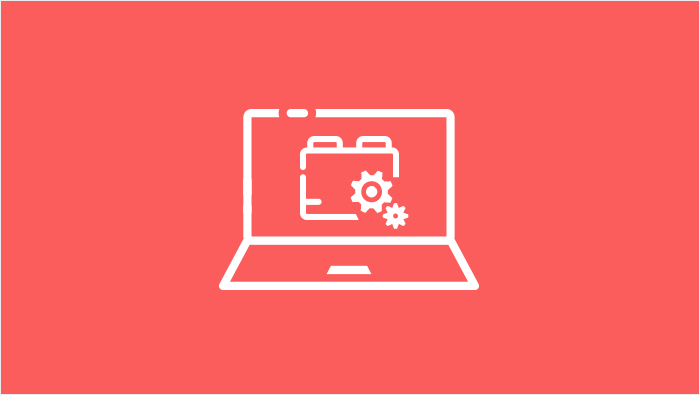 WordPress is an open source software, published under the GNU General Public License (or GPL), meaning anyone can access, modify, and extend it. The same goes for themes and plugins in the WordPress repository, but more on that a bit later.
The software is run and maintained by a bunch of contributors, developers, and testers. Working on WordPress gives them the chance to hone their skills, gain new and practical knowledge, and become a part of the community that's provided the world with such an exceptional website making tool. While they may not get paid for their contribution to the development of WordPress, they do get to know the software inside-out. Given the sheer amount of people using WordPress, some of which are happy to pay for development or customization services, this opens up an entire world of possibilities for anyone proficient with WordPress.
WordPress themes are like skins for your website. They let you easily change the way it looks and works. The safest place you can download them from at no cost is the official WordPress theme directory. Before a theme is added to the directory, the review team needs to verify if it meets the established guidelines. Each theme has to be secure and well coded. The team tests and checks every single element, to ensure it all works without a hitch.
By installing a quality, malicious-code-free theme your website-building experience will be much more enjoyable. Not to mention that by having a well-functioning site you'll also ensure a better experience for your users.
While you can find free WordPress themes for all kinds of projects, to make a beautifully-designed and unique website, consider purchasing a premium WordPress theme. You'll have to shell out a few bucks, but with all the extra benefits premium themes cover, you'll certainly get your money's worth and then some.
To install a WordPress theme, you can use the admin theme search, the upload method, or FTP. If the theme you've installed turns out not to be what you expected, you can simply activate another one.
WordPress plugins make your website more powerful and extend its functionality. Again, the best place to download them from is the WordPress plugin directory.
Currently, there are more than 55k plugins in the directory that cater to a lot of tasks. Whether you want to build an online store, boost your page speed or increase the security of your website – if you can name it, there's a plugin made to do it.
You can download any plugin directly from wordpress.org for free. And in most cases, the free version of a plugin will be powerful enough to meet your needs. But sometimes, if you want to use all of the plugin's functionalities with no restrictions whatsoever, you have to upgrade to the premium plan. There are usually several premium plans available, so even if you're on a tight budget, you should be able to find the plan you can afford.
When choosing a plugin, you should pay attention to a few things. On the right side of the screen, check when the plugin you're interested in was last updated, as well as the WordPress version it's been tested on. It's for the best to avoid outdated and abandoned plugins, as they probably won't function properly when installed.
As with the software itself, you can modify the plugins you've downloaded and even re-sell them, just as long as you release them under the GPL license.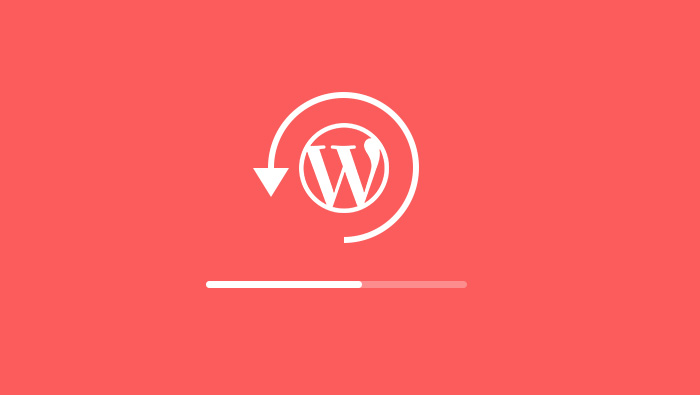 The WordPress software is updated on the regular, and that's important for several reasons. Updates are necessary to keep it clear of security threats, keep it bug-free, enhance its performance, as well as maintain backward compatibility. Some nifty new features are usually added to the software, too.
We strongly advise you to keep your WordPress website up to date. Whenever an update is available, you'll be notified about it (the message will be displayed on the admin dashboard of your website).
You should also keep all your plugins and themes updated. If you neglect to maintain them, they can just as easily present security issues, so make sure to press that Update button whenever possible.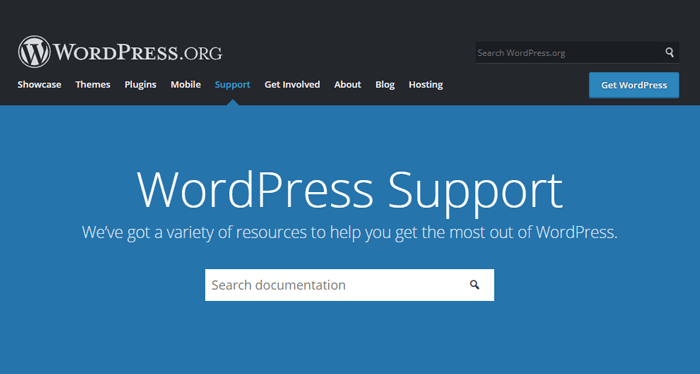 No matter the issue you may run into, there are numerous WordPress support resources you can use to find the answers you need. The knowledge database is divided into categories, such as Getting Started, Installing WordPress, Security, etc., but it's also possible to search through the documentation by keyword (the search field is displayed at the top of the screen).
In case the answers aren't helpful enough or you can't find the solution to your problem, head over to the support forum. Furthermore, if you need help with a specific theme or a plugin, it's good to know you can access the individual support on each theme and plugin's page. The forum is run by volunteers, but even theme and plugin authors lurk around, and sometimes even jump in to give users a helping hand.
When you opt to use WordPress.org, you become the sole owner of your website (or one of your clients does, in case you make websites for others). You get to decide which themes and plugins to use, how to customize them, which elements and functionalities to include. You also have full control over the website's content. What matters is that you follow legal requirements and that your site is within the law limits.
Is There Anything You Have to Pay for to Build a WordPress Site
While you can make your WordPress website for free, there are some things you'd have to spend a few bucks on to make a fully professional site.
First up, to launch an online site, you need a hosting provider and a domain name. Without these two things, visitors won't be able to find and access your website.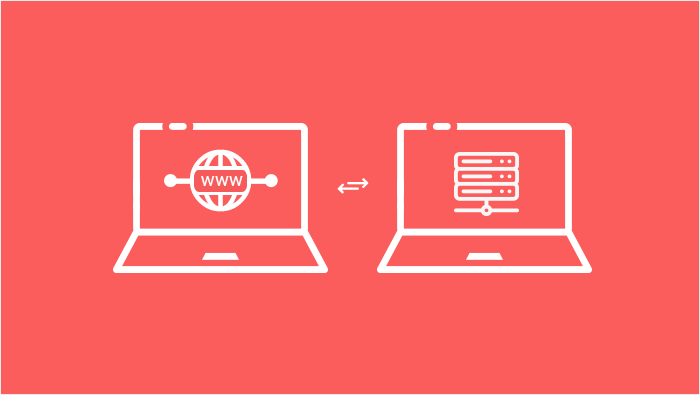 Web hosting comes included with WordPress.com, and so does the domain name. But your website would be just another subdomain on WordPress.com, meaning it would have to include the words "wordpress.com subdomain, unless you upgrade to one of the premium plans.
With WordPress.org things are a bit different. Even though you have to find a paid hosting provider on your own, you're fully in charge of your website and you can set up a custom domain. These are huge benefits, and with that in mind, the hosting costs shouldn't seem too expensive.
When choosing a hosting provider, make sure they have 24/7 support and that they can provide backup services (so you don't ever risk losing any data).
When free plugins don't provide you with enough functionalities, premium plugins come to the rescue. Plugins are essential for adding specific functions to your website and for improving its performance. With that in mind, install only the plugins that are regularly updated and have good reviews.
As we mentioned earlier, another thing you should consider is using premium WordPress themes.
What makes premium themes a good choice? Well let's say you want to showcase your design portfolio. A premium portfolio theme is sure to give you a lot more ways to present your work than a free theme.
The thing is, free WordPress themes may seem like a good place to start, but in order to make a feature-rich, fully responsive, and beautifully designed website, premium themes are the way to go. Considering how many extra benefits they ensure, their prices are usually quite reasonable. Besides a myriad of niche-specific elements, premium themes also come with great support and are kept up to date.
We did say several times that anyone is welcome to improve and modify the core WordPress software, but there are some things you should keep in mind.
The WordPress software and the logo are trademarks owned by the WordPress Foundation and are protected by copyright and trademark laws. This means that you have the copyright to use and alter the software however you want, but you don't have the copyright to the entire code or the WordPress name.
You're also not allowed to use WordPress as a part of your domain name (unless your domain is hosted by WordPress.com, in which case it might even be obligatory), but WP is fine.
As for using the WordPress name and logo for your projects, you need the permission from WordPress Foundation and you must follow the WordPress trademark policy.
As mentioned, WordPress is licensed under the GPL, therefore everything that's made using the WordPress software is also under the GPL license. This means everyone is allowed to use and customize your code, too.
When all's said and done, is WordPress free? This question we posed in the title of this article does seem tricky, especially if we take into account the fact there are two versions of WordPress – WordPress.com and WordPress.org. Both come with the free core software, but our advice is to always go with WordPress.org.
WordPress.org lets you become the captain of your online ship. You also get to use the software for free, alter it, and distribute it without spending a dime. Lots of plugins and themes are also available at no cost. However, don't avoid investing some money in making a truly astounding, professional website that will represent your brand in the finest light. Find a reliable hosting provider (without it you can't go online), get yourself a stellar WordPress premium theme, and make waves online.