How to Require a Terms of Service Agreement in WordPress
With WordPress, you can do pretty much anything. In fact, WordPress comes with a lot of things ready out of the box. By this we mean to say that WordPress's core functionalities are alone enough, with a free theme, to create a perfectly serviceable website. However, in this tutorial, we would like to discuss a thing that does not come ready-made with WordPress: terms of service agreements.
That is understandable, because terms of service (or ToS) agreements can be very different individually, even if the same legal requirements apply. And, reader, as you may guess, they do not: certain jurisdictions will require a terms of service agreement for certain types of goods or services provided. Even if there is no legal requirement, you may want to set things straight for your visitors and improve their user experience.
But before we get into the details of the tutorial, we would like to take some time to discuss what a terms of service agreement really is and whether your WordPress website needs one in the first place. If you feel you are already in the know about the basics, skip the intro sections and click right through to the tutorial section you need.
Here's what we'll be talking about: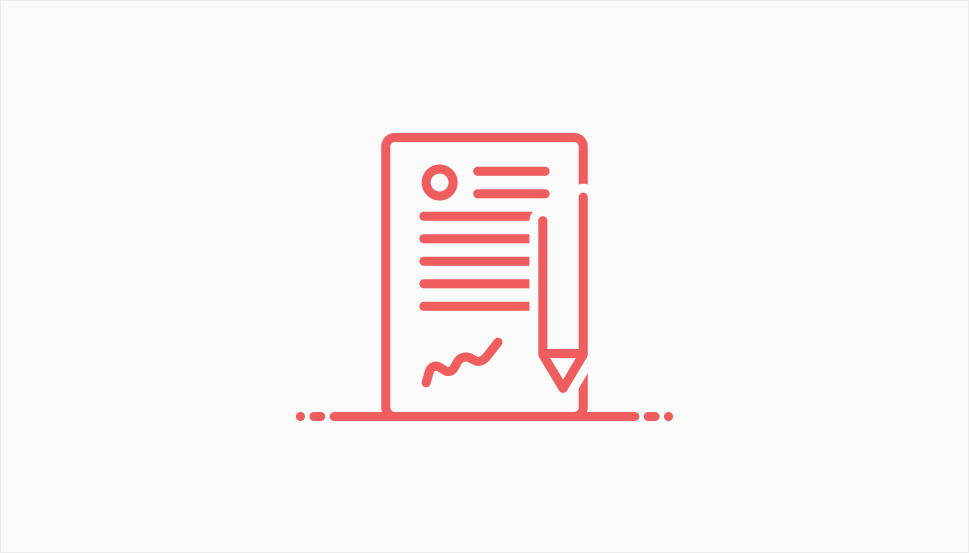 Generally speaking, a terms of service agreement is a contract entered by a service user and a service provider. It defines the conditions which the user must accept before using a service. Such conditions may apply to the user themselves, such as age, delivery address, or nationality requirements, for instance, or the service, as is the case with delivery times, money-back guarantees, and similar.
In certain cases, a user is required to accept a terms of service agreement explicitly, but in certain jurisdictions, a user is implied to have accepted terms of service simply by virtue of their accessing a website or requesting a service. This is what is meant by the line "terms and conditions apply" which you can hear in advertisements.
Which requirements or conditions are in place in your specific case is a matter of applicable law, and we cannot and do not dispense legal advice. This article is a discussion of terms and their general meanings in the broadest sense.
As we've intimated in the previous section, it may be that for the type of product or service you provide through your website, a terms of service agreement is required. For example, if your service involves the use of personal data of EU citizens, it means, among other things, that they should expressly agree with your using their data. If that is the case, you want to make sure your website is GDPR compliant. For another example, take CCPA, the Californian data protection act. While you may not be particularly interested in doing business with Californians, the internet is everywhere, and they might want to do business with you. That means you'd do well to make your website CCPA compliant, too.
There are reasons to set up a terms of service agreement even if it is not required: you want to make sure your visitors have a clear understanding of what they're getting into with your website. Or, failing that, that they have a clear idea of where to find your terms of service, because, let's face it, very few people actually invest any time into reading the terms of service. It also serves as a means of limiting liability: if you've done your best to present your terms of service to the visitor, you can hardly be accused of obfuscation.
So, if you feel you need or can make use of a terms of service agreement, just keep on reading.
On the face of it, a terms of service agreement is just a piece of text. Notionally, an agreement is reached by two or more parties, but, in the case of terms of service agreements, it's take it or leave it. The reasons for this are both efficiency and consumer protections – you want a service to be the same for each paying customer.
That said, to actually formulate a terms of service agreement, you really need help other than ours. You need to find professional legal advice and construct your terms of service judiciously. A plugin may work, as we will demonstrate below, but boilerplate legal text may not remain compliant with shifting regulations indefinitely. Consult a compliance expert, it pays in the long run.
As for applying it on your website, you can force your customers to accept a terms of service agreement by ticking a box on the login popup, you can link to them where necessary (possibly as an anchor link), if they are set out as part of your legal pages, or you can include them in forms. You can also add a signature to a login form, just to make extra sure your visitors have accepted the terms.
What you should do depends on whether there are any firm requirements. If there aren't, you still need to take your website design and layout into consideration.
Finally, we will be showing you how to generate a terms of service agreement page automatically, using a WordPress plugin. The plugin we will be using is WP AutoTerms. This free plugin lets you add a terms of service agreement to your WordPress website, as well as a privacy policy, though we won't be covering that in this tutorial. The first thing you need to do is install and activate the plugin.
After having done that, navigate to WP AutoTerms/Add Legal Pages from your WordPress dashboard.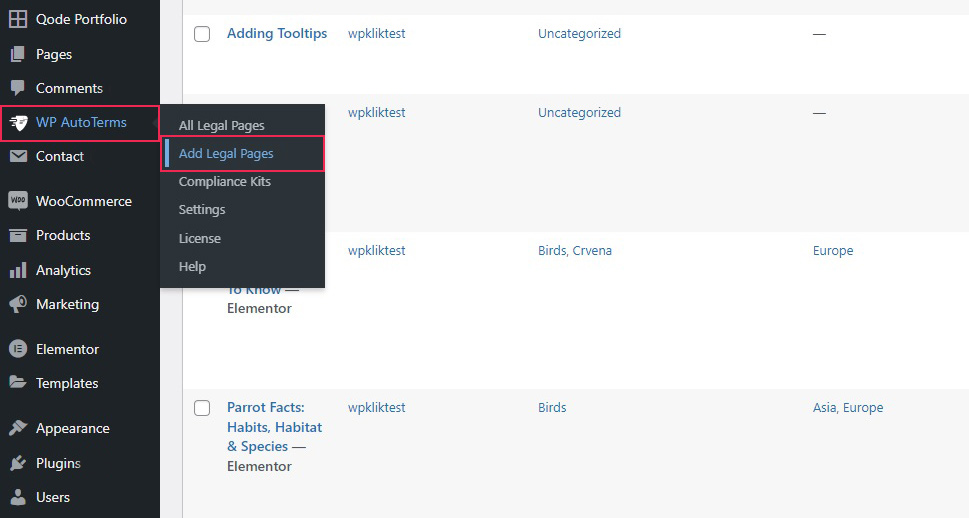 Next, find the Terms and Conditions box and click the Create button.
On the next screen, you need to fill out a form with your website's data and preferences. We have gone with some placeholder terms, but you, of course, need to enter your own website's data.
Once you have filled out the form, click the Create button on the bottom of the page.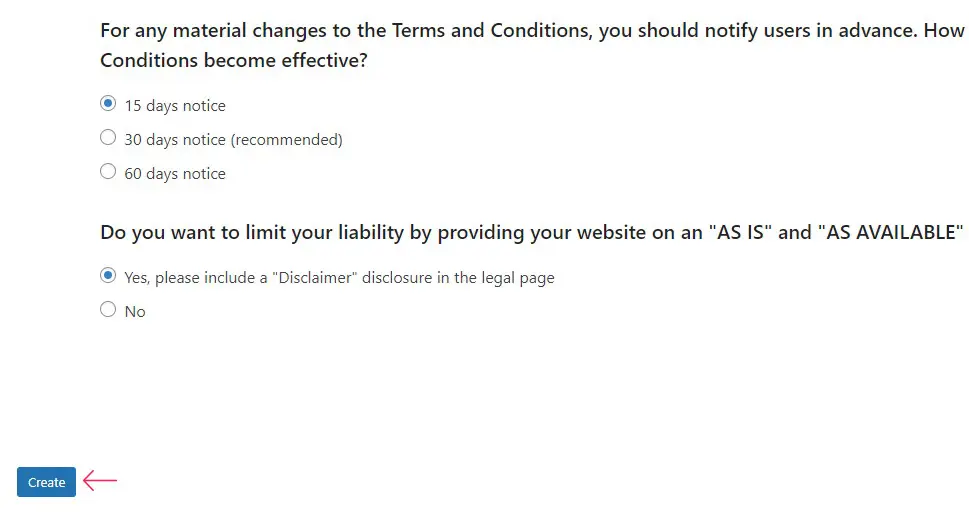 You will then be taken to a page editor where you can review and make changes to your website's terms and conditions text. Once you are satisfied, click the Publish button. Your Terms and Conditions page will be accessible at the permalink given below the page title.
You can then include this page as part of a form or link to it like you would any other page. If your goal is to require that your visitors have accepted the terms of service explicitly, you can set up a link to the page and require your visitors to tick a check box next to a link to it and make it compulsory for the form.
As you can see, there is a lot to be said about terms of service agreements. Creating and implementing them is not technically difficult: there is little more to it than creating a page. However, that you get what you pay for is as true in law as it is in other fields. We can discuss terms and conditions in broad terms, but we could never draw them up for you. A plugin can, to a degree, but, as we've said before, regulations may shift before the plugin developers make updates, and you would still have to keep an eye on that. Besides, the plugin we have been discussing only has GDPR- and CCPA-compliant pages as part of the paid version. For best results, find professional help. Expert advice cannot be substituted.