6 Best Coupon Code Plugins for WordPress
Everyone loves discounts and special offers, right? Whatever type of product you're selling, adding discount coupons to your online store is a great way to promote your website. By extension, it is also an excellent strategy to increase your sales and keep the customers coming.
There are many online store WordPress themes that come integrated with the WooCommerce plugin which contains all the essentials for a user-friendly and functional online store, including the built-in coupon feature. However, there are some third-party WordPress coupon plugins that offer advanced coupon features for an even better result.
So, to help you boost your sales and attract more customers, we've narrowed down a list of some of the best coupon code plugins for WordPress on the web.
Why You Should Include Coupons on Your WordPress Site
Just as we already mentioned, having some type of discount or a limited-time offer on your website ensures customer loyalty and engagement and has a huge potential for boosting your revenue. The reason behind this is simple – everyone likes to save money, as we can see from some of the available coupon statistics. Adding an exclusive offer that will allow users to buy certain products at a much lower price not only gives you the potential to make more sales and conversions, but also brings you more opportunity of gaining more regular customers in the long run.
Here are our picks of the top coupon code plugins for your WordPress website: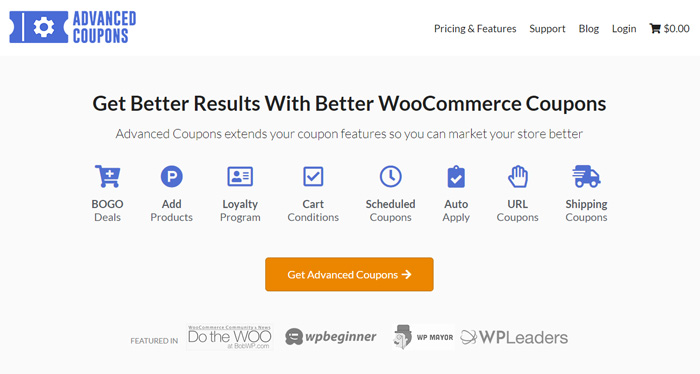 After learning all you need to know about WooCommerce and launching your eCommerce store, it's time to also put up some special offers for your customers. And Advanced Coupons is perfect for the job, being one of the best WordPress coupon code plugins for WooCommerce around. It comes with some advanced features, such as the possibility of creating so-called BOGO or "Buy One Get One" deals (with single products, groups of products, or whole product categories), and creating coupons that automatically add products to the cart (for free or with a discount). In addition, the Loyalty Program feature will reward your customers with loyalty program points they can later use for coupons. Also, with the Scheduling feature you will get to send out coupons at certain predetermined times, and with a message, too.
The price of the plugin for a single site is $39.50 a year.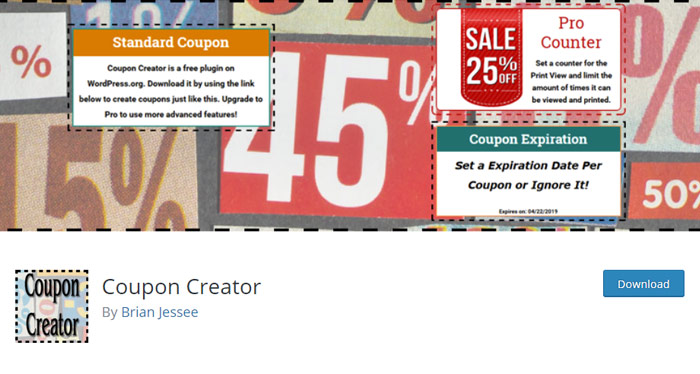 Coupon Creator is a WordPress plugin that uses a coupon custom post type for creating and publishing coupons. You can easily insert the coupon into your page or post using the shortcode inserter above the content editor. Your coupon will get displayed until its expiration date that you can specify yourself, or you can choose to ignore the expiration date and display the coupon without assigning the date at all. Coupon Creator is also integrated with WooCommerce, which gives you the option to create WooCommerce-based coupons and add some exciting new features compared to the standard coupons that come with the WooCommerce plugin. There's also a Print View for users who want to use the coupons in person.
When it comes to Coupon Creator Pro features, they include 4 advanced templates, the Click Reveal feature that reveals a hidden code when clicked (the feature can track the clicks, open a link in a new window, etc.), and more. The Starter License is available for $34 a year.
WP Coupons and Deals is a coupon code WordPress plugin ideal for promoting affiliate coupons and deals on your WordPress website. The plugin helps you generate more revenue by making sure that the users click on the affiliate coupon link. What's also specific for the WP Coupons and Deals plugin is that it's extremely lightweight, offers a fast loading experience, and comes with an attractive and responsive shortcode that you can insert anywhere on your page or post directly from the post editor. You also get a widget in case you want to display your coupons and deals in any widget area of your site.
Pro version features include the ability to hide coupons (which means that the users have to click on the affiliate link to see the coupon code), coupon expiration countdown, coupon templates, and so on. The pricing starts at $29.99 for a single site.
As (another) WooCommerce-based plugin, Smart Coupons for WooCommerce also provides additional features to complement the original WooCommerce coupon functionality. Its main features include the ability to view applicable coupons from My Account > My Coupon, embed multiple giveaway products in one coupon, and coupon restriction based on various checkout options (which means the coupons will be applicable if they meet specific criteria, such as the shipping method, payment method, etc.), among others.
There is also a premium version of the plugin that allows you to configure the coupons with extensive usage restrictions and checkout options, create and manage bulk coupons with add to store/email/export to CSV options, impose coupon usage restrictions based on the country or location with the shipping or billing address (aside from the default restrictions), and more. You can pick three different license types, with the Single Start license having a cost of $69.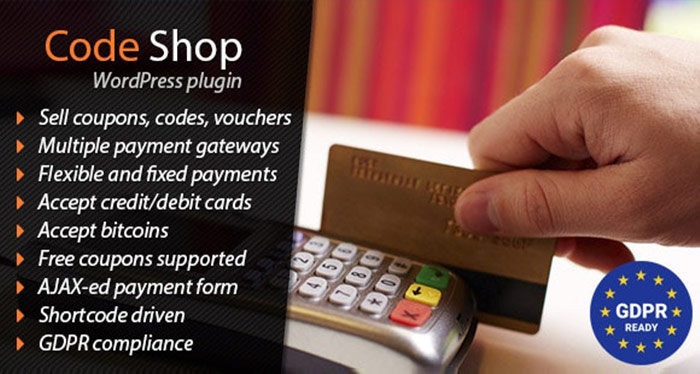 Code Shop for WordPress is another powerful plugin that allows you to sell codes for coupons, vouchers, or licenses directly on your WordPress website. It can handle payments through multiple payment gateways (such as PayPal, Payza/AlertPay, Authorize.Net, BitPay, and Stripe, and you can even accept Bitcoin). The plugin can be easily inserted into your WordPress pages with the help of a shortcode. You can distribute unlimited numbers of campaigns, get multiple currency support (any currency supported by payment gateways), a fixed and flexible price support (though you can distribute coupons for free as well), and more. Last but not least, the plugin is easy to install and is also translation-ready.
The cost of the regular license is $21.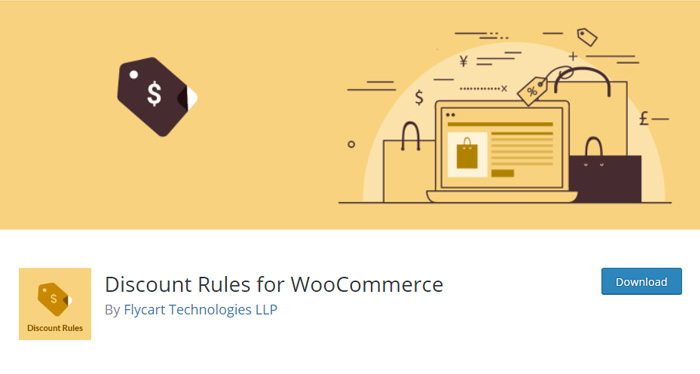 With over 20,000 active installations on WordPress.org, Discount Rules for WooCommerce by Flycart is a popular plugin that lets you create any type of discount for your website, including percentage-based discounts, quantity-based discounts (for example 10% off for buying three to seven items), cart-based discounts (e.g. 10% off for purchases over $1000), and so on.
The Pro version comes with additional features that enable you to create Buy One and Get One (BOGO) free deals, fixed price discounts, the ability to set category-specific discount conditions (for example, getting 20% on all items in a certain collection), and many, many more. A single site license costs $49 per year, and also includes 1 year of support and updates.
When making this list, we made sure to include both premium-only plugins, and plugins that offer a free basic version for those on a tighter budget, too.
In any case, if you pick one of the coupon code plugins from this list, you'll get an excellent tool for building customer loyalty and increasing your sales through exciting promotions and other sweet deals.