5 Best URL Shorteners for Tracking Links in WordPress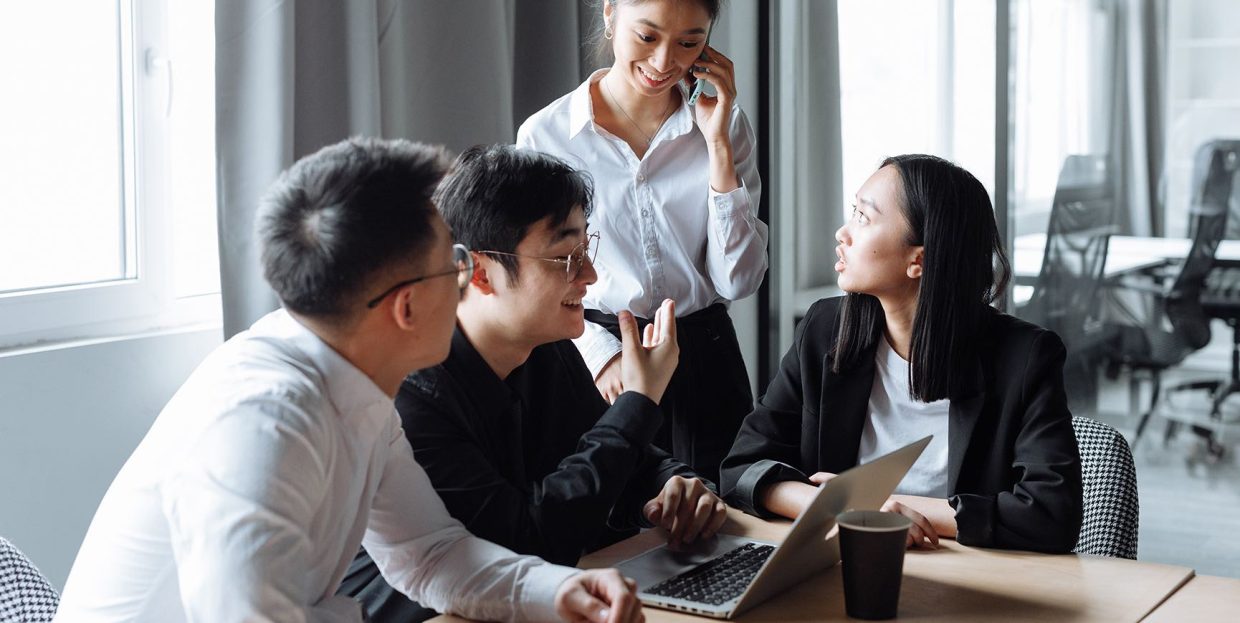 Best practices (and personal experience) tell us that URLs should be as short as possible. But you can't always make them short. The protocol, the domain name and the path to the web page – these are the essential parts of an URL, and not all of them can be changed. The domain name is what it is, and can't be changed for URL purposes, otherwise the link wouldn't work. It's not always possible to make the path very short either, since it needs to contain a brief info of what the page is about. In fact, creating an URL with an SEO-friendly structure is an important part of the SEO set of techniques and practices.
So, creating a short URL just for the sake of shortness is probably not a very good idea. Fortunately, there are ways to make a URL shorter or to cloak it (even with branded words, if that's what you need) while keeping the structure intact for the search engines to index, and to help you track link clicks at the same time.
What Are URL Shorteners and How Do They Work?
A WordPress URL shortener (or any other shortener, for that matter) follows a quite simple concept: they are tools that change or mask your URL and make it shorter. The resulting short URL appears completely different, but it still takes the visitors to your page. The URL shorteners work by creating a redirect, basically a 301 redirect. The new, short link redirects users to the original long link.
URL shorteners are useful for when you don't want to display the actual URL for whatever reason. Most commonly, it's because the link is too long, and it's not convenient for social media sharing, where the character count is usually limited and you want to save as much space as possible.
URL shorteners are also commonly used to mask affiliate links and make them more natural and appealing.
In addition to shortening the URL, many of the WordPress URL shorteners also provide insights about the clicks on the link and other data. Some do it within your own WordPress dashboard, and some have their own admin area where you can track the clicks.
We have a full guide on creating WordPress shortlinks where you can see some of the best tools in action. And to help you pick the best shortener for your needs, we've made a short list of our favorite shorteners: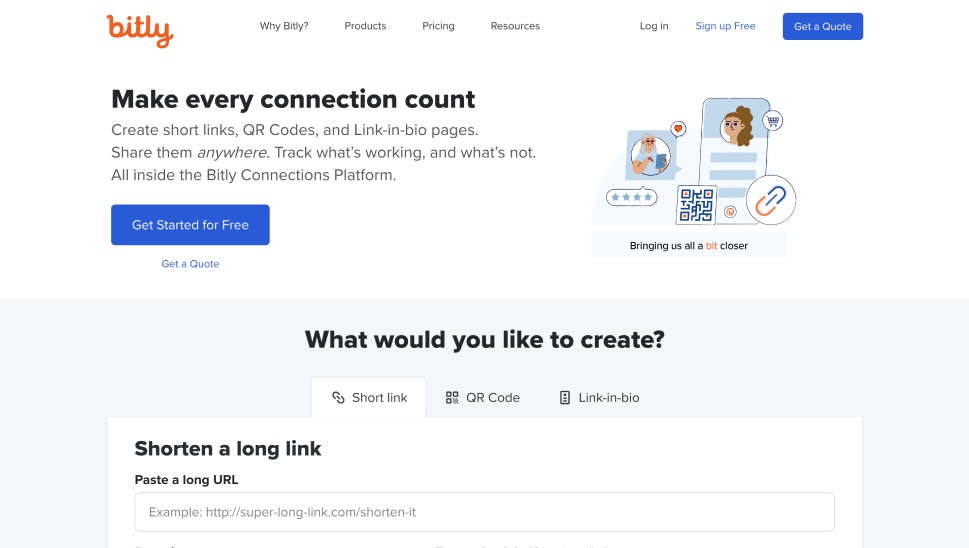 We'll kick off the list with a classic URL shortener you're probably already familiar with. Bitly is widely used for shortening links for social media needs. It's an online tool that previously didn't require even a signup, and it was completely free. Today however they've expanded to QR code generation and link-in-bio pages and while they still let you get a shortlink for free, you will need to sign up.
The free version allows you to create a custom link with the bit.ly domain and a short second part that can be customized if you want. With the free version you can create up to ten shortlinks per month, two QR codes and one link-in-bio page. It also features a UTM builder.
Paid versions offer more links per month, plus click and scan data. The cheapest plan costs $8/mo, and the Enterprise one, which includes custom campaign-level tracking and 3,000 links per month, will set you back $199/mo.
There used to be an official Bitly WordPress plugin but at the time of this writing it has not been updated for quite some time. The online tool will do the job just as fine.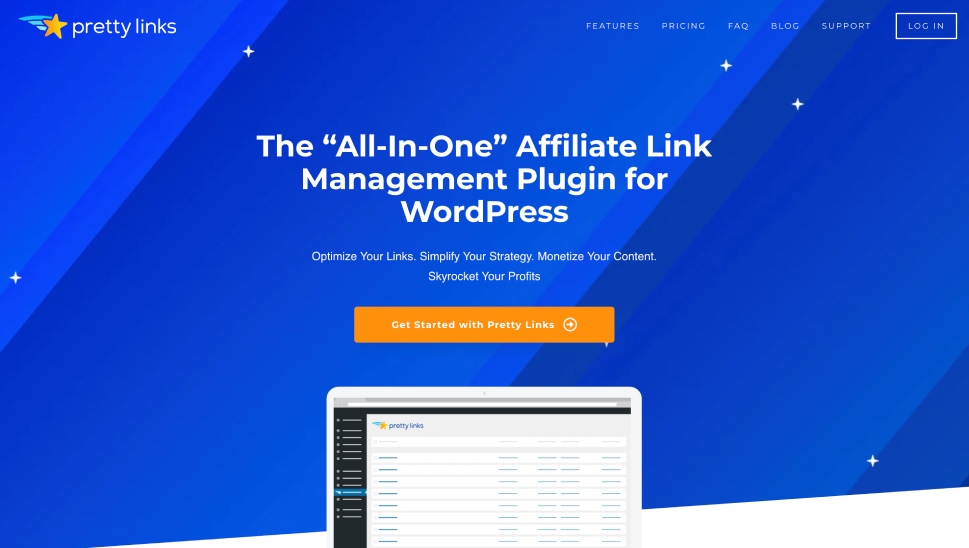 Pretty Links is a WordPress plugin for affiliate link management. Its main objective is to help users cloak their links without having to resort to third-party shorteners or roll out your own PHP script for redirecting URLs.
With Pretty Links, you simply install the plugin, and gain full control over your links for social or affiliate right from the dashboard. The links can also be grouped or sorted and there is, of course, the click tracking functionality, all in one place.
Redirection options include permanent (301) or temporary (302/307) redirects, as well as more advanced JS, Meta Refresh and Framed Cloak redirects.
Another interesting feature of this plugin is that you can use it to automatically add relevant links to your posts. You can associate a link with a number of keywords and the tool will then scan your entire website and replace the keywords with the link in all pages and posts where the keywords appear.
Pretty Link has a free version, but it's a bit basic. Paid plans start at $99.50/year for the Beginner version, and large affiliate websites may want to use the Super Affiliate plan for $199.50/year, which allows for managing up to 5 WordPress sites.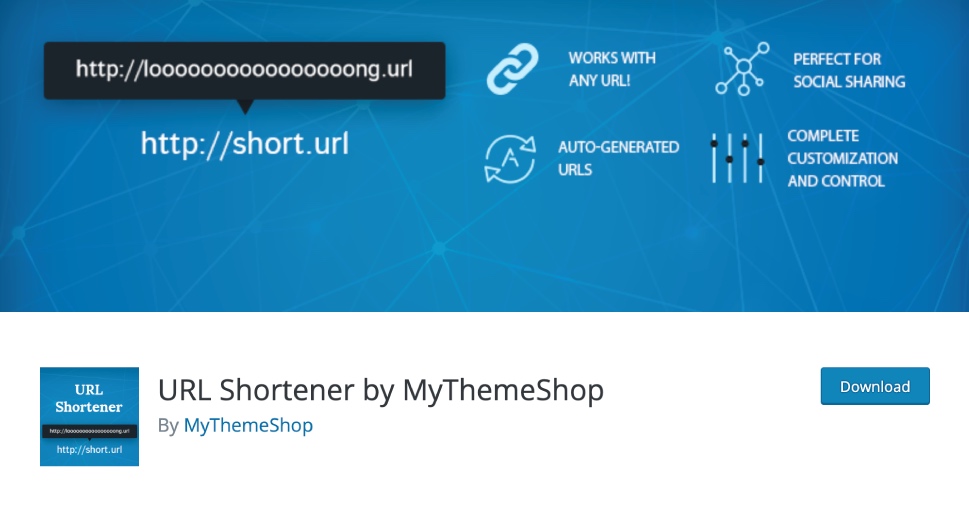 URL Shortener by MyThemeShop is a reliable, quick and simple plugin for shortening your URLs right from your own website, without the help of a third-party solution. The shortened URLs load faster than with online shortening services, and the plugin offers more customization options too – the shortlink can contain words or terms of your choice, instead of random numbers and letters or third-party branding.
This plugin also allows you to track the clicks of your links on different social media platforms, in real time. You can use it to cloak external links in your content, too, as well as your affiliate links.
The shortlinks can be organized into categories, which is very useful for affiliate websites where it can get hard to keep track of all the links. In addition, there's also an option to scan your content for certain keywords and automatically replace them all with a link.
URL Shortener by MyThemeShop is a completely free plugin, and it's quite lightweight and easy to configure.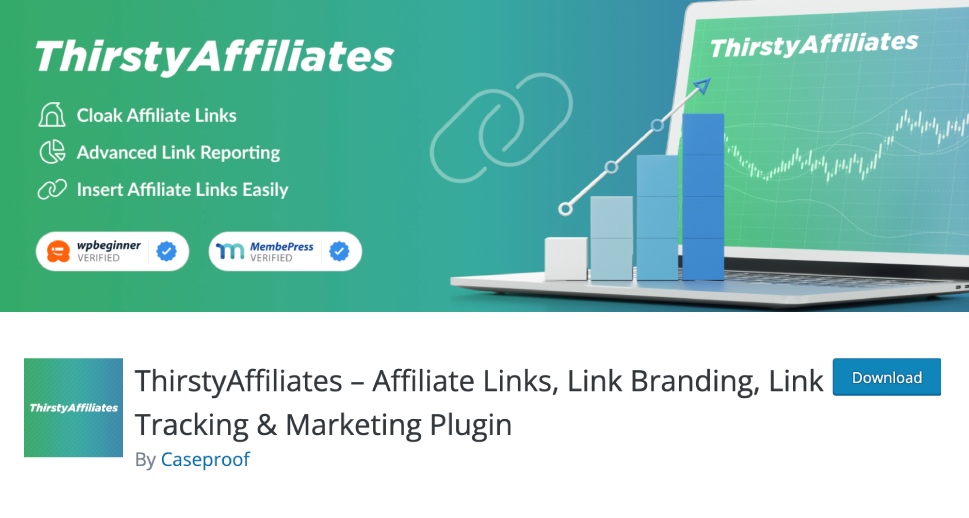 ThirstyAffiliates is one of the leading affiliate link management plugins for WordPress. This powerful plugin cloaks long and unsightly affiliate links (that people often don't want to click on) and transforms it into elegant, more convenient and engaging URLs. It prevents affiliate link theft and streamlines the insertion of the links into your website content.
The plugin has an autolink keyword feature in which you provide a set of keywords and the plugin then automatically links them throughout your website. There's also the proactive link fixer, a feature that checks your links for changes and updates and fixes them when necessary, thus preventing you from losing commissions due to broken links.
Those working with Amazon will probably appreciate the smart uncloaking feature that uncloaks links in order to comply with Amazon's terms of service.
Finally, ThirstyAffiliates integrates with MonsterInsights and automatically sends link click events to your Google Analytics account. On top of that, you also get analytics and reports from the plugin itself, on a regular basis, plus regular email reports.
The basic plugin features are available in the free version (cloaking, categories, uncloaking and safe redirects), but for the full set of features, you might want to check out one of the paid plans, which start at $79.50/year.
Jetpack is probably one of the most well-known and loved WordPress plugins. This powerful multi-purpose plugin is geared towards security and performance, and has some excellent marketing functionalities, too. One of the features you'll get to use if you opt for Jetpack is WP.me Shortlinks, a tool that lets you create shortlinks directly from your content editor. You can then use the shortlinks for linking in your content or in your social media posts.
This is the perfect solution for those who are already using Jetpack or are planning to install it for its other features. In that case, you won't have to invest anything for the shortener, and it will also be faster and more reliable than using online shorteners. On the other hand, this plugin doesn't offer link tracking, smart cloaking, redirecting options, custom branding or automated keyword linking.
Jetpack currently costs $9.95/mo for the Security package and $24.95/mo for the Complete package.
In this article, we made sure to cover all the options and needs you might have from a URL shortener. If you're looking for a quick and free solution, go for Bitly or URL Shortener by MyThemeShop. Jetpack has a shortener feature so if you're already a user, this is your best option. Pretty Links has some neat advanced features for smart cloaking and linking keywords, while ThirstyAffiliates is the perfect choice for affiliate websites.
If you know of a URL shortener we didn't mention in this article that you feel merits a spot, give us a shout in the comments!