How to Create Custom Shortlinks in WordPress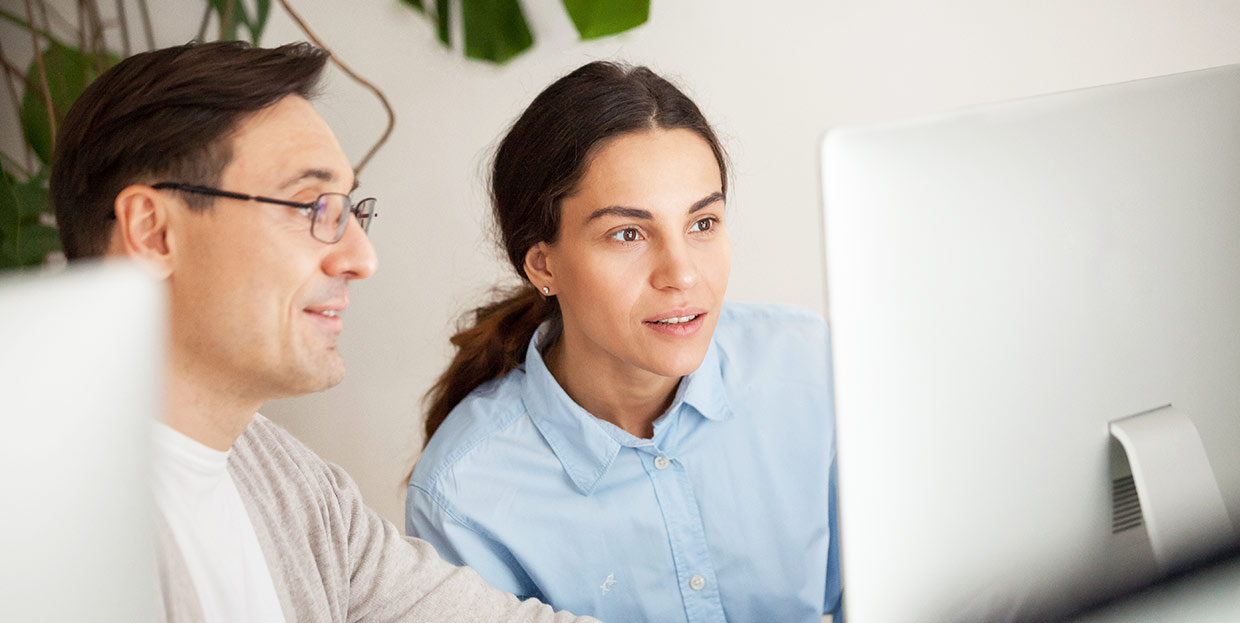 One of the first things people notice about your website is its URL. Despite this, URLs are often regarded as minuscule, insignificant, and are often treated as an afterthought. In reality though, choosing the right URL can play a significant role in your website's success.
The shorter the URL, the better. If you're thinking of launching your own website, this is one thing you should keep in mind. And it'll pay off, big time.
In this guide we'll show you how to create custom short URLs in WordPress. But, first things first. Let's start by highlighting all the benefits of using short URLs.
Why You Should Use Shortlinks in WordPress
Using shortlinks a.k.a. shortened URLs has multiple advantages.
Shorter links are easier to remember. As such, they help raise brand recognition and awareness. For this reason, almost all large companies prefer to use so-called domain hacks on social media. A domain hack is when two or more words are combined (usually a brand name and a domain TLD), so that together they form a recognizable word or phrase. For instance, the domain hack for The New York Times is nyti.ms, for YouTube is youtu.be, Pepsi is using pep.si, Facebook is going with fb.me, and so on. Not only are their URLs already short enough, but they take things further by shortening them even more on social networks. As soon as we see these branded URLs, we recognize the company behind them, and that's what you want for your brand, too.
If the link is too complicated and too long, no one will be really keen on pressing the Share button. People care about what their profiles on social media look like, so the chances of posting a link that goes something like o.co/cbnJUnMndjOI/daskj97847 are really slim. Let's be honest. When we see a link like that, we'll probably think that it's spam, and we'll avoid clicking on it. But short, sensical URLs are a whole different story. They are a good thing for your business because they increase the chances of others sharing your content, so more people will become familiar with who you are and what you do. And that brings us to our third reason why short URLs are great for your website.
One of the most famous URL shorteners on the web is Bitly. This website has conducted a study to find out whether people are more likely to click on branded links rather than on non-branded ones. The results showed that branded short URLs brought an increase of 34% in CTR (click-through rate). The research included the links shared both by the brands themselves and by their audiences. It is obvious that using branded links can help you achieve higher conversion rates, and increase user engagement.
Most URL shortener services, besides shortening your link, can provide you with additional data and statistics, such as the total number of clicks, user's IP address, etc. By keeping an eye on the results and by getting to know who your audience is, you'll be able to tailor your marketing strategy better, which could ultimately bring you more business success.
Now that we know just how big a difference a short URL can make, let's discover how to create them in WordPress. There are three ways we can go about that – by using plugins (we'll focus on the Pretty Links plugin), by using shortening websites, and by buying a short domain.
How to Create a Custom Short URL With the Pretty Links Plugin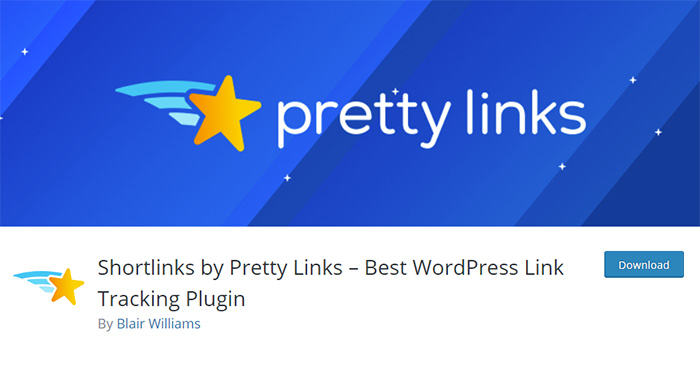 Pretty Links is an impressive WordPress plugin that lets you effortlessly shorten your URL inside of WordPress. With more than 200,000 downloads, this is one of the most popular plugins of its kind, which is why we decided to fully focus on it. You can download it for free, or buy a pro version, which gives you a bit more options. There are three pricing plans available: for beginners ($99), marketers ($149), and super affiliates ($199). But, even if you decide to stick to the free version only, you'll still be able to shorten your URL and clean your affiliate links.
Once you install and activate the plugin, go to Pretty Links > Add New. Next you'll see three types of settings: basic, advanced, and pro.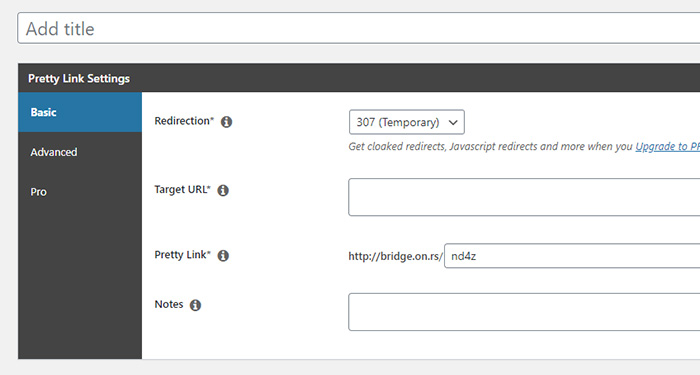 To get the pretty link, click on Basic Settings. Enter your target URL, set the pretty link, and add some notes if you like. There's also the option to choose the redirection type, and you can set a 301, 302, or 307 redirection. The latter is already set by default. When you're done adjusting the settings to your liking, press the Create button.
In Advanced Settings you can decide whether you want to add a no follow and sponsored attributes to your link, as well as enable parameter forwarding, and link tracking.
To see how many people have clicked on your link, choose the Clicks option from the menu. You can customize the report by choosing the type of clicks you'd like to keep track of (all or unique clicks), and you can also set the date range. The report also shows the user's IP address, timestamp, URI, referrer, and the link page title.
As a pro user you can add categories and tags to your links, as well as get reports, set link expiration date, enable auto-link keywords, and much more.
Creating Short URLs Using Online Shortening Services
Creating Short URLs With Bitly
To start using Bitly, you need to create an account first. Once you do that, you'll be able to access the Bitly dashboard.
At the right-hand side of the screen, look for the Create button. Click on it to start creating short URLs. The free version of Bitly allows you to create a total of 1000 shortlinks, and 50 branded links.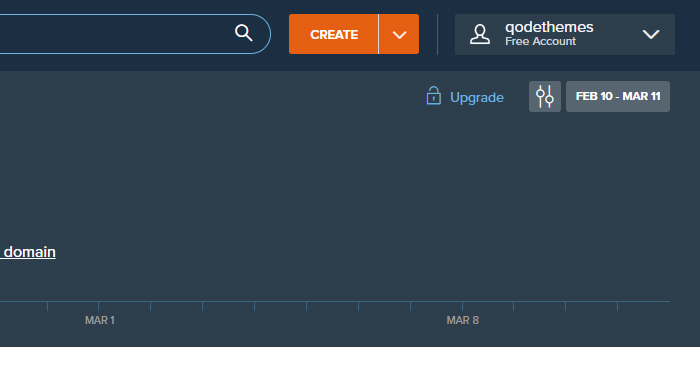 In the Paste Long URL field enter the URL you'd like to shorten.
Next, add the title and customize your link by modifying the back-half of it. You can also add or create tags.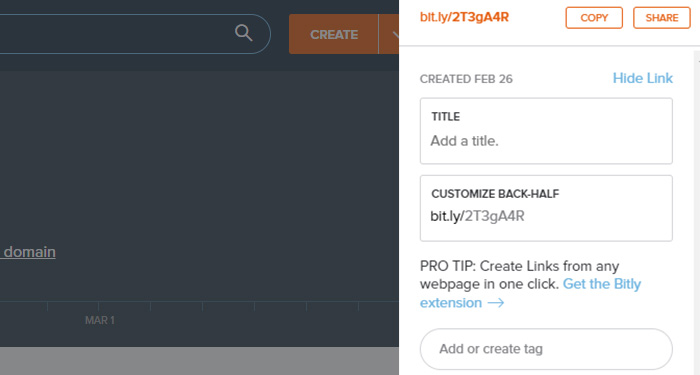 At the top right corner there's also the Share button. Click on it to connect your Bitly account to Twitter, and increase the shareability of your URL.
When you're done creating your first link, Bitly will allow you to track clicks, top referrers, and top locations. If you have multiple custom URLs, you can filter them by users and tags. There's also the option to track only custom or only hidden links.
Bitly also comes available as an add-on for your browser. If you decide to use the extension, you'll just have to sign-in to your Bitly account. The Bitly icon will then appear in your browser, next to the Search bar. Whenever you wish to create a short URL for a web page of your choice, click on the icon, and you'll be able to see a set of options that come with the extension on the right-hand side of the screen.
Creating Short URLs With TinyURL
TinyURL is a great solution if you want to quickly shorten an URL, since no account creation is needed nor possible. If you like, you can even modify the slug that comes after tinyurl.com. It's simple, fast, and efficient.
The only downside to using TinyURL is that it doesn't have a tracking option, so you won't be able to see how many people have clicked on your link, nor their IP addresses.
Specialized websites and plugins are undoubtedly very helpful in terms of obtaining short URLs. But if your domain name itself is long, you may still be stuck with a long URL, even after shortening it. That's why it'd be great to start off with a short, branded URL domain.
Short URLs can be highly beneficial for you and your business. They can be a big game-changer, as they help raise brand awareness, make link sharing easier, and indisputably increase your CTR.
Avoid confusing or scaring people off by using nonsensical and spammy-looking links. You want to leave a good impression on everyone, and for people to talk about you and your content. Some of the suggested URL shortening methods also allow you to track and monitor certain metrics. That'll give you an insight into who your audience is, so you can tweak your business strategy accordingly.
No matter the method you choose, think logically, create short URLs, and watch your website expand.