6 Best WordPress Contact Form Plugins
Contact forms are a medium that ensures people can easily reach you directly from your website. And if you're serious about making it in any business, staying connected to your audience is key.
Contact form is pretty much a set of specific questions on your website that the visitors should fill out. You may need it to get their feedback on the services you provide or allow them to ask you questions about your brand.
You may think – but with all the social media channels and email, do I need a contact form?
The thing is, contact forms are far more practical than emails since they keep prospects on your site. Plus, there's no risk of having your email box cluttered with spam content. As for social media, well, some people dread it, while others may not feel comfortable with using their social media profiles to contact a stranger.
Most premium themes come with the contact form already built-in, but if yours doesn't and you wish to add the form on your own, you can do that by installing a plugin.
In no particular order, we present to you the 6 best WordPress forms plugins you can use to make yourself reachable at all times:
Gravity Forms is a premium drag-and-drop plugin and one of the best ones you can use for your site. The prices range from $59 to $259 a year, but this plugin is definitely worth your money.
There are more than 30 form fields to choose from, so you can easily create various types of forms, such as contact forms, application forms, surveys, etc. Furthermore, you have the option to hide or display certain fields depending on the user's answers in previous fields. This handy feature is called Conditional Logic.
Gravity Forms allows you to create an unlimited number of forms, build multi-page forms, prevent spam, and much more. It's also automatically updated.
Like the other plugins we reviewed in this article, Gravity Forms, too, allows you to create unique confirmation and notification messages.
Depending on the pricing plan you choose, you can integrate it with numerous third-party services, including PayPal, Stripe, Authorize.Net, MailChimp, FreshBooks, and many others.
Gravity Forms is an excellent choice because:
It's simple to use due to its drag-and-drop builder
It comes with numerous practical integrations
There are no limits as to how many forms you can create
It allows you to enable conditional logic for a form field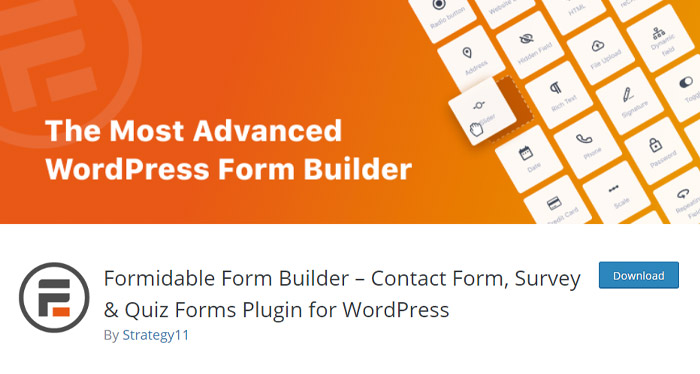 Discover Formidable, another terrific freemium drag-and-drop plugin.
Three pricing plans are available, with the prices ranging from $99.38 to $399.53, but even its free version packs quite a lot of practical features.
The interface of Formidable looks beautiful and neat. There are multiple pre-built form templates you can start with, such as a simple RSVP form, party invitation RSVP, vendor contact information form, family reunion registration, parental consent, etc. Of course, many more become available if you decide to subscribe to one of the premium plans.
Formidable Lite (the free kind) lets you add basic fields to your form, decide what should happen upon form submission (you can display the confirmation message, redirect users to an URL, and show them the page content), set the confirmation message, send emails to users, etc.
The Lite version also comes with a lot of customization options that allow you to style the form to your liking, including form fields, buttons, textual content, and more.
Like most other plugins from our list, Formidable integrates with numerous premium add-ons – with more than 30 of them, to be exact. The premium version of the plugin also includes conditional logic, conditional logic notifications, the possibility to schedule forms, track users, create multi-page forms, get statistics, and more.
You should consider opting for Formidable because:
Even the free version of the plugin is stacked full with all the features a good contact form needs
It packs a rich assortment of predesigned contact form layouts
You can block spam simply by adding the reCAPTCHA field to your form
Styling your form however you please is easy with the Formidable's editor
The premium version includes a myriad of add-ons, conditional logic options, and much more.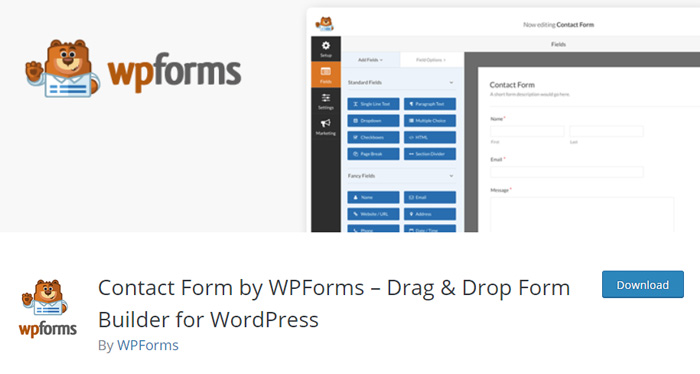 With over 3 million downloads from the WordPress plugin directory, WPForms is one of the most popular contact form plugins in the world.
Finding your way around it is simple, even if you're totally new to WordPress. The interface of this drag-and-drop form builder is clean and uncluttered. Every option comes with a short explanation, so it's easy to understand what you can use each element for.
As you start creating your new form, besides giving it a name, WPForms lets you choose between several form templates, depending on what kind of a form you wish to make. You can go with the blank form and create everything from scratch, but using templates could be a wise decision, especially if you don't know where to start. Forms are fully customizable, meaning you can add or delete some fields, but also modify them to your liking.
With WPForms, you have the possibility to send a tailored confirmation message to users once they fill out your contact form. Additionally, you can also send out emails. Spam messages are automatically blocked.
Another useful option that WPForms provides is the possibility to import contact forms you've previously created using some other plugins, such as Contact Form 7, Ninja Forms, etc.
The downside of using this plugin is that its free version doesn't pack that many elements. To make it more powerful and feature-rich, you need to install add-ons, but sadly, they're available only for premium users. The prices for the pro version of WPForms at the moment range from $39.50 to $299.50.
To sum it up, the benefits of using the WPForms plugin are:
Drag-and-drop form builder
Prebuilt contact form templates
The possibility of importing contact forms from other contact form plugins
Its power can be augmented by using premium add-ons
Ninja Forms is another powerful freemium drag-and-drop plugin. The free version is available from the WordPress plugin library, while the prices for the premium version currently go from $49.50 to $249.50.
The free version of NinjaForms can help you build a contact form that contains quite a few options. You can insert a myriad of different fields without any limitations whatsoever, including more common ones such as the single checkbox and date options, to various user information and form layout fields. The anti-spam feature is also available and it can be added to each form by setting up a specific question and specifying the correct answer.
All fields are customizable, meaning you can configure the form to look the way you imagined.
Ninja Forms also comes with the handy import/export option, that allows you to move forms and favorite fields from other contact form plugins or WordPress sites (in case you run several of them).
However, to enhance the power of NinjaForms, you need to install premium add-ons. For example, you can enable payments via PayPal or Stripe, file uploads, integrate your forms with MailChimp, and more, but all that comes with a price tag.
Overall, NinjaForms is great because:
It comes with the drag-and-drop form builder
There are no limitations regarding form fields you can use
All fields are customizable
It features the import/export form and favorite field option
There's a plethora of premium add-ons you can add to your form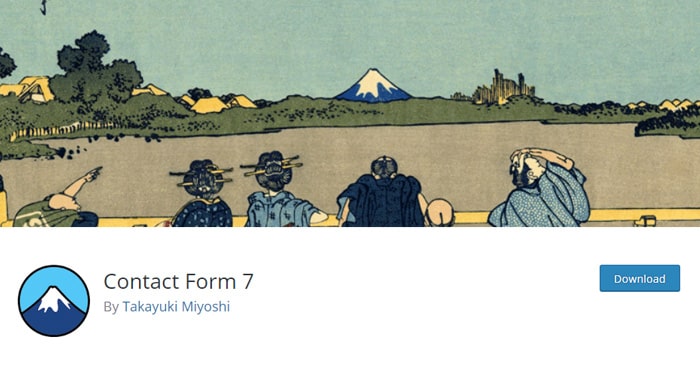 Contact Form 7 is an immensely used contact form plugin that currently counts over 5 million active installs. It's completely free, with no premium plans available.
This is an HTML-tags-based plugin, so you have to be somewhat careful not to mess up the structure of the form. You can insert a bunch of different fields such as the ones that require the user's email address and phone number, insert a date, add a quiz, and much more.
Contact Form 7 also allows you to send emails to users and customize multiple notification messages. At the moment, there are 22 different messages you can use in various situations, e.g. when a user uploads a file that's too large or when their phone number is invalid, etc.
The downside to using this plugin is that the forms don't look as modern as they do when using other plugins from the list. But the good thing is that, if you know how to code, you can modify the form's appearance however you wish and even add some additional fields to it.
The benefits of using Contact Form 7 are:
You don't have to spend a dime to use it
Lots of predefined HTML tags are available
You can modify existing fields and add new ones if you know how to code
Support links and FAQs can be accessed from the WordPress dashboard.
Did you know that Jetpack, the powerful security and performance plugin from Automattic, also comes with a sleek and free contact form module?
Jetpack's contact form works a bit differently than other plugins on the list. To build a form, you should head straight to the page or post to which you wish to add the form, and simply select the Add Contact Form option if you're using the Classic Editor (it's right next to the Add Media button) or a Form Block in Gutenberg. Then you'll see the list of all available form fields.
The form fields Jetpack comes with are quite basic and include name, email address, date, checkbox, multi-line text, etc. But, that doesn't mean you can't insert additional blocks in the Form block or do some editing in CSS (in case you're using the Classic Editor) to add more fields to your form.
When a user submits a form, you can decide whether they'll get a confirmation message, see a summary of the form they've submitted, or redirect them to your website or elsewhere. Each time you receive a contact form, you'll get an email notification.
If you're concerned about spam, it's good to know that Jetpack integrates with Akismet, so you can easily make every submission spam-free.
The things that make Jetpack contact form module great are:
The process of creating contact forms is simple
When someone submits a form, you get email notifications to an email address of your choice
You can edit form fields from your page editor
It integrates with Akismet Anti-Spam plugin
Which Contact Form Plugin Should You Use?
When it comes to deciding which WordPress forms plugin to use, first and foremost, it's important to consider how complex you want your form to be. Free versions of the plugins we featured in this roundup can satisfy your basic needs and help you build simple contact forms.
If you're interested in sheer simplicity, in that case, either Contact Form 7 or Jetpack should be your number 1 choice.
Perhaps the easiest one to use is WPForms, especially if you're a beginner. We also liked the options that Ninja Forms and Formidable offer free of charge.
For all of you who aren't cash-strapped or are running large businesses, Gravity Forms, along with the premium versions of Ninja Forms and Formidable, offer the best value for the money. These plugins come with the tools you need to craft contemporary-looking forms packed with powerful options.