6 Best WordPress RSVP Plugins
If you're in the event management business, you know just how important RSVPs are. They not only help you tailor your events to the guests that have confirmed their attendance, but also ensure you don't spend a single extra penny on surplus supplies. Thankfully, there are tons of WordPress RSVP plugins out there. Not all of them are so great, though. Which is why we've created this list of the best RSVP plugins for your WordPress website.
Our list contains a well-balanced mix of free and premium plugins that will let you add an RSVP functionality to any events WordPress theme. Each one of these plugins is sure to make it easier for your visitors to let you know whether they will be attending a function.
These are the plugins we will be we will be covering:
This simple plugin will have most of the functionalities you need for a single event, which is why we recommend it both for novice developers and people working on a one-off website. It is free, which is handy if you want to cut the cost of your website.
With this plugin, you can have your guests register for your event, or just check in. This second option is especially useful if you have a guest list (as one would for a wedding, for instance). You can alsoI allow your visitors to add additional guests (such as plus ones). And this plugin will enable you to use a special pass code for visitors (to check their authentication), or notify your attendees by email of any possible changes. You can group your attendees (say, by family) and all the forms are easily customizable so you can add whatever additional fields you feel necessary.
With the PRO version of the plugin, you get some useful additional features, such as the ability to create multiple events (a must for an event planner), notification and reminder functionalities, and other features. Overall, the RSVP and Event Management Plugin is a great choice for a beginner. If you are looking to cut costs, the free version of this plugin will have all the basics.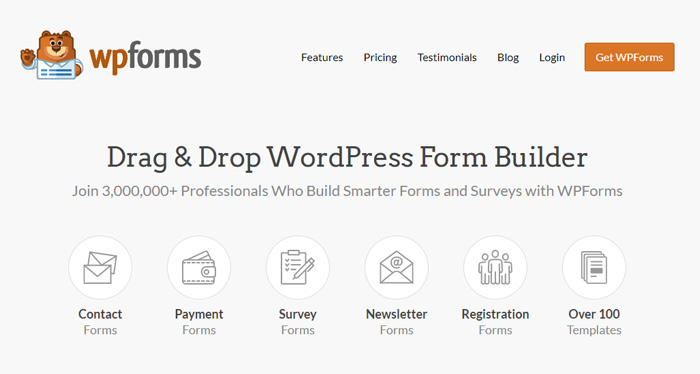 WP Forms is a versatile and powerful tool specifically designed for making contact forms, but it can easily be used to create any manner of forms – including RSVP forms. This plugin is equipped with a visual form builder, making it easy for users without a strong technical background to create an RSVP form, page or section which suits their website's (or their client's website's) needs.
This drag-and-drop interface, we feel, is the principal strength of this particular WordPress RSVP plugin – it's intuitive, saves time, and all its customization options are at your fingertips. WP Forms is also equipped with several pre-built templates, so you don't have to start your RSVP forms from scratch.
The exact capabilities of this plugin are dependent on the pricing plan you choose, and include spam protection and multi-page forms at the very basic level. Advanced features such as surveys and polls, geolocation, offline forms, and multiple website support become available as parts of the pricier packages. Be sure to have a close look at WP Form's full list of features in case there's one you particularly need.
RSVP Maker is a scheduling and event planning plugin which allows you to easily promote any event and register its attendees. Its central function, of course, is to register event guests, which this plugin easily does. Your guests can also be allowed to register guests of their own, such as plus ones. This plugin also uses the Limited Time Gutenberg block, which means that you can just set up your RSVP form to appear and disappear at set times (say, every second Wednesday of the month) and not worry about misleading your website visitors with premature or out-of-date promotions.
The plugin is integrated with MailChimp, so you can also use it to send out newsletters or e-mail notifications to registered attendees. With the (free) RSVPMaker Excel extension, you can also download reports as an Excel table, in case you need them in printable form or for easy reviewing later. Another extension, RSVPMaker Volunteer Roles, allows you to organize your registered visitors by roles and assign them a schedule and activities with ease. The plugin is also integrated with PayPal, so you can accept payments for tickets and reservations.
RSVP Maker is a free and open source WordPress RSVP plugin, and has no premium version. What you see is what you get, so if you see something you could use, there is no reason not to try it.
If you are looking for a WordPress RSVP plugin specifically geared towards a wedding website, maybe WeddingPress is just the thing you need. It deals with everything you need (guest-wise, at least) for a wedding website: invitations, RSVPs, and PayPal integration.
Right off the bat, you can input your guest list and send out your invitations by e-mail. Once your wedding attendees respond, they get a special RSVP code, which identifies them uniquely. You can use a QR code for that, if you like. What you also get is a multiple-choice menu for guests with special dietary requirements, so they can fill out a form detailing their choices. PayPal compatibility also means that you can integrate a wedding gift list, too, and avoid the confusion of gift overlap and any number of other embarrassments.
If you are a professional wedding planner, you will be interested to know that this plugin comes with multi-site support, so you can organize as many events as you please at the same time. WeddingPress is also translation ready, and therefore friendly for most attendees and designers.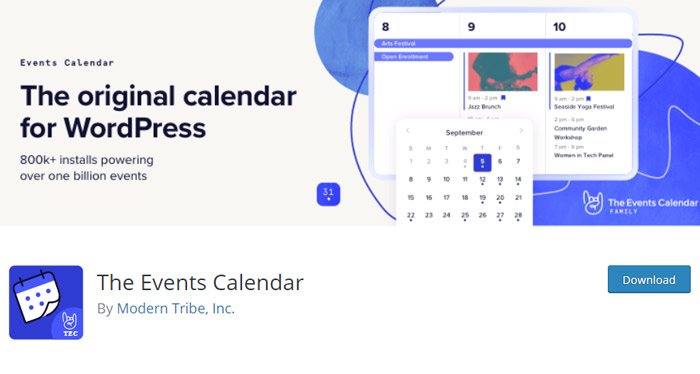 The Events Calendar makes it easy for you to organize, promote and manage your events, and it includes an RSVP functionality in a free add-on. With the main plugin, you can very easily create events, save venues and organizers, and integrate the calendar with Google Maps and Google Calendar so your events are easy to find and schedule.
The PRO version lets you schedule recurring events, search by location, and also grants you access to premium support. But this plugin, as we said, does not come packed with an RSVP functionality. The developers did make Event Tickets – an extension that does provide you with the requisite RSVP feature and a ticket fee collection functionality.
However, we recommend installing the independently developed Registration plugin. This add-on is designed to work with The Events Calendar, providing you with the RSVP functionality while also using the AJAX technique for extra loading speed. Your invitees can RSVP to your events, register, and unregister (cancel) their attendance. The registration form is tucked away behind a button so as not to clutter your event page, and you can choose how it appears to the visitor: on-click reveal, modal, or fully displayed. You also get a broad gamut of customizable functionalities: labels, error messages, registration deadlines, and more.
Both of the add-ons are free and we find that both work seamlessly, with the Registration plugins simply doing more and doing it quicker and easier.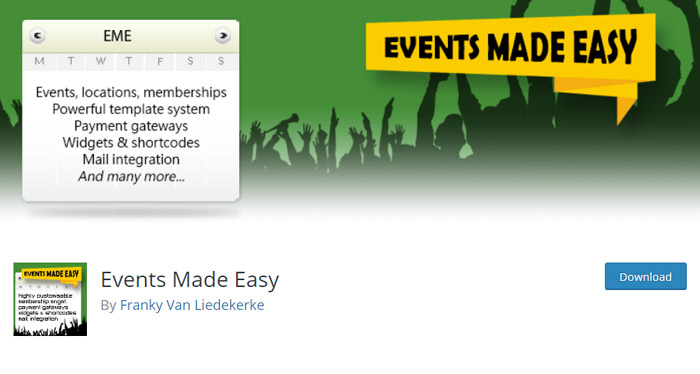 Events Made Easy is a versatile events management plugin. What we found potentially useful is the distinction this RSVP WordPress plugin makes between private and public events. You can also use it to plan recurring events and the RSVP functionality also includes the option for your attendees to sign up their plus ones.
Another thing that sets this plugin apart from others is the sheer number of payment gateways it's compatible with. So if the event you need the RSVPs for requires that your attendees buy tickets or meal options, you have PayPal, FirstData, 2CheckOut, Mollie, Worldpay, Sagepay, Stripe, Braintree, Paymill, and Instamojo to choose from. You can also send e-mails to your attendees, be it on the spot or scheduled.
Free and open source, this is a good choice for any event with paid access.
With this blend of free and premium WordPress RSVP plugins, we have got you covered for any kind of event you're helping organize. If you are planning for a single event, the thing to look for in any of these plugins is that it has all the basic features plus anything special you may find useful, like e-mail notifications or Google Maps integration. If you're an event planner, you might want to invest in a premium plugin with multi-website support. In either case, we're sure you'll find whatever you need on this list.