6 Best WordPress Export Import Plugins
The import and export process essentially entails moving data from one place to another. In the case of WordPress, this usually means moving files, images, text, user data, and various bits of content (posts, pages, comments, etc.) from one WordPress site to another. Now, WordPress does come with built-in Import and Export tools that make this migration process as easy as possible. Namely, the Export tool works by creating an XML file for your data. You can then download this file to your computer and simply import it to any other WordPress site using the help of the default WordPress Import tool. In short, these tools make it easy to migrate the content of entire WordPress sites to another location. Having said that, these tools are not always that flexible on their own – and that's exactly where the WordPress export and import plugins come into play.
No matter if you need to import and export CSV files, widgets, or even entire theme settings that you've customized completely according to your preferences, there is an export and import plugin out there able to help you out. Most of these plugins can be downloaded from the official WordPress repository entirely for free and come with a great set of flexible options that will make your migrating process as easy as it can get. Check them out:
Import Export WordPress Users is a plugin whose free version allows you to easily import and export users with different user roles, and that includes WooCommerce customers as well. If you choose to upgrade to the premium version of the plugin, you will also have access to other advanced options such as the ability to export customer data and user meta, update or skip existing imported customers, send or skip emails for newly imported customers, bulk update all existing customers and user data, and plenty more.
This plugin is also compatible with other tools such as Advanced Custom Fields, BuddyPress, Ultimate Membership Pro, and so on.
Blocks Export Import is another great plugin that lets you import and export Gutenberg blocks as JSON directly within the Gutenberg Block Editor. The plugin is extremely easy to use. After you install the plugin and activate it, you should simply click on the plus (+) button and find and click the block called "Import Blocks from JSON". Then, you can upload any JSON file that contains the Gutenberg block. For exporting a block, click on the three dots in the block menu and choose the option called "Export as JSON".
With over 100,000 active installations on WordPress.org, WP All Import is a rather popular plugin that will allow you to import just about any XML or CSV file to WordPress. This means not only any existing WordPress data but also anything from live stock quotes to sports scores. It comes with an intuitive drag & drop interface that will take care of even the most intricate import tasks. Moreover, the plugin also integrates with the WP All Export plugin (built by the same team) that exports anything from posts and WooCommerce products to users.
The Pro version of the WP All Import plugin (starting at $149) allows you access to extra features, including premium support, the ability to import data to custom fields, import images to the post media gallery, download and import files from external websites with HTTP authentication, and more.
If you want to move widgets from one WordPress site to another, then Widget Importer & Exporter is a perfect plugin for the job. The plugin is free and extremely practical and easy to use. It works by creating a JSON file (once you click on the Export button) that will have all the widgets and their settings. Then, you simply need to import the widgets to your preferred location. All import results are displayed in a neatly formatted table with a detailed explanation of what happened to every widget and widget area.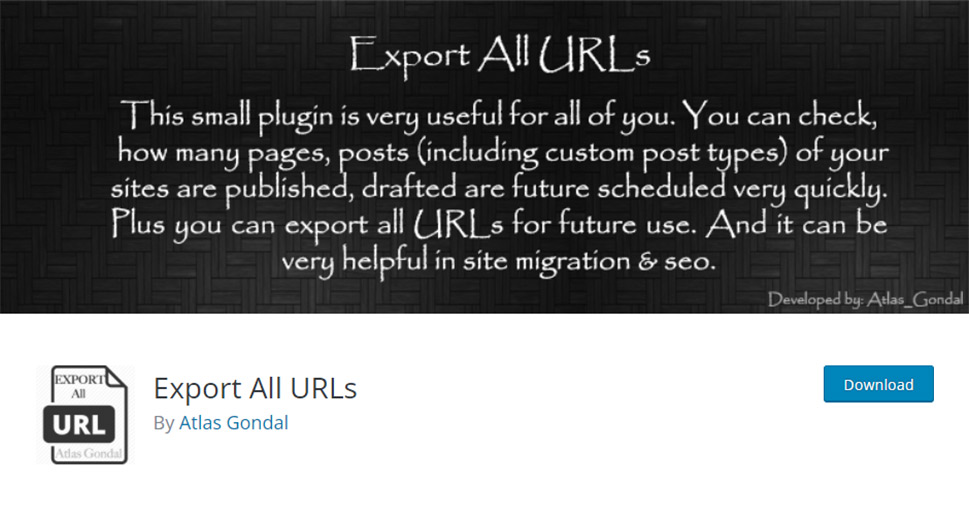 Export All URLs is another free plugin that will allow you to export and import all URLs from your site. It will do so by adding a new page with the name "Export All URLs" under the Tools option in the WordPress admin dashboard. So, you just need to navigate to the Tools page and then extract data from your site. The plugin will also allow you to check all the existing URLs on your site, handle 301 redirects with the help of htaccess, perform a security audit, and so on. Moreover, all the data can be categorized by its post type before the extraction.
Another free and popular option (with over 200,000 downloads on wp.org), the Customizer Export/Import plugin will allow you to export and/or import your WordPress customizer settings directly within the customizer interface. This allows you to have identical options as your preferred theme on your new site. The process itself is as easy as it can get – you need to click the export button within the customizer and a file will automatically begin downloading your settings. The same goes for importing your customizer settings – simply select the file you wish to import, choose whether you want to download and import images, and hit the import button.
And that completes our list of some of the best export and import plugins for WordPress. From CSV files and URLs to user roles and Gutenberg blocks, each one of these plugins offers a practical and flexible set of options that will allow you to easily migrate your WordPress site data from one place to another and continue right where you've started in no time. You just need to choose the plugins that you think will help speed up your website migration process in the best possible way.