7 Best Slider Plugins for WordPress
If you're on a mission to make your WordPress website look more visually appealing and professional, sliders can help you achieve this, and then some. They are perfect when it comes to adding that extra flair to your website that will make it stand out and appear more dynamic and engaging to your visitors. You can use a slider to showcase images and video, provide more information using slideshows with stunning effects, and, with some slider plugins, create landing pages and even entire websites.
That being said, some sliders can take a toll on your page loading speed. A slow page load time combined with poor WordPress hosting, for example, can result in some server loading issues. This can negatively impact the overall performance of your site, and by extension, your website's SEO as a whole.
To help you avoid running into these problems, we've made sure to showcase some of the best WordPress slider plugins known for having high-quality and responsive features. Plus, you will be able to use them without having to compromise your website's speed. Check them out: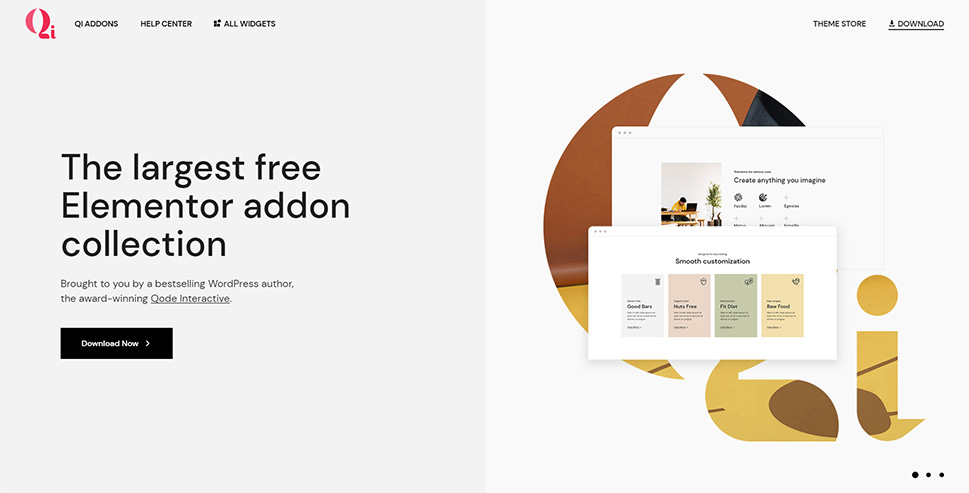 Qi addons for Elementor is a free plugin that comes packed with a vast collection of customizable Elementor widgets (60 in total) you can use to fully enhance the look and functionality of your WordPress site. This collection includes many useful elements such as infographics, business-related addons (testimonials, banners, etc.), and showcase widgets with some mind-blowing sliders.
The plugin's Image Slider Widget lets you create and add beautiful image sliders with complete ease. You will get to display your images in various engaging ways using the slider's powerful and flexible options. These include the ability to enable slider loop and autoplay, display navigational arrows or bullets, set image hover effects, display previews of oncoming sliders, and enable lightbox popup, among other options. In addition, you will be able to choose from one of the many captivating motion effects (that you can use for your slider entrance animation), set the style of your navigation, choose the background type for your slider, and plenty more.
Aside from being one of the best-selling WordPress slider plugins on the market, another testament to its quality is the fact that many premium WordPress themes come integrated with Slider Revolution out of the box. The Slider Revolution plugin's powerful drag-and-drop visual editor will allow you to create and customize your sliders with complete ease. There are also some striking visual elements you can create using Slider Revolution, such as carousels and attractive hero sections. You will also get to choose from over 200 templates and have 20+ add-ons at your disposal that will help you add some stunning special effects to your slides.
Since responsiveness is one of the most important things when building a website nowadays, it should also be noted that Slider Revolution is fully responsive and mobile-ready. This means that the plugin can make all your slides look impeccable, regardless of your screen size or type.
The price of the Slider Revolution plugin at CodeCanyon is $59.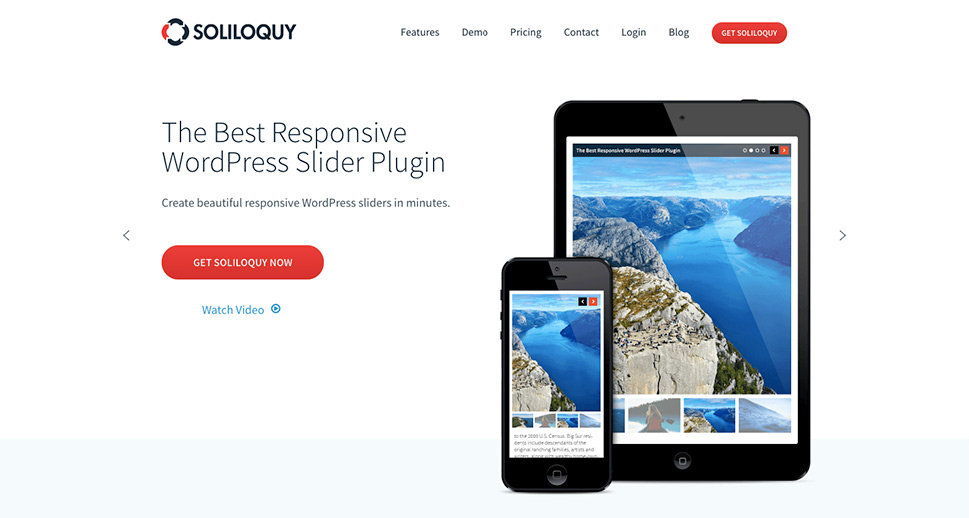 Soliloquy is a fast and lightweight slider plugin that is also among the best around in terms of responsiveness. It comes with a drag & drop interface that lets you create gorgeous image and video sliders, and allows you to use prebuilt templates in order to customize your slider quickly and effortlessly. With this plugin, you can also create dynamic and lightbox sliders, interactive product sliders ideal for your WooCommerce-powered store, you can turn your slider into a carousel, and much more.
The pricing for the Soliloquy plugin starts at $19 for a Personal license (ideal for those that are only starting out).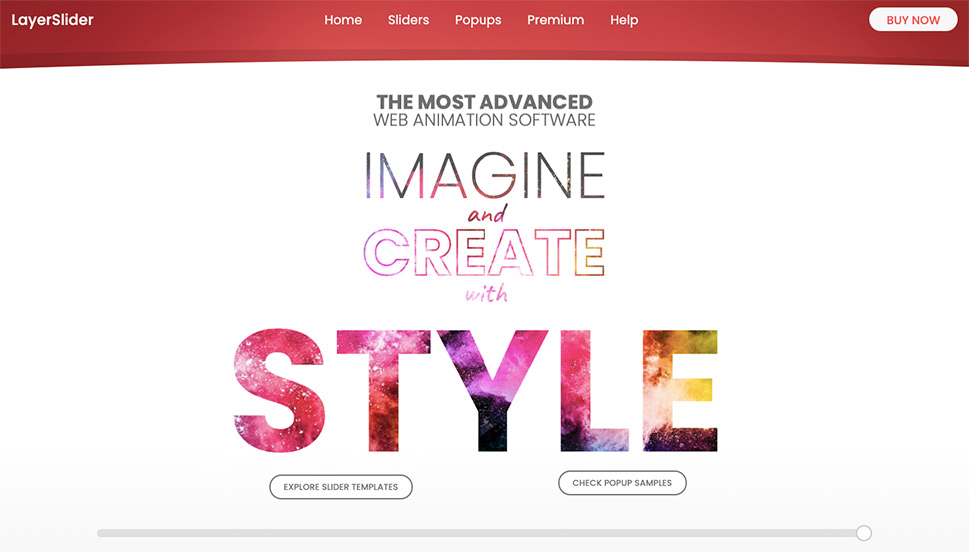 Built by KreaturaMedia, LayerSlider is another massively popular slider plugin that often comes integrated with many premium WordPress themes. Its intuitive visual editor will allow you to create all sorts of beautiful sliders for your website. On top of that, it contains 200+ different effects (such as parallax, hover, loop, and multi-step animations) as well as tons of other customization options.
The LayerSlider plugin is fully responsive and SEO-friendly, gets updated regularly, and has professional support.
The pricing for LayerSlider starts at $25 (for one site).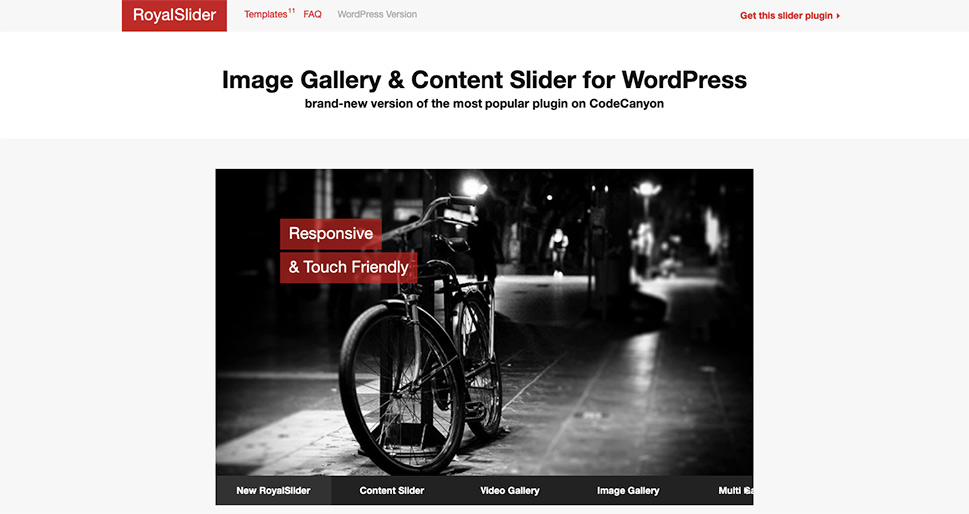 Another great and responsive slider plugin, RoyalSlider allows you to create completely custom slideshows, as well as CSS3 banner rotators with HTML content, videos, and images in your slides. The plugin also comes with a touch swipe navigation support and allows you to enable vertical or horizontal thumbnails, as well as lazy-loading or fullscreen. Every single element is fully responsive and works well on all devices, including mobile phones. What's also great about the RoyalSlider plugin is that all its sliders are automatically cached, which means it won't slow down your site.
You can buy a Regular license of RoyalSlider at a price of $24.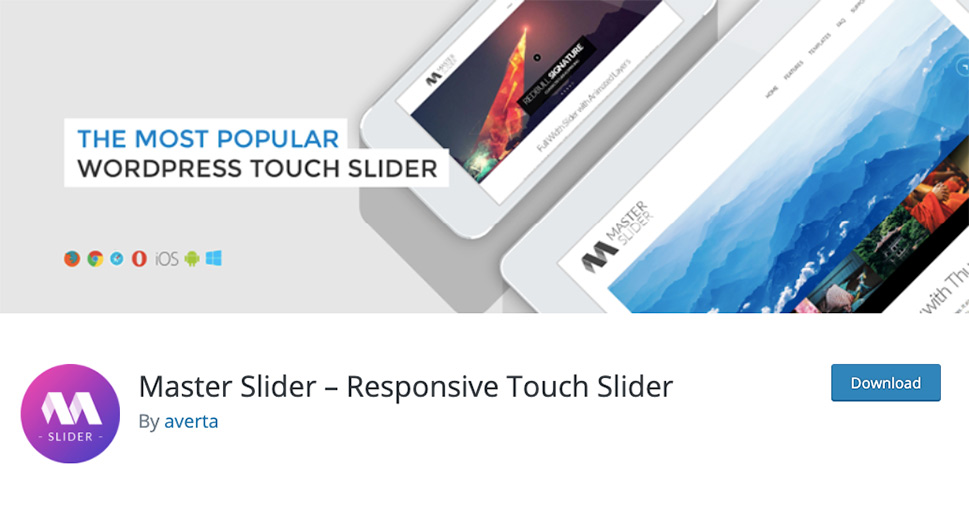 Master Slider is yet another image and video slider that supports touch navigation and an easy-to-use interface. Being fully responsive, this freemium plugin makes your sliders look great on all screen sizes and major devices, including touch devices. Some other features include a user-friendly admin panel, 6+ Interactive slide transitions, vertical and horizontal direction navigation, the ability to manage slideshows with autoplay timing options, and plenty more.
The pro version of Master Slider (the pricing of the WordPress Pro edition is $24) contains some advanced features, like parallax effects, HD video backgrounds for slides, animated layers, the ability to embed YouTube and Vimeo videos, and so on.
Slider by 10Web is also a popular freemium slider plugin that is quite versatile and lets you add fast and responsive sliders to any page, post, or any other area of your website. The plugin allows you to add both images and videos to your slides, and even include some stunning transition effects while you're at it.
As for the premium features, they include the ability to create multi-functional sliders using text, image, video, and social media layers, a parallax and carousel support, as well as 27 slide transitions and 38 layer effects that will give your sliders a unique look.
The pricing for the premium version of Slider by 10Web starts at $20 (Basic plan).
From eye-catching transitions and animations to the ability to create fully responsive sliders, each plugin on our list is packed with a plethora of useful features that will help your website look more visually stunning and engaging to your visitors. All of them have been created with the best coding practices in mind, which means that they won't put too much impact on your website's page loading speed.
While you can't go wrong with any of these options, our top picks would have to be Slider Revolution and Soliloquy. The latter plugin is fast, lightweight, and comes with a user-friendly interface all at once, while Slider Revolution's wide range of stunning and fully responsive features makes it one of the more superior plugins on the market. Alternatively, LayerSlider can be a great choice, too, as it comes with a highly intuitive visual editor and is also fully responsive out of the box. At the end of the day, though, your pick will depend entirely on your needs, so choose accordingly.