10+ Best SEO Blogs and Resources for Your WordPress Website
The times when SEO was a mysterious acronym reserved only for those in the know are long gone. These days, everyone with a website (and a lot of those without one) knows that SEO stands for Search Engine Optimization and that it encompasses a range of practices and techniques aimed at making your website, business or brand discoverable on search engines. Here at Qode Magazine, we've covered this field extensively. We've shared with you the basics of SEO, helped you find your way among some common SEO myths, and provided you with a glossary of must-know SEO terms. For those working in eCommerce, we've shared the best tips for WooCommerce SEO, and we've even covered video SEO as well as audio SEO techniques.
And now it's time to share with you a selection of specialized blogs and websites working in the fields of digital marketing and SEO. These blogs work with dedicated and seasoned professionals who are always on the lookout for the latest trends in SEO. Use them to find resources, answers and tips for any SEO-related issue or question you might have with your WordPress website, and make sure to check them out regularly, as things tend to change very quickly in SEO.
Here are the best SEO blogs that we'll cover:
HubSpot is a company developing and selling inbound marketing, sales and customer service tools. Although their main area of expertise is marketing, the company recognizes that SEO is its integral part and therefore dedicates a large chunk of its content production to the subject. On their blog, you will find a lot of carefully researched, well-documented SEO-related content, presented in a clean, clear way that's easy to understand and apply. HubSpot also has articles on how to build better websites, how to improve your sales and customer services and it has a great, well-curated newsletter. On top of that, they keep an active YouTube channel with interesting and engaging videos, as well as a podcast. In short, HubSpot is an excellent place to stop by regularly as their content is fresh, relevant and highly actionable.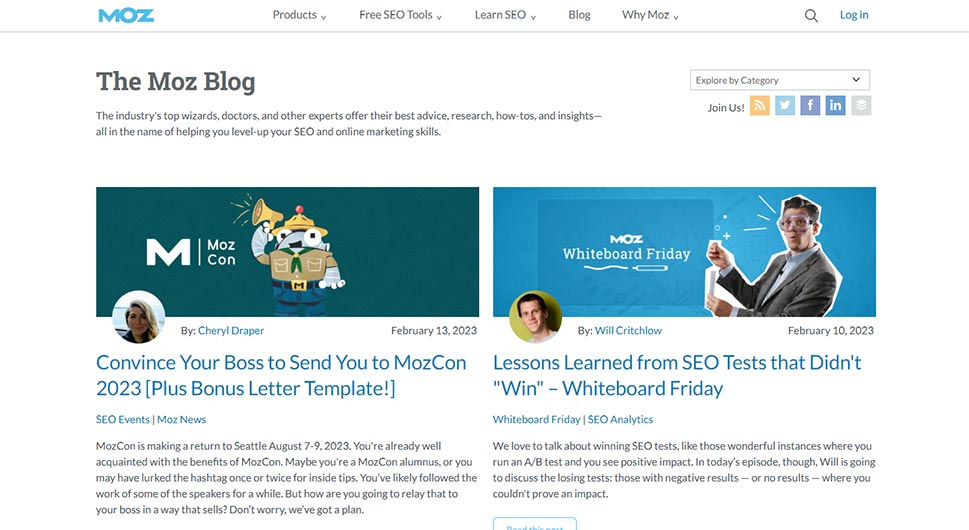 As one of the leading developers of SEO software on the market, it's no wonder Moz has an extensive blog dedicated to SEO, written and curated by company experts and guests. A lot of times, when a company has a product that it's marketing, they tend to push the product in their content, which can be a bit annoying. With Moz, that's certainly not the case. In fact, over time, the Moz blog has set a very high standard when it comes to SEO how-to and short and useful articles covering everything from basic to advanced SEO. You won't find generic content or fluff there. Each article is well-researched and well-documented and tackles a very specific problem, issue or tip. Oftentimes, Moz will cover topics that you won't find anywhere else, and it does so in a fun, engaging way, which makes it a fan favorite.
Search Engine Journal or SEJ is one of the oldest SEO resources around. It was founded in 2003 and has been cultivating a community-based approach to SEO knowledge ever since, with all articles written by real experts, both in-house, and independent ones. SEJ publishes content divided into several categories – SEO, Content, Social, Paid Media, Social Media and Digital, and has created an impressive number of eBooks, webinars and podcasts. The SEO content is neatly categorized so visitors can browse between enterprise SEO, local SEO, international SEO, mobile, on-page, technical, vertical, link building, and there's even a category called WordPress for SEO. Another absolute must for any level of expertise, from total beginners to seasoned experts.
Another excellent online publication that covers all things digital is Search Engine Land, with news, breaking stories, announcements and industry trends. It also publishes how-to articles and tips for search marketers, brands, businesses and basically anyone trying to reach customers online. Its content is divided into three major categories – SEO, PPC and platforms, and it also offers webinars, white papers and intelligence reports. Our favorite piece of Search Engine Land content is their SEO Periodic Table, where "elements" are various ranking factors. This periodic table should be combined with their pillar guide to SEO in order to gain a thorough understanding of how search engines work and how we can harness them to our benefit.
SEMrush is a popular SEO tool for keyword research and keyword strategies, as well as for backlinking strategies and SEO audits. The SEMrush blog is an excellent resource with hundreds of articles covering SEO (basic and advanced), digital marketing channels, content marketing, and more. In addition to SEO basics, technical SEO, SEO copywriting, keyword strategies and testing, here you can also learn about brand identity, growth, reputation, sales funnels, paid search, social media and more – basically anything you could possibly need for a strong online presence of your brand. The blog also does regular expert roundups and case studies with in-depth insights and heaps of useful data.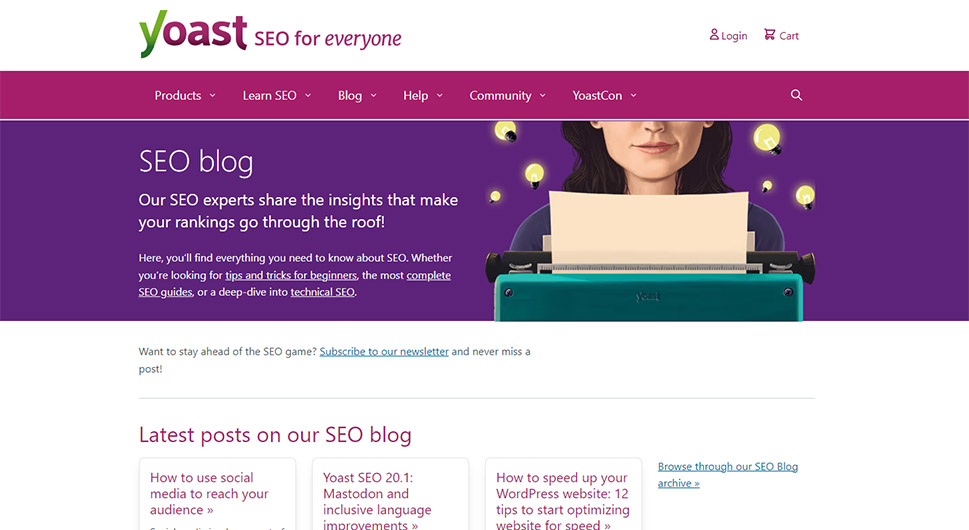 Here's a name that has got to be quite familiar to most WordPress users. Along with Rank Math, Yoast is the most popular SEO plugin for WordPress, making search engine optimization easier and faster in an almost completely automated way. The company also has an excellent Yoast SEO blog, where you can learn all the tips and tricks on working with the popular plugin, but also get a solid grasp on SEO basics, latest trends in digital marketing, take a deep dive into content SEO and technical SEO practices, and more. The blog also has an entire section dedicated to getting the most out of WordPress itself, written by WordPress experts and contributors. If you're using Shopify for your online shop, you'll be happy to find a lot of content dedicated exclusively to Shopify SEO.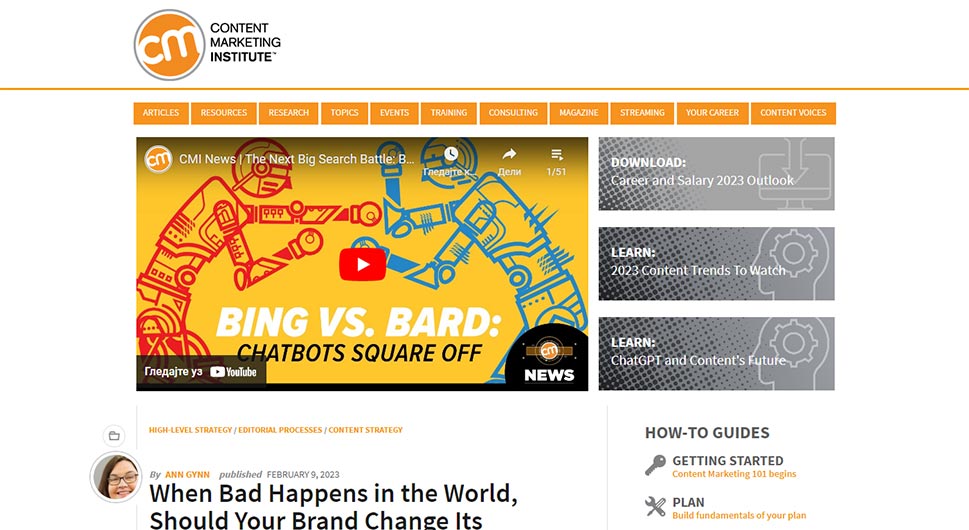 Those who want more than just to master the basics of SEO will want to check out Content Marketing Institute. Over the years, CMI has become something of an academy for everyone who is serious about SEO, digital marketing and growth. It has webinars, training and various online and physical events, and its staff also offers expert consulting. The articles offer in-depth insights with real data and are written by industry experts. No fluff and no generic content, and they're not sugar-coating it either. The articles are straightforward and serious, without particular design embellishments or frills. You will also find a lot of success stories to learn from, excellent and fresh case studies, as well as white papers. As its name suggests, this resource is mainly focused on content marketing, but seeing as you can't get anywhere with your content unless it's optimized, SEO makes up a huge chunk of the material.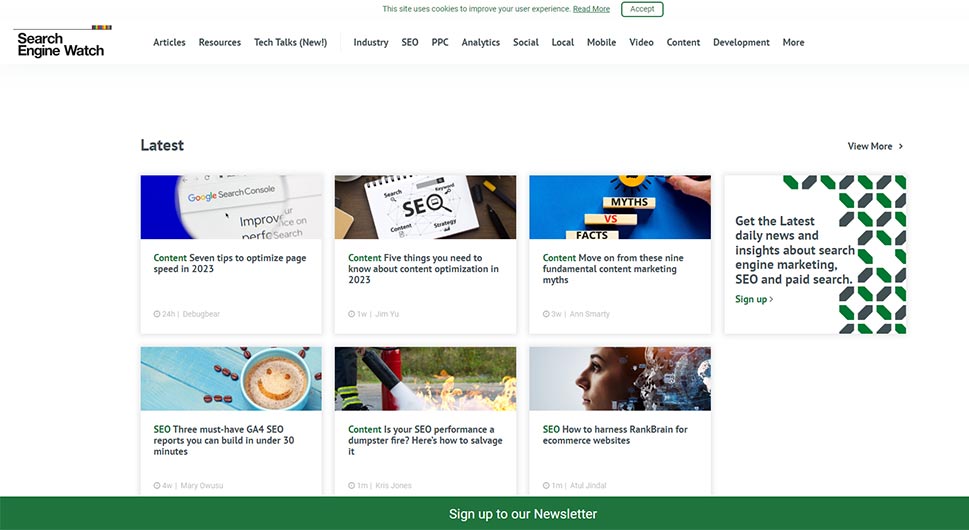 Another veteran among industry resources, Search Engine Watch has been around since 1996. On this blog, you will find SEO essentials and articles categorized under search engines, international SEO, Google algorithm changes and ranking factors, on-page SEO, site architecture, social media, link building, image SEO, content SEO and more. It also offers valuable insights, news and updates on PPC, analytics and social media marketing. Local, mobile and video SEO are also covered. The content is divided into articles, which represent a shorter, more consumable form with practical information and how-to, and resources, which include white papers, case studies, indexes and extensive guides. Authors include in-house experts, but Search Engine Watch also accepts article submissions.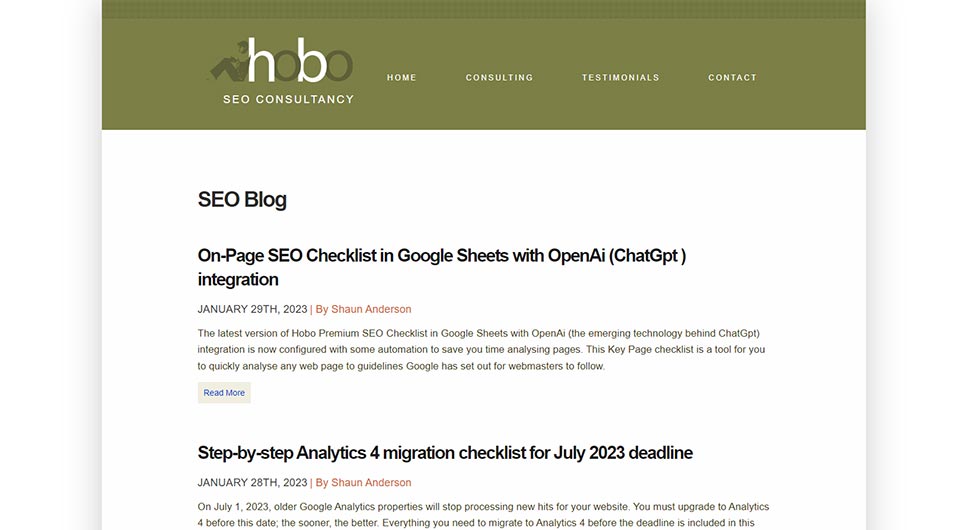 Hobo Web is one of our personal favorites. It is a single-person SEO consultancy based in the UK with an excellent track record and a blog that is perhaps not as elaborate or rich as some other entries on this list, but has some excellent and useful posts covering common SEO topics. The blog is not very frequently updated, so we suggest you browse through the back catalog and we're sure you'll find plenty of great insights you can use to grow your website and your brand. We particularly enjoy Hobo Web checklists, covering topics from technical SEO audits to eCommerce pre-launch. Shaun Anderson, the man behind the consultancy, has been in the business for over 20 years and it shows – his articles exude expertise and experience, they are rather long but quite enjoyable, and are completely fluff-free.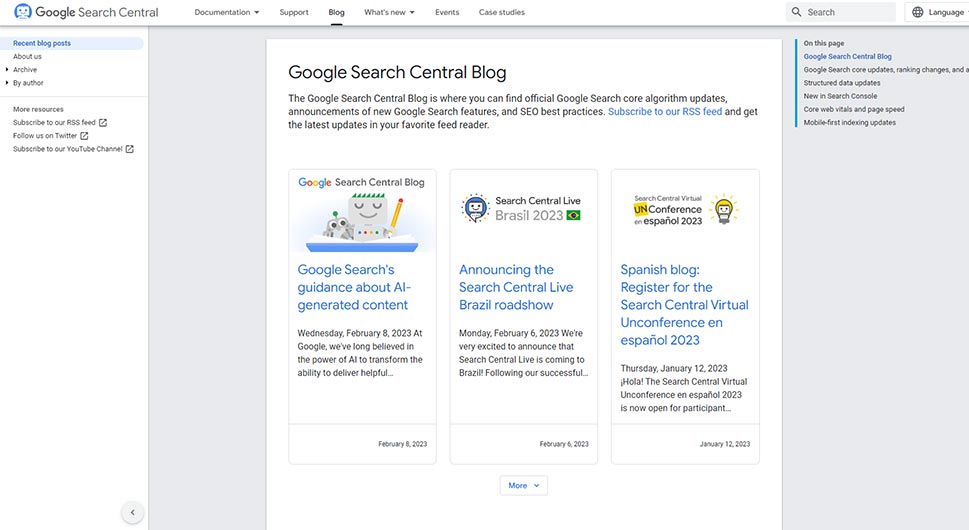 If you like your information as fresh as possible, and coming directly from the source, then make sure to regularly check Google Search Central Blog. Here's where you'll find the latest updates on Google algorithm changes and updates, news from the industry, announcements of new features, but also tips and insights on best SEO practices coming from the search engine giant itself. In addition to algorithm updates, you can also expect news on core web vitals, page speed, mobile-first indexing, and more. All the updates are available in your favorite feed reader thanks to RSS feed subscription, and we recommend you also check out the Search Off the Record podcast.
Mangools is yet another SEO tool developer with an excellent blog that represents a useful knowledge hub for all SEO professionals, enthusiasts, website admins and brands. The blog covers topics from local and technical SEO to keyword research, from analytics to on-page SEO. In addition to the "regular" articles, you can also check out big guides for beginners, as well as the SEOpedia, where you'll find all the most important SEO concepts neatly divided into categories. Finally, the blog also features interviews with industry and in-house SEO experts, and, for those using the Mangools tools, there's a product blog with regular monthly updates.
This is by no means a definitive list of the best SEO blogs and resources for your WordPress website. It is, however, a list of our favorites, which we made sure includes only blogs that provide accurate information, actionable advice and knowledge coming from real experts. There's a lot going on out there when it comes to SEO blogs and some of it is not exactly trustworthy, so our hope is that our list will make it easier for you to discern who's real and who's not. SEO is a field that keeps changing day in and day out so if you want to stay on top of your game, make sure to visit these blogs regularly and stay up to date.
If you have a favorite of your own that we didn't include in this list, let us know in the comments!