5 Best Keyword Rank Tracking Tools for 2023
There are many different SEO tactics you can implement to improve your website's ranking in SERPs and stay on top of your SEO game – and keyword tracking is certainly among them. What keyword tracking does is it helps you monitor rankings for different keywords so that you can learn which strategies work best for your business and which ones don't. To make the most out of this strategy, you should use the help of so-called keyword rank tracking tools.
These types of tools usually let you know if what you're doing is giving you results, and vice versa – you usually get notified if certain keywords are causing your rankings to drop. You can then use all the information related to your keyword rankings to your advantage and see where you can improve for the best possible results. In addition, you can often use these types of tools to also monitor your competition and see which keywords they are ranking for. Knowing this can help you improve your own keyword strategy in the long run.
So, this time around, we will present you with some of the best rank tracking tools you can use to improve your website's position in SERPs, your online visibility, as well as the overall reputation of your business. Here they are:
Semrush is an all-encompassing SEO tool you can use not only to track your rankings, but also to perform keyword research and help bring more traffic to your site, see on-page SEO statistics, analyze your competitors, optimize your site for local SEO, and more. When it comes to rank tracking features in particular, Semrush offers position tracking, which lets you track any keywords, domains, and competitors on Google. Aside from this, you can also fix any existing keyword cannibalization and track the progress of your campaigns. What's also great is the ability to monitor any possible changes to Google's algorithm and perform research on domains that have the most organic visibility. This includes domains with the most paid traffic, paid keywords, etc.
If you own a smaller business, you can opt for the Pro pricing plan of Semrush which starts at $119.95 a month. This plan allows you to create a total of 5 projects and track up to 500 keywords.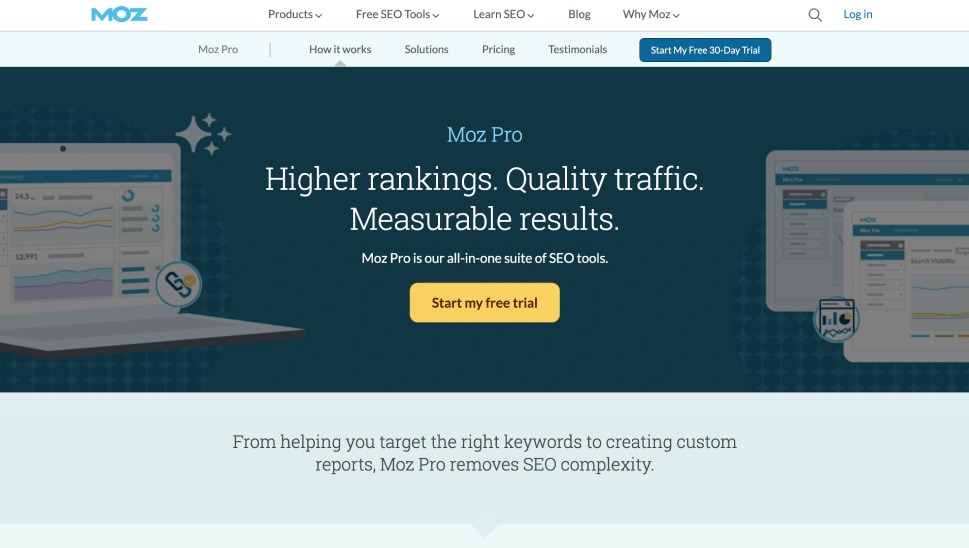 Among its list of products, Moz also has a keyword rank tracking tool as a part of its Moz Pro package. Aside from the ability to track your own site's keyword ranking and search engine visibility in general, you can also track the rankings of your competitors to find any potential flaws in their strategy and use that information to improve your own. You can take a look at weekly, monthly rankings, or any other specific period. In addition, you can track and compare different search behavior according to the device type or country.
Moz Pro Medium pricing costs $179 per month. You should note that there is a 30-day trial available as well.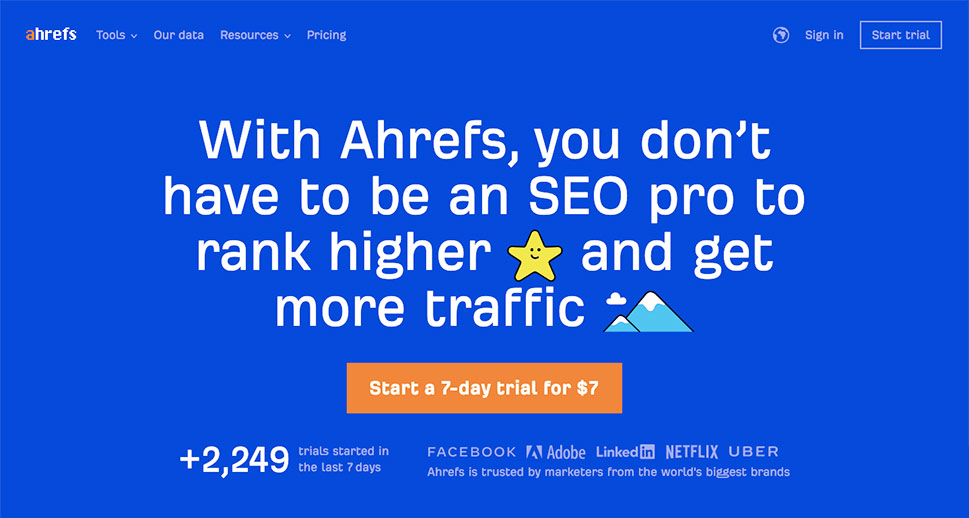 Ahrefs has a rank tracker tool that allows you to track both desktop and mobile rankings across 170 countries. The only thing you have to do is import or insert your keywords and add your competitors' URLs. From then on, Ahrefs will begin tracking keyword data for you. You can also add keywords according to specific locations. Thanks to Rank Tracker's interactive graphs, you will be able to get an overview of your entire visibility history, see a snapshot of your growth, as well how your positions are being distributed.
One other great thing about Ahrefs' Rank Tracker is its ability to check whether your website ranks in SERP features, such as featured snippets, sitelinks, top stories, shopping results, videos, and more.
You can get a Lite Ahrefs plan (that includes tools like Rank Tracker, Keyword Explorer, and Site Explorer, among others) for $99. This plan is suitable for smaller businesses or projects, so if you need more comprehensive features, we suggest that you look into other available plans.
MonsterInsights is a Google Analytics WordPress plugin that allows you to view your Google Analytics data from your website's dashboard. Some of the real-time analytics also include SEO ranking reports so you can improve your visibility in SERPs. You will be able to track 50 different keywords and view ranking positions for every keyword. Moreover, you will get content reports, site speed reports (that can help you improve your speed and thus further boost your website's ranking), behavior reports, and more. You can also view every report for the last week, last month, or you can pick a custom date range of your choice.
MonsterInsights also comes with the ability to integrate with many different tools, including WooCommerce, WPForms, Easy Digital Downloads, MemberPress, etc.
The pricing for MonsterInsights starts at $99.50 per year.
SE Ranking is an all-encompassing keyword position checker tool for tracking keywords on all major search engines, like Google, Yahoo, Yandex, YouTube, and Bing. This tool will help analyze both desktop and mobile results for more accurate results. Also, aside from organic rankings, you will be able to receive info about map search results, ad positions, and SERP features. Of course, you will also be able to monitor your competition. You can add up to 20 different competitors you wish to monitor and then receive reports you can then easily compare to your own.
The Essential SE Ranking plan starts at the pricing of $31.20 per month. With this pricing, you can track up to 250 keywords and start 10 projects (with 5 competitors you can monitor per project). If you want, you can increase the number of keywords for each plan, but you should keep in mind that this will increase the total price you have to pay.
And we've reached the end of our list of best rank tracking tools. You can use one (or more) of these tools to thoroughly analyze the overall ranking of your keywords in SERPs and use additional SEO features like competitor trackers, keyword analysis, and others. By doing so, you can work towards improving your website's search engine visibility and ultimately, bring more valuable traffic to your site.
If you're using WordPress and want to center your rank tracking data solely around Google, then we suggest that you look into the Google Analytics-based plugin like MonsterInsights. Or, if you own a smaller business and don't require too many features, you can opt for the starter plans of tools like Semrush or Ahrefs. Finally, if you're searching for a more comprehensive set of features, we recommend purchasing one of the more pricey plans that are also available with these two tools. Alternatively, if you're a large corporation that needs to keep track of large numbers of keywords across multiple search engines, then the SE Keywords tool might be your best ally. All in all, regardless of your business size or your overall goals, you are bound to find the tool in this list that will work well for your specific requirements.