7 Best cPanel Alternatives for Your WordPress Website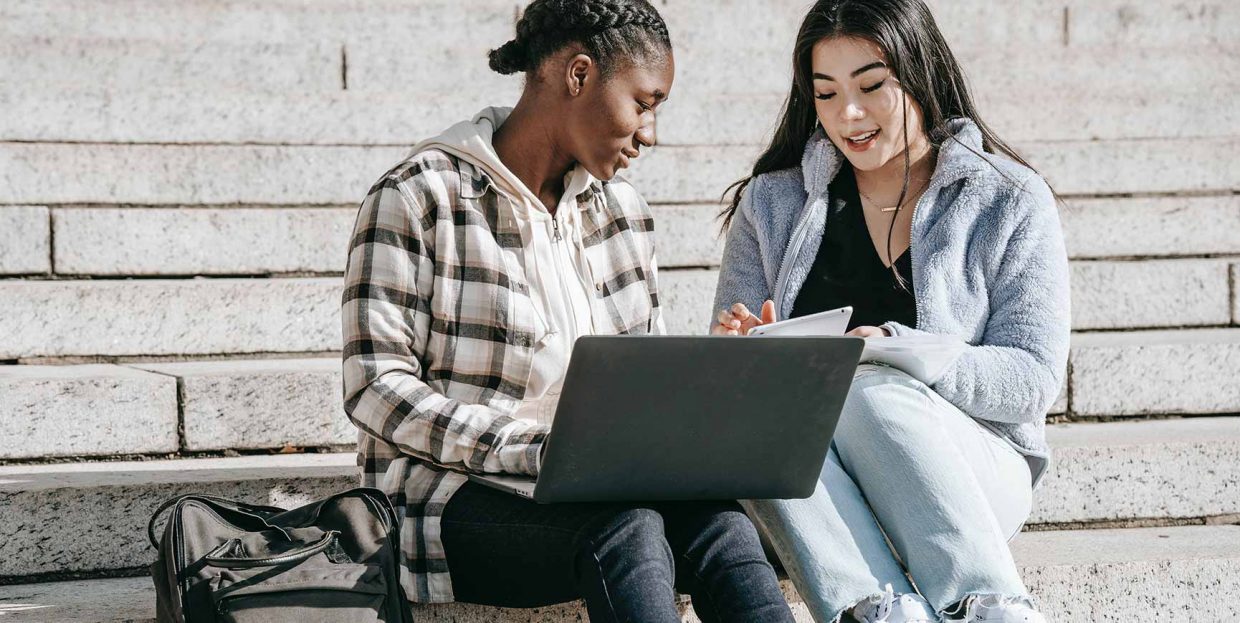 Whether you're someone looking for hosting services or someone trying to provide them, having an easy way to manage the many different aspects of web hosting should be a priority. Web hosting control panels fulfill that need, helping users do everything from installing WordPress to setting up FTP or finding images on your server. Control panels are the interfaces that make all of this easy, and cPanel is one of the most widely-used tools of this kind.
Still, no matter how popular it might be, cPanel is hardly the only web hosting control panel you could be using. You can choose its top competitor, or a whole other free, open-source control panel, or a niche premium solution. On this list, we've gathered seven of the best cPanel alternatives for your WordPress website.
Featuring many of the same functionalities that made cPanel so popular, Plesk is a widely-used control panel and cPanel's main competitor. If you're running Windows on your server, it just might be your go-to option – the very fact that Plesk supports Windows when cPanel doesn't is one of its main advantages.
Support for Windows isn't the only thing about Plesk worth mentioning, though. Plesk works great on Linux, too, and it offers a mix of features for admins and clients alike. It boasts a user-friendly interface, and it's especially well-suited for WordPress users. They can count on a one-click installer, staging and testing capabilities and controls, and security features in the Plesk WordPress Toolkit.
Plesk offers several pricing plans that differ on the number of domains they can support, the type of hosting, and additional services. The most affordable plan starts at roughly $10 per month, and it allows access to a limited version of the WordPress Toolkit.
WordPress fans who appreciate customization might find DirectAdmin just the right solution for them. With DirectAdmin, you can use a plugin to boost security, one-click install a variety of applications, or support webmail, chat, and other forms of communication. You can also easily change how the panel looks using skins.
DirectAdmin allows for three access levels – admin, reseller, and user – each with its features. Administrator features include DNS administration, DNS clustering, and complete usage statistics. Resellers can create nameservers, user packages, and allocate IP addresses. Users can administer email, create FTP accounts, databases, and DNS records – and that's not nearly all.
DirectAdmin offers a sixty-day free trial. After it, you can choose one of the paid tiered packages, which start at $24 per year for the Personal package.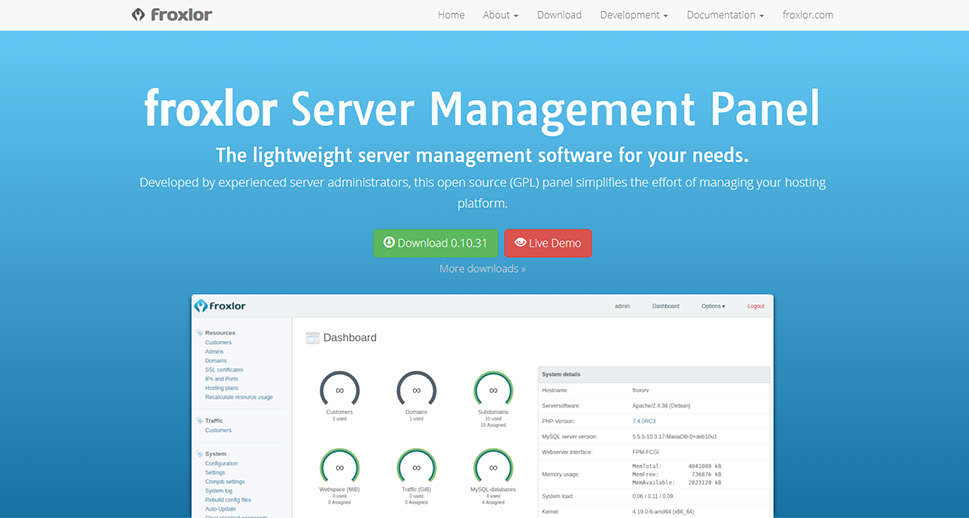 Need an open-source alternative to cPanel? Froxlor is one of the more popular ones and being built by people who themselves know what admins need from a server management panel, it's more than worthy of checking out.
As an administrator, you'll be happy to know that Froxlor was built to be light, simple, and give you all the tools you'll need to manage your server and give clients and resellers access to panels and features of their own. The features that stand out include MySQL management, use of free certificates from Let's Encrypt, PHP configuration, traffic monitoring, and CSS-customizable interface.
Froxlor is free, so you don't have to pay to use it. You can, however, support the developers through donations.
Sometimes, the deciding factor for your choice of a web hosting control panel might hide in a feature that's not crucial for the functioning of the panel. For example, if you want a control panel in your specific language, ISPConfig might catch your eye thanks to its twenty-two support languages.
You'd do well to choose it, too, because ISPConfig has pretty much everything you'd expect from a hosting control panel. It supports multiple access levels, Linux systems that include Debian, Ubuntu, and CentOS, as well as both IPv4 and IPv6. Whatever else you need for a website, DNS, or email server, you'll get, as well as support for virtualization and traffic limiting.
ISPConfig is free to use. Addons come at a cost, however, as does the full ISPConfig manual.
When flexibility and power are what you need, Virtualmin will be there to deliver. This open-source web hosting control panel was built on top of – and integrated with – Webmin, a Linux/UNIX system management user interface. Thanks to this combination of system management and web hosting capabilities, Virtualmin is often described as a solution for more demanding users.
The features you'll encounter in Virtualmin will give you all the tools you need to manage a hosting service on your own, and delegate some of the work to resellers and end-users. Thanks to domain accounts, you can assign email, DNS, database, and web application management to website owners. Setting up email with Virtualmin is easy, security is boosted with optional two-factor authentication, searching the logs is easy, as is backing up your websites.
Virtualmin comes in two versions. The free version is Virtualmin GPL, and it comes with some reductions in features. The full version, Virtualmin Professional, starts at $7.50 per month.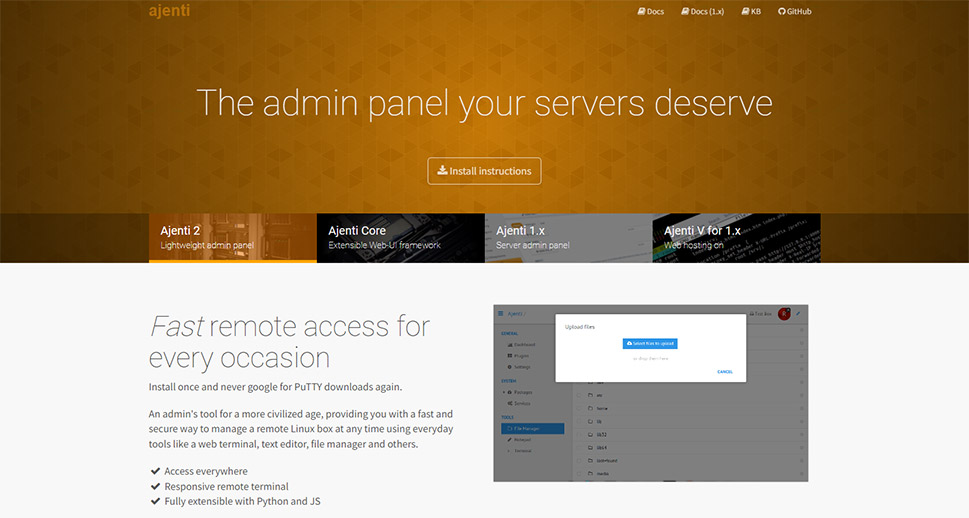 Sticking with the theme of control panels created for people who know a thing or two about development, let's meet Ajenti. This open-source solution consists of a core platform and additional plugins that come together to form a control panel experience. It's fast and it doesn't overwhelm with options, but it does require Python 3, JavaScript, AngularJS, and some HTML knowledge.
Ajenti boasts great performance capabilities, with a small footprint and the capability to handle over a thousand requests per second. It offers a responsive user interface with no reloading, full support for mobile and tablet viewing, and live data updates. You can run it on Linux and BSD systems, and you can find a whole bunch of plugins and integration to expand its features. If you have the know-how, you can also create your own.
Here's an alternative to cPanel built exclusively for WordPress users – SpinupWP, a cloud-based server control panel. While this type of solution might have fewer options than some on the list – to manage your database, for example, you'll either have to use the command line or install a desktop app.
Still, the things SpinupWP does are great, and what it offers will help you set up a server and install WordPress in no time. It works with any service provider, it installs the latest versions of software for you, takes care of caching and backups, comes with free SSL, and puts an emphasis on security. On top of that, it includes features that facilitate teamwork, make site cloning easy, and lets you isolate different sites for security.
SpinupWP is subscription-based, and it starts at $12 per month.
If you think the time is right to switch from cPanel to an alternative hosting management control panel, don't worry – you'll have plenty of options to choose from. Remember to take pricing into account, make sure the solution you choose supports your server's operating system, and that it has just the right balance of features and requirements for you.