5 Best Advertising Plugins for WordPress
When running a website, you usually need to invest some money to help it prosper. And using your own website to make money to keep up with the requirements of running one is entirely possible. Luckily, there are many different ways in which one can monetize their website. For example, many bloggers make money from blogging by implementing strategies such as publishing paid content with a paywall, setting up donations, and placing advertisements on their blogs. And since advertisements (generally known as ads) are one of the most widely used and effective ways to make money, it might be a good idea to find an easy way to implement them on your site as well.
By far, the easiest way to do this is to use the help of an advertising plugin. These kinds of plugins have everything you may need to successfully insert and manage ads and generate income from your WordPress site. So this time around, we've decided to talk about some of the best WordPress advertising plugins that will help you do just that. But first, let's explore the benefits of using an advertising plugin in more detail.
Why You Should Use an Advertising Plugin on Your WordPress Site
So, you are probably wondering – why use an advertising plugin to manage ads in WordPress in the first place? Well, first of all, while WordPress is a great and flexible CMS, it does not come with the ability to easily manage ads out of the box. And to get a stable revenue from ads, you will need to add more than just a few ads to your site – which is why ad management is practically a necessity.
Also, while you can also add and manage ads on your site using code, not everyone possesses the coding knowledge or skills to do that without much hassle. Plus, any future site or theme updates can disrupt or erase the code altogether and prevent ads from showing properly on your site. Or worse yet, it may even cause some unforeseeable site damage and stop it from running properly altogether.
By adding an ad management plugin to your WordPress site, you can insert your ads much faster and easily customize their look. Finally, you can quickly determine the location that best fits your overall website design and content arrangement while not disrupting the overall user experience.
So, we are taking this opportunity to present some of the best WordPress advertising plugins around. These options are equipped with everything you need to successfully add, run and manage ads on your site and help earn much-needed revenue. Check them out:
Ad Inserter is a great and highly popular free plugin that comes with many advanced advertising features so that you can insert ad codes in different areas of your site and display ads in the best way possible. For example, you will be able to place your ads before or after content, before and after paragraphs, images, comments, and the list goes on. The plugin comes with Google Adsense and Google Ad Manager support, and also supports Media.net, Infolinks, and rotating banners, among others. With this plugin, you can also insert Google Analytics and other tracking codes, insert images, HTML, CSS, JavaScript, or PHP code, customize the look of your ads using custom alignments and styles, use the post title, tags, or category names to create and add contextual ads, and plenty more.
If you want, you can upgrade to the pro version of the Ad Inserter plugin (starting at $20 for two sites) to get access to some extra features such as the ability to use ad impression and click statistics, get statistics reports for clients in PDF format, and perform A/B testing to learn which ads and settings work best for you. You also get a click fraud protection, lazy loading feature, sticky ads with the optional close button, and the list goes on.
This is another popular plugin option with over 100.000 active installations on wp.org. Advanced Ads is great if you want to use a simple and free ad manager plugin with plenty of features that is compatible with multiple ad network types. The networks include the likes of Google AdSense, Google Ad Manager (previously known as Google DoubleClick for Publishers, DFP), Amazon ads, and media.net ads. The plugin also comes with an ad block that will allow you to easily insert ads anywhere you want on your site using the Gutenberg block editor.
Some of the other ad management features include the ability to create and showcase unlimited ad units, rotate ads, schedule ads and set their start and expiration date, put targeted ads according to the content you post as well as user groups, and insert ads into your pages automatically without any code. Moreover, you will be able to display images and image banners, add PHP, JavaScript, HTML, or CSS, choose to show ads in your widget areas, disable ads on certain pages, display ads based on specific visitor role or geo-location (thanks to the Geo-Targeting addon), etc.
There are many other advanced features if you opt for the pro version of the plugin (it comes at a price of $49 for a single site). These include 13 additional display and visitor conditions (so you can display ads based on the URL referrer, browser language, specific cookies, etc.), the ability to use lazy loading, get access to the click fraud protection, use alternative ads for AdBlock users, limit ads so that they are displayed only once per page, and the list goes on.
Ads by WPQUADS is yet another feature-rich plugin you can use to showcase and manage ads on your WordPress site in the best possible manner. With it, you will be able to use the click fraud protection feature to fight click fraud. In addition, of course, you get the Google Adsense support (to integrate with Google Adsense ad types), and Google Ad Manager. You will be able to use 12 different ad positions to easily regulate where your ads will appear on your site, as well as 10 post-specific ad positions to decide whether you will include or exclude specific pages from containing ads. Plus, there will be 9 targeting conditions available to regulate the appearance of your ads even further. You will get to group multiple ads and rotate them at random, use lazy loading, place an infinite amount of ads to your website, etc.
If you upgrade to WPQUADS pro, you can also expect to have access to professional features like the ability to make ads skippable, use the geo-targeting feature to target ads based on the specific cities and countries, find out which ads have the best performance and more. The pricing of the pro version of the plugin starts at $89 for one site.
Another reason why this plugin makes a great choice is that it's created with the goal of maintaining your website speed as well, as it only loads the code at the time of execution.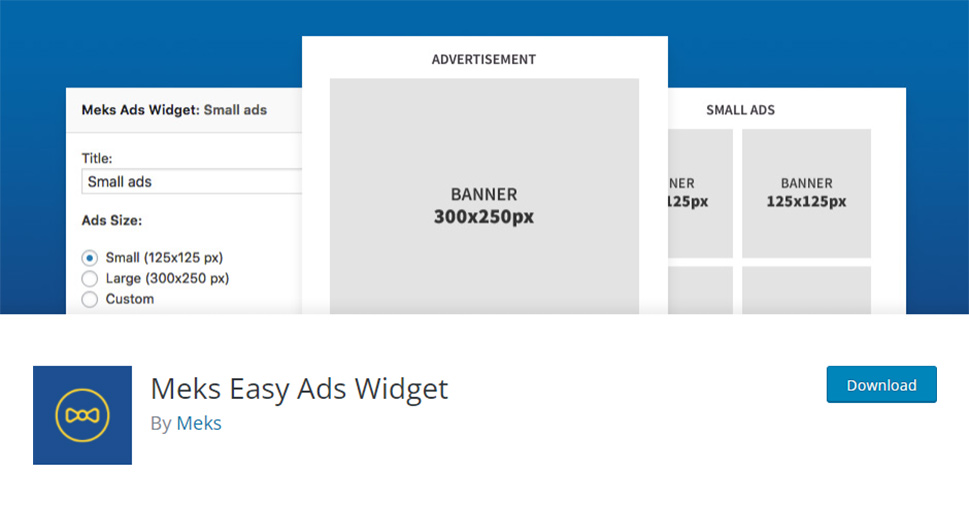 Meks Easy Ads Widget is a rather simple plugin you can use completely for free to create an unlimited number of ads on your site using the widget areas. You can create these ads all inside one widget and adjust your size by choosing from predefined sizes or creating a custom one. Also, you get to use both script and image-based ads, choose the random order of ads, and limit the number of ads per view, among other things. In addition, if you want, you will be able to autoplay the rotating ads.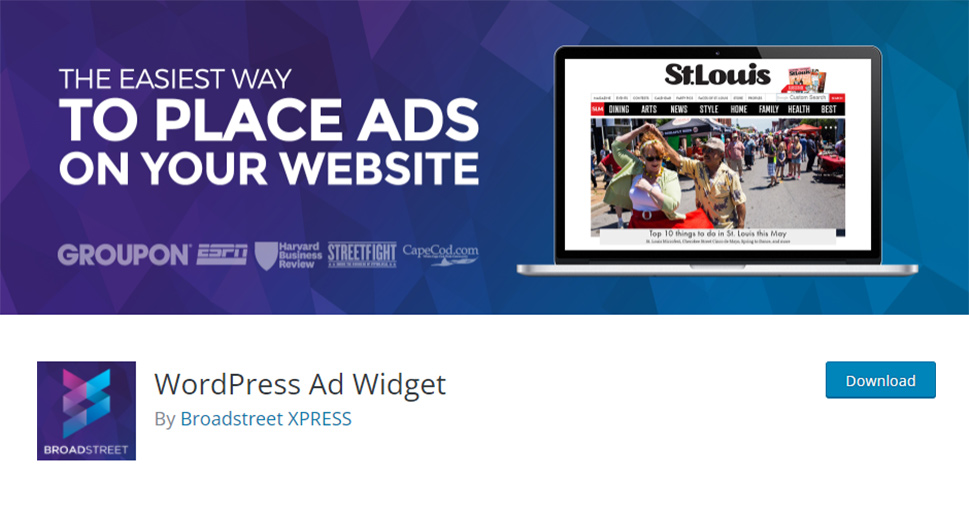 Last but not least, WordPress Ad Widget is a super intuitive ad plugin option for placing ads on your site with a widget. All you have to do is add the widget to your preferred widget area, upload your ad, and then save your widget. You will also get to easily insert image banner ads and place Google ad tags inside the widget.
The WordPress Ad Widget plugin is beginner-friendly and completely free to use. Just make sure to disable any ad blockers installed so as to allow the plugin to work smoothly on your site. Finally, check that you don't have any theme CSS that is hiding images, as this can sometimes cause issues as well.
If you plan to use ads to monetize your WordPress site, we suggest that you look no further than these advertisement plugins to make the process of managing your ads easier, quicker, and more efficient in every possible way. If you are looking for a more advanced plugin to cover your needs and want to have a choice to place ads in many different areas of your site, we suggest that you look into plugins such as Advanced Ads and Ad Inserter. These freemium options allow you to use anything from image and rotating banners to tracking codes and various display and user conditions. On the other hand, if you're looking for a simple plugin that has basic, but beginner-friendly features, we recommend plugins like WordPress Ad Widget or Meks Easy Ads Widget. In any case, you just have to choose the option that best fits your overall advertising needs and then start making the most out of your monetization efforts.