6 Best Tools for Tracking Visitor Traffic on Your WordPress Website
Keeping track of your visitor traffic is one of the most important activities you should engage in to learn some key insights that could benefit your business. By analyzing what your visitors do on your site, observing how they engage with your website content, and learning more about the activity and conversions they are completing (or not completing), you can also find out more about their specific interests, goals, and needs. You can also keep track of how many visitors you have, the amount of time they spend on your site, as well as how often they become converting customers. Then, you can use all that information to adapt your website to fit those needs better. This will help you create better marketing campaigns, boost your site ranking, drive more traffic and, ultimately, improve the way you operate your business as a whole.
Now, to implement these strategies on your WordPress site, you need to use the help of a suitable analytics tool that will be able to provide you with all these insights and help you track user behavior and other important traffic metrics with ease. Thus, we've decided to gather up a list of WordPress tools that will allow you to do just that – and then some. Here are some of the best tools you can use for tracking and analyzing WordPress visitor traffic on your site: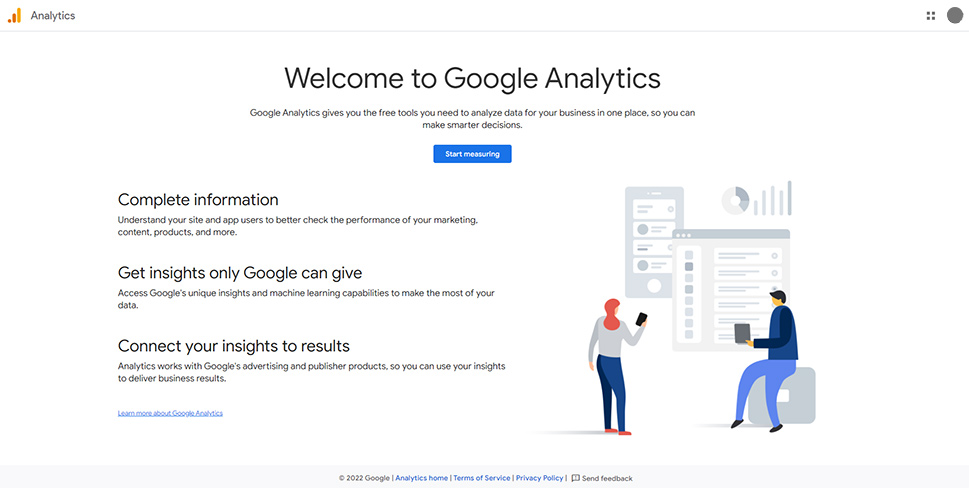 It's safe to say that Google Analytics is the best and most popular visitor tracking tool available – and the fact that many analytics plugins pull data from Google Analytics to provide insights to website owners is only a further testament to that. Google Analytics gives you a complete insight into your website traffic and user behavior so that you can evaluate the performance of your marketing campaigns, content, products sales, and so on.
You will have access to your audience overview where you will get to analyze metrics such as page views, sessions, and users, get info about the average session duration, compare metrics (and their ratio), see weekly, hourly, and monthly data graphs, and so on. You will also be able to dive deeper into individual user behavior, learn more about their interests, where they're coming from, devices they're viewing your pages on, and plenty more.
The best thing about Google Analytics is that it's completely free to use and you will be able to analyze data from multiple sites at once.
Easily one of the most popular analytics plugins around, MonsterInsights comes with some great user-friendly features that will allow you to fully keep track of your WordPress visitor traffic and user behavior on your site. With this plugin, you will be able to set up universal tracking for all your campaigns in no time, without having to use any code. Also, you will get to see your Google Analytics report right within your WordPress dashboard. Thanks to some real-time statistics, you will be able to know who is online as well as what they are doing on your site. Plus, you can use page-level analytics to learn about your most popular site pages and sections. Some of the other great features include enhanced eCommerce tracking, the ability to track every link your users are clicking on, affiliate and link ads tracking, as well as one-click tracking integration with some of the leading WordPress plugins (like WooCommerce, wpForms, Memberpress, etc.).
The pricing of MonsterInsights starts at $99.50 a year for the Plus plan. Keep in mind that this is just an introductory price (with 50% off), so next time you pay to renew your license, you will have to pay full price for Plus and all other available plans.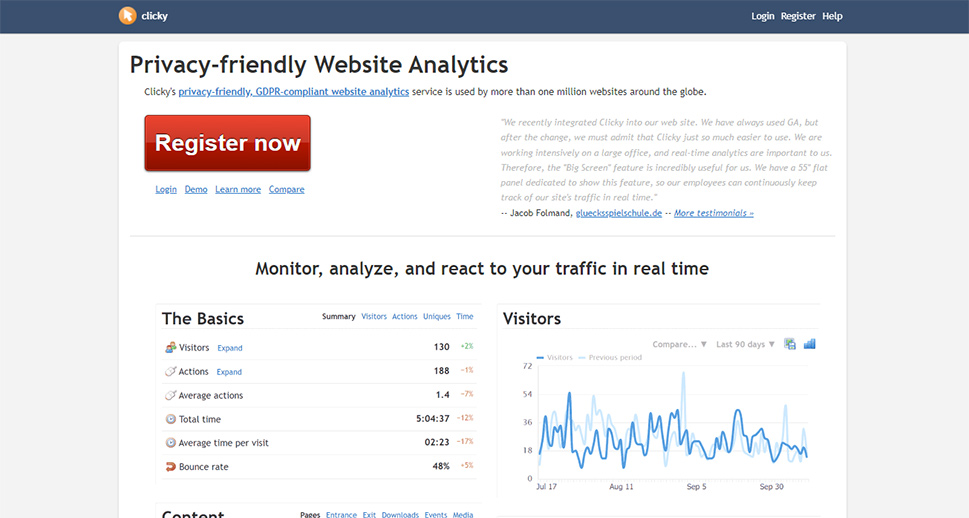 Used by more than 1 million websites, Clicky Analytics is a handy tool you can use to monitor and analyze your real-time traffic in full detail to get a better understanding of their behavior and all the valuable insights you need. This includes tracking the total time a visitor spends on your site, the actions they take while there, average time per visit, etc. You will also be able to see a live view of every individual visitor that's currently on your site, keep track of visitor actions, and plenty more.
You can use Clicky Analytics for free to monitor the traffic of one site only and up to 3.000 total daily page views. For more sites and page views, as well as many other premium features (like a heatmap view of where visitors are clicking on your pages, uptime monitoring, etc.) you need to look into one of the available premium plans. The pricing for the premium plans starts at $9.99 (for up to 10 sites and 30,000 daily page views).
ExactMetrics is a great plugin that allows you to easily set up your Google Analytics tracking features and see all reports within your WordPress dashboard. You will get an insight into real-time statistics that include seeing who is viewing your website, where they are visiting your site from, how they got to click on your page, and more. Also, you will be able to learn more about some of the most important areas and sections thanks to detailed insights that will become available for every post, page, or product on your site. You can also use eCommerce and affiliate ads tracking (to automatically track affiliate link and banner ad clicks) and even track your SEO score.
The pricing of ExactMetrics starts at $199 a year.
Crazy Egg is another great analytics tool that uses the colored heatmap system to visualize visitors on your site. You will be able to see a complete customer journey on your site and learn what pages and areas of your site they are viewing (and interacting with) the most and then use those insights to improve the overall visitor experience and, of course, your conversions. For example, you can place your CTAs and forms somewhere more visible, put content in the order of importance, and more.
One particularly useful feature of this plugin is the ability to record user sessions. By using it, you will be able to see the way people interact with any of your pages and detect any potential issues they may have while browsing your site (like unclear navigation, for example).
As for the pricing of the Crazy Egg plugin, it starts at $24 a month (for the Basic plan). You can track an unlimited number of websites, 30,000 monthly page views, 5 snapshots, and 100 recordings. If this plan is not enough for your needs, you can look into some of the other available plans.
Parse.ly is a neat tool you can use to analyze all your content and understand its performance and value so that you can also improve its overall quality. This tool is ideal for anything from blogs and landing pages to image galleries and podcasts.
You will be able to learn where your visitors come from and what types of content they're engaging with so that you know what works the best and what doesn't and then invest all your efforts into increasing your readership. Some of the features include 30 unique attention metrics, subscriber tracking, and audience segmentation, among others.
The service comes with a code that is easy to integrate with any device or platform, including WordPress. You can also schedule your reports or receive alerts about any traffic spikes directly to your email (or Slack).
Having a deeper understanding of your visitor traffic (including data about their behavior, activity, and interests) will allow you to gather some key insights that will only help you improve your business in the long run. Each one of the analytics tools above has plenty of practical features that will allow you to have a solid understanding of your visitor's behavior on your pages and analyze what you can improve on to enhance the user experience and increase conversions at the same time.
If you're on the budget or own a smaller business, you can always use a free version of the tool like Clicky Analytics as it has more than enough features to accommodate your needs, including detailed information about your real-time traffic and the actions users take while visiting it. On the other hand, if you wish to get access to an even wider range of features like eCommerce and affiliate ads tracking and other Google Analytics reports directly from your WordPress dashboard, we recommend using plugins like Monsterinights or Exactmetrics. Either way, if you decide to monitor and analyze your visitor traffic with one of these tools, you can rest assured that you won't make a wrong choice.