7 Best Competitor Analysis Tools for 2023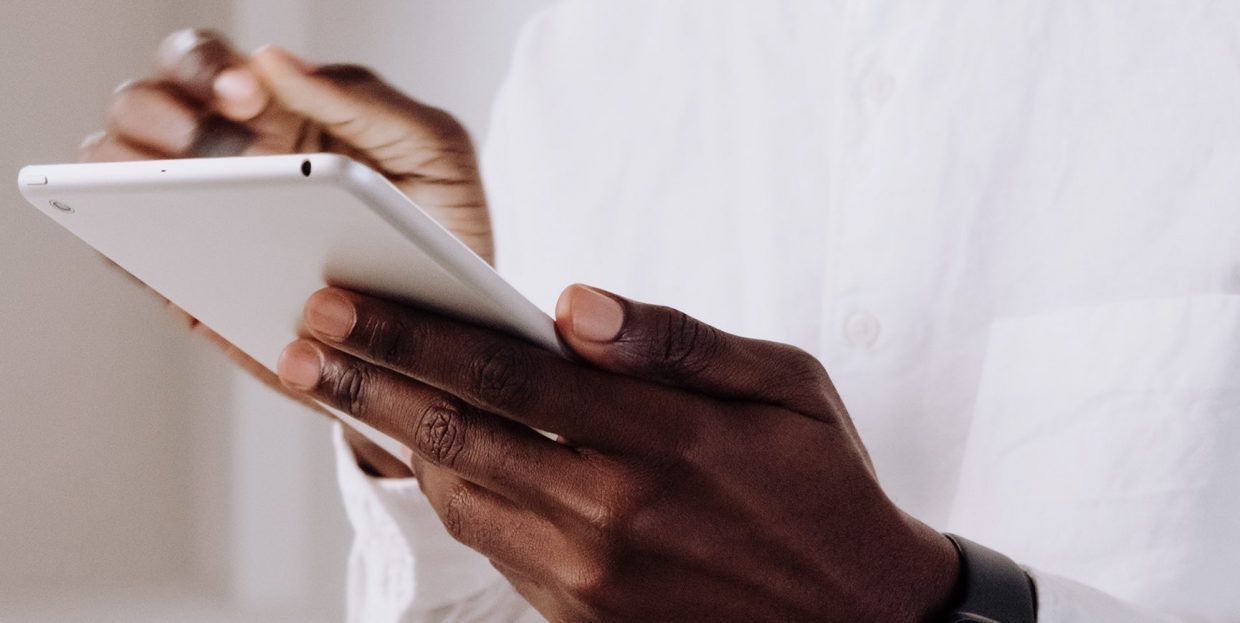 Regardless of the size of your business or the industry you operate in, it's highly important to keep track of your competition. Be it their visitor traffic, site ranking, a number of followers or social media engagement in general, performing a competitive analysis of the rival companies in your field will allow you to gain valuable marketing insights. By doing so, you can only help improve your own business strategies and find better ways to stand out from the rest. But to do all this successfully, you need the help of suitable competitor analysis tools.
By installing one of these tools, you get to track and analyze your competition's behavior, statistics, and other important data. You can learn what works for them (and what doesn't) and then use all that information to your advantage to get one step ahead of your competition.
Now, there are many different kinds of competitor analysis tools available on the web, and deciding on the tool that best works for you can be a tricky task. So to help you choose a perfect tool for your needs, we've decided to gather a list of the best tools in this category. From SEO-based tools to those that will help you analyze your competitors' content and social media, this list has it all.
In no particular order, here they are: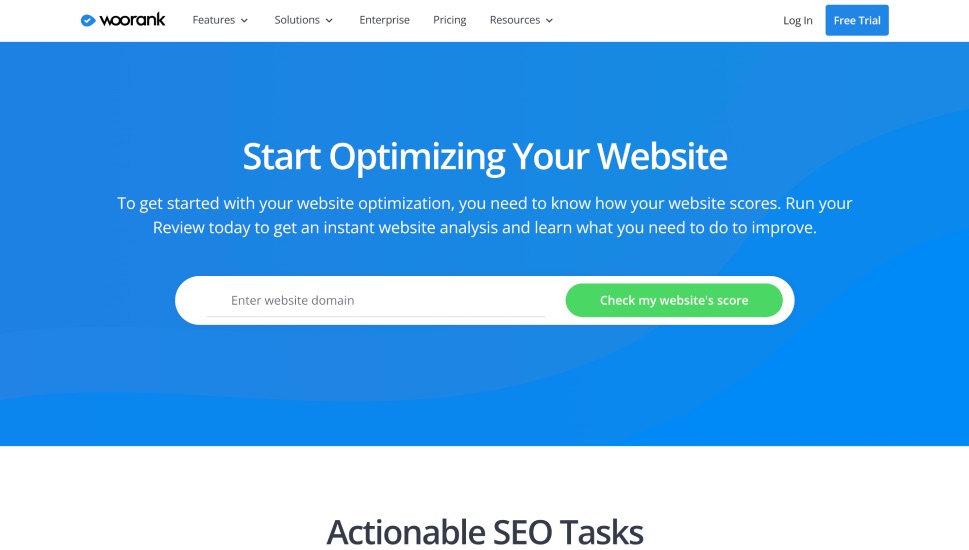 Both an SEO and digital marketing tool, WooRank is great for analyzing your site's SEO. If you want, you can get an instant SEO score of your website, and you can perform a side-to-side comparison with your competition.
WooRank will let you enter a total of three different competitors. Some of the things you will be able to compare include technical SEO, keywords that they're targeting, track ranking changes, and more. Also, you can discover new competitors in real-time, and receive weekly reports on all changes that occur both for yourself and your competition.
The pricing for the WooRank tool starts at €79.99 a month. You can also try out their free 14-day trial.
It's safe to say that this tool is considered a must in every SEO tool arsenal. Semrush is truly an all-encompassing tool you can use to perform anything from keyword research and on-page and local SEO to content marketing and competitor analysis.
You can compare your own website traffic against your competitors and find the opportunities to outrank them. Also, you can learn how to gain the upper hand when it comes to paid search (since you can get an analysis of their ads), check their social media and analyze their engagement, and more. Last but not least, you can compare the keywords of up to 5 different competitors at once to spot some missed opportunities and start applying them to your own site.
As its name suggests, Google Ads Keyword Planner will help you look into the keywords your competitors are using to find new keywords that work for your industry. All you need to do is enter the words associated with your particular products or services and Keyword Planner will find the keywords that are most appropriate for your business. You will get insights about how often specific words are searched, which allows you to choose the list of keywords you truly like that actually work. Then, you can simply implement these keywords into your own advertising strategy.
The use of Google Ads Keyword Planner is entirely free. All you have to do is create a Google Ads account.
Followerwonk will allow you to make the most out of your social media efforts on the Twitter social network in particular. Namely, you can analyze your own Twitter followers by location and by who they follow. In addition, you can find reputable names in your niche and get in touch with them, and compare your own social analysis with your competition. In short, you can analyze pretty much any Twitter user you want and use all the insights you get to improve your social media strategy and engagement. With Followerwonk, you will also get to learn the average number of new and lost numbers per day.
You can use this tool for free, but you should keep in mind that you will only be able to connect to one account and get access to a few basic features, like viewing social authority rankings and seeing followers and their locations. To be able to insert more profiles at once, compare follows/followers and view other valuable statistics, you need to purchase one of the available pricing plans (the cheapest plan is $29 a month).
Quick Search is an all-encompassing social search engine you can use to enhance the overall influence of your brand. You will be able to monitor your brand performance on the web in multiple areas, including social network, blog, and forum coverage, analyze the overall brand engagement, detect if any influencers are spreading the news about you, and more. Also, you get the opportunity to compare up to five different competitor brands or topics at once and get some much-valuable insights regarding their user engagement, demographics, location, and so on. On top of it all, you can learn more about the current industry trends and find content ideas that work best for you.
Simply put, Buzzsumo is an ideal competitor analysis tool for finding the best-performing content. Thanks to their content insights, you can discover the high-performing content among your competition and get inspired to create a successful content strategy of your own. All you have to do is enter a keyword or domain and start analyzing. You can also monitor your own performance, find reputable influencers within your industry, and more.
If you want, you can even filter your search results by a specific date range, country, language, etc. The data you will have access to also include social media engagement (on networks like Facebook, Twitter, Pinterest, etc.).
The Buzzsumo tool with basic features is available for free, but for more advanced features, you need to upgrade to a Pro account (the pricing starts at $99 a month). There is also a free 30-day trial available.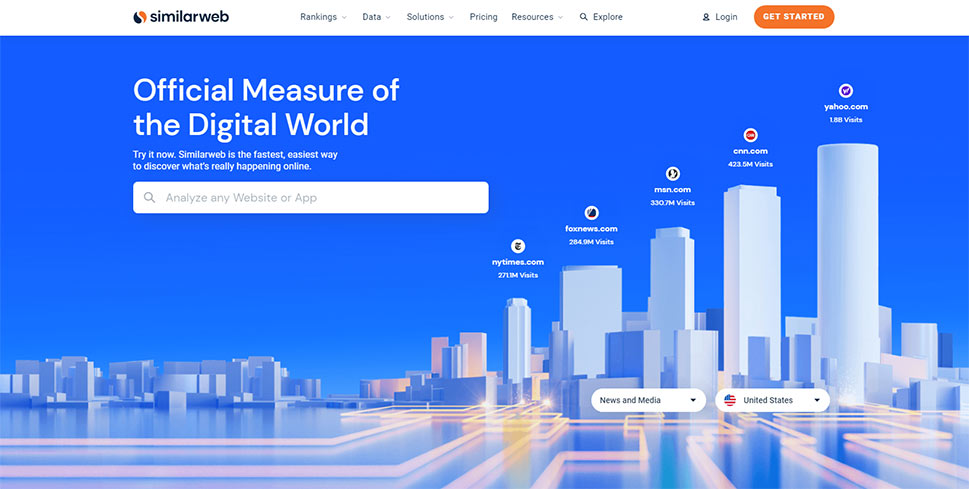 Another all-in-one competitor analysis tool, SimilarWeb lets you perform a complete analysis of any website – including yourself and your competition. You can get an overview of website visits, traffic and engagement, geography and country targeting, audience demographics and interests, keywords, social media traffic, and plenty more. Then, you can perform a comparative analysis of any rival website or business and also view a list of top competitors in your industry.
There is a free trial available, but to learn the pricing of the SimilarWeb tool, you do need to contact their creators directly.
And there you have it – a list of what we consider to be some of the best competitor analysis tools available on the web right now. Some of these tools have more features than others, or they simply focus on different areas of analysis, but they all share one common trait – they're great when it comes to helping you learn how to one-up our competition and improve your overall marketing strategy. Go ahead and try out the tool (or tools) that seem to fit your business the most so you can work towards claiming a lasting spot in your industry that you deserve.