6 Best Omnichannel Tools for WordPress
The term "omnichannel" can be defined as an approach or strategy that integrates all available methods and channels of interaction with customers. These days, when physical and digital worlds are more interconnected than ever, omnichannel indicates an integration of both online and offline advertising, marketing, communications and sales.
It is a particularly relevant term in e-commerce, as it aims to provide a seamless and cohesive approach to digital and brick-and-mortar shopping experiences. In practical terms, an omnichannel experience is when you receive a coupon via sms or email and then use it in a physical location. Or, when you sign up for a newsletter in a store and then receive promotions via your social media or email.
We've written extensively about this in our guide to omnichannel marketing and WordPress, and this time around we want to focus on some of the best omnichannel tools for WordPress that can help you promote your brand, boost your conversions and grow your sales: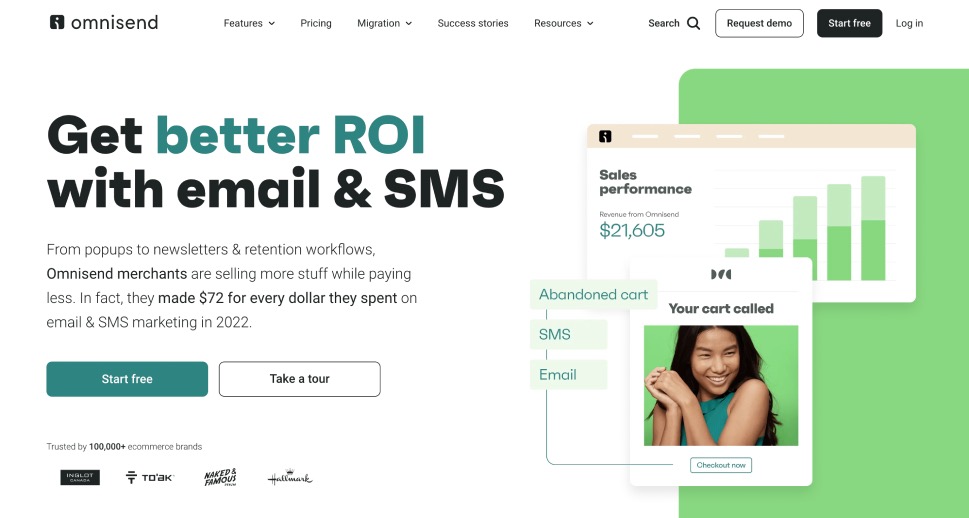 Omnisend is an all-in-one marketing solution for e-commerce businesses. Once you have collected a pool of leads (email addresses, phone numbers, etc), Omnisend allows you to create automated campaigns, tailored for your specific needs, that engage your customers whatever channel they're using. Omnisend's rich features help you create pre-built automations such as welcome message series, abandoned cart recovery, post-purchase campaigns and more.
Omnisend also offers rich segmentation and targeting abilities – you can create very narrow and specific audiences and then target them with custom campaigns. The audiences are updated in real time and all the actions can be automated using an intuitive and functional dashboard.
This tool is very easy to integrate into your operations, and it can be done pretty quickly, too, with guided migration and complete data sync. Should you encounter any difficulties, you can count on 24/7 support.
For small businesses or for those who just want to try Omnisend out first, there is a free plan. Paid plans start at $16/mo for medium businesses focused on email marketing and the true omnichannel features come with the pro plan that includes sms too, and costs $59/mo.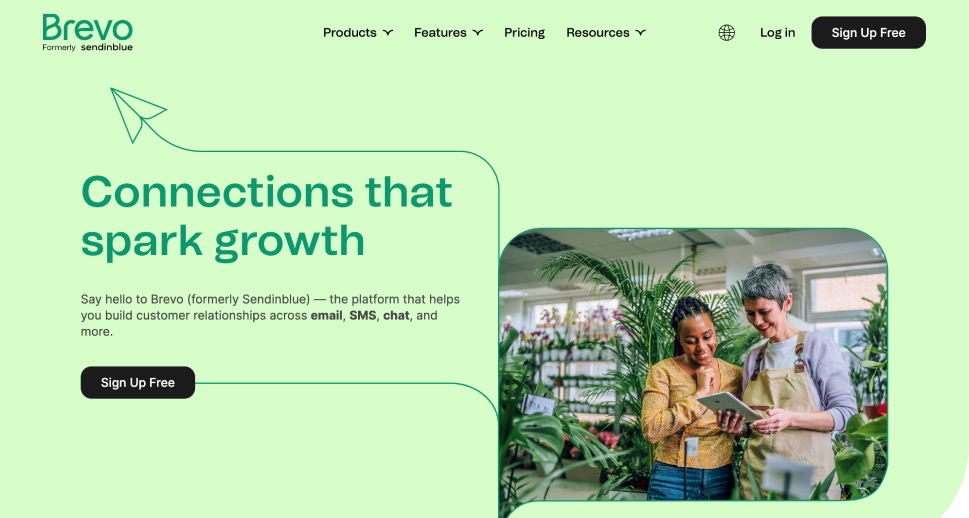 You may not have heard of Brevo, but you've certainly heard of Sendinblue, the classic email marketing tool for WordPress and other platforms. Well, Sendinblue has just rebranded and it's now a full-fledged CRM platform with a new name – Brevo.
Brevo is a platform designed to help brands build and develop customer relations throughout various channels – most importantly email and sms, but also live chat, social media and more. The great thing about Brevo is that it's not just for marketing purposes – in addition to creating seamless campaigns throughout email, sms, WhatsApp and more, it also helps with identifying and targeting leads, tracking deals and optimizing your pipeline with automated actions.
Triggered emails are a particularly attractive feature of this platform. Brevo automates all your transactional messages with precision and reliability, thanks to an API that guarantees a 99% delivery rate. It also features an inbound email parser that captures data from what you receive and sends it in appropriate databases, from where it can be used for campaigns.
Brevo is a scalable platform that can be equally beneficial for small startups and big enterprises. It integrates seamlessly with WordPress and WooCommerce, as well as Zapier, Salesforce, Zendesk and other popular platforms.
Brevo comes with a free plan for those who just want to try it out. Paid plans are divided into functions – there are plans for marketing platform, sales platform, email, etc. The cheapest Marketing platform plan costs $25, Conversations plan is $15, the Sales platform is free and the Transactional emails plan is free as is and you pay per number of emails sent.
Klaviyo is a feature-rich, powerful product for marketing automation tool that focuses on hyper-personalized customer messages across the most important channels – email, sms, push notifications, and beyond. It features advanced segmentation features, with any possible combination of rules, from profile and demographic info, location and behavior to order date, and more. Growth tools, such time-based pop-ups and dynamic forms, help turn visitors into subscribers. Behavior-based messaging can target customers based on engagement, event data and predictive analysis. On top of all that, the AI-driven tools help you proactively message your customers by predicting their next order time, churn rate, lifetime value and other important aspects.
Furthermore, Klaviyo features channel-based templates that are industry-specific, as well as cross-channel attribution and reporting.
Klaviyo has 300+ easy-to-install tech integrations, offers 24/7 support, live training and certifications, and has a network of 6,500 partners.
The pricing is based on the number of contacts a business has. If you're starting with none or very little, you can use the basic Klaviyo plan for free. For businesses with 1,001-1,500 contacts, the Email and SMS plan costs $60/mo and Email only is $45. More contacts mean slightly more expensive plans.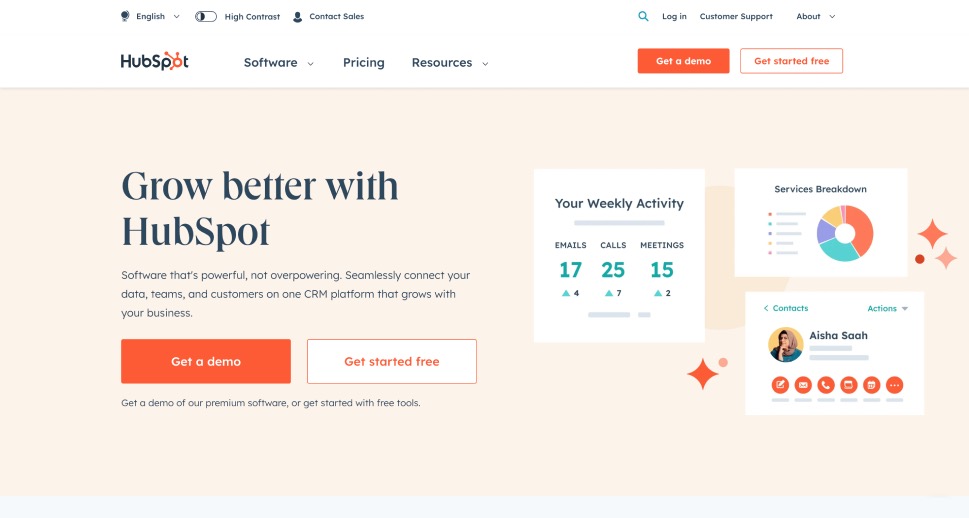 While we're on the subject of CRM platforms with omnichannel marketing features, we can't skip to mention HubSpot, one of the leading marketing and CRM tools on the market for a while now. In addition to helping you effectively manage customer relations, HubSpot also streamlines your marketing campaigns and track customer interactions, building a cohesive system that allows you to craft pitch-perfect strategies that make the most out of every lead.
HubSpot offers a centralized customer data overview with interactions, manages and tracks leads throughout the pipeline, automates marketing tasks and their follow-ups, creates behavior- and preference-based targeted campaigns, and much, much more.
The platform's Service Hub helps with tickets, support and feedback, and knowledge bases. The Operations Hub includes data sync, powerful and programmable automation and data quantity automation.
On top of all this, you can also use HubSpot as a content management system (although you won't be needing it if you're using WordPress) – it features a drag-and-drop editor, SEO tools such as keyword and topic recommendations, web hosting and custom domain connection, and even website templates.
As for the pricing, different tools (or hubs) come at different costs. For individuals and small teams, all solutions start at $30/mo. The enterprise and premium solutions are more costly, of course: the Marketing Hub starts at $800/mo, Sales Hub and Customer Service both start at $450, CMS is $360/mo, and operations is $720/mo. Note that you can also combine the products and make a bundle, in which case individual products will cost less.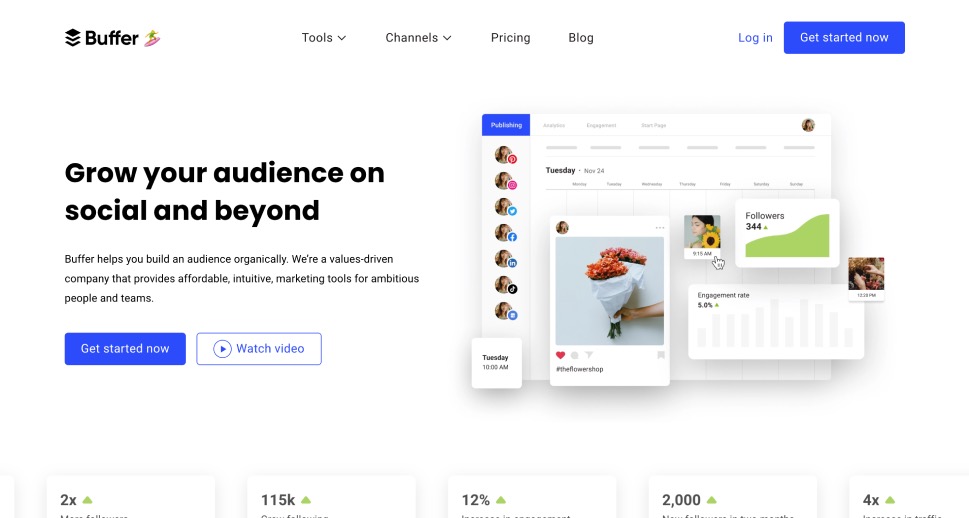 These days, no omnichannel strategy is complete without social media, and that's where Buffer comes into play. It's a powerful, reliable and feature-rich tool for scheduling and targeting automated social media messages and content, complete with analytics tools. You may remember it from our piece on how to automatically post to Facebook from WordPress. The people behind Buffer understand that social media represents an enormous pool of possibilities and one of the fastest and cheapest ways to grow your audience and your brand. They also understand that managing social media campaigns can be quite time-consuming. With their automation tools, it doesn't have to be, though.
With Buffer, you get actionable insights about which content will perform the best, and at what times. It will also help you share to the right channels so that you reach the best possible audience for your message. Thanks to scheduling features, Buffer will literally post the content for you at scheduled times, in automated processes that help you save tons of time. And, regardless of your team size, Buffer's collaborative tools (featuring permission settings and approval flows) allow your team to work by itself, without having to be (micro)managed.
This tool is known for a very user-friendly interface and easy integration with many popular tools and platforms, including, of course, WordPress.
Buffer has a free plan for individuals and small brands, which allows connecting up to three channels and comes with a landing page builder, planning and publishing tools and an AI assistant. Paid plans go from $6/mo to $120/mo and they come with a 14-day free trial period.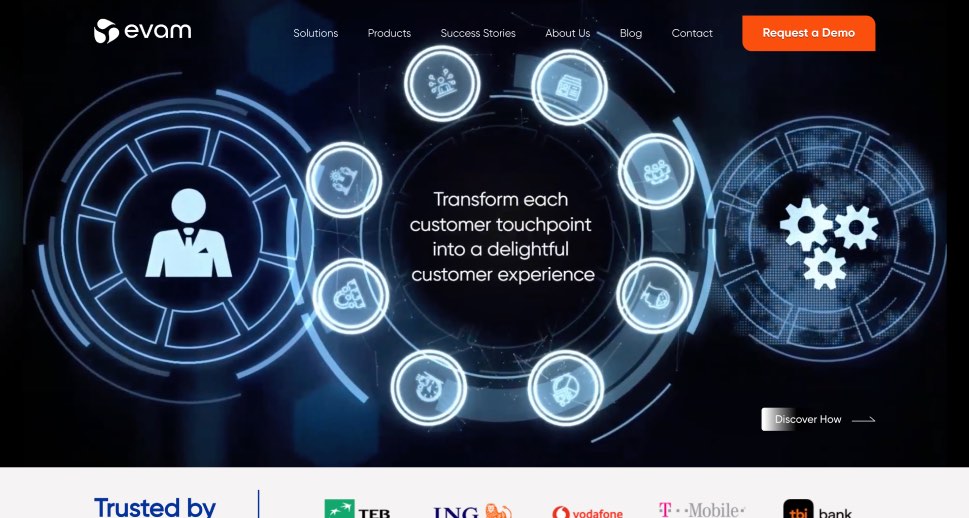 Evam is a real-time cross-channel marketing solution specializing in telecommunications, retail and loyalty, transport and travel, as well as financial services. In addition to omnichannel marketing, it also provides solutions and tools for customer experience management and operational efficiency. This platform uses AI and data collected from billions of touchpoints daily to take the optimum action in real time, showing the next best offer for each customer.
Evam's omnichannel marketing tools hub helps users engage with their customers across all digital touchpoints in a cohesive, unified manner, assuring that both the branding and the messaging remain consistent, with maximum efficiency. It provides tools for cross-channel surveys, collects customer feedback, creates valuable insights and makes sure all campaign messages are delivered at critical moments. Unlike many other CRMs, Evam doesn't create rules for individual touchpoints and instead uses weeks- or months-old journeys to manage customer interactions. This provides a more precise and reliable overview of the customer journey and thus assures more efficient customer interactions.
Evan provides businesses with a scalable and easy to use digital platform that's ready to deploy out of the box and doesn't require any IT support. The platform uses machine learning to develop scenarios, thus supporting agile value creation.
This is an advanced solution that doesn't exactly integrate into a WordPress website like a plugin. The company can create tailored solutions and is made specifically for agile-oriented digital businesses, which is perhaps why the only way to learn of its pricing is to get in touch with them.
There you have it – a selection of the top omnichannel tools for WordPress available on the market right now. You may have noticed that these tools are not exactly cheap (especially in enterprise versions). This is because they offer complex automation features that go far beyond simple plug-and-play solutions that are available for WordPress.
You may also have noticed that most of the tools focus on email and sms. These communication methods lie at the heart of omnichannel strategies. There are email automation tools that focus solely on that, but we made sure to include tools that help you easily integrate as many channels as possible, in an automated (and often AI-powered way). If there's a tool you use and like that we didn't include on our list, make sure to let us know!