6 Best WordPress Testimonial Plugins
Regardless of the niche you belong to, before people decide to do business with you, they'll want to learn more about your brand and the services you provide. The best thing to do is let your products and skills speak for themselves, but to earn people's trust and remove their skeptical doubts, almost nothing beats user testimonials.
In this roundup, we'll tell you all about the best WordPress testimonial plugins on the market. Of course, you could always opt for a WordPress theme that comes with the option for displaying testimonials already built-in. However, if you'd like to go the plugin way, consider installing one of the following WordPress testimonial plugins:
But first, let's discover how testimonials can benefit your brand.
Social proof matters. A lot.
When you're thinking of buying a product you've not used before or renting a place in a foreign country, you probably read the reviews first, don't you? Almost all of us pay attention to the average score and browse through the testimonials section, and so we form our decisions based on social proof and customer feedback. Whether that's the right thing to do or not is debatable, but people will usually trust someone else's experience and assume their own won't be any different, be it positive or negative.
With all this in mind, it's obvious why adding testimonials to your site can help you build your reputation and increase your conversion rates. People will feel encouraged to do business with you and you'll earn their trust. They'll believe what you do is legit, and not a scam. Plus, testimonials are an excellent way of highlighting the benefits of using your products and services.
Now that we know why having testimonials on your site matters big time, let's discover the five best WordPress testimonial plugins.
The Qi Addons for Elementor plugin includes an assortment of 60 free widgets that add a bunch of functionalities to the Elementor page builder. One of those powerful addons is the Testimonials widget that lets you add testimonials to your site in just a few mouse clicks. Without any prior coding knowledge, you can use its intuitive options to stylize your testimonials according to your requirements and ensure their appearance matches the overall aesthetic of your site. This terrific widget enables you to:
display user name and occupation
customize the color palette for testimonials
specify the position of every testimonial
modify typography and font colors
choose between several testimonial styles,
And if you would like to display your testimonials in a carousel, in that case, choose the Testimonials Carousel widget.
With this addon, you can:
edit the text size and color for the testimonials
choose the color for the testimonials
modify the color of navigation arrows and set their background color
select where to display carousel navigation
choose a layout for your carousel
choose the position for the slider pagination
display pagination on each slide
enable the autoplay functionality
pick a font to your preferences,
and heaps more. Creating testimonials and testimonials carousels has never been this easy, and best of all, you get all of these compelling options completely free of charge.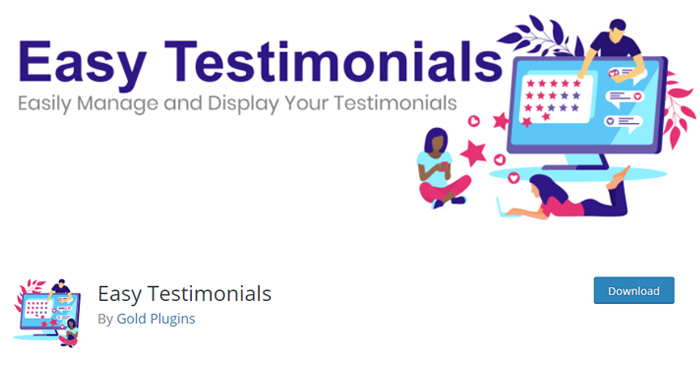 Easy Testimonials is a terrific freemium solution that comes well-stocked with a myriad of customization options. The free version of the plugin is truly powerful and packed with numerous features that allow you to collect and display testimonials on your site. As for premium plans, you can choose between three yearly subscriptions. The prices range from $99 to $599.
This amazing plugin allows you to easily add testimonials to your posts, pages, or widget areas. You can modify pretty much every single aspect of your testimonials. Its impressive options let you:
define the excerpt length and link excerpts to full testimonials
predefine testimonial image size
enable the use of gravatars and fallback images
include the date when the testimonial was submitted
select one of the multiple testimonial themes available
add the form to your site to collect user testimonials,
Another cool thing about this plugin is that all testimonials are Schema.org compliant and are using the JSON-LD (JavaScript Object Notation for Linked Data) markup, meaning they'll stand out in search results. People will be able to see your star rating immediately, which can encourage them to visit your site.
The pro version allows you to adjust typography, automatically collect testimonials, prevent spam by adding CAPTCHA protection to your site. The drag-and-drop form builder also comes included with the premium plan.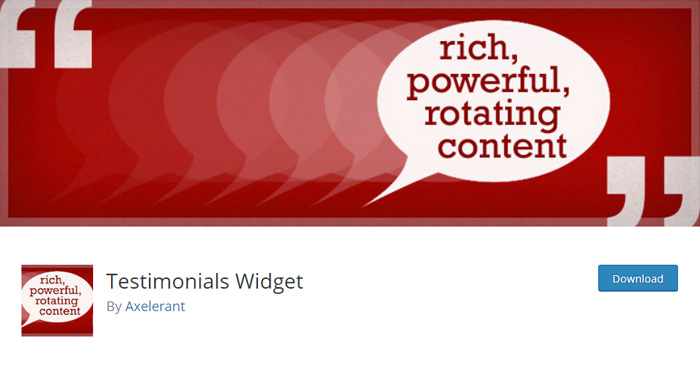 Testimonials Widget is another great plugin that allows you to display testimonials with widgets. Besides the free version that's available from the official WordPress plugin library, you can also purchase one of the four premium plans from the author's official online store. The prices go from $29.99 to $239.99, but even the free version of Testimonials Widget features numerous nifty elements.
With this plugin, you can add testimonial categories, a tag cloud, archives, and testimonials slider to your widget areas, but also insert testimonials to pages and posts via a shortcode.
The Testimonials Widget plugin allows you to:
enable testimonial paging, videos, etc.
show / hide the author's name, their email, gravatar, image, and more
add category, tag, and post ID filters
set the testimonial's speed rotation,
The premium version includes some additional features such as star rating, testimonial submission form, caching, the possibility to include excerpts, read more links, RSS feeds, and more.
Unlike some other plugins on our list, Testimonials Widget doesn't come with any built-in themes, but if you know how to code, you can customize the appearance of your testimonials using CSS.
Testimonials Slider is an easy-to-use testimonial plugin stacked-full with cool features. The free version alone is powerful enough to help you create beautiful testimonial sliders, but if you like, you can upgrade to the premium plan for $17.
This handy plugin lets you:
choose background and text colors
select the transition effect
choose the position of navigation buttons
add testimonial categories
select one of the numerous testimonial layouts available
All of these remarkable features come included for free. Of course, the premium version features some extra options, such as the possibility to display testimonials in the list view, along with the option to create a front-end submission form and an unlimited number of testimonials.
Should you ever run into any issues regarding this plugin, you can contact their support team. They're available 24/7 and will swiftly reply to all of your questions.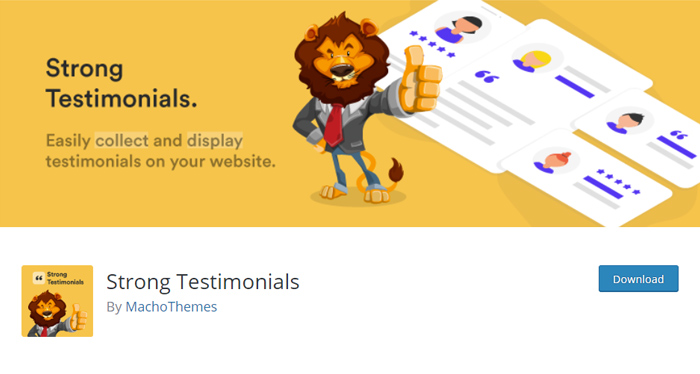 Strong Testimonials is among the most popular freemium WordPress testimonial plugins. There are four premium plans for you to choose from, starting from $49 for a basic plan to $129 for a plan created for agencies and large teams.
This easy-to-use plugin comes packed with handy features. It allows you to create categories and group testimonials by product or service. Besides this, you can also:
enable the pending indicator in case of new submissions
add single testimonial slugs
allow comments on testimonials
include images and videos,
We especially liked the Testimonials View feature that allows you to control where and how will the testimonials appear on your site. You can display testimonials as a list (with optional pagination), in grid and single column layouts, as a slideshow with transition effects, and create a submission form.
In case you opt for the pro version, you'll be able to display the reviews your users have left on external platforms, such as Facebook, Google, Yelp, etc. Furthermore, the premium version includes the Schema.org markup and allows you to create custom submission forms.
Testimonial Rotator is one of the best free solutions on the market when it comes to WordPress testimonial plugins. You can use it to group several testimonials together and then add testimonial sliders anywhere on your site.
Once you install it, a Testimonials custom post type will appear on your WordPress admin dashboard. The plugin comes available as a shortcode and a widget, meaning you can display testimonials on your pages, posts, and in widget areas, too.
The settings are placed within the Testimonials tab. Here you can:
choose transition effects
set image size for the person giving the testimonial
specify for how long you want the testimonial to show
input the speed at which the slides will move on
enable a star-rating system
decide whether to show or hide featured image, title, author's name,
There are also several themes to choose from, allowing you to decide how a testimonial will look like when displayed on your site.
One thing you cannot do with this plugin is to collect testimonials. The good news is that Testimonial Rotator integrates with Gravity Forms, which allows you to set up form submissions. But that is a premium plugin, so you might have to spend a few bucks after all to create a submission form.
Which Plugin Should You Install on Your Site?
No matter which WordPress testimonial plugin from our list you decide to install, you simply can't go wrong. They all allow you to alter testimonials and adjust numerous settings to your liking, except that some premium plans are more affordable than others. Think about what kind of testimonials you really need, if you want to display them in a carousel or a list, add images and videos, etc. Once you're certain of your requirements, select the plugin that can best help you accomplish what you need.