6 Best Heatmap Tools and Plugins for Your WordPress Website
Having a clear picture of how users engage with your website's content can greatly help you in developing a better content marketing strategy for your business. This is a commonsense type of approach – the more awareness you have of what your users prefer (or don't prefer) about your content, the more you'll know what to improve on. In addition to using the most comprehensive solution in this area, Google Analytics, installing one of the many available heatmap tools and plugins can prove to be extremely valuable in this situation. To save you the trouble of having to dig through the many available options, we've gathered a list of the best heatmap tools and plugins for WordPress you can find online.
What is a Heatmap and Why Use It for Your Website?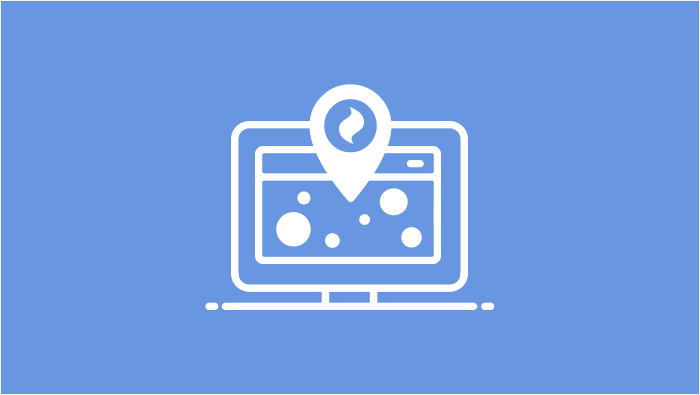 A heatmap is a graphical depiction of data visualized by color which, when set up with the help of a plugin, visually represents areas of your website that users click and scroll through. Heatmaps allow you to pinpoint the areas that have the most activity, including visual analytics of where the users are clicking, scrolling, and how they are using your website in general. The areas with more activity will be shown as "hotter" than those with less user engagement. This can help you determine the need for improvement when it comes to your website's usability, structure, or the type of content you post. In short, heatmap analytics show a direct and concrete picture of how users use and interact with your content.
In order to make your website more functional and user-friendly and improve your content marketing strategy as a whole, we invite you to check our selection of some of the best WordPress heatmap tools and plugins out there:
With over 300,000 active users, Crazy Egg is an excellent and immensely popular tool for tracking the visitor behavior. It allows you to use visual reports and individual session recordings to learn more about your visitors, including where they're coming from and the way they navigate your website. The brighter the areas of your website, the more clicks (and more popularity) they have, and vice versa – the darker the areas, the less popular they are. You can adjust the brightness of the heatmap view, filter by date range, and so on.
There is also a Scroll Map that shows how far down people scroll on your page. This is particularly useful as it can indicate the exact area where users lose interest and stop scrolling. Another handy feature that comes with this plugin is the Confetti Report tool that pinpoints every click on your page and allows you to find out various information about the users by filtering the clicks by country, browser type, search engine type, day of the week, and so on.
Crazy Egg is extremely easy to set up and use. The pricing for this tool starts at $24 a month for 30,000 tracked pageviews and an unlimited number of websites, and all plans allow a one-month free trial.
Lucky Orange is an all-in-one conversion optimization suite used by more than 100,000 websites. It allows for the automatic monitoring and recording of every single visitor and lets you easily filter and segment your recordings to accurately analyze the reason why visitors aren't converting. In addition, aside from the standard click heatmaps, there's also the Conversion Funnels tool that provides an insight into where people abandon a process on your website (such as checking out or creating an account). Lucky Orange is also quite affordable given the range of functionalities it comes packed with – you can use the Starter pack with 25,000 monthly pageviews for one site for only $10 per month.
The Mouseflow plugin works by recording the mouse movements of your visitors. These include clicks, scrolls, the areas visitors focus on the most, etc. Additionally, there's a possibility of getting a user session recording which replays the user activity, while the Forms feature allows you to monitor how people interact with your forms. This is a great plugin that will help you change the way you manage your content (for the better) and consequently boost conversion rates. The likes of Microsoft, Philips, Samsung and Bosch use this plugin, which only further proves its quality and efficiency.
The pricing for Mouseflow starts at €24 a month for 2500 recorded sessions (a single site limitation). If you want to use the plugin for free, you can download it from the WordPress.org repository and use it for one website with a limitation of 100 recorded sessions a month.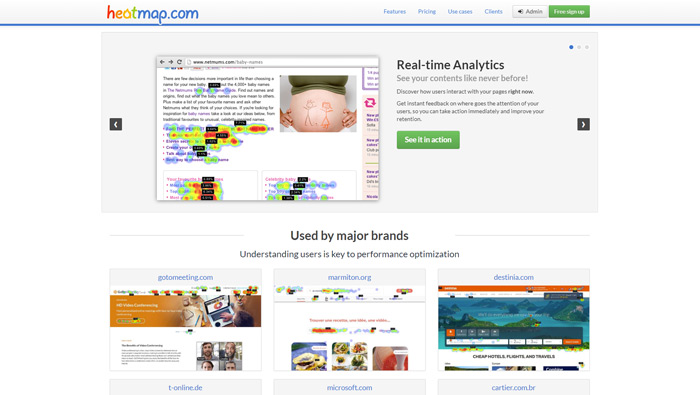 Heatmap is a simple heatmap analytics tool that operates by using a JavaScript code that is very small and asynchronous, which means it won't impact your website's performance. The on-site click heatmap adjusts automatically in order to fit responsive websites across all devices. The free version of the tool includes options such as the standard heatmap use and real-time statistics (limited to 5 pages and 1 site), while the premium version can be bought for $100 a month (unlimited pages on one site) and comes with features such as conversion tracking, template analysis, and full technical support.
Clicktale is another popular heatmap solution l that offers mouse move and mouse click heatmaps, scroll reach metrics and a comprehensive statistical overview of every link's performance on your website. Session Replays is another handy feature that allows you to replay the browsing sessions of your customers and directly visualize what they see and do on your website in order to gain user intent insights. Last but not least, this tool offers integrations with popular analytics tools such as Google Analytics, Optimizely, Optimost, Adobe Analytics, and many more.
One possible downside to this tool is that, in order to learn about the pricing plans, you have to contact the Clicktale team directly and request a meeting.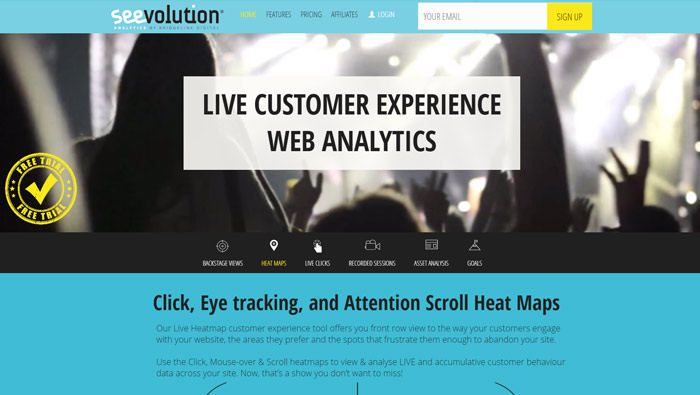 SeeVolution is an easy-to-use and intuitive web analytics tool ideal for beginners. It offers a front-row view of the way your customers engage with your website content through click, scroll and mouse-over heatmaps. There's a particularly handy option called Live Clicks Map that allows you to choose a specific page on your website and monitor your visitors' actions, with each click appearing live on the map.
The tool offers plugins for every platform, including WordPress. The paid plan starts at $9 a month ($97 a year) for 25,000 monthly visits and 3 websites, while a 14-day free trial is available for all plans.
Even though these heatmap tools and plugins come with different pricing options and vary in terms of popularity and the range of features, they all offer great heatmap solutions for your website. Some tools provide an even deeper insight into the behavior of your users by offering options such as the ability to view the user's sessions or the conversion funnels tool that lets you see where people abandon certain processes on your website. No matter which one of these tools you pick for strengthening your content strategy, we are sure you won't make the wrong choice.