A Quick Guide to WooCommerce User Roles and Capabilities
Aside from being a highly flexible and scalable platform, there is another reason why WordPress is such a highly regarded CMS by many – and that is due to its user-friendly interface and comprehensive user management system. What this means is that if you have multiple people running and managing a website, you can easily take advantage of the built-in user role system to determine different capabilities for each person involved.
By assigning a specific role to a particular person, you can allow them to have access to one or more areas on a site while preventing them from doing other tasks or accessing other website areas at the same time. You can deploy different tasks and capabilities to each person helping you run your website to streamline the process of managing your files, content, and your WordPress site in its entirety.
Apart from the user roles you get to use in WordPress by default, the popular eCommerce platform, WooCommerce, also comes with its own set of user roles you can use to make your eCommerce store more organized as a whole. And this time around, we've decided to explore the topic of WooCommerce user roles and mention and explain some of the most notable capabilities that come together with this practical eCommerce plugin. In addition, we are going to briefly mention some of the default user roles that come with the WordPress platform by default and show you how to easily assign WooCommerce (and all other) roles to different users while we're at it.
Before we start talking about WooCommerce user roles, first we have to explain what user roles stand for in general. User roles in WordPress are a part of a built-in user management system that allows you to have more than one user run and manage different areas of your site. Every role comes with a different set of capabilities and areas that users can access. Some users have less access and capabilities than others, and vice versa. For example, one user will have a role that prevents them from publishing any of the posts that they write, while the other user will have access to editing, deleting, and publishing all types of content on your site. But we will talk more about all these in a minute.
In WordPress, there are five user roles that come with the platform by default. These are:
Administrator – as far as WordPress site management goes, this is the most comprehensive role there is. Not only does the role of administrator give you access to every area of your site, including installing plugins, exporting and importing files, and adding themes, it also provides you with the ability to manage and control all other user roles, as well.
Editor –the editor role serves to handle and manage the entire content available on your site. This means they will be able to publish, edit, and delete all posts and pages on your site, including those created by other users. In addition, they can manage comments as well as website tags and categories.
Author – The author role grants the user the ability to publish, edit, and delete only the posts that they've created.
Contributor – Originally intended for guest bloggers, the role of Contributor allows a user to create, edit, and delete their website content, but doesn't give them permission to click on Publish.
Subscriber – Last but not least, the Subscriber role has very limited access to the site's backend. They are allowed to edit their own profiles as well as read posts and leave comments.
Now, if you own an eCommerce business and you decide to install and set up WooCommerce to help run and manage your online store, you will get access to two additional user roles – Shop Manager and Customer. Just like default WordPress user roles, these WooCommerce user roles are meant to further enhance the management of your online store. In addition, you will also help improve the overall website access for users who are browsing through and buying your products.
We are going to break down the capabilities of each new role that you get after installing the WooCommerce plugin.
Similar to the Subscriber role, a Customer role is any user who registers and signs in to your site to use the checkout page and buy your product. They will also be able to browse through your products, edit their profile, and view their order history. On a WooCommerce-powered site, a person that registers or goes to their checkout should automatically get assigned the role of a Customer.
This WooCommerce role has the most similarities to the default WordPress Editor role. Basically, a Shop Manager will have the responsibility to run and manage your online store, including the ability to edit all available WooCommerce settings, create and edit WooCommerce products, and view order history and reports. So, if you want to have a person that will only be in charge of your products and WooCommerce settings, the Shop Manager is the role you should assign them to. Also, a Shop Manager can also do everything a user assigned a Customer role can.
In short, when you want to have a person that will run and manage all aspects of your online store in the backend, but you don't want them to have access to other options (like editing plugins or themes), the Shop Manager role is the ideal choice.
Finally, we do have to mention that a website Administrator has the ability to access and manage all WooCommerce settings by default.
If you are an Administrator on your site and want to assign a WooCommerce-specific role to a user, you simply have to go through the same process when assigning any other WordPress user role. So, to do this, you should head to Users >> Add New in your WordPress dashboard.
Then, you will be able to go through the process of entering the user's credentials, including their first and last name, user name, and email. You will also be able to create their password and choose whether you want to notify them via email about their new account.
To assign a specific role to your user, you should click on the dropdown next to the "Role" option and choose your role. Then, hit the Add New User button.
Aside from the user name itself, all the other user options are editable and can be easily changed later.
Similarly, you can edit any of your existing users by clicking on the Edit button below the name of the user in question: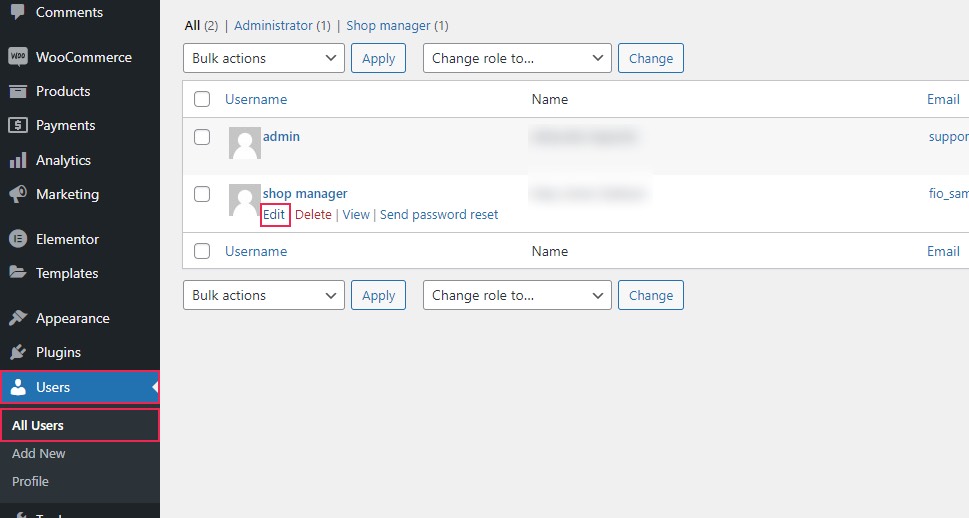 Finally, the users who register to your WooCommerce site to buy your product will automatically be assigned the Customer role, but you (an Administrator) can always access Users >> All Users and click on the Edit button below their name to change their role into anything else you prefer.
That concludes our brief introduction to the WooCommerce user roles and their overall capabilities. As you could see, the user roles that become available after installing WooCommerce work on the same principle as the ones that come with WordPress by default. In a nutshell, the two available WooCommerce roles are meant to provide you with complete shopping management and also allow your customers to have a more personalized user experience on your store after using the Checkout option.
You can use the default WordPress Users screen to assign WooCommerce roles to any of your users, including both Shop manager and Customer roles. Also, you can edit any of the existing users and change their roles at any time to fit your specific needs.