What are WordPress Themes and Why are They so Useful
If you are new to WordPress and have just gotten around to installing it, you're probably curious about so many things. How does WordPress work? How do you customize it? And what on earth are WordPress themes? As you'll see, all three of these questions are, to a certain degree, connected. But today we're going to focus on the last one, and explain exactly what WordPress themes are and why they are so useful.
WordPress themes are a great tool for establishing an online presence and making your website stand out in the best way possible. Even if you're not a design expert and you've never once in your life done any coding, WordPress themes allow you to quickly set up a website and customize it just the way you like. This is precisely the reason why we've decided to talk about the importance of WordPress themes, as well as the general way they work.
First Things First – What Is WordPress?
To understand the principle behind WordPress themes, we should start by defining what WordPress is as a platform. In a nutshell, WordPress is an open-source content management system that lets you create and manage a website with ease – all that you need is a domain name and web hosting, and you're pretty much good to go.
All this sounds fine and dandy, but here's a catch – despite all its functionality, WordPress looks pretty simple (and dare we say, dull) when you first install it. The reason for this is because the core theme WordPress comes with is made to look basic in the first place.
What is a WordPress Theme?
There's a high chance you've stumbled upon a few gorgeous WordPress-powered websites that all looked vastly different from one another, and that's how you decided to use this popular CMS to begin with. The possibility of making your site unique and perfectly suited for your brand and business is precisely where WordPress themes come in handy.
When it comes to WordPress, a theme is technically a collection of files and templates that, when combined, provide certain functionalities and a distinct look to a website. However, these are not the only things a WordPress theme does. In fact, it also provides you with the ability to control how you will present your site to the world. This means you get to customize and decide on the exact style of different website elements and sections – from entire pages, down to something more specific like social icons or typography. And in that sense, a theme is so much more than just files on a server. It's, in fact, the deciding factor in how people will perceive your website and your business.
Free and Premium WordPress Themes
Now that we've established the purpose and importance of WordPress themes, it's time to divide them into two very distinct categories – free and premium.
When we talk about free WordPress themes, first it must be noted that we strictly mean those in the WordPress.org theme directory. There are many such themes all around the web, but the ones in the official directory undergo a strict and meticulous quality control process before they are put on the list. Downloading free themes from anywhere else brings a risk of running into a theme with faulty (or even malicious) code.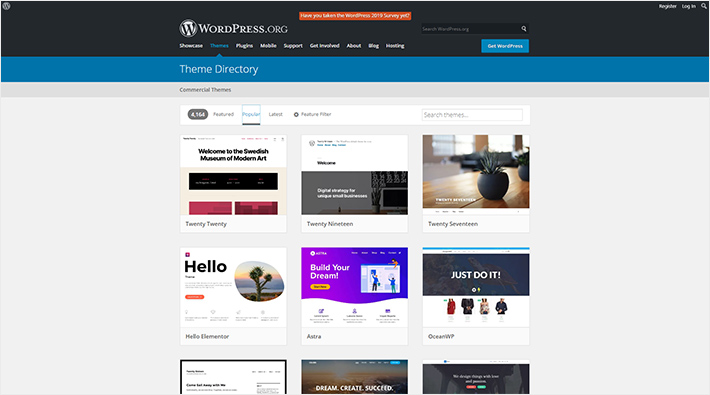 The biggest (and most obvious) advantage of using free themes for your website is that they are completely free to use. This can be a suitable option for novices who wouldn't mind a bit of experimenting before they finally settle on their ideal theme. Another potential benefit of using free themes is that they usually feature a simple design and less customization options, which makes them easier to work with if you're a beginner.
On the other hand, the downside of having a free WordPress theme is that oftentimes, no one can guarantee you that the theme you've chosen will get adequate support. Or regular updates, for that matter. They also aren't the best solution if your website requires a little extra "something" to stand out from others.
While free themes usually have a limited range of capabilities, this can be solved with various plugins (or even by adding some custom css, if you're familiar with coding) that can extend the functionality of almost any WordPress website. But since they're easy to obtain due to their "free" status, these themes are also used by many different sites online. Therefore, there's a high chance your website won't be as one-of-a-kind as you'd like it to be.
There are many marketplaces on the web where you can find and purchase premium themes. As is the case with every product, buying such a theme can bring many benefits to your website. Not only are most premium WordPress themes cross-browser compatible and up-to-date with the latest WordPress version, but they also work well with most WordPress plugins you can find online. By purchasing a premium theme, you will have far more features than you'll ever get with a free WordPress theme. These features allow you to expand and customize your website in a multitude of ways.
Here are some of the many advantages you can have if you buy this theme type for your website:
1.
Design
:
Most premium theme authors pay more attention to the design of their themes. Besides making their themes functional, they tend to make sure they're also styled in a way that fits the business they're made for. Here at Qode Interactive, for example, we have a team of over 25 designers, illustrators, UX and UI experts, animators, and artists who ensure every aesthetic and functional detail in each of our themes is tailored to its intended purpose.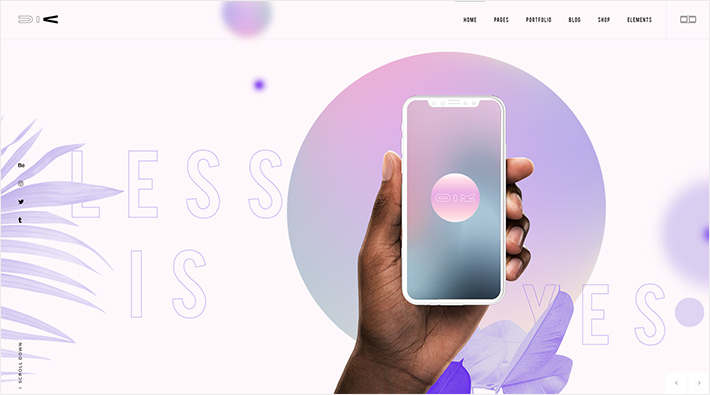 2.
Page builders
:
Whether you want to build your WordPress layouts from scratch or customize the predesigned page templates that come with your theme, page builders can help you do it with zero coding knowledge. Most page builders you can find on the market right now include drag-and-drop functionality, which makes page building simple. To ease the experience of their users, many theme creators make sure to include some type of page builder with their themes. For example, all our themes feature either the WPBakery page builder, the Elementor page builder, or in the case of some themes (like Bridge), both of these powerful page builders.
3.
Typography
:
Another great advantage of using premium WordPress themes is that most of them have organized typography with defined headings, subheadings, and text, all adjusted to fit the overall style of the theme. The choice of fonts in premium themes is also usually better than in free ones, as they'll rarely be equipped with fonts that are difficult to read or that don't fit the theme's style. If there is a font that is particularly demanding or too decorative, the theme's designers make sure to properly balance it out with the rest of the design. Therefore, if you're set on getting a premium theme, there's no need to tamper with any of the fonts yourself – that is, unless you really want to. And if you do, most premium themes come with font sets already integrated into the theme, so you don't have to do any work.
4.
Widgets
:
Essentially, widgets are different types of add-ons that provide your site with more features and can give it a more distinctive feel. As such, they are valuable to any WordPress-powered website or blog. A widget can range from a basic functionality like a Search bar or a list of recent posts, to something more advanced like a widget that shows Instagram images on your site. Plenty of premium themes come with a vast number of widgets, and also have predefined widget areas to place those widgets in, such as in the header, footer, sidebar, and so on.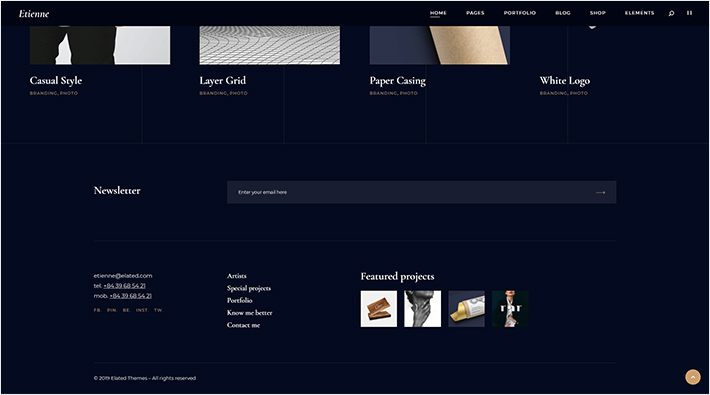 5.
Responsiveness
:
In this day and age, people massively use devices with different screen sizes to access websites. Therefore, responsive options have become more of a necessity than a choice. Nowadays, most premium WordPress developers have this in mind and make sure that their themes look pitch perfect on every screen size.
6.
Animations and effects
:
Depending on its design and purpose, a premium theme can often feature different types of animations that improve UX. These can include various hover animations, loading animations, animated backgrounds, galleries and slideshows, functional animations such as switchable buttons, and so on. Also, many themes come with sliders that have parallax and other types of animations and transition effects. All these different animation features have the purpose of making your website stand out and improving the overall browsing experience of users.
7.
Additional functionalities
:
Oftentimes, theme authors tend to develop their own shortcodes, modules, and options that add extra functionality to a theme, thus reducing the necessity of using a plugin. Say that, for example, you need a music WordPress theme for your website. In that case, your theme may come with specific shortcodes like an events list, album player, audio playlist, and other similar elements that may be useful to music-related websites. On the other hand, if you need a listing WordPress theme, then you'll probably get elements like category lists, listing packages, map with listings, advanced search and filtering options, etc. All in all, you get the idea. Depending on the niche and the theme type you have in mind, these additional functionalities can give more value to your website and, by extension, can be extremely beneficial for your business.
A WordPress theme is an integral part of every WordPress site. Aside from providing you with multiple customization options, it can help you control the way you present your website to the world in its entirety.
Choosing whether to go for free or premium WordPress themes will usually depend on your available time, financial plan, and the requirements you have for your website. If you're on a budget and want to run a simple blog, but don't mind if it looks similar to others, then opting for one of the many available free WordPress themes is an ideal solution for you.
On the other hand, if you want to build a multi-layered website with a unique design, we recommend buying a premium theme. By picking the latter option, you will get a professional design, expanded functionality, regular updates, adequate support, and features made specifically for the industry and niche your business is in.
Now that you understand exactly what WordPress themes are and how they can contribute to your website, it should be much easier to determine which of these two options best fits your needs.