13 Amazing Websites for Downloading Fonts in 2023
Typography plays an important role in web design, and the right font combinations can greatly enhance your work. However, finding optimal fonts for your projects can be a challenging affair. You may stumble upon the typefaces you like randomly while reading an online magazine or looking at a web poster. But even after you identify a font, you may find it hard to know where to download it from, with so many typography websites around. And as typography is an important design element, not only a matter of preference, it's essential to get it right.
There's plenty of websites to download fonts from, but it's hard to know which sources to focus on.
To save you from having to crawl through countless web pages, we've compiled a list of 13 websites that pack high-quality fonts you can use for personal and commercial projects.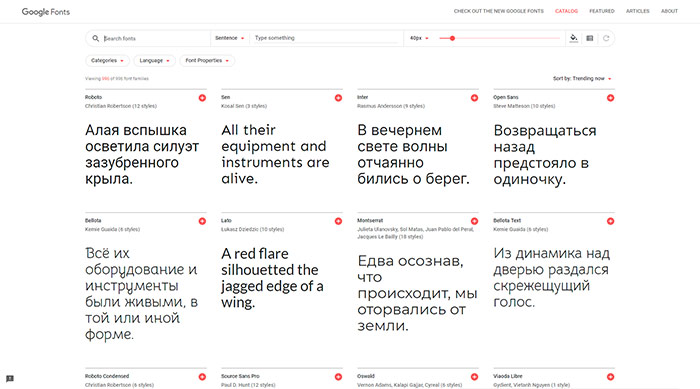 Google Fonts is among the most popular and most used font resources in the world. It's an open source library, with an impressive catalog of 980 fonts that can be used in 135 languages. And you can get them all for free and create some stunning Google Font combinations for your site.
To find a font to your liking, use the Search option at the upper left corner of the page. There are also multiple Categories to choose from, such as serif, sans serif, handwriting, etc. You can also activate additional search parameters such as Language, as well as Font Properties (font thickness, slant, width). It's also possible to preview how your content would look like written in multiple different fonts. The previews are displayed across the screen. Type in letters of the alphabet, sentences, paragraphs, numerals, and your own custom content.
As you hover over a specific font, you'll see that you can modify the font weight and the font size of the previewed content. There's also an option to sort fonts by Trending now, Most popular, Newest, and by Name.
To select a font family, click on the + sign in the upper right corner, in line with the font's name. When you open the Selected Font Family window (at the bottom right corner of the screen) you'll notice there's a code you can use to embed the font into your webpage as well as the code to specify in your CSS. There's also the possibility to modify the font weight, as well as to choose between several languages, depending on the font. For instance, if you select Open Sans, you can choose between Cyrillic, Greek, Latin, and Vietnamese.
Google Fonts also lets you choose between light and dark backgrounds, as well as to view fonts as a list or in grid.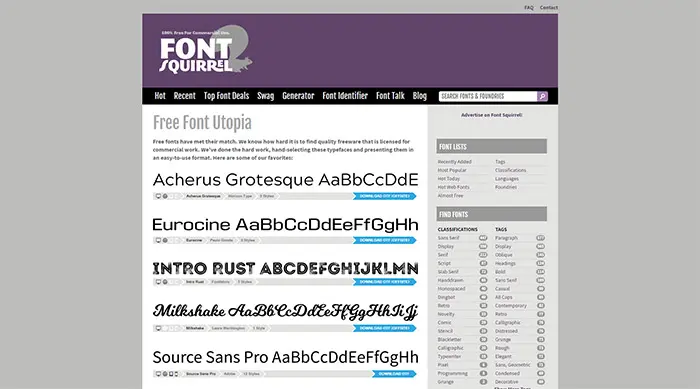 Font Squirrel is a great website for discovering free fonts that are ready for commercial use.
Under the name of each font you'll notice several symbols.
The icon of the computer stands for commercial desktop use (for commercial graphics and documents). The globe shaped icon is for embedding the font in your website with CSS. The one that looks like a Kindle is for embedding fonts in eBooks and portable documents. And the one that looks like a phone is for embedding fonts in apps and software.
If an icon is dark, that means you can use the font, and if it's light, then it's illegal to commercially use the font.
Even though it's said that all fonts on Font Squirrel are free, in their FAQs the authors suggest you still carefully read the license for each font, just to be on the safe side.
Browse the font collection by name, by tags, licenses, size, language, etc. You can also search through the Recently Added, Most Popular, Hot Today, Hot Web Fonts, and Almost Free categories.
Some of these fonts can be downloaded from Font Squirrel directly, while in case of some other fonts, you might get redirected to other websites.
What's really cool about Font Squirrel is their Font Identifier. When you see a picture with a font you like somewhere on the web, upload that image to the identifier, and it'll try to match the font with one available on Font Squirrel.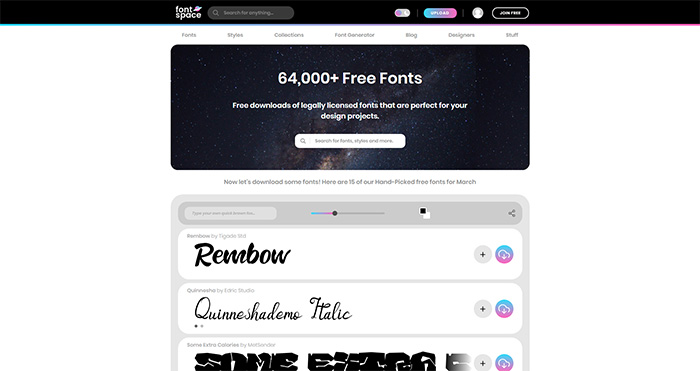 Browse the huge font assortment on Fontspace and find the perfect font for your next project.
At the moment, Fontspace comes with more than 64k free fonts to choose from, and all of them are legally licensed. There's a myriad of font tags you can go through to find the font that best fits your requirements. Alternatively, you can also just browse Popular and New categories, or jump into the unknown by checking out the Random tab.
Some fonts are intended for personal use only, but if you tick the Only 100% free fonts box, Fontspace will show you the fonts that you can use for all kinds of projects.
It's possible to preview the content as well, simply by typing in words, characters or numbers in the designated field. The size of each font can be modified right on the spot, as well as its background color.
By clicking on a font's name, you can read some additional info about it, or leave a comment to the author (to do this, you need to create an account).
To download the font, you don't even have to click on it, nor do you have to register on the website. Simply press the cloud-like icon with a downward-pointing arrow, and your download will start straight away.
Another great font resource for all creatives is Befonts. It features numerous fonts, some of which are free for personal use, while others are free for commercial use as well.
By clicking on a font family, you'll be able to check the font format and the license. The preview option is available, too. What stands out here are the images showing the selected font family in action, so you can easily picture what kind of project you could use that font for. There's also the Check out more button, that takes you to the author's or to the source website, where you can find even more info on the font.
At the top right corner of the page you'll find several categories to choose from – Basic, Display, Script, and Miscellaneous, with each category containing several sub categories. Browsing fonts by keyword is also enabled.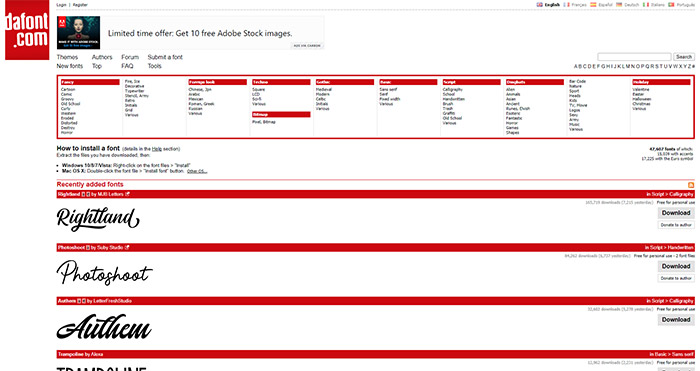 DaFont is a great fonts source available in 6 languages.
The platform has an impressive category system, with a plethora of font categories to choose from. This is an important feature for all designers, as it facilitates the process of finding the appropriate font for a specific type of project.
You can browse fonts by alphabetical order, themes, authors, the countries they come from, etc. When you select a category, it's further possible to sort fonts by different criteria, such as popularity, name, or to list the latest font additions first. By clicking on More options in the filter, you can choose to list only 100% free fonts, those that are free for personal use, etc.
Of course, it's possible to preview any word of your choosing and to adjust the font size. To download a font, press the Download button. Fonts come packed as .ZIP files, and to get them, you don't even have to register on the website.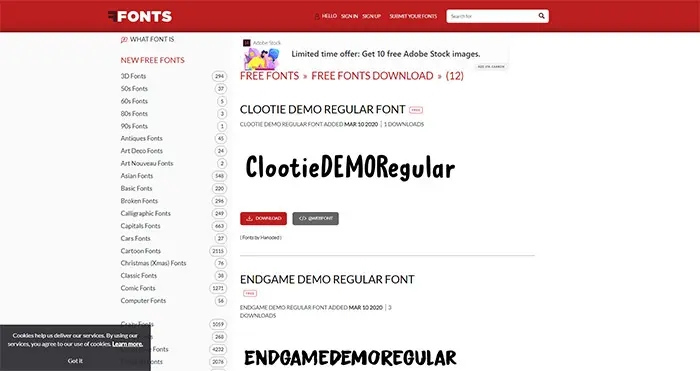 FFonts currently packs a whopping 104,567 fonts and a whole bunch of font categories to explore. the categories are listed on the left-hand side, while the font previews take up the center part of the screen.
Upon selecting a font category, you can order fonts by name, newest added, or top downloaded.
Once you select a particular font, you'll get more info about it, and you'll also have the option to preview content using that font. There are also all kinds of image previews showing you what the selected font looks like in different types of creative scenarios.
FFonts also features a Font Finder, which helps you find a font from any image. Just like on Font Squirrel, all you have to do is upload an image containing the font and FFonts will help you identify it.
When you're in need of script fonts, the Free Script Fonts website is an excellent solution.
Most fonts are free for personal use only and can be downloaded via Dropbox. To use them for commercial purposes and to get the full version of any font, you'd have to pay an amount determined by the font author.
Fonts are divided into 8 categories – Bold, Display, Fancy, Feminine, Heart, Logotype, Kids, and Wedding Font. There are also multiple labels (placed at the top of the screen) for you to browse through in search of the font to your liking (even more labels become visible once you select a font). You can also view fonts by using a specific keyword, depending on the type of the project you're working on.
This website also features Adobe XD Resources, and most UI kits and icons can be downloaded for free.
The FontsArena website features an abundance of gorgeous fonts. Some are available for personal use only, and others for commercial purposes as well.
As on previously listed websites, you can search for a font by keyword, or by category. Some of the available categories include – Best, Variable, Sans, Serif, etc. You can preview any word you like before purchasing the font. All fonts come with descriptions, where you can also check the font license, which languages the selected font supports, etc.
There's more than just fonts on the FontsArena. You can also read articles on font-related topics, and get the latest typeface news.
Pinspiry Fonts comes with an extensive catalogue of serif, sans, slab, script and display fonts you can download free of charge.
Keep an eye on the Weekly Freebies tab, that features commercial fonts you can get for free but only during that one week. When in need of inspiration, check out the Inspiration tab that packs some interesting fonts collections, such as The 10 Best Free Vintage Script Fonts of 2019, and similar collections.
When you see a font family you fancy, click on it to see it in action and to check how much value it can add to your designs.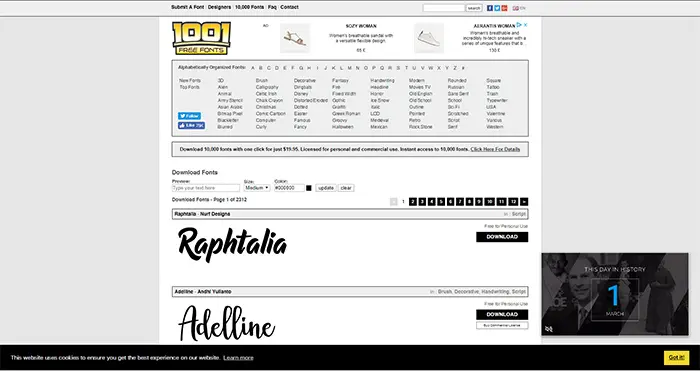 Don't be fooled by the website's name. 1001 Free Fonts features way more free fonts. In fact, there are more than 2300 pages filled with any type of font you can think of.
You can enter your text at the top, adjust the font size and the color, and then scroll down the page to see what the content would look like with each font.
To find a particular font, use the search option. Alternatively, view New and Top fonts, browse them alphabetically, or go through multiple available font categories.
Most fonts on the website are free, but some are free for personal use only, so if you'd like to use them in commercial projects, you'd have to buy a commercial license.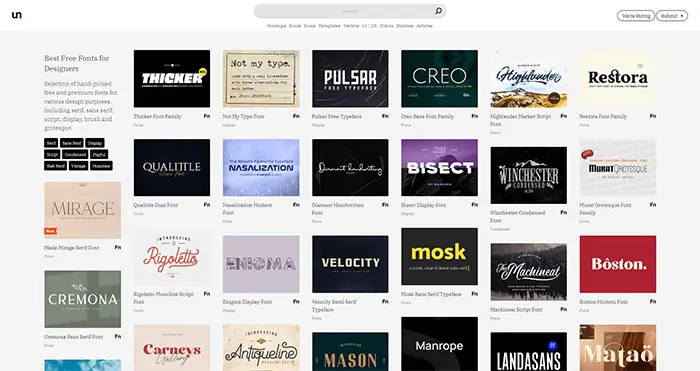 Unblast features a mesmerizing selection of design resources, such as mockups, icons, vectors, and of course, fonts.
Both free and premium fonts are available, organized in several categories: serif, sans serif, display, script, condensed, vintage, and more.
The search bar is placed at the top of the page, so you can look for a font by a specific keyword. Other design resources will also appear in results. To find fonts that match your keyword, look for the Fn mark beneath the picture.
Even though you can't preview your content using a particular font, there are image previews which illustrate how each featured font looks when applied.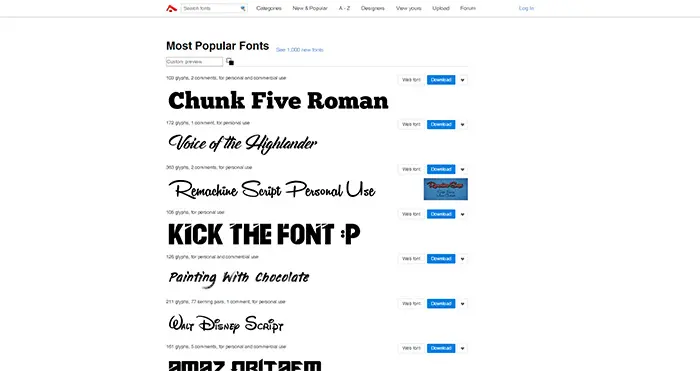 Fonts are organized in 62 categories, but there are some that are uncategorized, so make sure to check them out as well. Browse fonts alphabetically, check out the new and popular tags, or look for fonts by their designer. Of course, if you know what you're looking for, use search. There's also the custom preview option at the top of the page.
Some fonts are free for personal use, others for personal and commercial. That's highlighted below the name of each font, so pay attention to this before downloading any fonts.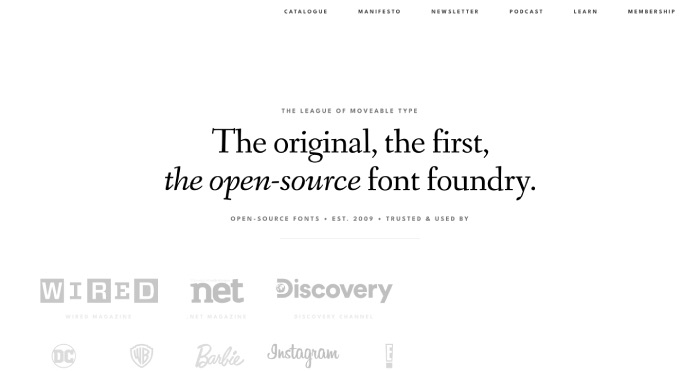 The League of Moveable Type advertises itself as "the original, the first, the open-source font foundry." Back in 2009 when it was founded, the web was still relatively young and the browsers hardly managed more than 10-12 web-friendly fonts. When major browsers started working towards enabling custom rules for fonts in stylesheets, the League decided to start offering high-quality, open-source fonts that people around the web can not only use, but can check them out "under the hood" to see how fonts are actually made, and start creating their own.
Their catalog currently consists of some 17 fonts with various styles, which can be either examined (their source, that is) or downloaded for free. For those wishing to support the work of this remarkable foundry, there's a handy donations button.
The League of Moveable Type is a favorite of many major brands and media outlets, most notably Discovery, Warner Bros, WHO, Pitchfork, Wired, Subway and Instagram.
Regardless of which of these 13 websites you visit, you surely won't leave empty-handed. Whether you're on the lookout for fonts for personal or commercial use, these are definitely the most reliable places to find what you need.
And remember. You don't have to always go for standard, overused typefaces. Each website from the list stands as a great source of all types of fonts and typography inspiration, so don't be afraid to try something new and fresh in your work.